Koehler, Marlins help bring Thanksgiving to local families
Team distributes 1,000 turkeys and dinner fixings at annual event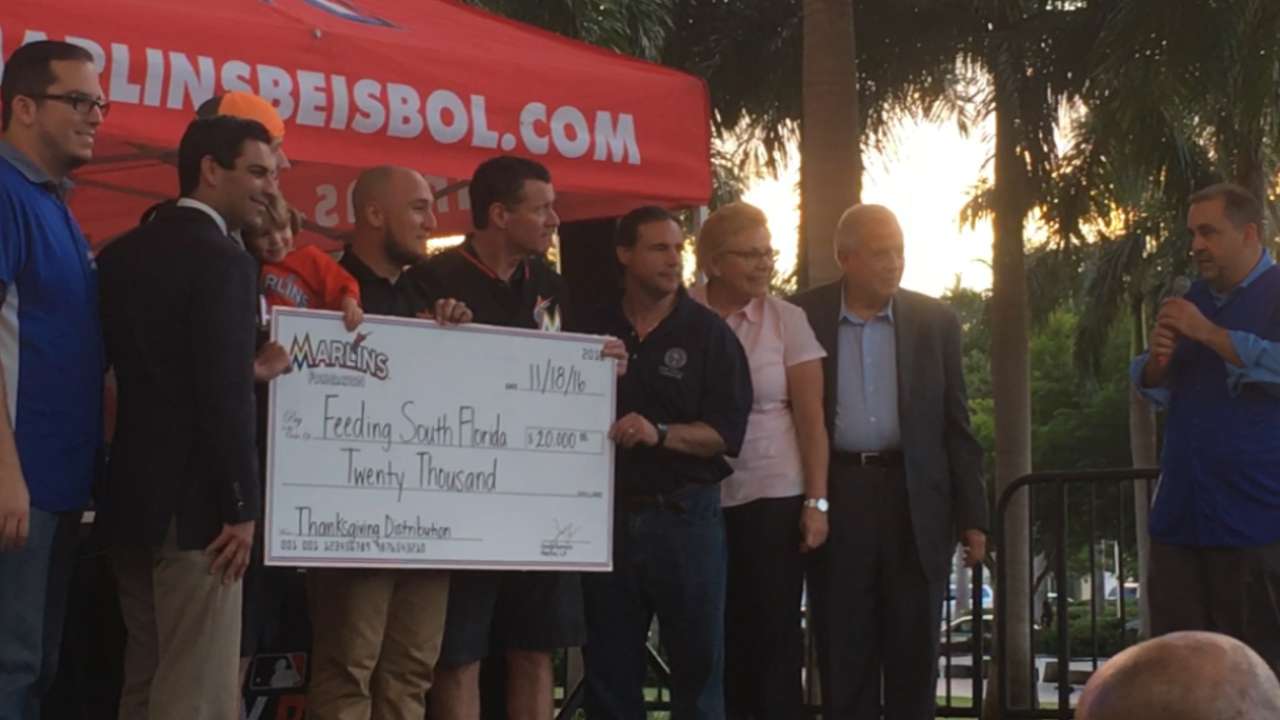 MIAMI -- All the smiles and expressions of gratitude at the annual turkey distribution last Friday at Marlins Park served as a reminder that there is certainly plenty to be thankful for during the holiday season.
Marlins right-hander Tom Koehler and dozens of team employees handed out 1,000 turkeys and dinner fixings so local families in need could enjoy a hearty Thanksgiving meal.
"Miami has put me in a position to where I can really enjoy the holiday," Koehler said. "I've been very fortunate with what this city has given to me. To come down here and help out those who are a little bit less fortunate, just a little token of giving back, is special."
The Marlins, in partnership with Feeding South Florida, have made the turkey distribution an annual event on the West Plaza of their retractable-roof ballpark.
"You can see it in their faces as they come through the line that they are very thankful for what the Marlins are doing," said former Miami player, Jeff Conine, a special assistant with the organization.
For two hours, people lined up to receive their Thanksgiving meals. They were entertained by music and a DJ, and posed for pictures with mascot, Billy the Marlin.
Koehler, who has a home in Palm Beach County, made the drive down to the ballpark to do his part.
"I did this three years ago and hadn't been back since," the veteran right-hander said. "So when they asked me to come down, it was a no-brainer. Everybody deserves a good, solid meal on Thanksgiving. When you think about Thanksgiving, you think about the memories that come with the food. Somebody messing up the turkey. Everyone deserves to have those memories."
Miami mayor Tomas Regalado, and other local leaders, attended the event.
"This is an event that we really look forward to each year," said Claude Delorme, the Marlins' executive vice president of operations and events. "It's just fun to interact with the residents. They are so appreciative of the food and the turkey that they are receiving. It's just going to make their Thanksgiving meal that much more special."
The Marlins and their fans endured a devastating loss on Sept. 25, when two-time All-Star Jose Fernandez was killed in a boating accident. The community still grieves, and Fernandez's memory remains at the ballpark. Fernandez's No. 16 is on a patch on Koehler's jersey sleeve.
On the West Plaza, near where the turkeys were handed out, remains a small memorial to Fernandez. Fans have paid tribute to the late superstar by signing the message boards that are attached to a stadium column.
At the same Thanksgiving event last November, it was Fernandez who represented the Miami players by handing out turkeys and interacting with the families.
"This is the first time I've been to the ballpark since everything happened," Koehler said. "You see all these people. I've said before, I feel closer to the fans and the people of Miami than I did. We shared that experience. So to be able to come back here, and help those people out, it feels like I'm helping out members of my own family."
Joe Frisaro has covered the Marlins for MLB.com since 2002. He writes a blog, called The Fish Pond. Follow him on Twitter @JoeFrisaro and listen to his podcast. This story was not subject to the approval of Major League Baseball or its clubs.