Covey, Montas shut down Surprise in Fall League championship
Oakland's No. 20 prospect opens title game with four perfect frames; No. 10 fans five in relief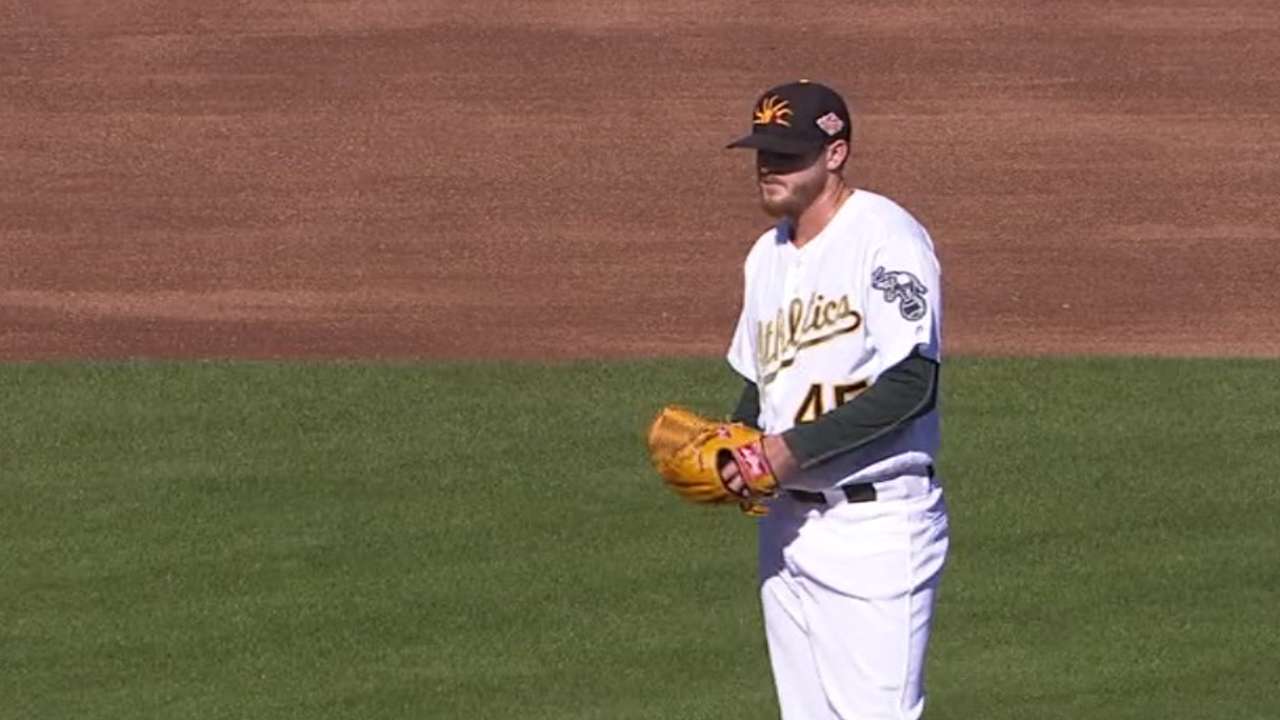 SCOTTSDALE, Ariz. -- Oakland's No. 20 prospect Dylan Covey was perfect through four innings and Frankie Montas, the Athletics' No. 10 prospect, struck out five in three innings of relief, with the duo limiting Surprise to one run on two hits in eight innings in Mesa's 6-1 win in the Arizona Fall League title game.
Covey was scheduled to start the AFL championship after winning four of his six starts.
"It was his day to pitch and it kind of worked out good," Mesa Solar Sox manager Ryan Christenson said. "He's been pitching very well for us all year."
Covey pitched five innings, fanned three batters and allowed one hit as the Solar Sox won the AFL championship for the first time in 13 years.
"It's not quite the atmosphere like a regular-season championship because it's only one game," said Covey. "We don't get the chance to maybe lose one and then come back and win two or three in a row. It was a must win and we got the job done, scored early, [which] gave me a cushion to pitch."
The Solar Sox scored five runs in the first three innings to back Covey's performance. Marlins' No. 4 prospect Brian Anderson smashed a three-run homer in the first inning and Cubs' No. 1 prospect Ian Happ ripped a two-run shot (his first of two homers) in the third inning.
"That cushion makes it easy to not be as perfect as you need to be in a scoreless game," Covey, who was perfect through four innings, said.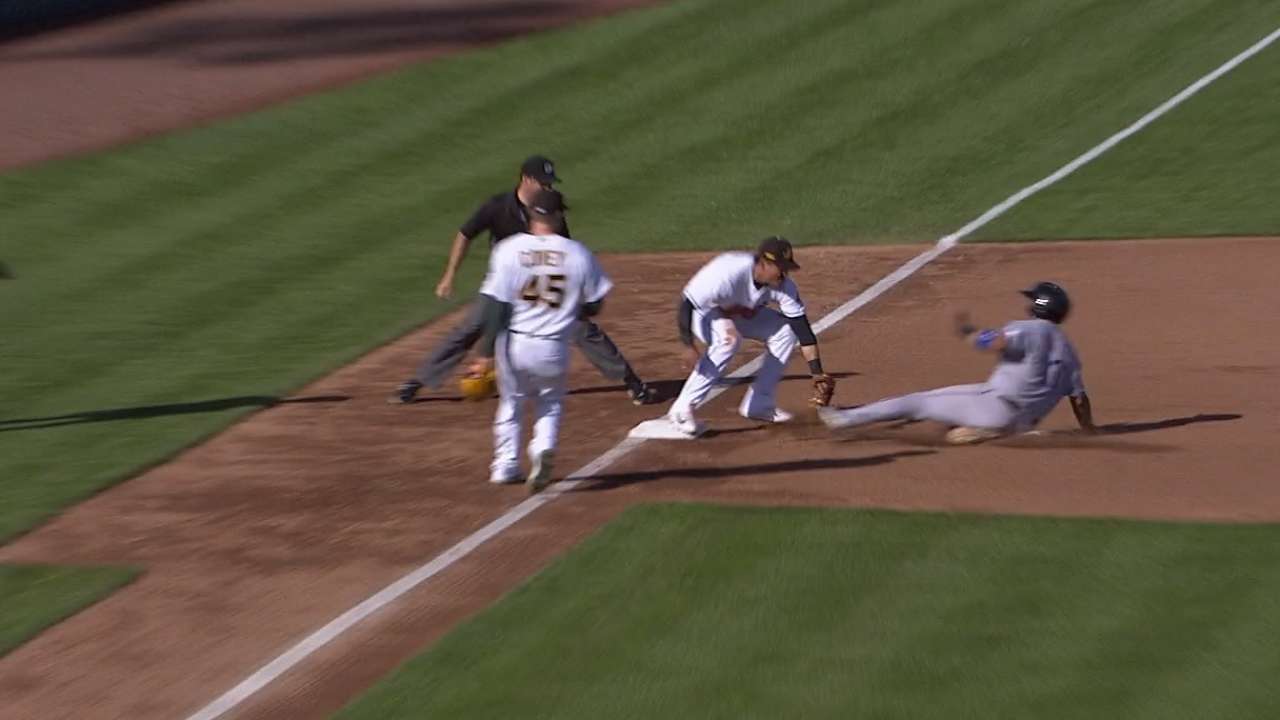 Covey, who was not added to the Athletics' 40-man roster Friday, said he wanted to walk off the mound knowing he had proven Oakland wrong, and he felt he did.
"I think I'm good enough and I deserved it, but obviously it's a business and they thought it was the better move for them," Covey said. "So I was out here trying to show them that I think they made a mistake."
Montas allowed two baserunners and one hit in three innings of relief. However, Montas did not close out the game. Cubs farmhand James Farris pitching a scoreless ninth for Mesa.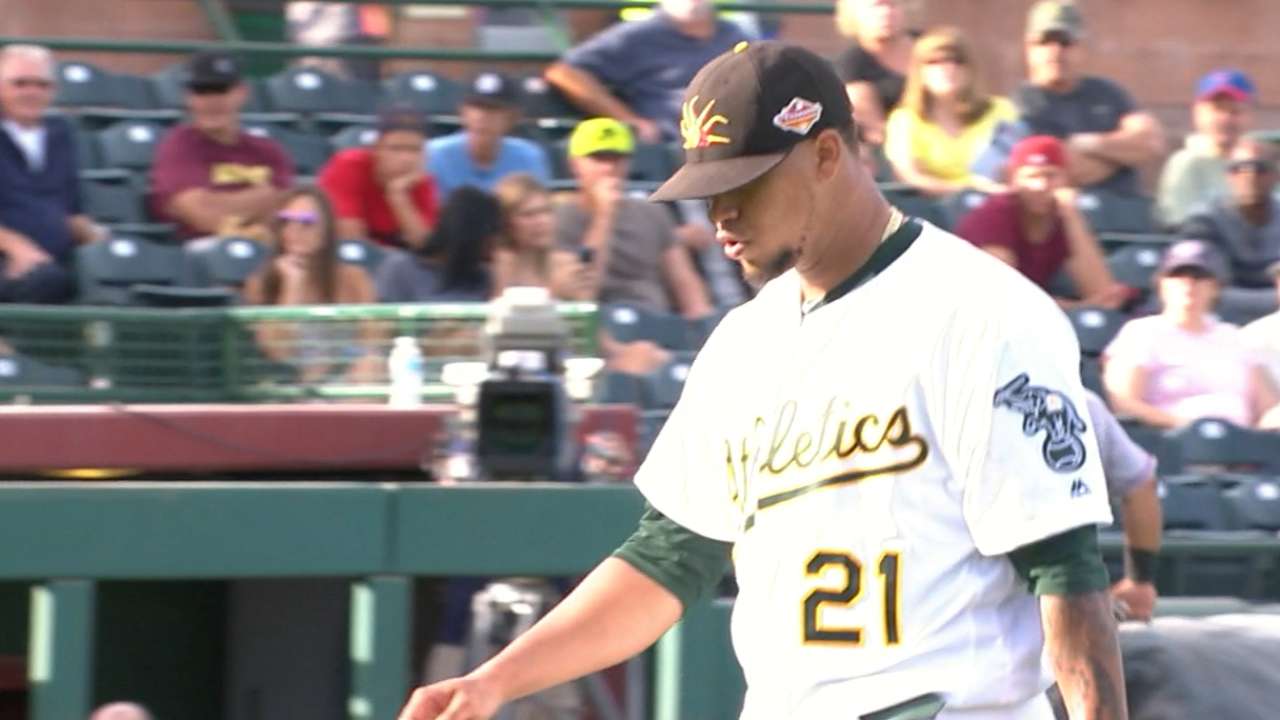 "He was on pitch limit and the batter he struck out to end the eighth was gonna be the last batter he faced no matter what," Christenson said of Montas.
The Athletics acquired Montas in a deal with the Dodgers involving Rich Hill and Josh Reddick before the non-waiver Trade Deadline.
"He's gonna be a starter neat year [in Oakland]," Christenson said. "So it was just about him coming out and getting his innings and that's what he did."
Montas posted a 0.53 ERA in the Arizona Fall League as a reliever in 17 innings.
Trisha Garcia is a sports journalism graduate student at Arizona State University. This story is part of a partnership between MLB.com and ASU's Walter Cronkite School of Journalism and Mass Communication. You can follow her on Twitter @trishaanicole. This story was not subject to the approval of Major League Baseball or its clubs.