Reds value time connecting with community
CINCINNATI -- When a kid meets a Major League player, that player is no longer just a statistic on a website or a picture on a baseball card. And that kid is no longer another face in a crowd of thousands to the player. It becomes more personal.
The Reds Community Fund has raised and utilized millions of dollars for Cincinnati area baseball and softball programs, youth ballfield renovations and community center upgrades. But just as valuable, and perhaps just as long lasting, is the experience for fans -- especially kids -- to have personal contact with the players, coaching staff and ownership.
Michael Lorenzen, Adam Duvall, Joey Votto and Tucker Barnhart are a handful of Reds players that have given back in the community. Players have made unannounced visits to cheer up patients and parents at Cincinnati Children's Hospital, helped out at the MLB Urban Youth Academy, participated in Make-A-Wish kid visits and more.
"We had a phenomenal year in terms of the numbers of community impressions that our players made," said Charley Frank, the executive director of the Reds Community Fund. "Culturally, where we've come from over the last 10 years speaks well for the players, Dusty Baker to Bryan Price, to Bob and Phil Castellini and Dick Williams. Culturally right now for our guys, it's really remarkable when understanding where it was 10 years ago."
Even when the Reds endure down years on the field, such as 2016, the players can still make connections with the community in meaningful ways.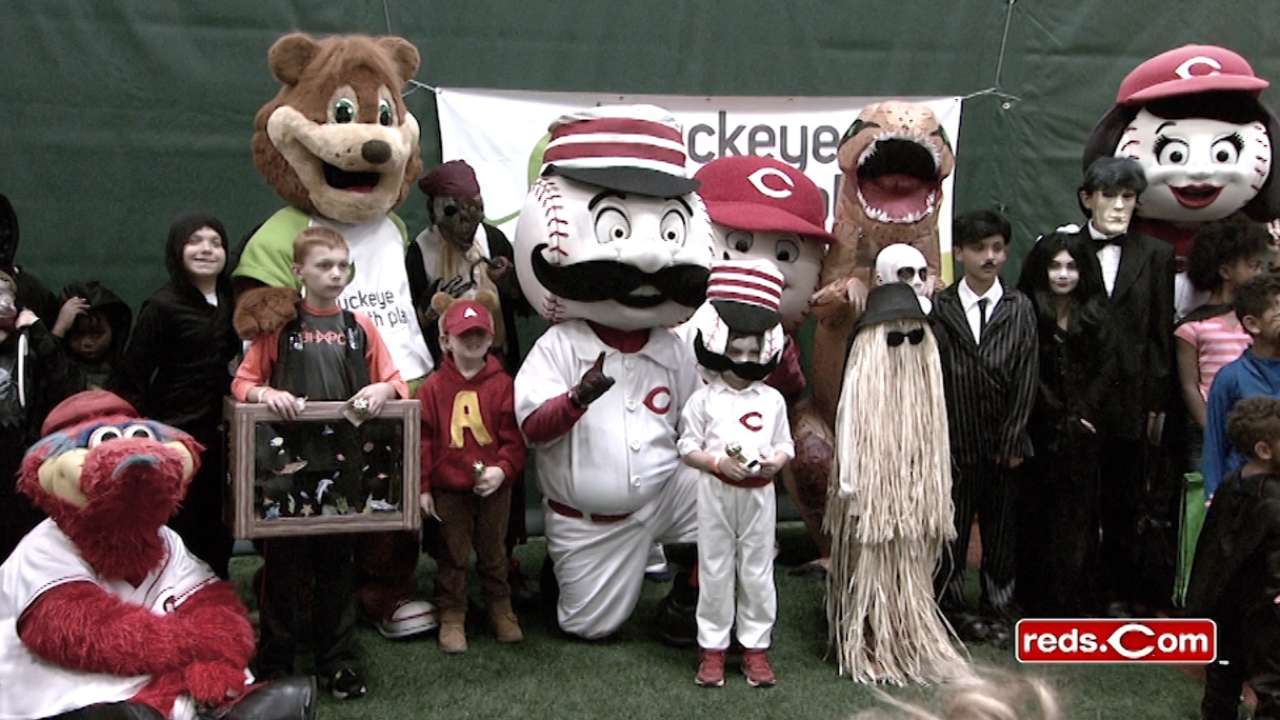 Frank noted the Reds made nearly 700 community impressions in the past year.
"Players can obviously make a big impact, whether it's on a day off visiting a hospital or whether they're spending time with fans before a game," Frank said. "That's how we quantify the impression. Our numbers are up exponentially from the time that the Castellinis purchased the team 11 years ago. The things we've been able to accomplish through the Community Fund really begin and end with the culture created by our ownership and leadership. That's never wavered."
Last winter, Lorenzen remained in Cincinnati the week after Redsfest and spent time working in the community. Votto donated $1,500 toward each of Cincinnati Public Schools' varsity baseball and softball teams for equipment. Then, he surprised the teams by visiting the Urban Youth Academy and bringing them additional gear.
"He went to his SUV and kept bringing out bats and balls," Frank said. "He had already underwritten each team to give them equipment, but he kept bringing more of his own supply because the experience of meeting with the kids and coaches resonated so much."
Whenever a child from the Make-A-Wish Foundation visits the field during batting practice at Great American Ball Park, it's not uncommon for several Reds players to do more than say hello.
"Players come over and really spend some time with the person that's there," Frank said. "It's not just smiling for photos. A lot of players will go into the clubhouse and get other items for them, depending on the age of the kid and the background."
Members of the front office also get personally involved and pay close attention to the details. This year, the annual community makeover project came to the Lower Price Hill section of the city and culminated with the opening of the Joe Williams Community Center, a community garden and two upgraded ballfields at Oyler Elementary School.
Following the ribbon-cutting that celebrated the completion of the project in July, Reds chief operating officer Phil Castellini noticed one of the sheds in the garden hadn't been fully completed. Castellini took care of that, along with a handful of volunteers from P&G.
"We're cleaning up about a half-hour after the ribbon-cutting. I was under impression that Phil left," Frank explained. "But in my peripheral view, I see him in his work clothes up on a ladder helping to put the shed together. I did a double take."
Frank has long appreciated the Castellini family's commitment to helping the community.
"In a down year on the field and without all the hype of the All-Star Game, you think 'OK, things might slow down a little bit.' They don't," Frank said. "They're just as motivated, maybe more, to keep momentum going and keep things fresh."
The Reds community efforts will continue on "Giving Tuesday" next week.
Mark Sheldon has covered the Reds for MLB.com since 2006, and previously covered the Twins from 2001-05. Follow him on Twitter @m_sheldon and Facebook and listen to his podcast. This story was not subject to the approval of Major League Baseball or its clubs.