Pudge lands on HOF ballot for first time
14-time All-Star catcher won 7 Silver Sluggers, 13 Gold Gloves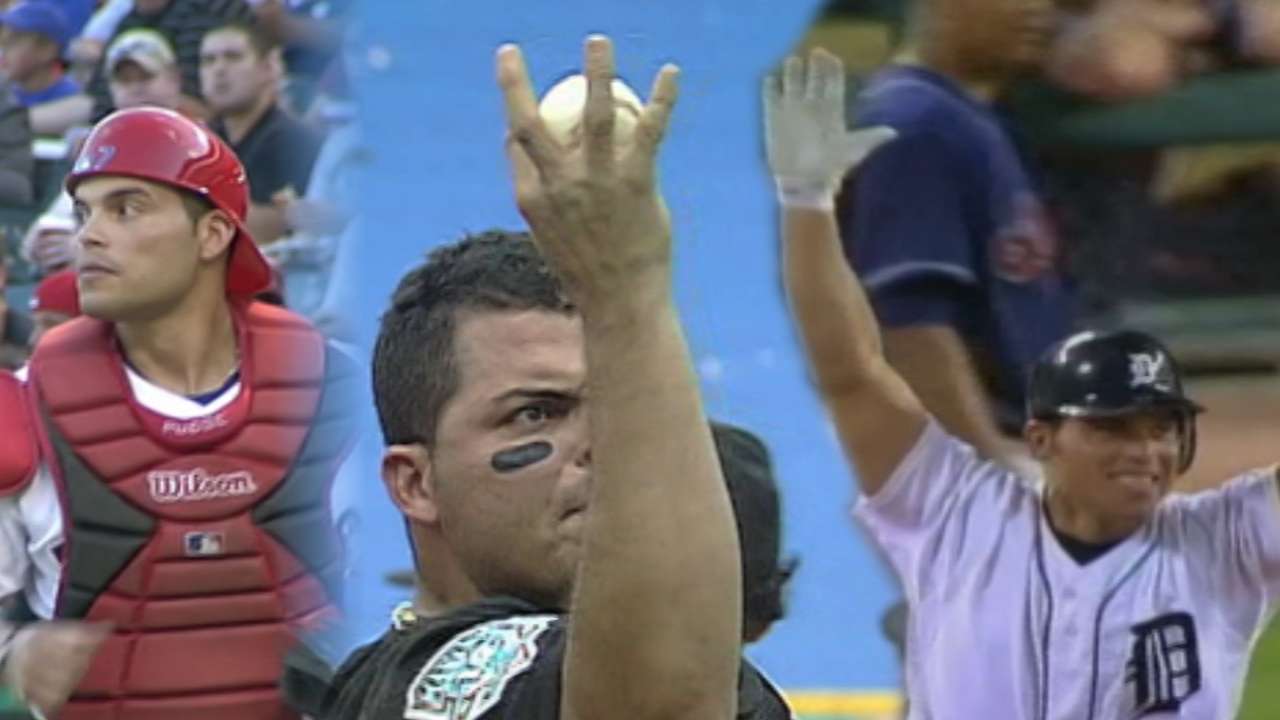 ARLINGTON -- The Rangers played in the 1999 Hall of Fame Game in Cooperstown, N.Y., and they were given a private tour of the National Baseball Hall of Fame and Museum the night before.
Ivan Rodriguez remembers the night well.
"I saw the whole museum," Rodriguez said. "Believe me, to be honest, one of the things I said to my kids that night was, 'One day you guys are going to come here and see my plaque.' That's what I told my family."
That day should come in 2017. The '17 Hall of Fame ballot was released Monday, and Rodriguez is on there for the first time. There shouldn't be a second time.
"A no-brainer," said former Rangers outfielder Rusty Greer, speaking for almost everybody who watched Pudge play over his 21-year career. "It's not only a no-brainer that he gets in, but a no-brainer that he gets in on the first ballot."
Former Rangers general manager Tom Grieve said Rodriguez "checks all the boxes" for a Hall of Fame player.
"He was one of those guys fans would pay money to go watch play," Grieve said.
Rodriguez is the most prominent of the first-year players on the ballot along with Vladimir Guerrero, Manny Ramirez and Jorge Posada. Jeff Bagwell, Tim Raines and Trevor Hoffman are the top returning vote-getters from last year's ballot.
"I feel very excited about it," Rodriguez said. "It's hard to believe five years went by that quick. It feels like I just retired a couple of years ago. It will be nice. It will be fun. Hopefully I can be in the Hall of Fame. Nobody knows. I'm feeling positive."
Votes are cast by writers who have been members of the Baseball Writers' Association of America for at least 10 years. A player's name must appear on at least 75 percent of the ballots to be elected, and voters can list up to 10 names. The announcement of the Class of 2017 is slated for Jan. 18 at 6 p.m. ET, and it will be simulcast on MLB Network and MLB.com. The induction ceremony will be held on July 30 behind the Clark Sports Center in Cooperstown.
"I do think about it," Rodriguez said. "Now that the year gets closer, I think about it almost every day."
There is no debate about Rodriguez's qualifications. The real debate is where he stands among the greatest catchers ever, along with Johnny Bench, Roy Campanella, Yogi Berra and very few others.
He played in 14 All-Star Games, won seven Silver Slugger Awards and won the 1999 American League Most Valuable Player Award. He finished with 2,844 hits, 311 home runs and a .296 career batting average -- all comparable credentials to other Hall of Famers.
Then there is his defense at a premium defensive position, and there is no comparison among anybody since Bench retired. Rodriguez won 13 Gold Gloves, the most ever by a catcher, and he tied with Hall of Fame shortstop Ozzie Smith for the second most by a position player behind third baseman Brooks Robinson with 16.
Rodriguez's incredible arm and quick feet made him the most feared catcher of his generation. He led the league in throwing out basestealers nine times, with a high of 60.3 percent in 2001 and a career average of 45.7.
"He was a great hitter, but you couldn't watch defense anywhere that Pudge had," Grieve said. "That was the most exciting part … seeing him throw stood out so much. I guarantee you he threw at least 95 miles per hour, and I wouldn't bet against 100."
It's also worth noting that Rodriguez played in 2,427 games as a catcher, the most in Major League history and 201 more than anybody else. He is also first in putouts and fifth in double plays by a catcher, and he ranks 88th in errors and 93rd in passed balls.
Rodriguez's durability was astonishing. Over 21 years, he averaged 111 starts per season as a catcher, including 102 with the Nationals in 2010. He was 38 years old.
"I think what I am most proud of as a baseball player was the passion and the love I had for the game of baseball," Rodriguez said. "I played hard and I gave 100 percent every day for the fans, and I think the fans appreciated it. That is the experience I took from the game is the appreciation the fans had for me."
His teammates felt the same way.
"He was a great teammate," Greer said. "In the clubhouse, he came ready to play every day. He became a leader on the field by his performance. He wasn't super vocal -- we had guys who assumed that role -- but he came ready to play every day. He wanted to do well. He was very passionate about winning, and that really sparked the team."
Rodriguez was with the Rangers from 1991-2002 before leaving as a free agent. He had gone through three years of injuries, and there was a nagging suspicion that his career was winding down.
Rodriguez ended up signing with the Marlins in 2003, and he was their catcher when they won the World Series. He was the MVP of the NLCS against the Cubs. He spent the next five years with the Tigers and went to four more All-Star Games while winning three more Gold Gloves.
Rodriguez wasn't finished, either. The Rangers brought him back for the final six weeks of the 2009 season, and he now serves as a special assistant to general manager Jon Daniels.
Pudge's next stop should be Cooperstown.
T.R. Sullivan has covered the Rangers since 1989, and for MLB.com since 2006. Follow him on Twitter @Sullivan_Ranger and listen to his podcast. This story was not subject to the approval of Major League Baseball or its clubs.