Manny makes Hall of Fame ballot debut
Prolific hitter known for postseason heroics, offbeat persona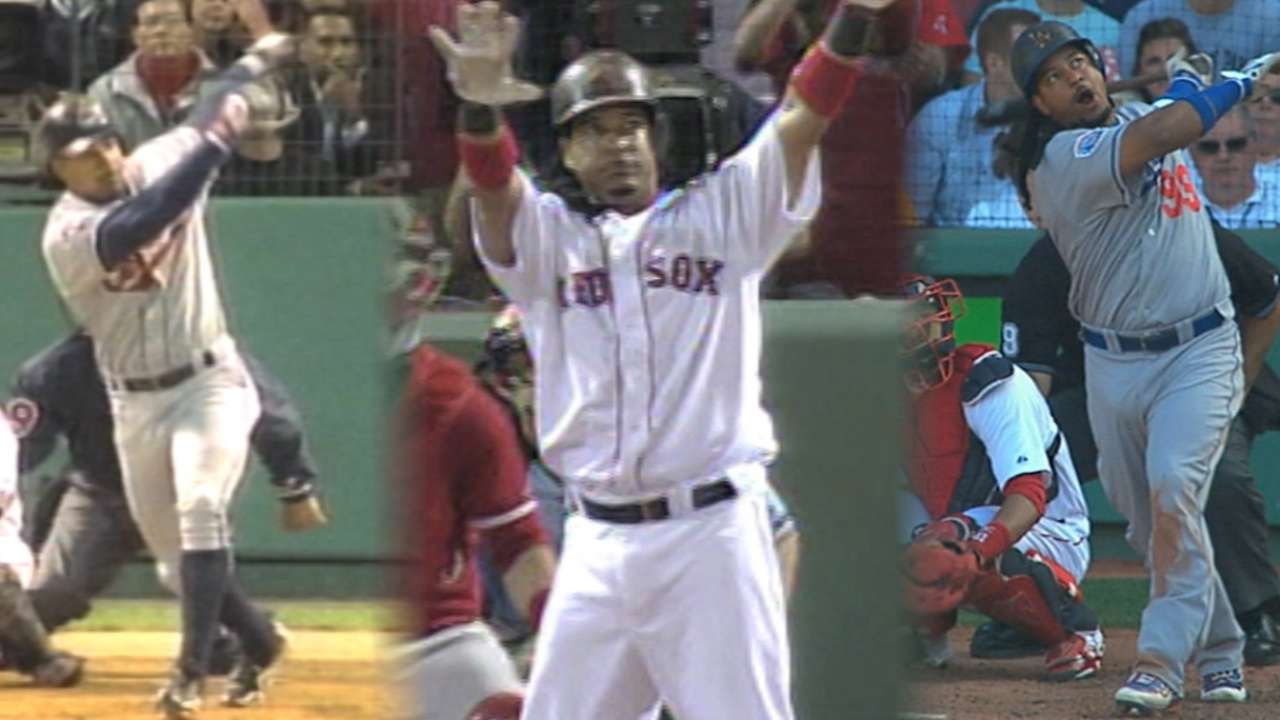 BOSTON -- A hitting machine from the right side of the plate who also happened to be one of the most unforgettable characters of his era, Manny Ramirez is on the Hall of Fame ballot for the first time.
The statistics are clearly Cooperstown-worthy. Ramirez had a slash line of .312/.411/.585 over his 19-year career while clubbing 555 homers with 1,831 RBIs. He was also a force in the postseason, helping lead the Red Sox to World Series championships in 2004 and '07 before producing some October heroics for the Dodgers in '08 and '09.
But Ramirez's case for the Hall of Fame won't be based solely on numbers. The outfielder was suspended twice for testing positive for banned substances under MLB's joint drug prevention and treatment program. The suspensions occurred in 2009 (50 games) and '11 (100 games).
After the second suspension, Ramirez did not play in the Majors again.
A player's name must appear on at least 75 percent of the ballots of eligible Baseball Writers' Association of America members to be elected to the Hall of Fame, and voters can list up to 10 names. Ramirez can remain on the ballot for up to 10 years as long as he gets at least five percent of the vote each year. The announcement of the Class of 2017 is slated for Jan. 18 at 6 p.m. ET, and it will be simulcast on MLB Network and MLB.com The induction ceremony will be held on July 30 behind the Clark Sports Center in Cooperstown, N.Y.
One thing that was clear to many of Ramirez's teammates throughout the years was his insatiable work ethic toward perfecting his hitting craft, as well as an uncanny intelligence that was overshadowed by his quirky persona.
"There's nobody I ever learned more about hitting from than that guy," said David Ortiz, the iconic Red Sox slugger who retired following Boston's 2016 postseason run. "The way he would set pitchers up is like nobody I've ever seen."
Ramirez's teammates recall many instances in which he'd purposely look at a strike from a pitcher early in a game simply so he could put that same pitch in a gap or over a wall in the mid to late innings.
After emerging into an All-Star with the Cleveland Indians for the first portion of his career (1993-2000), Ramirez gained more national prominence after signing an eight-year, $160 million contract to play with the Red Sox.
It was after Ortiz's arrival to Boston in 2003 that one of the great middle-of-the-order duos of the era was formed.
"I'll tell you what -- I've never seen a 1-2 punch more well combined than those two," said Hall of Fame pitcher Pedro Martinez. "Wow, lefty and righty. And both equally as dangerous in the clutch. And also, they had such a big role while winning it in '04. Nobody had a bigger role than David and Manny. Manny was the MVP in the World Series. David was the MVP of the ALCS. There you have it -- one and two."
"There were so many things that Manny did," said Martinez. "I remember the day that he walked into the Green Monster before an inning started. Not only did he walk out with a bottle of water in his pocket, but then he goes straight in to [relieve himself]. That's just Manny being Manny."
Though Curt Schilling would often get frustrated by Ramirez's unpredictable behavior, he couldn't help but marvel at the methods to the left fielder's hitting madness.
"I probably spent as much time next to Manny as I did almost anybody on that team, because Manny lived in the video room where I was," said Schilling. "We always had conversations. I always asked so many questions about pitching, and I learned so much from him. When you talked to Manny about hitting, he was a savant."
Ian Browne has covered the Red Sox for MLB.com since 2002. Follow him on Twitter @IanMBrowne and Facebook. This story was not subject to the approval of Major League Baseball or its clubs.