Posada measures up to Hall of Fame catchers
Yankees backstop, a 5-time World Series champ, debuts on ballot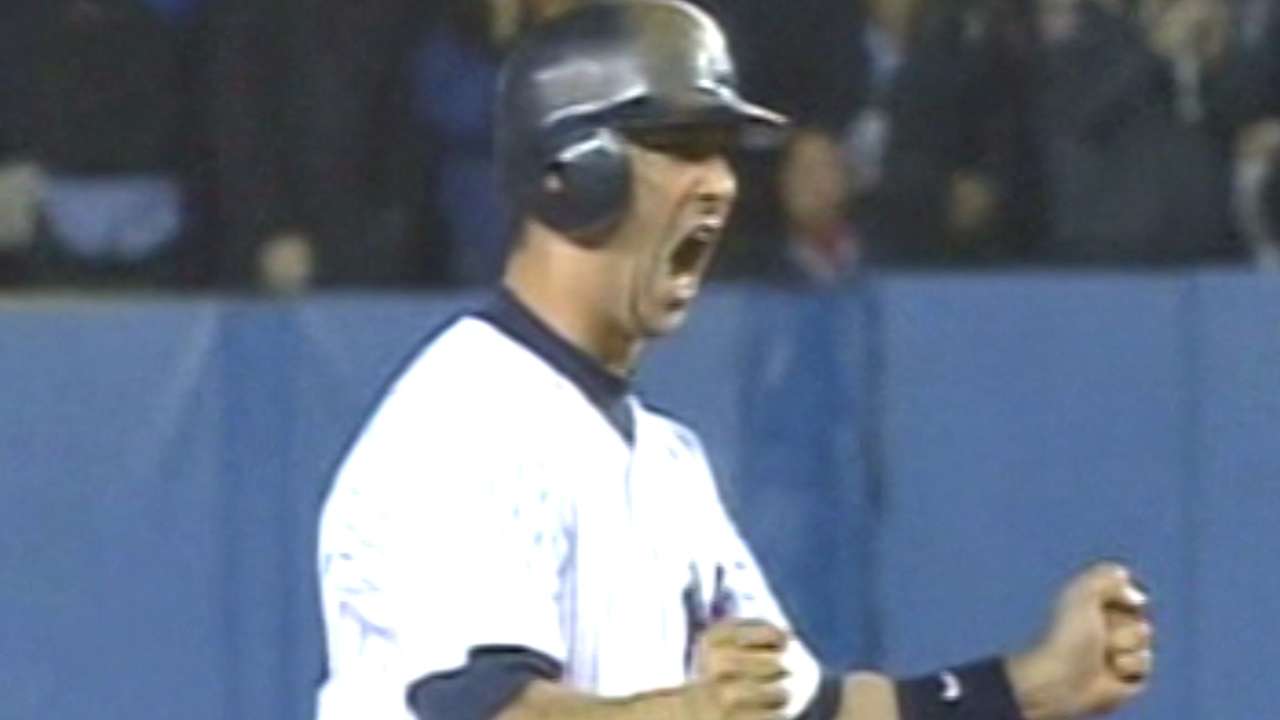 NEW YORK -- Jorge Posada said that it marked "one of the happiest days of my life" to catch a glimpse of the plaque bearing his likeness that will forever hang in Yankee Stadium's Monument Park, accompanied by the retirement of his uniform No. 20.
The only thing that could possibly top that August 2015 ceremony in The Bronx would be Posada's possible enshrinement in the National Baseball Hall of Fame, and the voting members of the Baseball Writers' Association of America will officially consider Posada's case for the first time this year.
A player's name must appear on at least 75 percent of the ballots to be elected, and voters can list up to 10 names. The announcement of the Class of 2017 is slated for Jan. 18 at 6 p.m. ET, and it will be simulcast on MLB Network and MLB.com The induction ceremony will be held on July 30 behind the Clark Sports Center in Cooperstown, N.Y.
Spending his entire 17-year career in Yankees pinstripes, the switch-hitting Posada was a proud member of the "Core Four" alongside teammates Derek Jeter, Andy Pettitte and Mariano Rivera, securing five World Series championship rings and participating on seven American League pennant winners.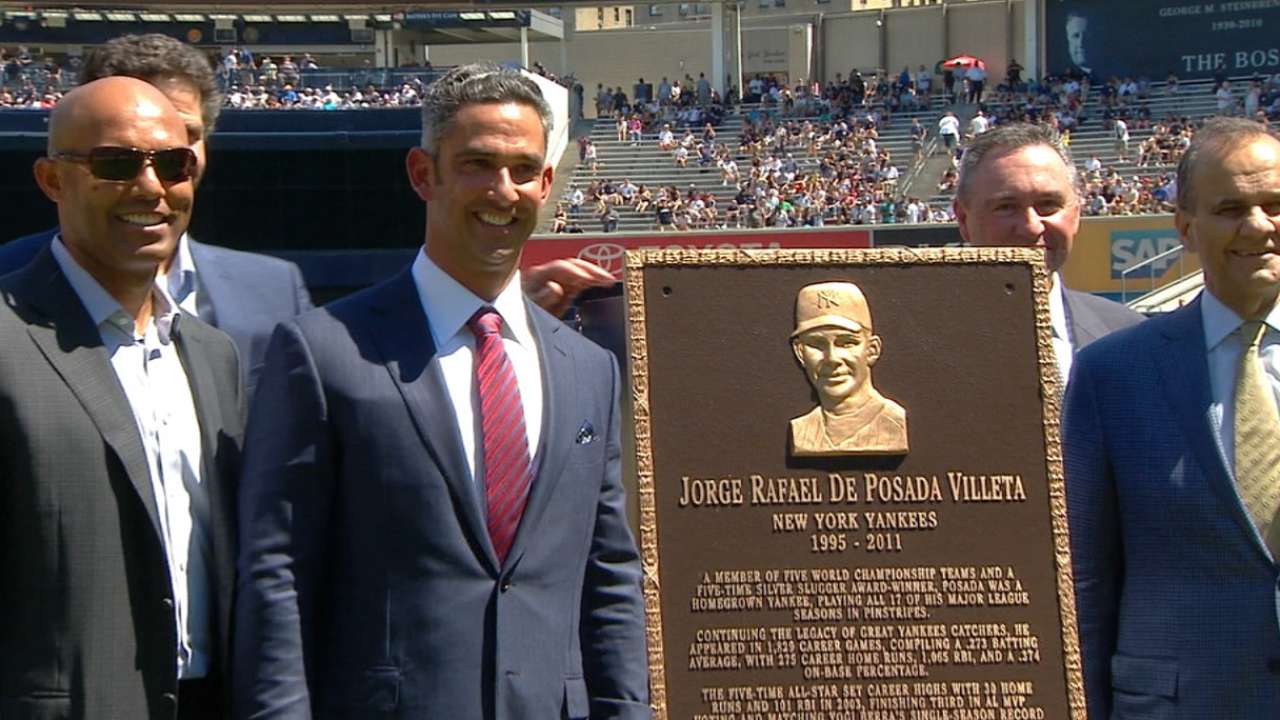 "I could never wear another uniform," Posada said. "Being a part of seven World Series and having five rings was something I never imagined, and being a part of it was just priceless. I will forever be a Yankee."
A five-time All-Star and five-time American League Silver Slugger Award recipient, Posada retired with a .273/.374/.474 slash line. He hit 275 home runs and drove in 1,065 runs in 1,829 games, 1,574 of them behind the plate.
Posada owns the record for most postseason games as a catcher (119) and stroked 103 hits in October, arguably none more clutch than his game-tying, two-run double off Pedro Martinez in Game 7 of the 2003 AL Championship Series.
In franchise lore, Posada stands as a worthy entry in the catching lineage that features the likes of Yogi Berra, Bill Dickey, Elston Howard and Thurman Munson. That's a group that Posada said he never was able to consider himself a part of, but many observers would disagree.
"The fans appreciated him so much because he cared about winning; he cared about doing his job," Jeter said.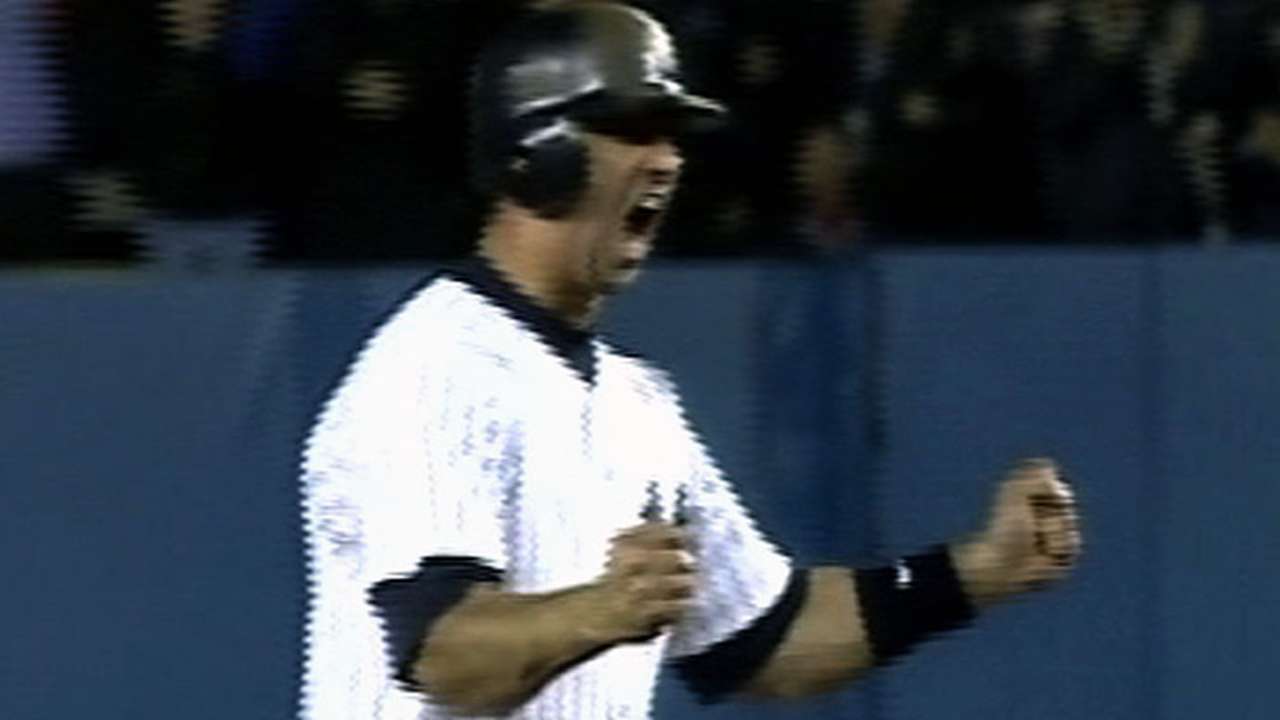 Hall voters will weigh some compelling statistical arguments concerning Posada's career. Of the catchers currently enshrined in the Hall, only Berra and Mike Piazza posted higher marks in all three Triple Crown categories of batting average, home runs and RBIs.
"I think he's a Hall of Famer," said Yankees manager Joe Girardi, who helped groom a young Posada in the mid-1990s. "When you look at his numbers and stack his numbers against the catchers who have been there, what he has meant to this club and the championships, his numbers are incredible."
MLB Network's Brian Kenny presents a case for Posada using OPS+, a metric which adjusts for era and park effects. From 1998 through 2009, Posada's 125 OPS+ ranked second only to Piazza's 132 OPS+, ahead of Victor Martinez (121 OPS+) and Ivan Rodriguez (113 OPS+).
What's more, over Posada's 10-year career peak from 2000-09, his 129 OPS+ is comparable to the peaks of Hall of Famers Johnny Bench (132 OPS+, 1970-79) and Berra (130 OPS+, 1950-59), while edging those of Gary Carter (128 OPS+, 1977-86) and Carlton Fisk (125 OPS+, 1972-81).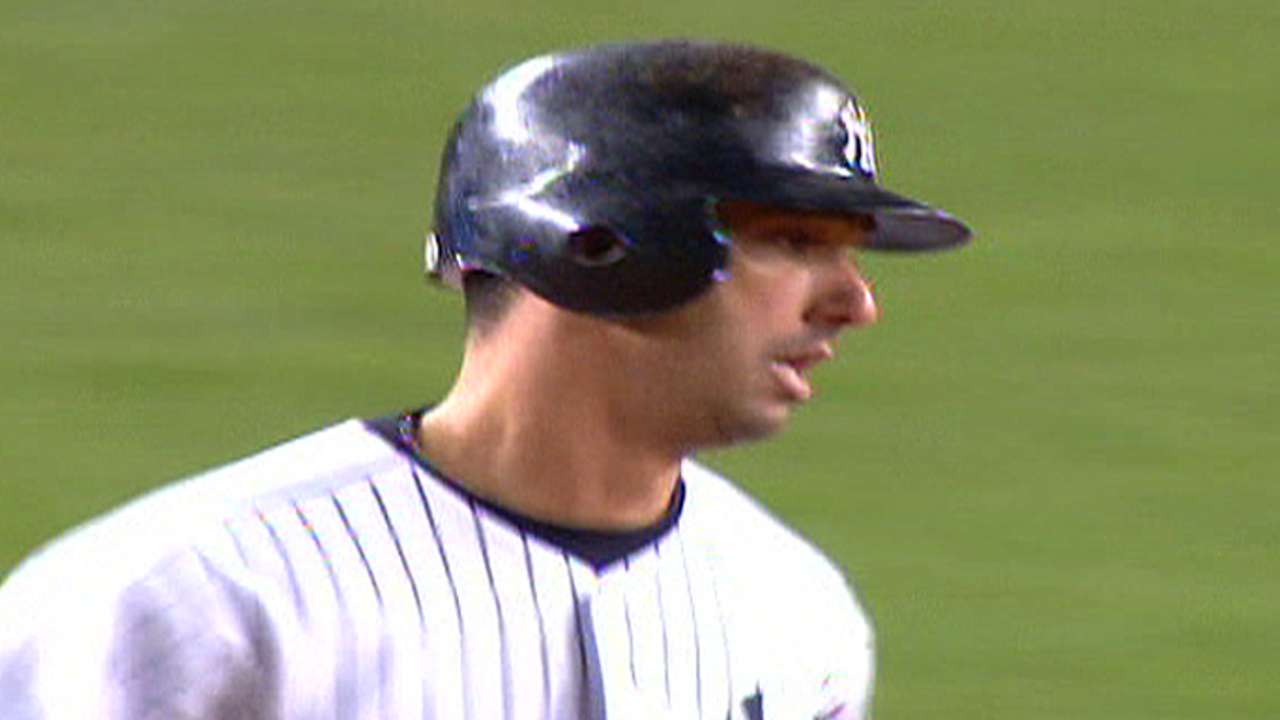 Though Posada was never a Gold Glove defender, his value to the Yankees was immense after moving from his original position of second base, helping him get to the Majors and develop into a power-hitting threat from both sides of the plate. Rivera said that Posada's impact on those championship clubs may even have been underestimated.
"When I hear Jorge Posada's name, it brings me back to all those great games we had," Rivera said. "The passion and the determination that he had to win, the dedication, going through tough times, adversities, family issues. But he was there. He was giving his best. That's what I remember: him being there for us. He was a hard guy to replace."
Bryan Hoch has covered the Yankees for MLB.com since 2007. Follow him on Twitter @bryanhoch and on Facebook. This story was not subject to the approval of Major League Baseball or its clubs.
This story was not subject to the approval of Major League Baseball or its clubs.