5 reasons why Chapman is in high demand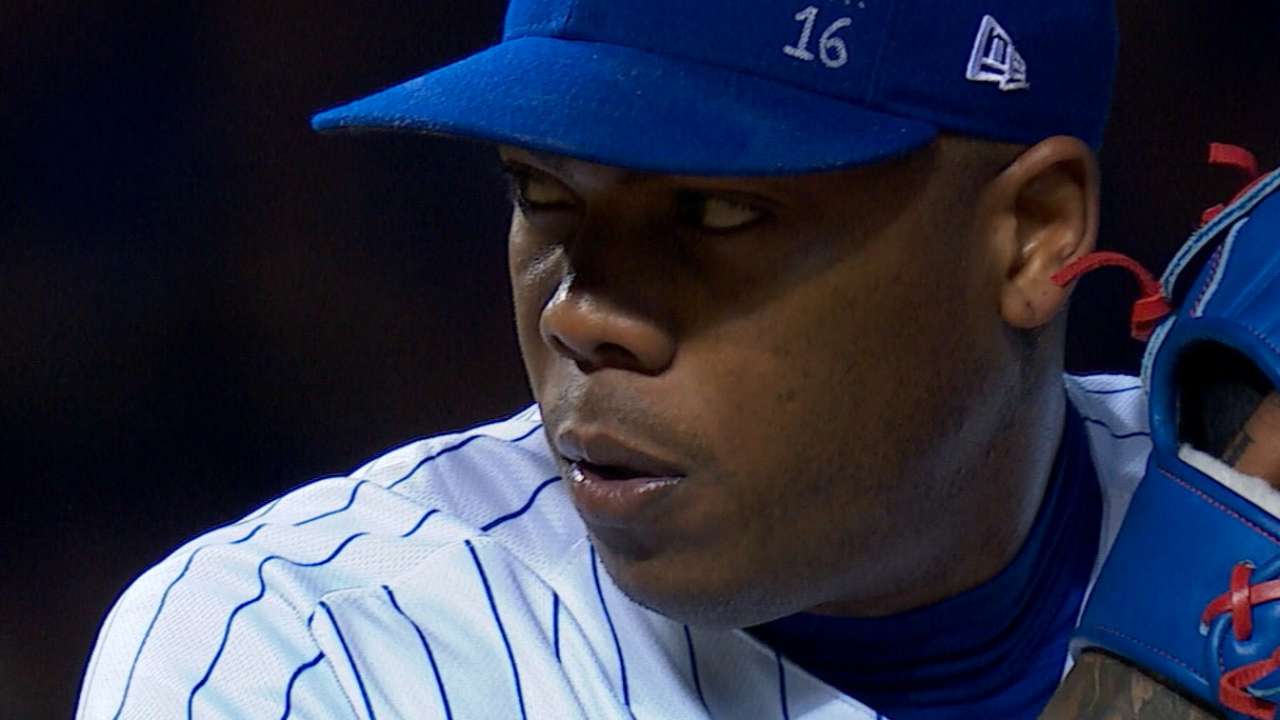 Even with two other top closers hitting the free-agent market, Aroldis Chapman is as good as it gets.
The flamethrowing left-hander could command a record deal for a relief pitcher, and it's easy to see why. Chapman's track record of dominance, which continued in 2016, makes him the next player featured in MLB.com's series that looks at five key stats for some of this offseason's top free agents.
After helping bring the Cubs their first World Series title since 1908 this season, here's a look at five stats that showcase what Chapman can bring to the team he signs with next season.
Bringing the heat
For Chapman, of course, it all starts with the triple-digit fastball. Chapman's heater averaged 100.8 mph in 2016, according to Statcast™, the fastest in the Major Leagues. Not only that, because of his extension, to a hitter, it seems even faster. Chapman averaged a 101.5 perceived velocity on his fastball this season, the only pitcher in baseball to average triple digits. Nearly 70 percent of his fastballs were 100 mph or faster -- 681 of 996 -- and he threw almost twice as many 100-mph fastballs as the pitcher with the next-most in baseball -- Mauricio Cabrera, who threw 342.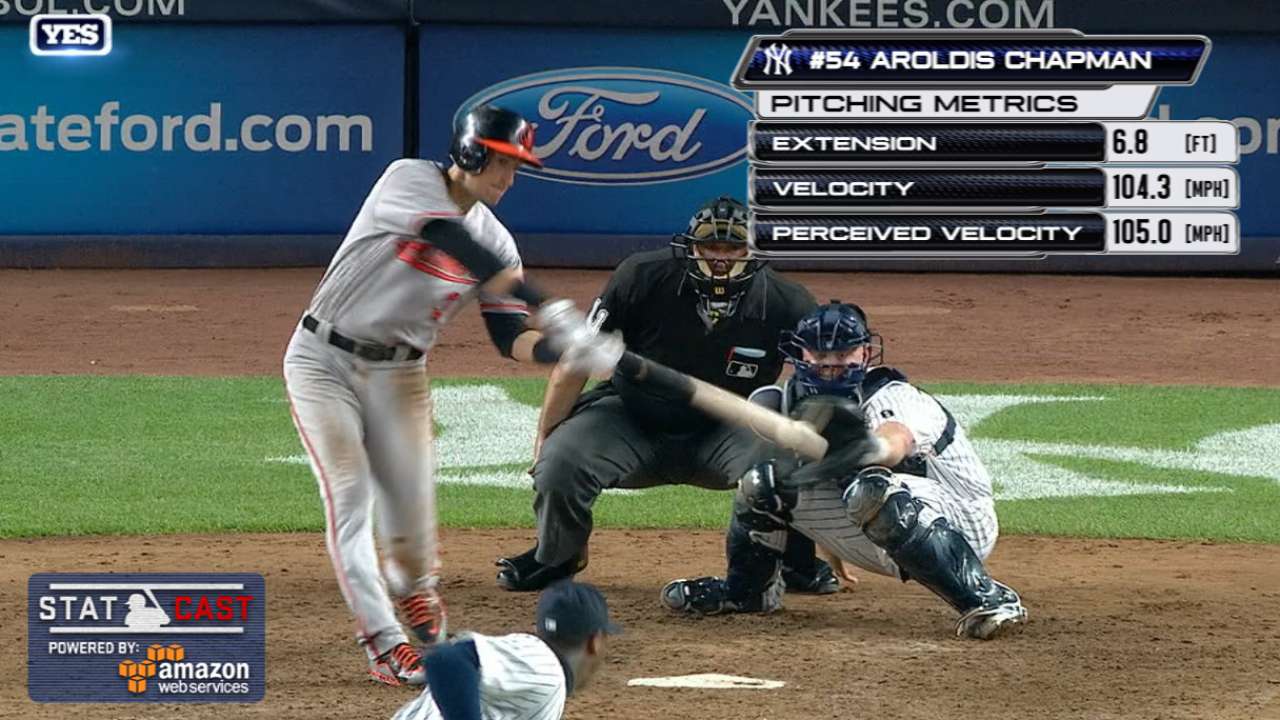 A league of his own
There's a reason MLB.com had to install a "Chapman Filter" on the Statcast™ velocity leaderboard. Chapman threw 49 of the 50 fastest pitches in Major League Baseball this year, and all 50 of the fastest pitches in 2015. That includes the fastest Statcast-tracked pitch on record: his 105.1 mph four-seamer to the Orioles' J.J. Hardy on July 18 this season. It's the only pitch to hit the 105-mph mark, and the reason for Chapman's Twitter handle, "@AChapman_105."
For the long haul
During the postseason, Chapman showed he can be dominant for more than short bursts. In Game 5 of the World Series, Chapman entered in the seventh inning and recorded the final eight outs for the longest save of his career, while protecting a one-run lead the entire time. On his 42nd pitch, he struck out Jose Ramirez with a 101.5-mph fastball to end the game. Chapman became only the second pitcher since 2000 to record a postseason save of at least eight outs, the other being Madison Bumgarner in Game 7 of the 2014 World Series.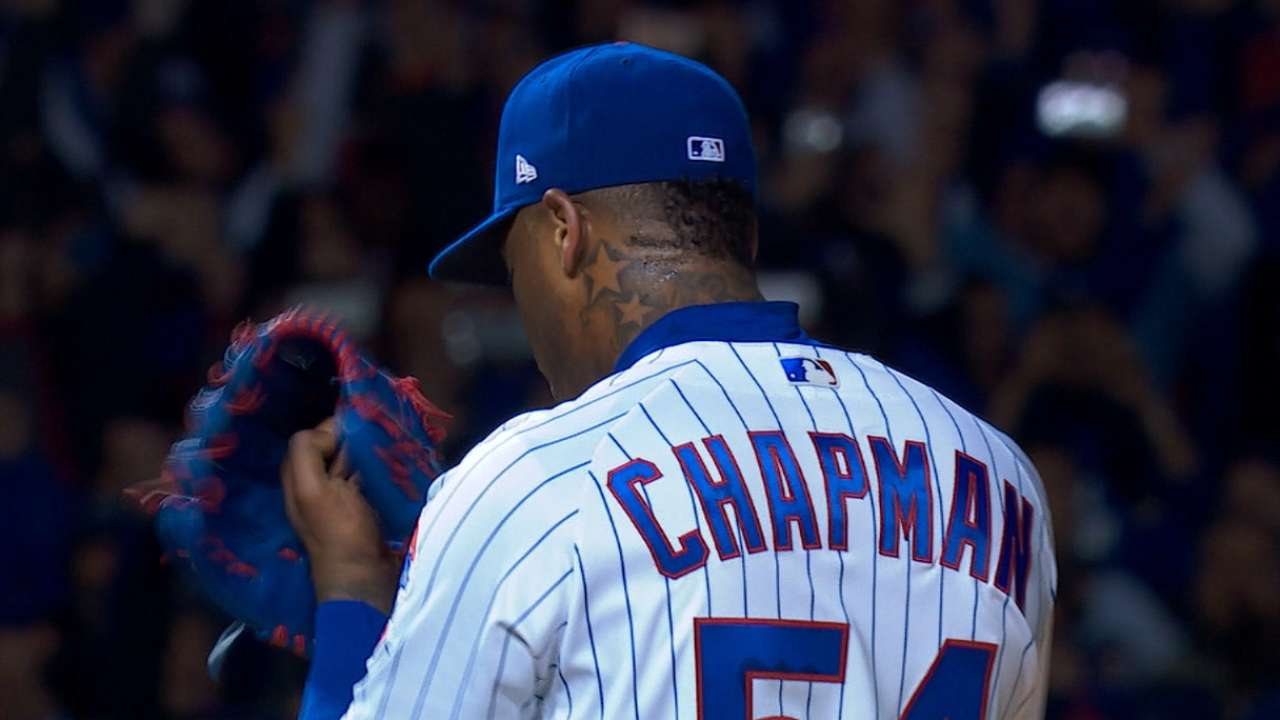 Pounding the zone
For Chapman, who has had issues with command at times, 2016 was an encouraging season. He posted the lowest walk rate of his career, 8.1 percent, and struck out five batters for every one he walked, the second-best K/BB ratio of his career. He became more of a strike-thrower: a career-high 54.1 percent of his pitches were in the strike zone, per FanGraphs, the first time he had ever broken 50 percent. That paid off, even with opponents making more contact than in years past, because Chapman is so hard to square up. He still struck out 14 batters per nine innings, and he allowed only a .158 batting average against, as well as just two home runs (plus the one he gave up in Game 7 of the World Series).
Defense-independent dominance
Chapman's peripheral stats seem to indicate that he's set up for more success in the future. He played in front of an elite defense in Chicago (a major factor for the Cubs pitching staff's overall success in 2016), but his Fielding Independent Pitching was also elite. In fact, Chapman's 1.42 FIP -- a stat based on strikeouts, walks, hit batters and home runs, the outcomes a pitcher has the most control over -- led all qualified Major League relievers. (His ERA was almost as good: 1.55, fourth best among relievers.)
David Adler is a reporter for MLB.com based in New York. Follow him on Twitter at @_dadler. This story was not subject to the approval of Major League Baseball or its clubs.