MLB.com Columnist
Richard Justice
Trout an easy choice for Best Major Leaguer
Two-time AL MVP posted perhaps his best season yet in 2016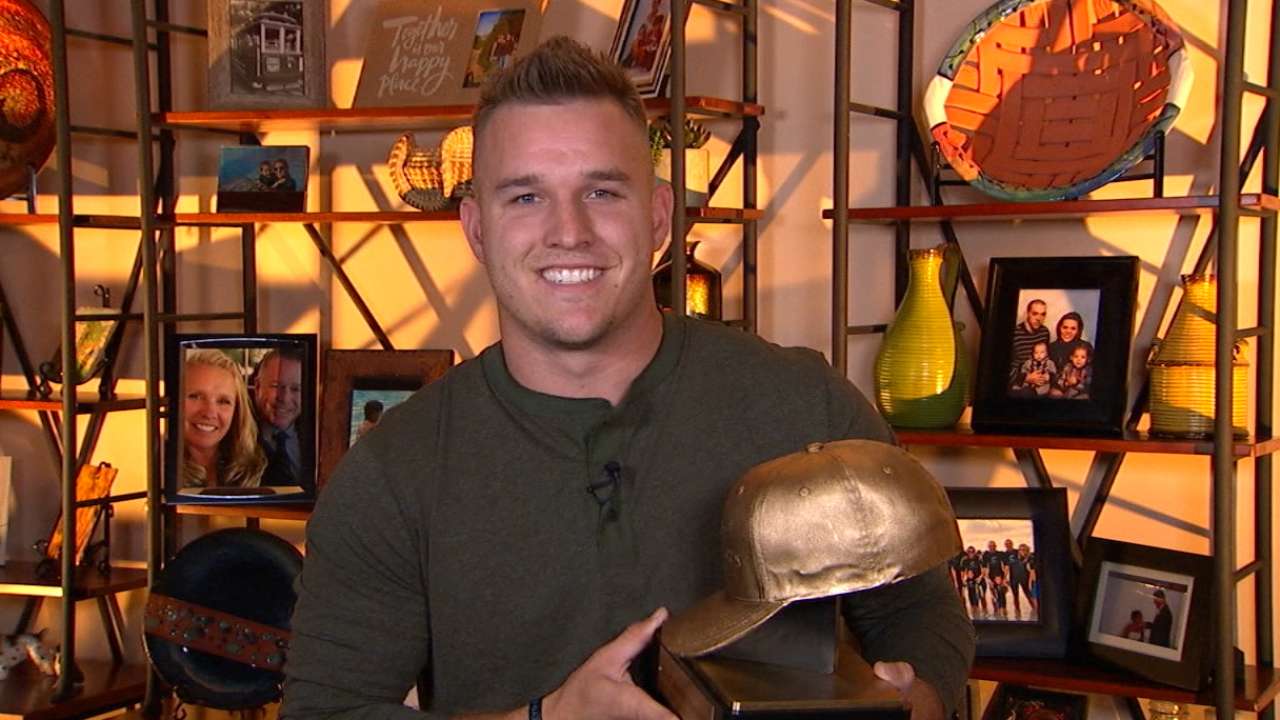 Mike Trout is that special player who comes along every generation or so to take our breath away. Isn't his legacy just about that simple? This surely was what it must have been like to watch Willie Mays at 25. Or maybe Frank Robinson.
Yes, Mike Trout is that good. His first five full seasons -- five All-Star selections, .975 OPS -- compare favorably with almost any player in history.
2016 MLB Award winners
And 2016 might have been his best season ever: .991 OPS, 29 home runs, 100 RBIs, 123 runs, 30 stolen bases. Trout's 10.6 Wins Above Replacement was a full point better than the next-closest player (Mookie Betts at 9.6).
Trout added to his list of honors on Friday when the Esurance MLB Awards named him Best Major Leaguer in balloting by former players, media members, front-office personnel and fans.
"I'd like to thank all the fans out there for the Esurance MLB award for best Major Leaguer," Trout said. "It means a lot to me. I'm extremely humbled and honored to accept this award."
Trout joined Betts and Kris Bryant as finalists for the Best Major Leaguer honor, with Jose Altuve and Josh Donaldson rounding out the five nominees.
Betts made an impressive leap in multiple departments this season, becoming one of the most well-rounded stars baseball has to offer. And Bryant won his first National League Most Valuable Player Award as he helped the Cubs secure the game's best record during the regular season before leading the club to its first World Series title since 1908.
But Trout's contributions outshined the rest.
Just a day earlier, on Thursday, Trout was named American League MVP for the second time in his career. In five seasons, he has never finished lower than second.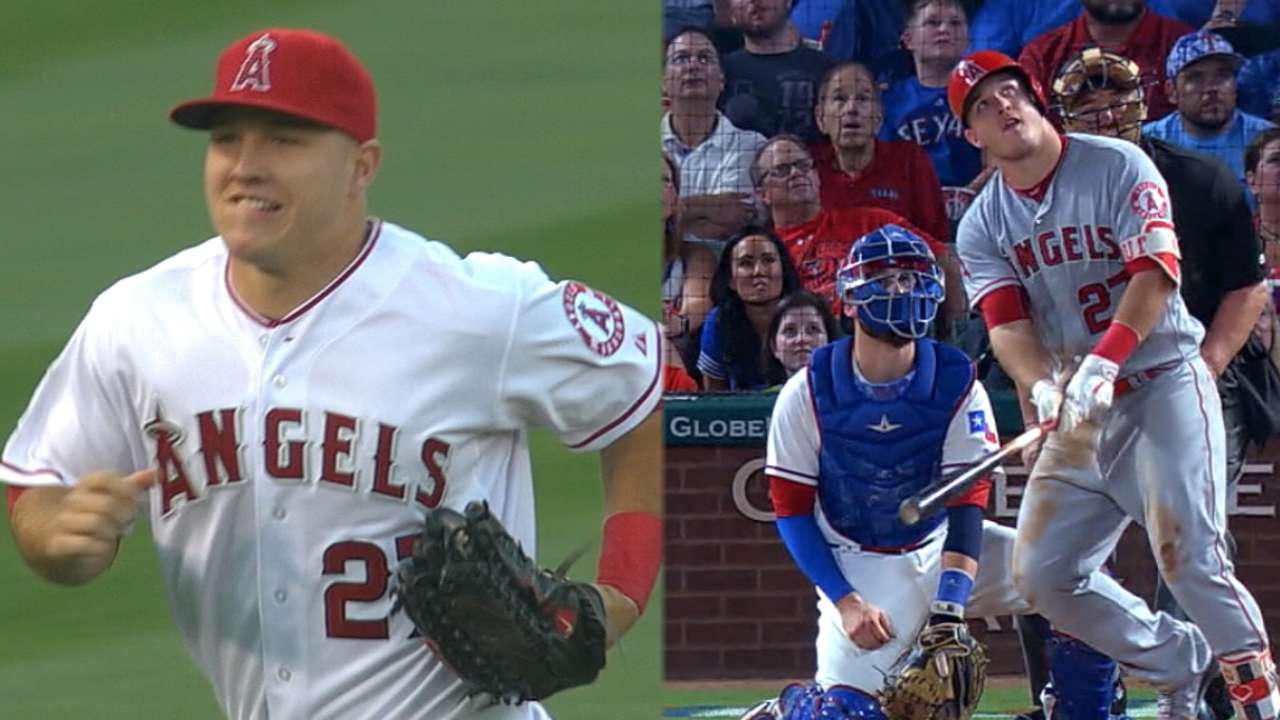 How does he impact games? Take your pick.
No other player in baseball hit the 29-homer and 30-stolen-bases threshold. He led all of baseball with 116 walks, but was also in the top 10 in slugging percentage (.550).
Trout has been so good that he makes the extraordinary seem absolutely routine. One night, he'll fly against the wall to bring a home run back into the ballpark.
Or maybe he'll slap a ball to left field, round first, keep going and slide head-first into second with a hustling double.
Or steal a base to put himself into scoring position.
He's the player you'll tell your grandkids about. Years from now, when fans gather to talk about the best player they've ever seen, you're the lucky one who witnessed Mike Trout at his best.
"My family -- parents, fiancee, brothers and sisters, all of my friends out here -- and especially my teammates. None of this would be possible without them," Trout said. "My coaches, pushing me harder each and every day. Like I said, I'm extremely humbled and honored to accept this award. Thank you."
If it was just about power, he'd be in every conversation. He's hit 168 homers before his 26th birthday and has averaged 34 a season.
Here's what makes him special: He has an assortment of other ways to bring fans out of their seats or off their sofa. Maybe that's the really magical part of his game. Even at a time when baseball is blessed with waves of young young talent, Trout stands out.
These young players know that if they're good enough to be compared to Trout, that's the ultimate compliment. Trout's teammates say he shows up for work every single day with the same attitude, same drive, same enthusiasm.
As great as he is, his love of the game and sheer thrill at putting on a Major League uniform are the things that constantly blow away the people who know him best.
"He just loves playing and competing," Angels general manager Billy Eppler said. "He never stops looking for ways to get better. But at his core, he has a really simple approach. He wants to do whatever needs to be done to help his team win a game."
In five seasons, Trout has led the AL in runs four times, while averaging 34 home runs and 29 stolen bases. And there's a string of highlight-reel catches.
"It was an easy vote actually," said former Angel Tim Salmon, who cast one of the Esurance ballots for Trout. "I see Mike Trout play just about every day, and I can't think of another player that consistently contributes in some way every game, either with his bat, glove, or his legs. It defies logic to see a player that really contributes to his team chances of winning 162 out of 162. He is a special player."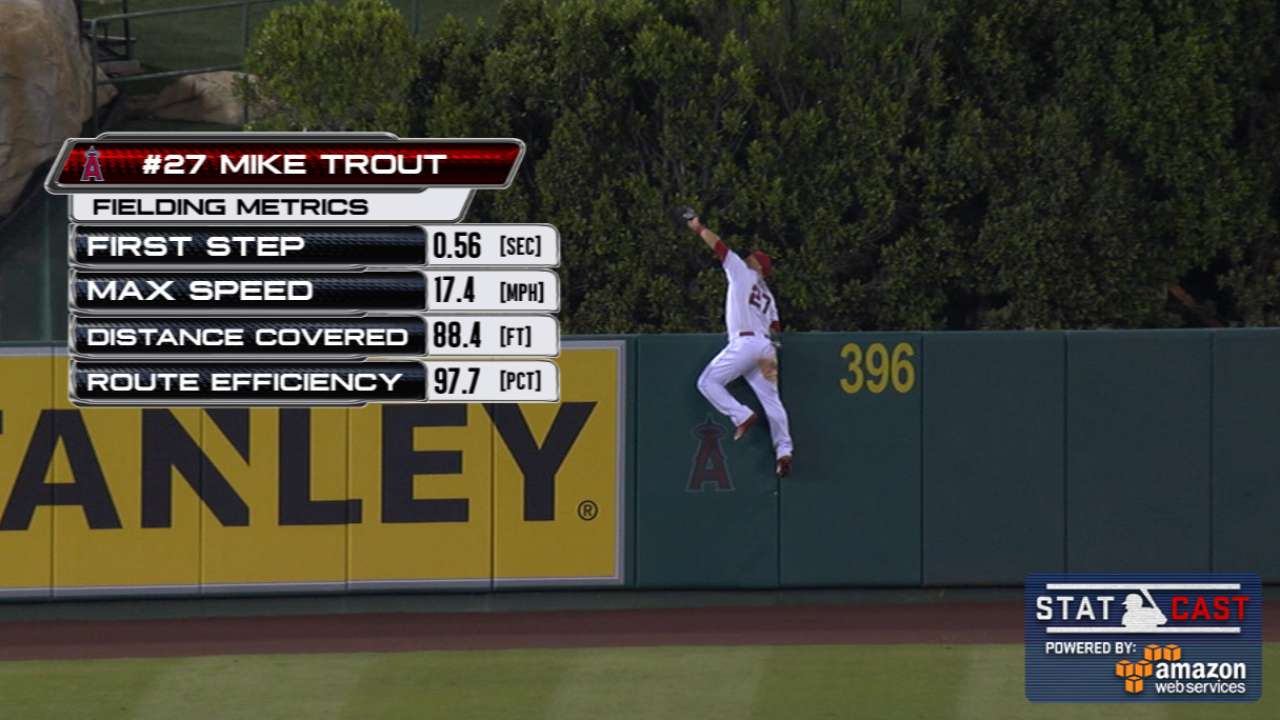 Trout's manager has said the same kinds of things for the past five seasons. Mike Scioscia has watched Trout get better and better.
"What Mike does and what Mike has accomplished this year has more impact than the fact that we're a sub-.500 team," Mike Scioscia said. "His numbers are incredible. You can't deny that they're a notch above anybody else that's there."
The Esurance MLB Awards annually honor Major League Baseball's greatest achievements as part of an industry-wide balloting process that includes five groups, each of which accounts for 20 percent of the overall vote: media, front-office personnel, retired MLB players, fans at MLB.com and Society for American Baseball Research (SABR) voters.
The MLB Awards are an all-inclusive program, encompassing the top players and performances from both the American League and National League from Opening Day through the end of the postseason.
Individual awards went to the Best Major Leaguer in addition to the winners in the following categories: Best Hitter, Pitcher, Rookie, Defensive Player, Manager, Executive, Social Media Personality and Postseason Performer.
Winners were also recognized for the year's best Offensive Play, Defensive Play, Regular-Season Moment, Postseason Moment, Single-Game Performance, Social Media Post, Fan Catch, Broadcast Call, Player-Fan Interaction and Trending Topic.
Voting began on Sept. 19 at 4 p.m. ET at MLB.com/awards, one hour after the inaugural Esurance MLB Fans of the Year winners were announced.
Winners of the 2016 Esurance MLB Awards were unveiled at a reception in Manhattan's Chelsea Market, on MLB social channels and during a live broadcast on MLB Network and MLB.com.
Richard Justice is a columnist for MLB.com. You can follow him on Twitter @richardjustice. This story was not subject to the approval of Major League Baseball or its clubs.