MLB.com Columnist
Jim Callis
Top prospects pack Fall League's championship game
Contest will be broadcast on MLB Network and MLB.com today at 3 p.m. ET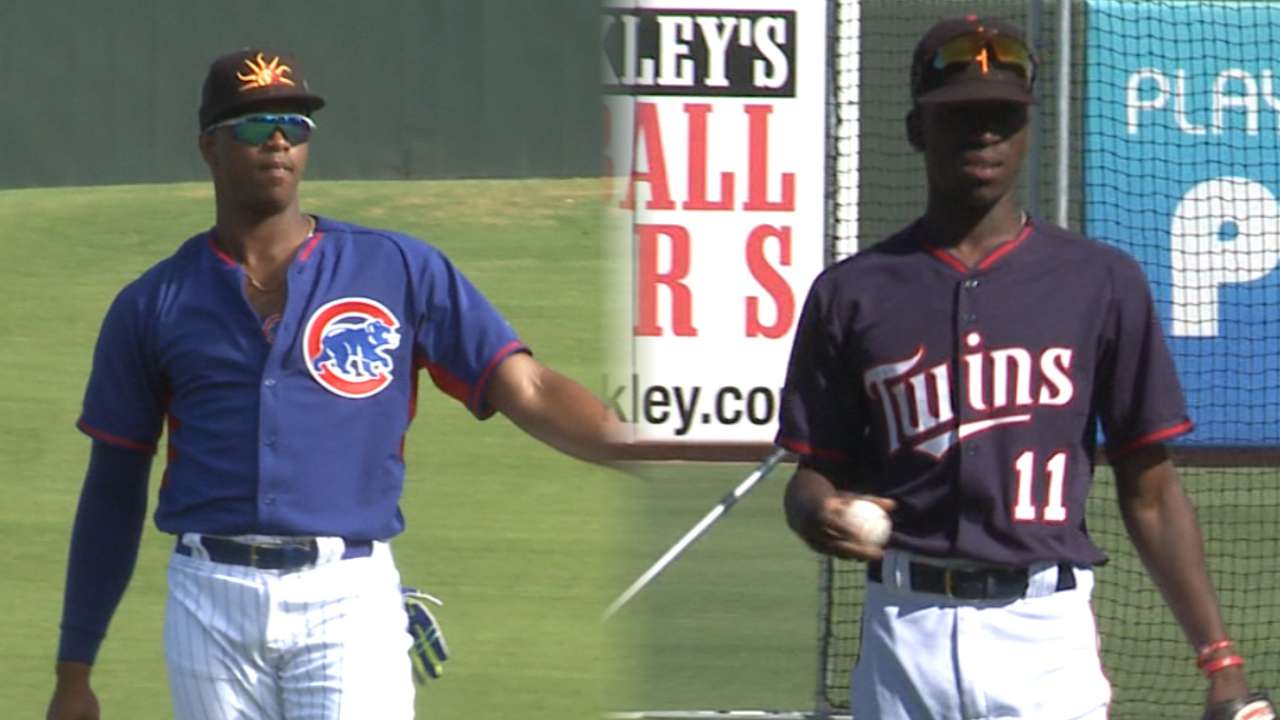 SCOTTSDALE, Ariz. -- After the wildest regular season in Arizona Fall League history, the Mesa Solar Sox and Surprise Saguaros will meet in a one-game playoff for the championship.
Five of the AFL's six teams remained in contention for a division title on the final day of the regular season on Thursday. Surprise (17-14-1) nearly squandered a two-game lead with three to play in the West Division before rallying for a 4-2 victory of the Salt River Rafters in their season finale.
Mesa and Surprise square off at Scottsdale Stadium at 3 p.m. ET today, with the game broadcast live on MLB Network and MLB.com. It's the first playoff appearance for both clubs since the 2013 championship game, when Mookie Betts drove in a run in a 2-0 Saguaros victory. The Solar Sox last won the AFL title in 2003.
• Fall League championship game starting lineups
"We are all pretty stoked about playing in the championship," Saguaros outfielder Tanner English (Twins) said. "This is a tough league and to be able to play in this game is a pretty cool opportunity. We are going to go out there, continue to do what we've been doing, have some fun and see if we can win this thing."
The Rafters were three outs from eliminating Mesa (16-15-1) in the East on Tuesday before the Solar Sox scored three runs in the bottom of the 11th. Salt River dropped its last two games, allowing Mesa to win the East by a half-game with a 6-6 tie against the Scottsdale Scorpions on Thursday.
"It would be awesome to win a championship at any level, from A ball to the World Series," Solar Sox outfielder Bradley Zimmer (Indians top prospect) said. "We've had a lot of fun working with the coaches and the staff, getting used to seeing each other every day. It would be fun to finish it off with a ring."
Mesa easily led the Fall League with a 3.38 ERA and will begin the game with Dylan Covey (A's No. 20) followed by Frankie Montas (A's No. 10) on the mound. Surprise, which finished last in ERA at 4.99, counters with a surprise starter in Royals left-handed reliever Eric Stout.
Covey and Montas worked the first eight innings of the third no-hitter in league history on Nov. 1. Covey went 4-0 during the Fall League season, despite a 4.74 ERA. Montas, who can top 100 mph with his fastball, allowed just one earned run in 17 Fall League innings (0.53 ERA). He allowed just seven hits but walked eight and only struck out nine.
Stout will not only be making his first start of the Fall League, but his first start of the year. He made 42 relief appearances during the regular season and has started just two games over three Minor League seasons since being drafted in the 13th round out of Butler in 2014. Stout pitched in nine games for Surprise, posting a 2.77 ERA with six walks and 13 strikeouts in 13 innings.
The Solar Sox ranked second in the league in scoring (5.03 runs per game) while pacing the AFL in home runs (25), stolen bases (44), on-base percentage (.340) and slugging (.395). Their deep lineup includes three of the league's best prospects in second baseman Ian Happ (Cubs top prospect), outfielder Eloy Jimenez (Cubs No. 2) and Zimmer, as well as the home run leader (Marlins third baseman Brian Anderson, with five) and steals champ (Indians outfielder Greg Allen, with 12).
Shortstop Nick Gordon (Twins' No. 2) and outfielder Eric Wood (Pirates), who topped the league with 20 RBIs, are the most productive hitters in a Saguaros lineup that placed fifth in scoring (4.53 runs per game). Catcher Mitch Garver (Twins No. 24) finished second in the AFL with four homers and erased 41 percent of the basestealers who tested him.
Below is a list of players on championship game rosters who rank on MLBPipeline's overall Top 100 Prospects or on one of our organization Top 30 Prospects lists:
Mesa Top 100 Prospects
2B Ian Happ, Cubs (No. 21)
OF Eloy Jimenez, Cubs (No. 23)
OF Bradley Zimmer, Indians (No. 25)
SS/2B Franklin Barreto, Athletics (No. 42)
OF Anthony Alford, Blue Jays (No. 86)
Mesa Organization Top 30 Prospects
OF Greg Allen (Indians' No. 19)
3B/1B Brian Anderson (Marlins' No. 4)
C/1B Victor Caratini (Cubs' No. 15)
SS Yu-Cheng Chang (Indians' No. 9)
RHP Dylan Covey (A's No. 20)
LHP Jarlin Garcia (Marlins' No. 3)
C Danny Jansen (Blue Jays' No. 30)
RHP Frankie Montas (A's No. 10)
3B Yairo Munoz (A's No. 7)
2B Max Schrock (A's No. 21)
Surprise Top 100 Prospects
SS Nick Gordon, Twins (No. 47)
RHP Michael Kopech, Red Sox (No. 67)
LHP Stephen Gonsalves, Twins (No. 85)
Surprise Organization Top 30 Prospects
LHP Trey Ball (Red Sox's No. 14)
LHP Jalen Beeks (Red Sox's No. 29)
SS/OF Mauricio Dubon (Red Sox's No. 12)
C Mitch Garver (Twins' No. 24)
2B Andy Ibanez (Rangers' No. 2)
LHP Mason Melotakis (Twins' No. 19)
1B Ryan O'Hearn (Royals' No. 7)
RHP Edgar Santana (Pirates' No. 29)
2B Corey Toups (Royals' No. 30)
C Jose Trevino (Rangers' No. 20)
Jim Callis is a reporter for MLB.com. Follow @jimcallisMLB on Twitter. This story was not subject to the approval of Major League Baseball or its clubs.