Papi wins Best Hitter, Player-Fan Interaction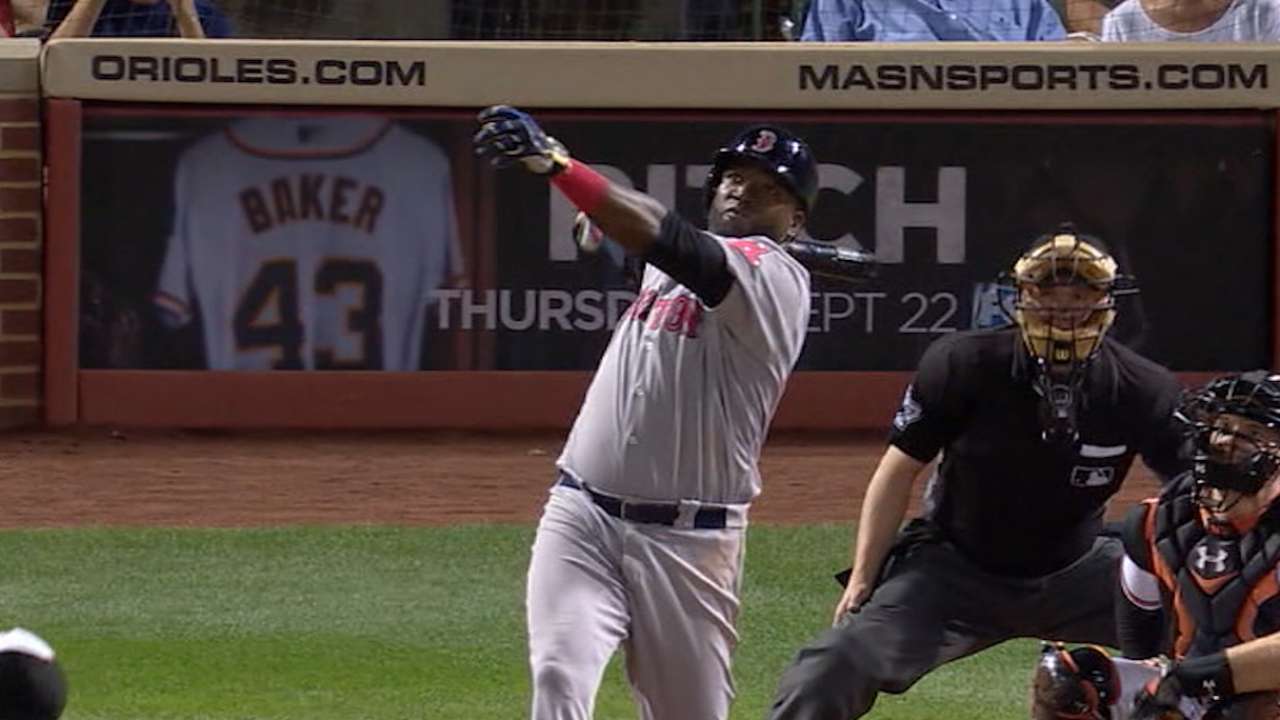 BOSTON -- Fittingly, David Ortiz was recognized for on-field dominance and off-field kindness while taking home two Esurance MLB Awards on Friday.
The gregarious slugger, who retired after a brilliant 2016 season, won the coveted Best Hitter Award, beating out a field that included Jose Altuve (Astros), Kris Bryant (Cubs), Daniel Murphy (Nationals) and Mike Trout (Angels).
Ortiz also won in the category of Best Player/Fan Interaction for the impact he made on young Maverick Schutte of Wyoming. Not only did Ortiz guarantee Schutte that he would hit him a home run and then followed through on it, but he also hosted the six-year-old boy, who was born with a congenital heart condition, during a special visit to Fenway Park.
2016 MLB Award winners
The Esurance MLB Awards annually honor Major League Baseball's greatest achievements as part of an industry-wide balloting process that includes five groups, each of which accounts for 20 percent of the overall vote: media, front-office personnel, retired MLB players, fans at MLB.com and Society for American Baseball Research (SABR) voters.
Considering that Ortiz played his entire final season at the age of 40, it was hard to imagine he would be so productive.
Ortiz led MLB in OPS (1.021), doubles (48), slugging percentage (.620) and extra-base hits (87) while tying Edwin Encarnacion for second in RBIs (127). Add in a .318 average and 38 homers, and it was a season right out of Ortiz's prime.
In typical Ortiz fashion, there was also the flair for dramatic. Take, for example, the game on May 14 against the Astros, when Ortiz tied the game with a two-out, RBI triple in the ninth and then won it with a double in the 11th for the 23rd walkoff hit of his career.
As for the poignant story of Ortiz and young Maverick, it all started prior to the first Red Sox-Yankees game of the season -- on April 29 at Fenway Park. MLB Network analyst Kevin Millar was in town for the game and he told his former teammate about Schutte, who is a huge Red Sox fan and Big Papi supporter.
Ortiz and Millar produced a video together for Maverick that went viral within a day.
In the video, Ortiz told Maverick, "Always stay positive. Keep the faith. You take care, buddy, and I'm going to hit a homer for you tonight. Remember that. For you."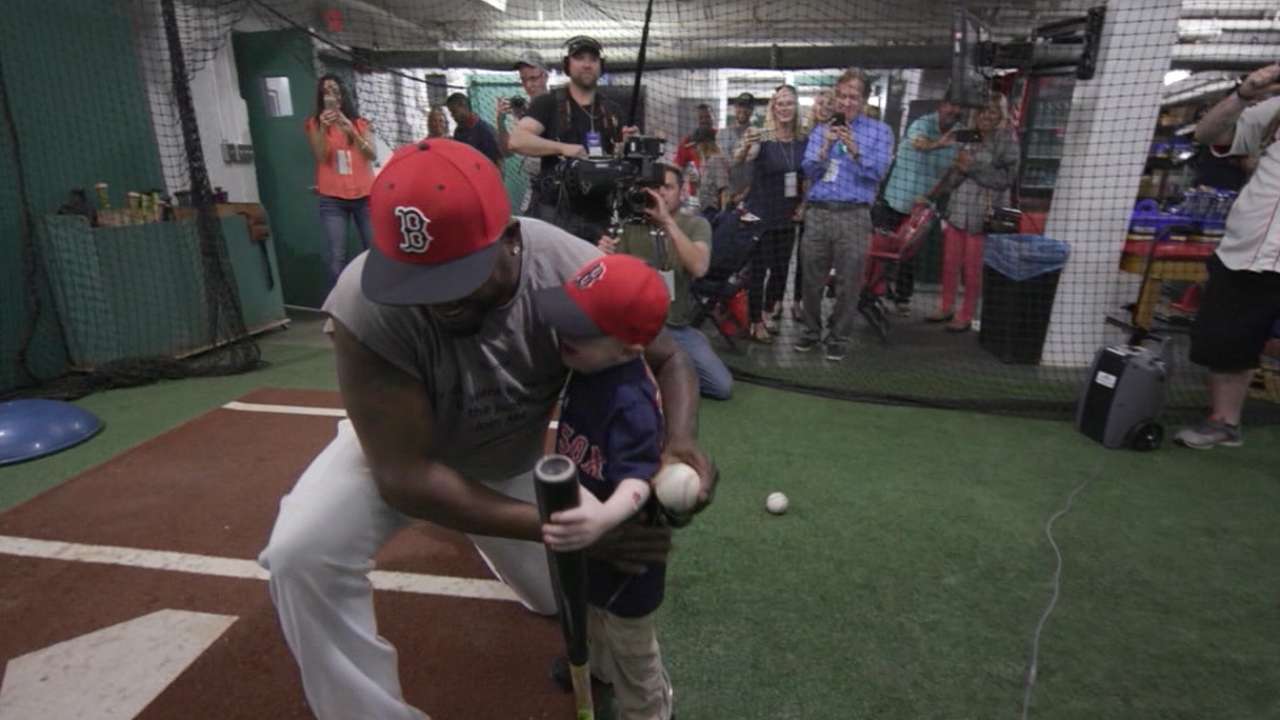 In the bottom of the eighth inning that night, Ortiz clocked a two-run homer against Dellin Betances to break a 2-2 tie and lead the Red Sox to victory.
By the time the game was over, Maverick had sent Ortiz a video back from his Wyoming home thanking him for coming through on his promise.
But the story got even better on May 11, when Schutte and his family flew to Boston for a game at Fenway Park.
Rather than just giving Maverick a brief hello, Ortiz let the boy shadow him around the clubhouse and on the field during batting practice. Maverick and Ortiz did a live interview with MLB Network on the field.
And to cap it all off, Maverick threw out the first pitch before that night's game against the A's.
The MLB Awards are an all-inclusive program, encompassing the top players and performances from both the American League and National League from Opening Day through the end of the postseason.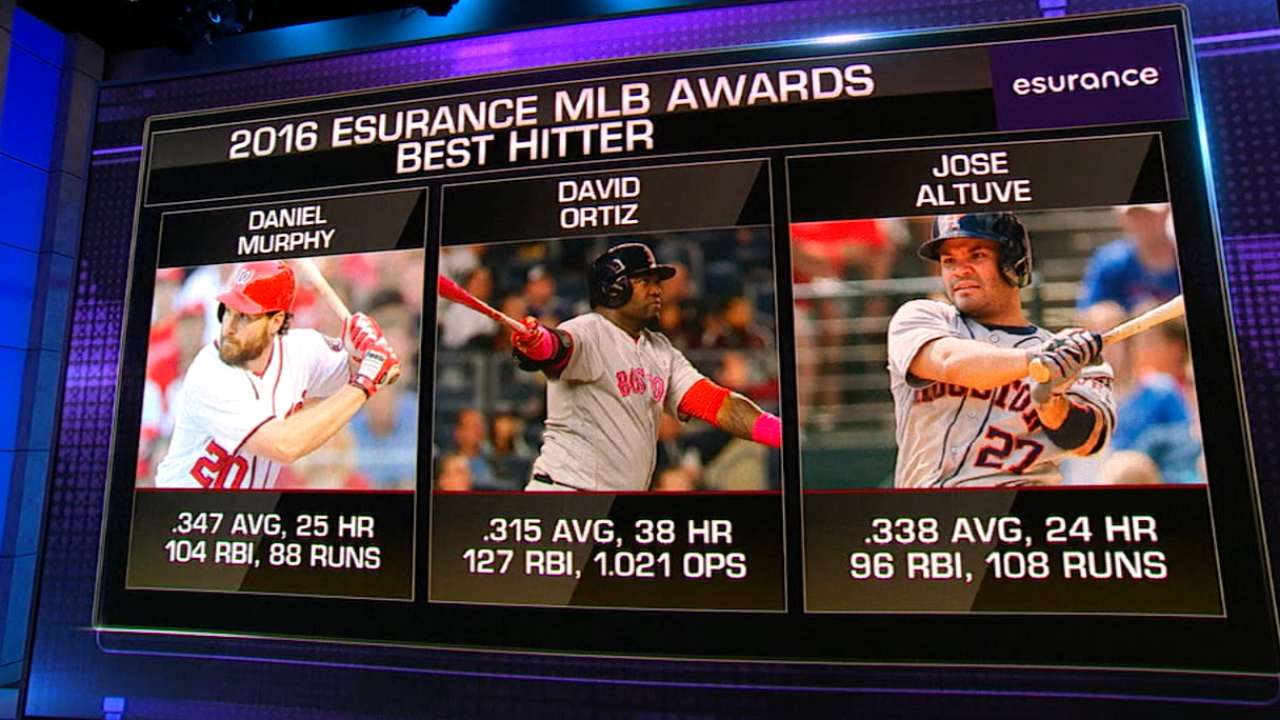 Individual awards went to the Best Major Leaguer in addition to the winners in the following categories: Best Hitter, Pitcher, Rookie, Defensive Player, Manager, Executive, Social Media Personality and Postseason Performer.
Winners were also recognized for the year's best Offensive Play, Defensive Play, Regular-Season Moment, Postseason Moment, Single-Game Performance, Social Media Post, Fan Catch, Broadcast Call, Player-Fan Interaction and Trending Topic.
Voting began on Sept. 19 at 4 p.m. ET at MLB.com/awards, one hour after the inaugural Esurance MLB Fans of the Year winners were announced.
Winners of the 2016 Esurance MLB Awards were unveiled at a reception in Manhattan's Chelsea Market, on MLB social channels and during a live broadcast on MLB Network and MLB.com.
Ian Browne has covered the Red Sox for MLB.com since 2002. Follow him on Twitter @IanMBrowne and Facebook. This story was not subject to the approval of Major League Baseball or its clubs.