Astros' Martes sharp in final Fall League start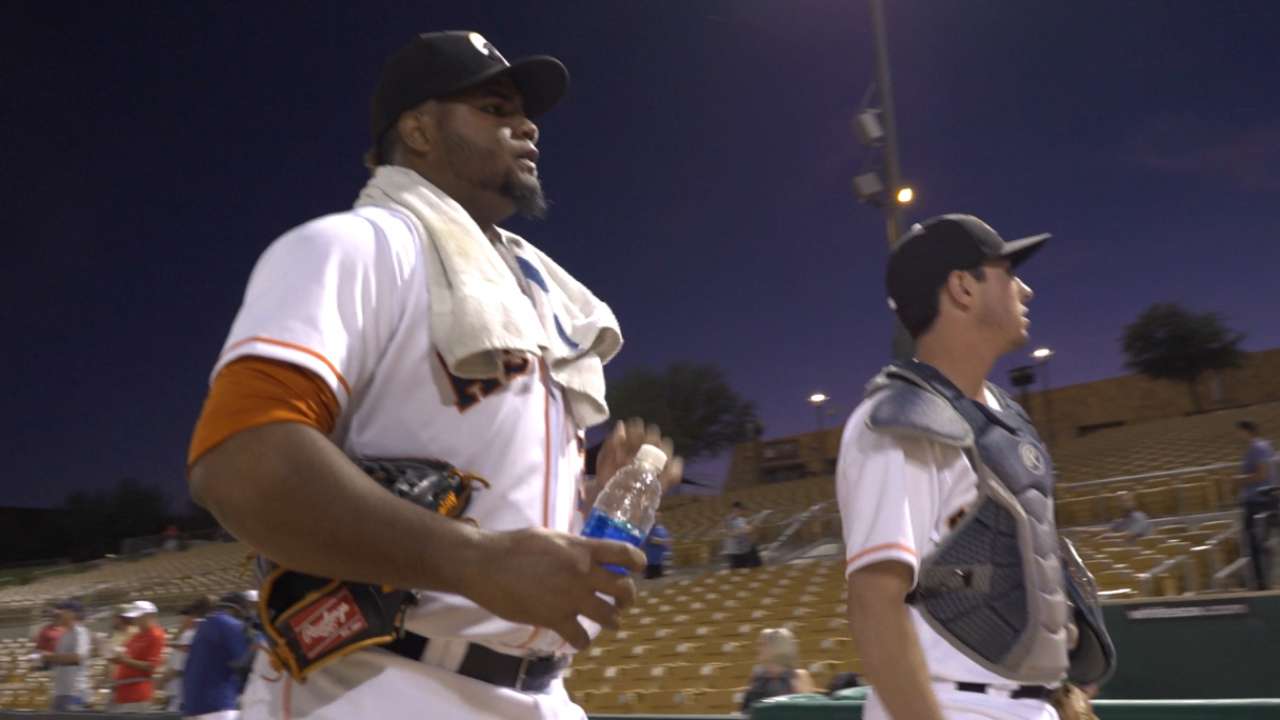 PEORIA, Ariz. -- With a trip to the Arizona Fall League championship at stake, the Glendale Desert Dogs turned to their top hurler, Francis Martes, on the final day of the regular season -- and the No. 29 overall prospect did not disappoint.
"I wanted to give it my best today," Martes said after the game through a translator. "I wanted to be proud to help us get that [championship] ring."
• Gameday
The Astros' top prospect turned in his best AFL start, allowing just two hits over five scoreless innings to pace Glendale in a 3-1 win over the Peoria Javelinas at Peoria Stadium. However, a victory by Surprise over Salt River ultimately put an end to Glendale's playoff chances, with the Desert Dogs (17-15) finishing a half-game back of the Saguaros (17-14-1) in the AFL West division.
Martes, 20, issued a pair of walks and struck out seven, matching his Fall League-high, while throwing 40 of his 60 pitches for strikes. He operated at 93-97 mph with his fastball, topping out at 98, and showed feel for commanding it, both laterally and vertically, throughout.
Meanwhile, Martes' sharp, late-breaking slider at 83-84 mph was even more impressive, as he used the pitch to record six of his seven strikeouts, including four called third strikes.
"My slider is always out there, always good," Martes said. "After my fastball, it's the pitch I command the best. I trust that it's going to be there for me, and it helped me get those strikeouts today."
Martes also showed confidence in his 88-90 mph changeup in the outing, throwing it to right- and left-handed hitters alike.
"My delivery to the plate was better today, and I did a good job working in my changeup," he continued. "Everything clicked together, and I'm thankful for that."
Martes had a strong regular-season campaign at Double-A Corpus Christi, going 9-6 with a 3.30 ERA and 131 strikeouts in 25 games (22 starts), but got off to a bit of a slow start in the AFL as he allowed seven earned runs across his first three starts for Glendale.
But Martes would right the ship in his fourth start, and he wrapped up his stay in the desert on a positive note, yielding just one earned run and eight hits over his final three turns in the Fall League. He logged 13 2/3 innings in that span, with 18 strikeouts and four walks. Altogether, Martes went 2-1 with a 3.22 ERA in six starts, compiling 25 strikeouts against nine walks in 22 1/3 innings.
After a scoreless first inning, the Desert Dogs opened the second with three straight hits en route to three runs. No. 31 overall prospect Cody Bellinger (Dodgers' No. 1) led off the frame with a double into the right-field corner and came around to score on Nick Tanielu's (Astros) double to left-center.
No. 82 overall prospect Harrison Bader (Cardinals' No. 3) followed with a single through the right side, putting runners on the corners with no outs for Garrett Stubbs (Astros' No. 30), whose sacrifice fly pushed across another run. The next batter for Glendale, White Sox No. 14 prospect Courtney Hawkins, made it a 3-0 game with an RBI double to left field.
That score held until the bottom of the sixth inning, when Brandon Dixon (Reds) doubled to left field to plate Peoria's only run of the game.
Tanielu went 2-for-4 to finish the Fall League with a .352 average -- one point shy of team leader Andrew Stevenson's (Nationals' No. 8) .353 mark -- while Bellinger (.314 average) and Nationals No. 10 prospect Drew Ward (.309) both went 1-for-3.
Mike Rosenbaum is a reporter for MLB.com. Follow him on Twitter at @GoldenSombrero. This story was not subject to the approval of Major League Baseball or its clubs.