Betts finishes 2nd to Trout in AL MVP voting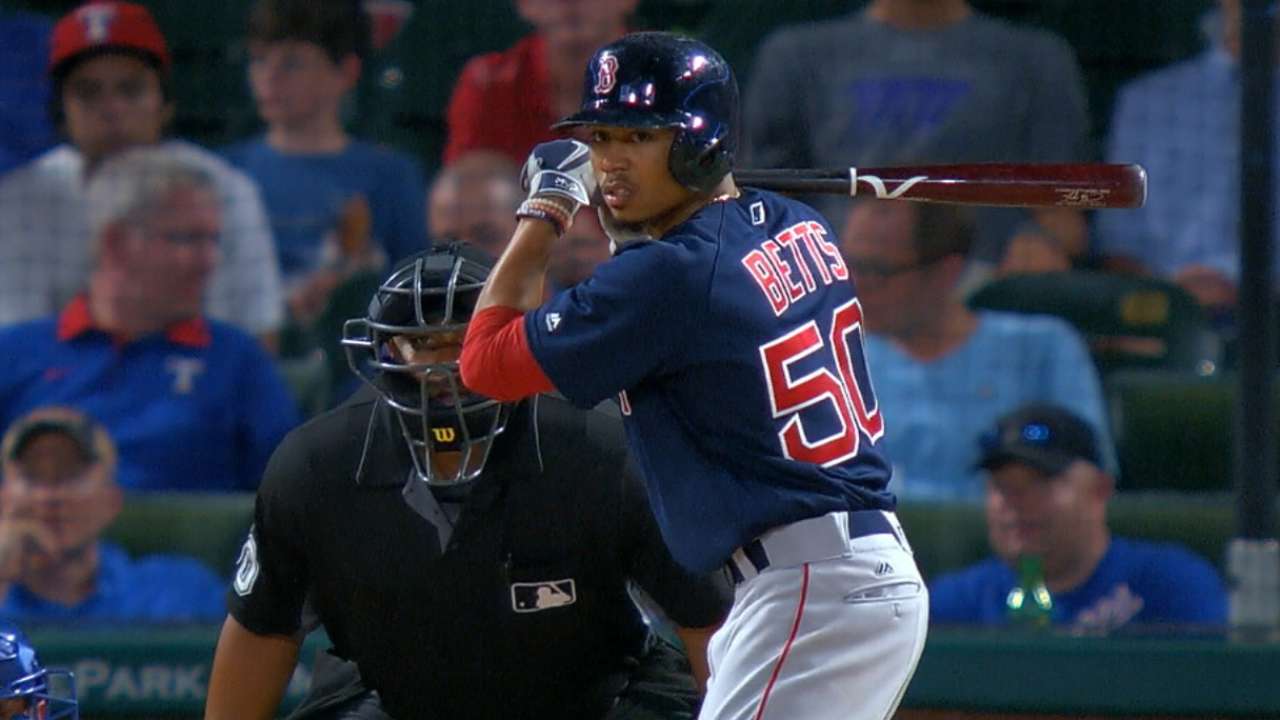 BOSTON -- Mookie Betts put together the finest all-around season by a Red Sox player in recent memory, but it wasn't quite enough for the 24-year-old to land the 2016 American League Most Valuable Player Award.
Betts finished second in the Baseball Writers' Association of America balloting announced Thursday to Angels center fielder Mike Trout, who is considered by many to be the best player in the game.
Trout finished with 356 points, beating out finalists Betts (311 points) and Astros second baseman Jose Altuve (227). The results were revealed during a one-hour special on MLB Network.
AL MVP voting results
| Player, Team | 1st | 2nd | 3rd | 4th | 5th | Points |
| --- | --- | --- | --- | --- | --- | --- |
| Mike Trout, Angels | 19 | 8 | 1 | | 1 | 356 |
| Mookie Betts, Red Sox | 9 | 17 | 4 | | | 311 |
| Jose Altuve, Astros | | 2 | 15 | 11 | 2 | 227 |
| Josh Donaldson, Blue Jays | | 2 | 9 | 7 | 6 | 200 |
| Manny Machado, Orioles | | | | 5 | 7 | 150 |
Of the three finalists, Betts was the only one to play in the postseason this year, creating some hope among Red Sox fans that he would win the MVP.
• All-time winners: AL MVP Award
Red Sox slugger David Ortiz, who retired after a brilliant final season, finished sixth and received a first-place vote and a second-place vote.
Ballots from two writers in each league city prior to postseason play are tabulated on a system that rewards 14 points for first place, nine for second, eight for third, and on down to one for 10th.
• MLB.com's complete awards coverage
Betts was the only player to be voted no lower than third place on all 30 ballots. He received nine first-place votes, 17 second-place votes and four third-place votes.
It would surprise no one if there were some MVP Awards in the future for Betts.
"What an unbelievable player and person," Trout said of Betts. "I got to know him a little bit. He's special. He's great for the game. A lot of people ask me about the young guys coming up, and for him to have a year like that, it was just unbelievable. I talked to a bunch of guys on the Red Sox that play with him and they say he's one of the best they've been around. He's a special talent, and it's going to be a fun battle hopefully the next 10 to 15 years."
Congrats on a very well deserved MVP to @MikeTrout - he's a beast! Can't wait to get back out there next year #RedSoxNation.

— Mookie Betts (@mookiebetts) November 18, 2016
After a solid first two seasons, Betts emerged into a superstar in '16, proving capable of beating his opponents in many ways in any game.
Betts was a standout performer with his bat, glove, arm and legs while helping lead the 93-win Red Sox to the AL East title.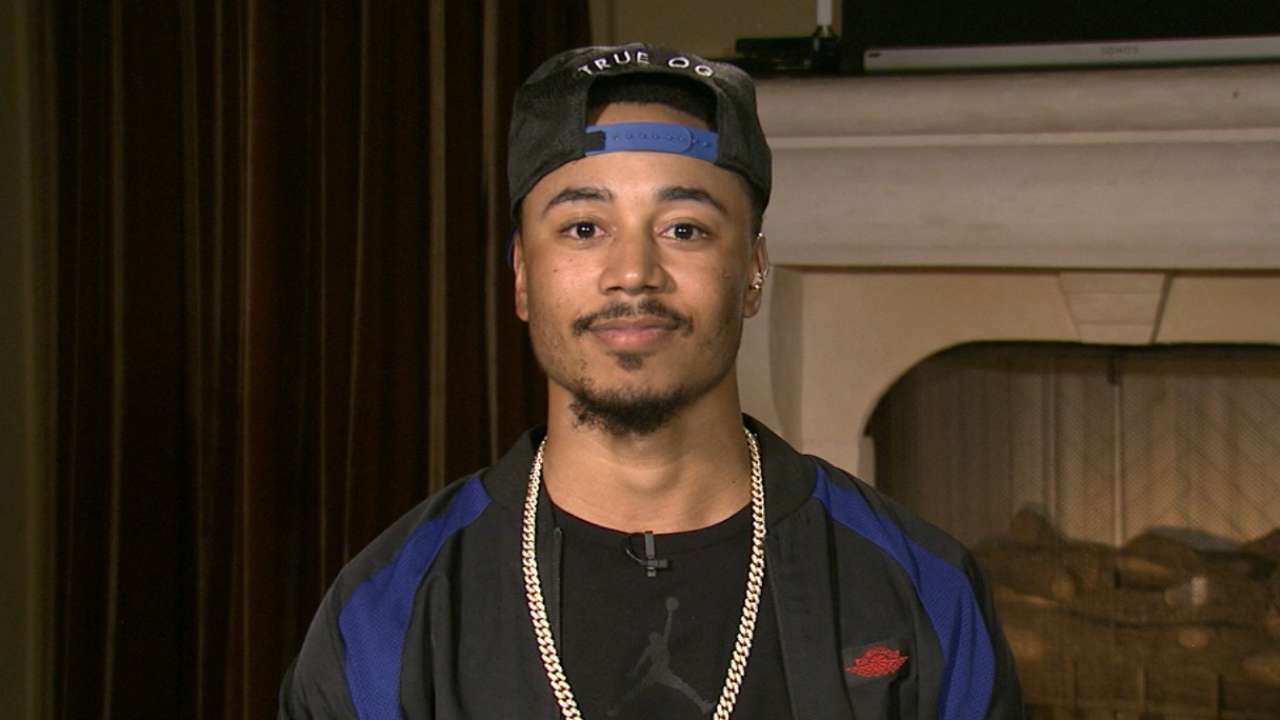 He ranked second in the AL in average (.318), second in hits (214), tied for second in runs (122), tied for third in doubles (42), tied for fourth in extra-base hits (78) and fourth in RBIs (113).
"Just from the beginning, being with all the guys, we tried to mesh together and not try to be better than the next guy," Betts said to MLB Network. "I just wanted to set the table for David and [Xander] Bogaerts and Hanley [Ramirez] and those guys, and I did what I can."
Dubbed "The Playmaker" by teammate Jackie Bradley Jr., Betts has developed impressive power for someone who stands 5-foot-9.
Helped by his lightning-quick hands, Betts raked 31 home runs and was the first Red Sox player since Ted Williams to have two three-homer games in a season. Betts stole 26 bases in 30 attempts. He won the AL Silver Slugger in right field.
For a player still in the early stages of his career, the relaxation and composure Betts displayed throughout '16 was exceptional. How does Betts always have so much confidence?
"The pitcher is in trouble, not me," Betts said. "He has to throw it over the plate and I have to put a good swing on it. I don't want to put any pressure on myself. I just do what I do and have fun."
.@mookiebetts comes in second in MVP voting.

Congrats on an incredible season, Mookie! pic.twitter.com/0UxiICcwWI

— Boston Red Sox (@RedSox) November 17, 2016
As impressive as Betts was on offense, he might have been even more exceptional on defense.
En route to winning a Rawlings Gold Glove Award, Betts posted a Major League-leading 32 Defensive Runs Saved. He started four double plays and finished second in the Majors among right fielders with 14 assists. Betts was also named the Wilson Defensive Player of the Year for both leagues.
The MLB Awards -- following league-specific recognition by BBWAA voters, whose ballots are based on regular-season play -- include candidates from both leagues (with postseason performance taken into consideration). MLB Awards are based on votes by retired players, broadcasters/reporters, team executives, Society of American Baseball Research members and fans, with each group accounting for 20 percent of the process. Esurance MLB Awards week concludes Friday on MLB Network and MLB.com at 8 p.m. ET. MLB Awards categories include Best Major Leaguer, Hitter, Pitcher, Rookie, Executive and Manager.
Ian Browne has covered the Red Sox for MLB.com since 2002. Follow him on Twitter @IanMBrowne and Facebook. This story was not subject to the approval of Major League Baseball or its clubs.