Seager finishes third in NL MVP Award voting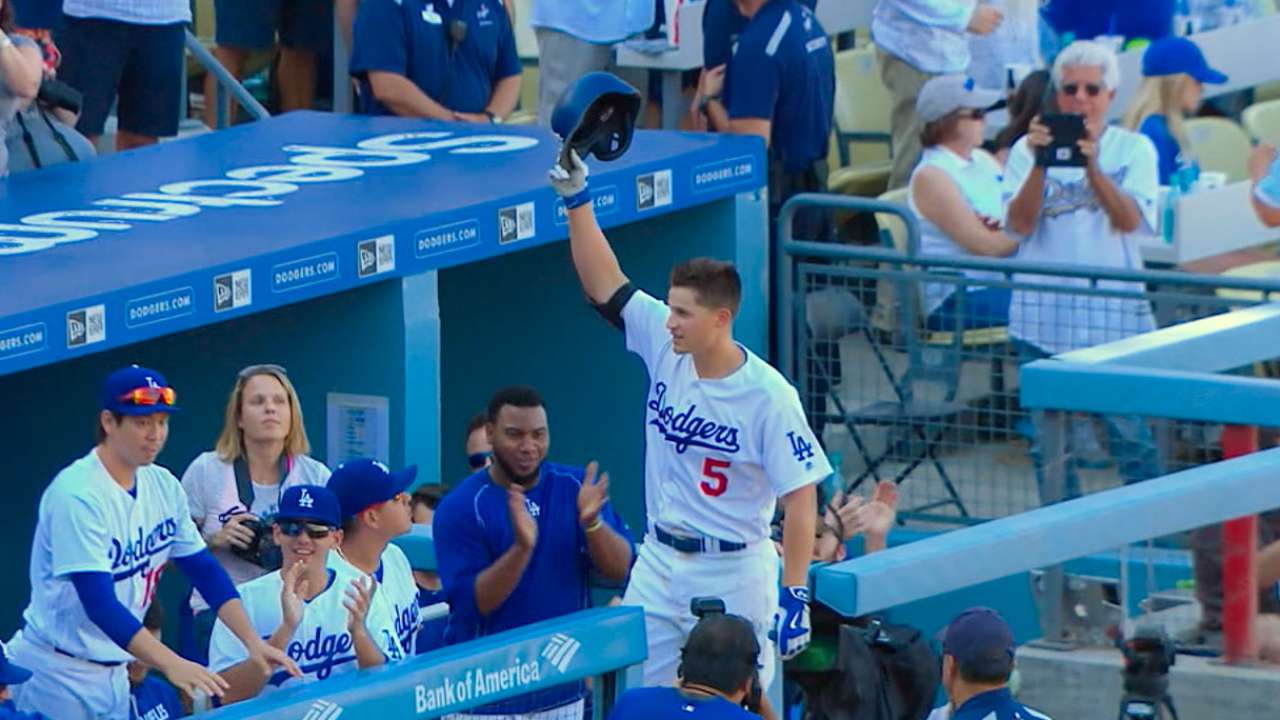 LOS ANGELES -- Dodgers shortstop Corey Seager finished third in the National League Most Valuable Player Award voting on Thursday as announced by the Baseball Writers' Association of America.
Cubs slugger Kris Bryant was first and Nationals second baseman Daniel Murphy finished second ahead of Seager, who is the first NL rookie to finish in the top three of the MVP voting since Dodgers pitcher Joe Black in 1952, according to Elias.
NL MVP voting results
| Player, Team | 1st | 2nd | 3rd | 4th | 5th | Points |
| --- | --- | --- | --- | --- | --- | --- |
| Kris Bryant, Cubs | 29 | 1 | | | | 415 |
| Daniel Murphy, Nationals | 1 | 11 | 10 | 6 | 1 | 245 |
| Corey Seager, Dodgers | | 11 | 10 | 7 | 2 | 240 |
| Anthony Rizzo, Cubs | | 3 | 4 | 10 | 10 | 202 |
| Nolan Arenado, Rockies | | 3 | 6 | 6 | 11 | 199 |
Teammate Justin Turner finished ninth and was named on 13 of 30 ballots. Dodgers catcher Yasmani Grandal received one seventh-place vote.
• All-time National League MVP Award winners
Despite the MVP results, the 22-year-old Seager's mantel is pretty full. He's already won the NL Rookie of the Year Award (unanimously), the Players Choice Award for NL Outstanding Rookie, Baseball America's NL Rookie of the Year, The Sporting News NL Rookie of the Year and the Louisville Slugger Silver Slugger Award for best-hitting NL shortstop.
Seager also is a finalist for the Esurance MLB Best Rookie Award, which will be announced on MLB Network on Friday.
Seager hit .308 with 26 home runs, a franchise record for a shortstop, and he set Dodgers rookie marks for hits (193, most for a rookie since 2001), runs (105) and doubles (40). He was the youngest Dodgers position player named to an NL All-Star team and their first rookie shortstop All-Star since Bill Grabarkewitz in 1970.
• Complete 2016 Awards coverage
Seager is the fifth Dodger with a 25-homer/40-double season and he led Major League rookies in games played, hits, runs, doubles, RBIs, multi-hit games and walks. He joined Kyle Seager of the Mariners as the first set of brothers with at least 25 homers each in the same season.
According to Stats LLC, Seager joined Dusty Baker, Mike Piazza and Albert Pujols as the only players in the divisional era (since 1969) to rank in the NL's top 10 in batting average (.308) and slugging percentage (.512). Seager was second in the NL overall with 57 multi-hit games, fourth with 321 total bases and seventh with a .308 average. The Dodgers nominated him for the Hank Aaron Award as their most outstanding offensive performer.
The MLB Awards -- following league-specific recognition by BBWAA voters, whose ballots are based on regular-season play -- include candidates from both leagues (with postseason performance taken into consideration). MLB Awards are based on votes by retired players, broadcasters/reporters, team executives, Society of American Baseball Research members and fans, with each group accounting for 20 percent of the process. Esurance MLB Awards week concludes Friday on MLB Network and MLB.com at 5 p.m. PT. MLB Awards categories include Best Major Leaguer, Hitter, Pitcher, Rookie, Executive and Manager.
Ken Gurnick is the Dodgers beat reporter for MLB.com. He has covered the Dodgers for 25 seasons. This story was not subject to the approval of Major League Baseball or its clubs.