MLB.com Columnist
Jonathan Mayo
Inbox: Thoughts on Torres' rise? Gordon's ceiling?
Jonathan Mayo answers fans' questions about baseball's future stars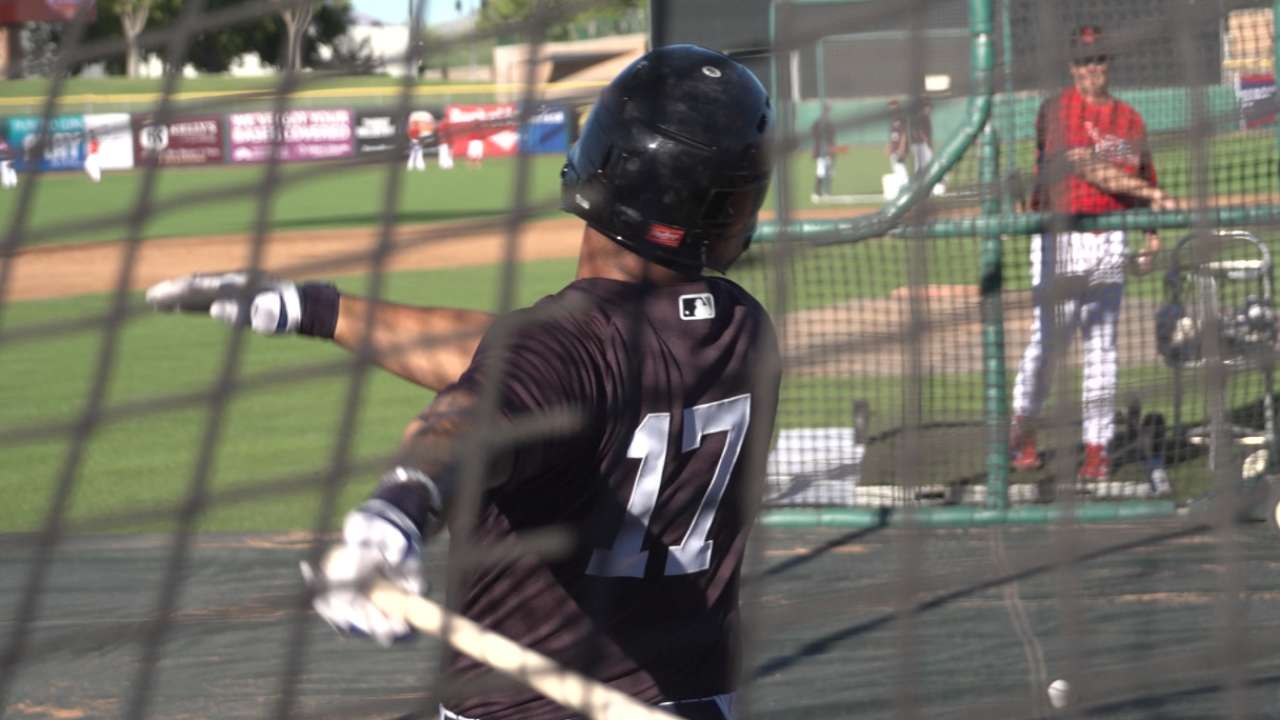 The Arizona Fall League wraps up with the championship game on Saturday, but that didn't mean you still didn't want to talk about players there. Three of the four questions in this week's Pipeline Inbox are AFL-related, which is just fine by me.
The other question is about two potential rookies, dovetailing nicely with my look this week at 2017 Rookie of the Year candidates. And that just shows there's plenty to talk about, even after the AFL ends. There's winter ball, 40-man roster decisions and the Winter Meetings are just around the corner.
@JonathanMayo @MLBPipeline Has Gleyber Torres moved up significantly in prospect ranks due to AFL performance? If so where would y rank him?

— Bigfoot_Paul (@Bigfoot_Paul) November 15, 2016
In general, we try not to let any small sample size of performance, be it the Arizona Fall League or a month of the regular season, alter our evaluations too much. The AFL has always had a reputation of being a hitter's league, so offensive outbursts do have to be taken with the correct dose of salt.
That said, it is impossible to not be impressed with what Torres has done this fall. It's not just his .403/.513/.645 line and his batting title (MVP anyone?). The guy has 14 walks and eight strikeouts! It's not also that he's playing second base for the first time, and doing it well. It's that he's doing it at age 19 and carrying himself with a maturity well beyond his years. He looks like he belongs, and he's certainly playing like he belongs.
Right now, Torres comes in at No. 17 on our Top 100 prospects list, which is nothing to sneeze at. We haven't begun to look at the 2017 list, but I think it's safe to say that Torres will at least jump into the top 10, if not top 5. And as much as I love Clint Frazier, I think Torres ends up as the Yankees' No. 1 prospect entering next season.
@JonathanMayo @MLBPipeline realistic expectation for Nick Gordon ceiling in the majors?

— JD Cameron (@J_D_Cameron) November 15, 2016
The word ceiling and Nick Gordon aren't often used together. That's not meant to be a criticism of the Twins' No. 2 prospect. It's just that he's always been considered more of a high floor, rather than high ceiling, kind of player.
That means, basically, that while he may not have the ultimate upside of some of the prospects on our Top 100 rankings (he is currently No. 47 on that list), the odds of him reaching what potential he has are better than most. The 21-year-old former first-round pick simply just knows how to play the game right. He may not have eye-popping raw tools, but he can do everything well. He's had a good Fall League, hitting .346 as he continues to show a knack for making consistent contact and piling up base hits. While some have seen his arm a bit inconsistent in Arizona, I'll chalk that up to long season fatigue. He makes all the plays consistently and can definitely stay at shortstop, falling more in the dependable camp than the flashy one.
He may not have the ceiling to be the top elite-level shortstop in the big leagues, but he's a safe bet to get there and have a long career as an everyday shortstop.
@JonathanMayo @MLBPipeline Aaron Judge or Manuel Margot for 2017? Beyond?

— David Wilson (@dew98a) November 15, 2016
Based on our current configuration of the Top 100, Judge gets a slight edge, since he's No. 22 and Margot is 26th. And I'd probably stick with that for the long-term part of the question. I think Margot has the chance to impact a team on both sides of the ball, particularly with his speed. But Judge has the ability to be a huge impact player in the middle of the lineup. The kind of athletic right fielder who guns runners out and drives in runs in bunches.
However, if we're looking at the 2017 season, I think I might give Margot the nod. With Judge, there is some length to his swing, as well as some swing-and-miss, so there will be adjustments to make. I have faith he will make them, but there could be some more bumps. Margot's approach at the plate, namely his fantastic contact and low strikeout rates, along with his speed, should help him stay away from long slumps. His outstanding defense up the middle also means he can have an impact even if he's not hitting.
What have you seen out of Aramis Garcia in the AFL and do you think he'll be the one to succeed Posey if/when he moves to first?
- Mark E., Miami
Garcia, the Giants' No. 6 prospect, largely had a lost 2016 season with a freak injury -- fractured bones in his face when he got hit by a knee while trying to break up a double play in late May -- and was thus making up for lost time in the Arizona Fall League. He hasn't swung the bat well, in a small sample size, but at least when I saw him, he looked very good behind the plate. He's thrown out nearly 35 percent of would-be basestealers this fall, continuing to show his solid catch-and-throw skills. That part of his game has come a long way. He does typically have a nice, short and compact swing, with the ability to hit for some extra-base power.
The 2017 season is a big one for Garcia. In all likelihood, he'll use the Fall League as a springboard to Double-A. A full, healthy season is imperative for him to show what he can do full-time at the upper levels. It's obviously unfair to think of anyone being able to replace Buster Posey as an all-around catcher, but I do think Garcia has what it takes -- from both a tools and a natural leadership standpoint -- to become a big league regular.
Jonathan Mayo is a reporter for MLBPipeline.com. Follow him on Twitter @JonathanMayo and Facebook, and listen to him on the weekly Pipeline Podcast. This story was not subject to the approval of Major League Baseball or its clubs.