Kennedy thrilled with finish to debut season in KC
Righty also acclimates to new community, handing out food at homeless shelter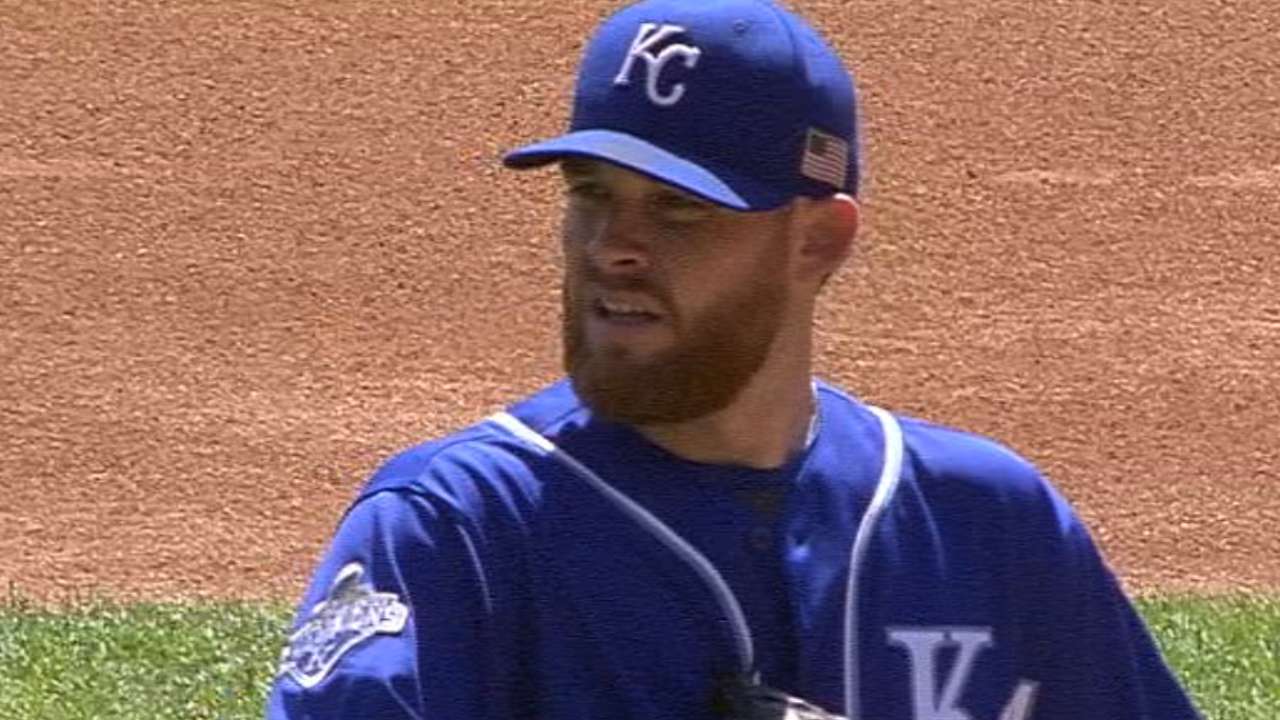 KANSAS CITY -- Royals right-hander Ian Kennedy continues to become acclimated to his new community.
Kennedy moved his family to Kansas City, enrolled his oldest daughter in preschool recently and continues to help out in the community. On Thursday, he helped hand out food at the Union City Mission, a homeless shelter in Kansas City.
"This is great, being able to help out like this," Kennedy said.
Kennedy also aided the Royals, posting an 11-11 mark with a 3.68 ERA in his first season with the club. He delivered 195 2/3 innings and became precisely the type of player and person general manager Dayton Moore envisioned when he signed the righty to a five-year, $70 million deal last offseason.
However, there were plenty of critics who howled that Moore overpayed for Kennedy.
"I feel like for what I do and how consistent I've been, I did pretty good," Kennedy said. "I've had bad years, but it's hard to evaluate after one year. I'd like to say, 'Yes, I've proved the critics wrong.' I think I've done pretty good. But you're always going to have naysayers and critics.
"But I think I told you that critics said Dayton was so smart during the World Series and winning the World Series. But then he got dumb for signing me?' How does that happen? I don't know who those people are who say it, but overall I can't pay attention it. I've got four more years left, and maybe they evaluate after that."
Kennedy was proud of the way he finished the season, allowing three or fewer runs in his final five starts.
"I'm really happy about that," Kennedy said. "For the most part, I stayed pretty consistent. That's what I take pride in. Not too many highs, not too many lows.
"You're going to have some rough starts, but I finished strong. I liked how I pitched the last part of the year, especially against the Indians, who lost in the World Series. They were tough."
In the final regular-season game, Kennedy pitched 7 2/3 innings and gave up three runs in a 3-2 loss to the Tribe.
"I watched them go on to the World Series," Kennedy said. "I want to experience the World Series."
Jeffrey Flanagan has covered the Royals since 1991, and for MLB.com since 2015. Follow him on Twitter @FlannyMLB. This story was not subject to the approval of Major League Baseball or its clubs.