Analyzing Archer's status in trade market
Righty could be coveted due to impressive stuff, club-friendly deal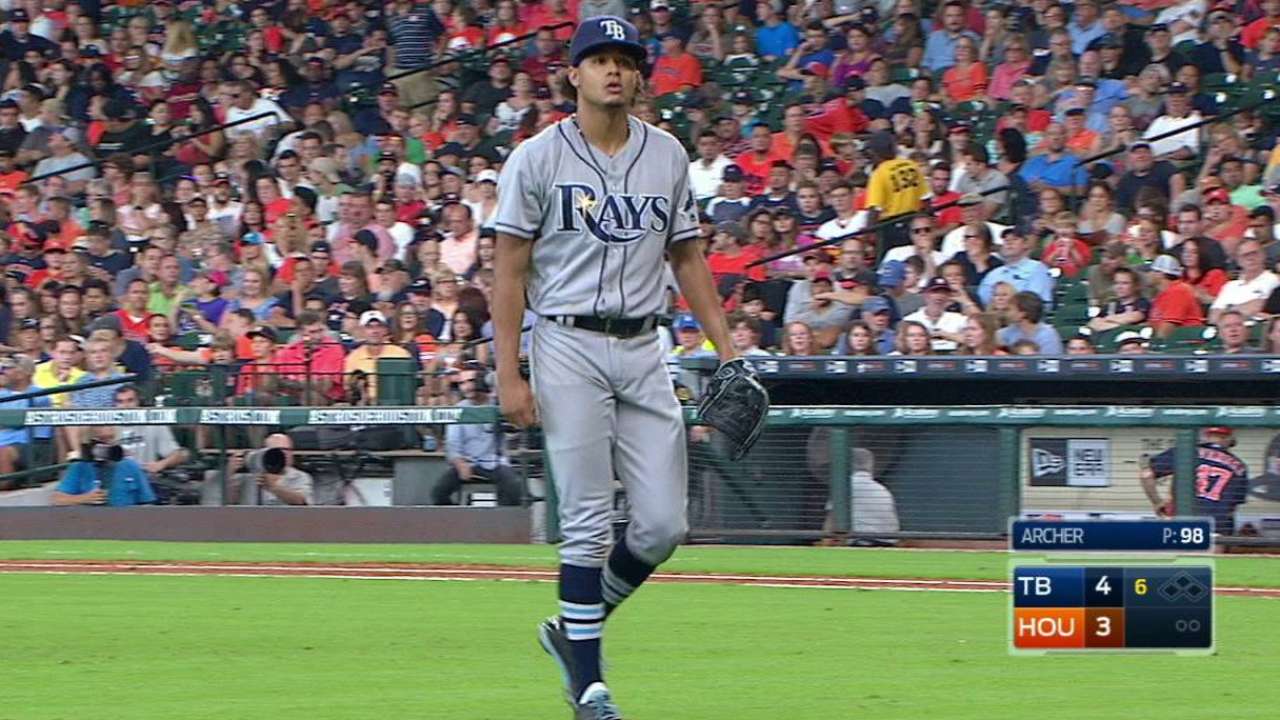 ST. PETERSBURG -- Chris Archer is in play. That's what the Hot Stove rumor mill has to say about the talented Rays right-hander.
Given Archer's talent, plus the fact that he's signed to a relatively modest and club-friendly deal, why would such speculation be so rampant? Well, the Rays certainly aren't going to offer an answer to that question. Club policy dictates that they don't comment on any deals, on or off the record. That leads to careful -- and independent -- analysis of why Archer is coveted and why he could be available.
When a Major League scout was asked about Archer's status, he noted that at times he'll look "almost lost" on the mound in terms of his location and acumen. The scout then followed up with a chuckle: "But his stuff is sick. You can't teach the kind of stuff he has."
That stuff led Archer to 233 strikeouts in 2016, which tied him for second in the American League behind Detroit's Justin Verlander. He also finished second in strikeouts in 2015, when he fanned 252.
On top of the strikeouts and the electric stuff, Archer is a blue-collar pitcher, which is reflected in his second consecutive 200-plus-inning season in 2016.
Taking a more contemporary look at Archer's season, he ranked 29th in the Major Leagues with a 3.81 FIP (Fielding Independent Pitching), which estimates a pitcher's run prevention independent of the performance of their defense. It is based on factors such as strikeouts, walks, hit-by-pitches and home runs.
Looking at the flip side, Archer's 19 losses led the AL and tied former Ray James Shields for the most in the Major Leagues.
Prior to 2016, no Major League pitcher had lost 19 games since Kansas City's Darrell May (2004). Archer surpassed Tanyon Sturtze's club record of 18 losses in a season.
Archer is not a big believer in wins and losses defining how he pitches. Rather than take a bat to a water cooler after a bad performance, Archer will offer a pragmatic evaluation of his performance. Does the fact that he doesn't show more fire about losing games bother the front office? When David Price took a loss -- and sometimes even if he logged a win -- he'd be surly.
All of the above makes good fodder for why, or why not, Archer will be with the Rays in 2017. However, the most compelling reason for why he might not be with the team next season comes in the depth of Tampa Bay's starting pitching.
If Spring Training began today, the Rays would have Archer, Alex Cobb, Jake Odorizzi, Drew Smyly, Blake Snell, Chase Whitley and Matt Andriese contending for spots in the rotation. Pushing up from below are the likes of Taylor Guerrieri, Jacob Faria and Brent Honeywell.
Archer will make $4.9 million in 2017 and is under club control through 2021, which is almost as attractive as his stuff to potential suitors since it's back-of-the-rotation money for a front-of-the-rotation pitcher. However, in the Rays' cost-conscious world, he is high priced.
With the less-than-stellar free-agent market this offseason, there aren't a lot of quality options for teams hoping to shore up their starting pitching. Thus, trading with the Rays is a viable option, albeit an expensive one.
So Archer's future comes down to this: If the Rays get their socks blown off in a trade for an impact player or several impact prospects, he'll be wearing another uniform. If not, he'll be the team's Opening Day starter.
Bill Chastain has covered the Rays for MLB.com since 2005. This story was not subject to the approval of Major League Baseball or its clubs.