MLB Awards tonight at 8 ET on MLBN, MLB.com
Honors cap Awards Week with best of 2016 season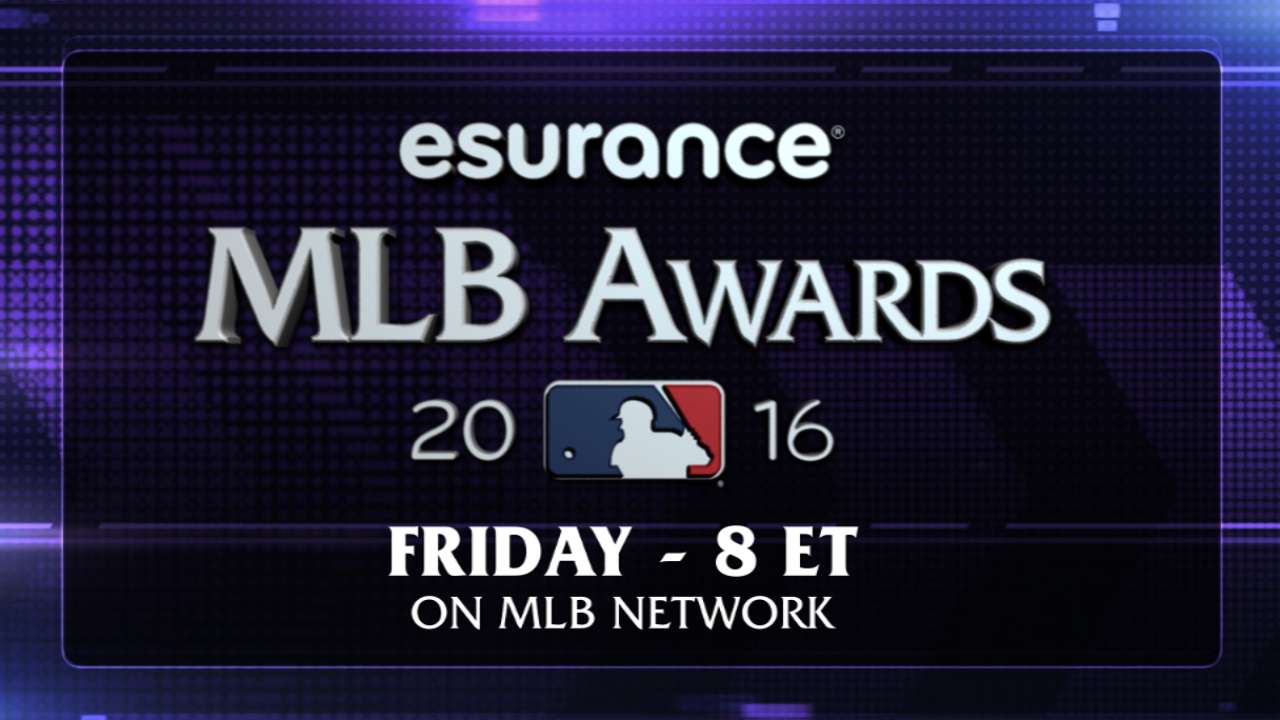 And now, for the final envelopes, please.
There's one more group of honors, the Esurance MLB Awards, and it's a fitting conclusion to a stunning season. The winners will be revealed tonight beginning at 8 p.m. ET on MLB Network and MLB.com, covering a wide-ranging field of accomplishments, both traditional and modern. The show will be hosted by Brian Kenny and John Smoltz.
• Complete MLB Awards coverage
Here's a rundown of the categories:
Best Major Leaguer
It's come down to a fantastic group of Astros second baseman Jose Altuve (.338 batting average, 24 home runs, 96 RBIs, 108 runs, 30 stolen bases, .928 OPS), Red Sox right fielder Mookie Betts (.318 average, 31 homers, 113 RBIs, 122 runs, 26 stolen bases, .897 OPS), Cubs third baseman and NL MVP Kris Bryant (.292 average, 39 homers, 102 RBIs, 121 runs, 8 stolen bases, .939 OPS), Blue Jays third baseman Josh Donaldson (.284 average, 37 homers, 99 RBIs, 122 runs, .953 OPS) and Angels center fielder and AL MVP Mike Trout (.315 average, 29 homers, 100 RBIs, 123 runs, 30 stolen bases and .991 OPS).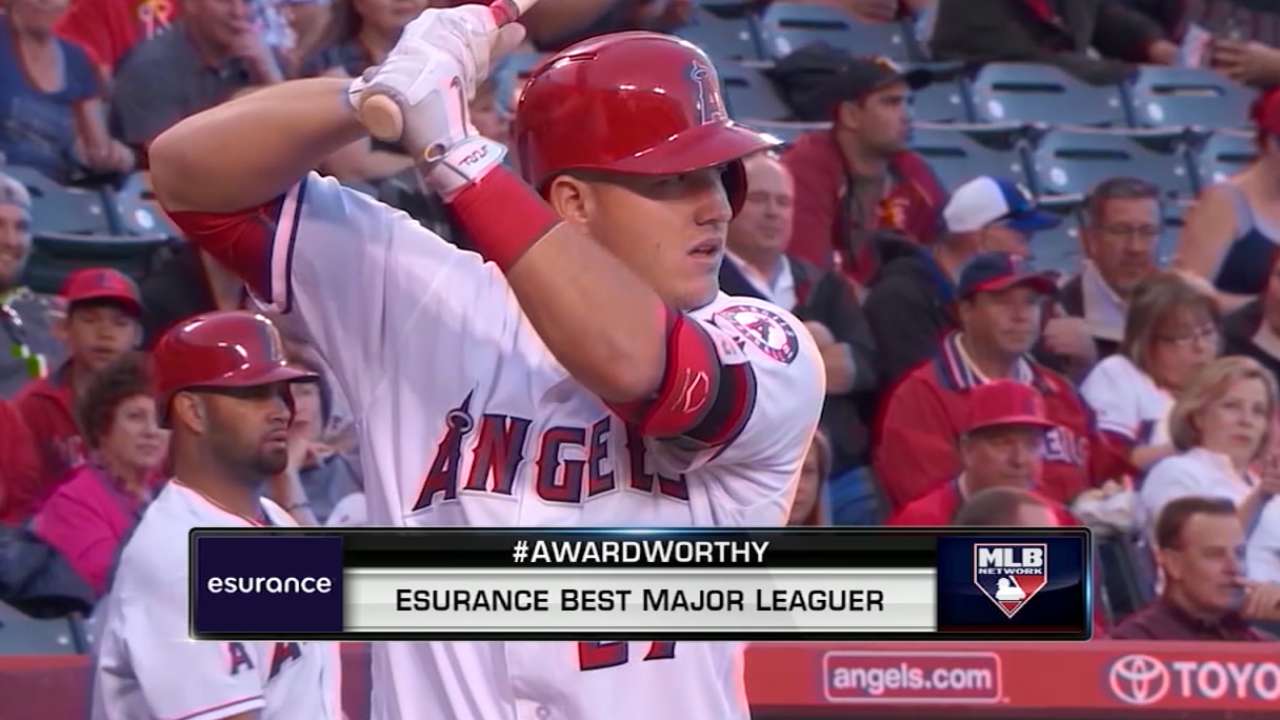 Best Hitter
Altuve, Bryant and Trout have a chance to double up here, with Nationals second baseman Daniel Murphy (.347 average, 25 homers, 104 RBIs, 88 runs, .985 OPS) and just-retired Red Sox icon David Ortiz (.315 average, 38 homers, 127 RBIs, 79 runs, 1.021 OPS) rounding out this stellar quintet.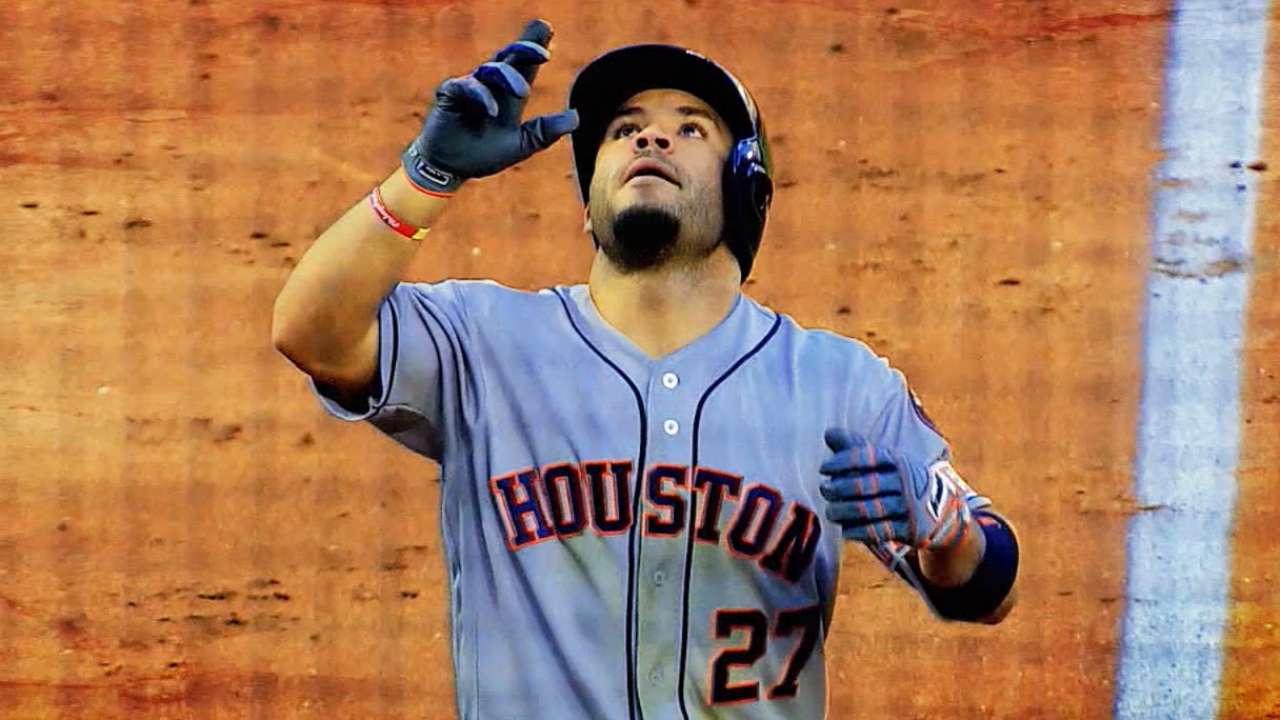 Best Pitcher
NL Cy Young Award winner Max Scherzer of the Nationals (20-7 record, 284 strikeouts in 228 1/3 innings, 2.96 ERA, 0.97 WHIP) leads a terrific group that also includes Indians right-hander Corey Kluber (18-9, 215 innings, 227 K's, 3.14 ERA, 1.06 WHIP), the Cubs tandem of right-hander Kyle Hendricks (16-8, 2.13 ERA, 0.98 WHIP) and lefty Jon Lester (19-5, 2.44 ERA, 197 K's, 1.02 WHIP) and Giants southpaw Madison Bumgarner (15-9, 251 K's, 2.74 ERA, 1.03 WHIP).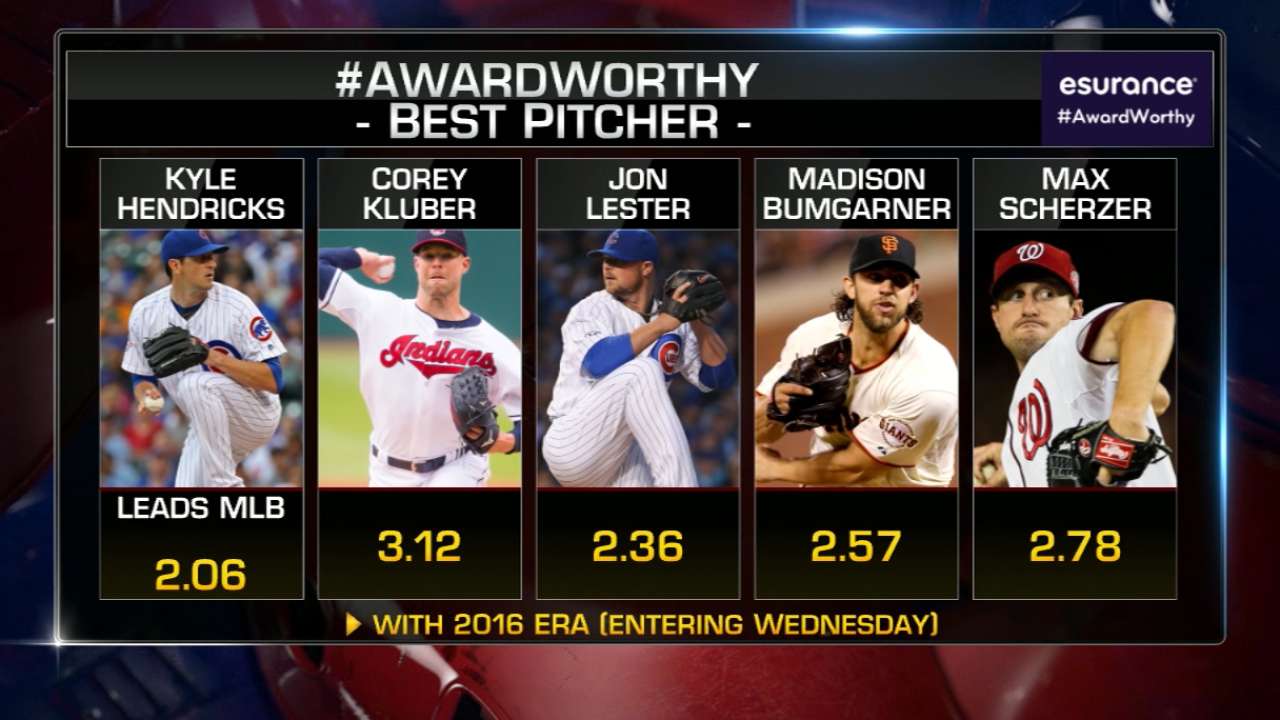 Best Rookie
Both BBWAA Rookie of the Year Award winners are represented here, with AL honoree and Tigers starter Michael Fulmer (11-7 record, 3.06 ERA, 1.12 WHIP) and Dodgers shortstop Corey Seager (.308, 26 homers, 72 RBIs, 105 runs, .877 OPS), who took the hardware in the NL. Other contenders include Indians outfielder Tyler Naquin (.296, 14 homers, .886 OPS), Yankees phenom Gary Sanchez (.299, 20 homers, 1.032 OPS) and Nationals speedster Trea Turner (.342, 13 homers, 33 stolen bases, .937 OPS).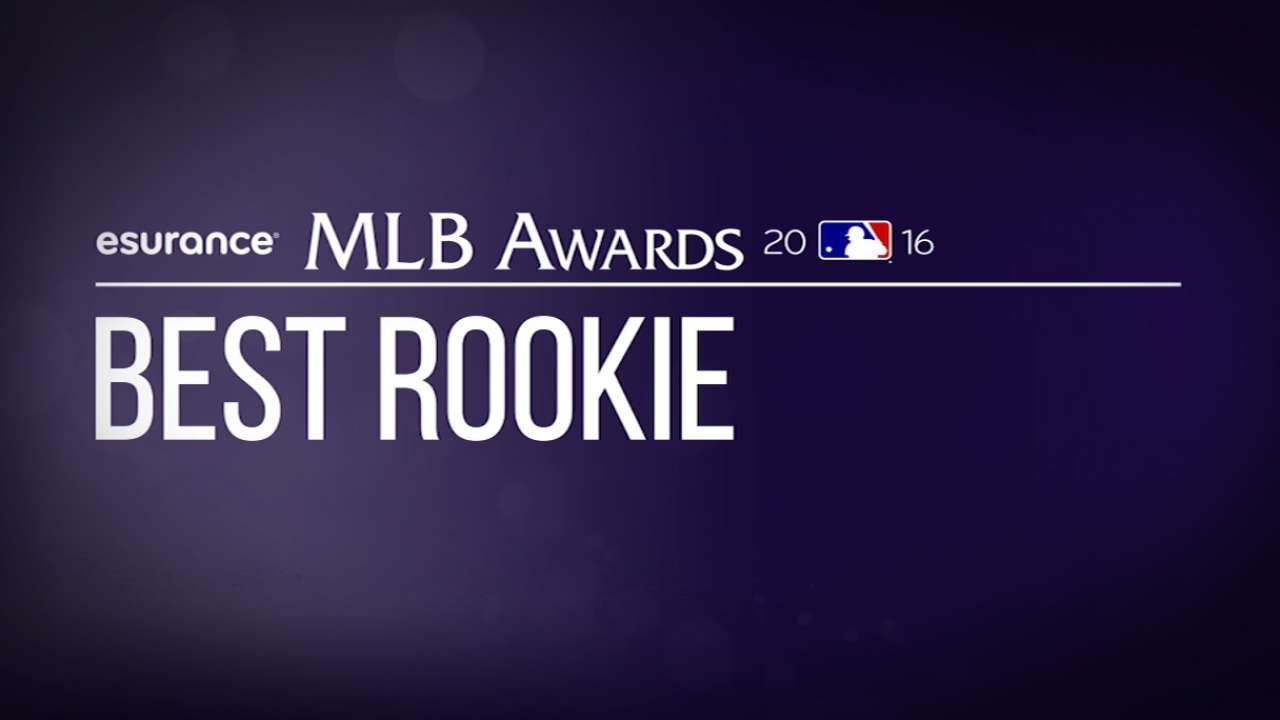 Other honors that will be handed out tonight include Best Defensive Player (a contest between Betts, Giants shortstop Brandon Crawford, White sox outfielder Adam Eaton, and the World Series shortstops in Addison Russell of the Cubs and Francisco Lindor of the Indians), Best Social Media Personality, Best Play honors for both offense and defense, Best Social Media Post, Best Moment, Best Performance (individual game), Best Manager, Best Executive and Best Postseason Moment.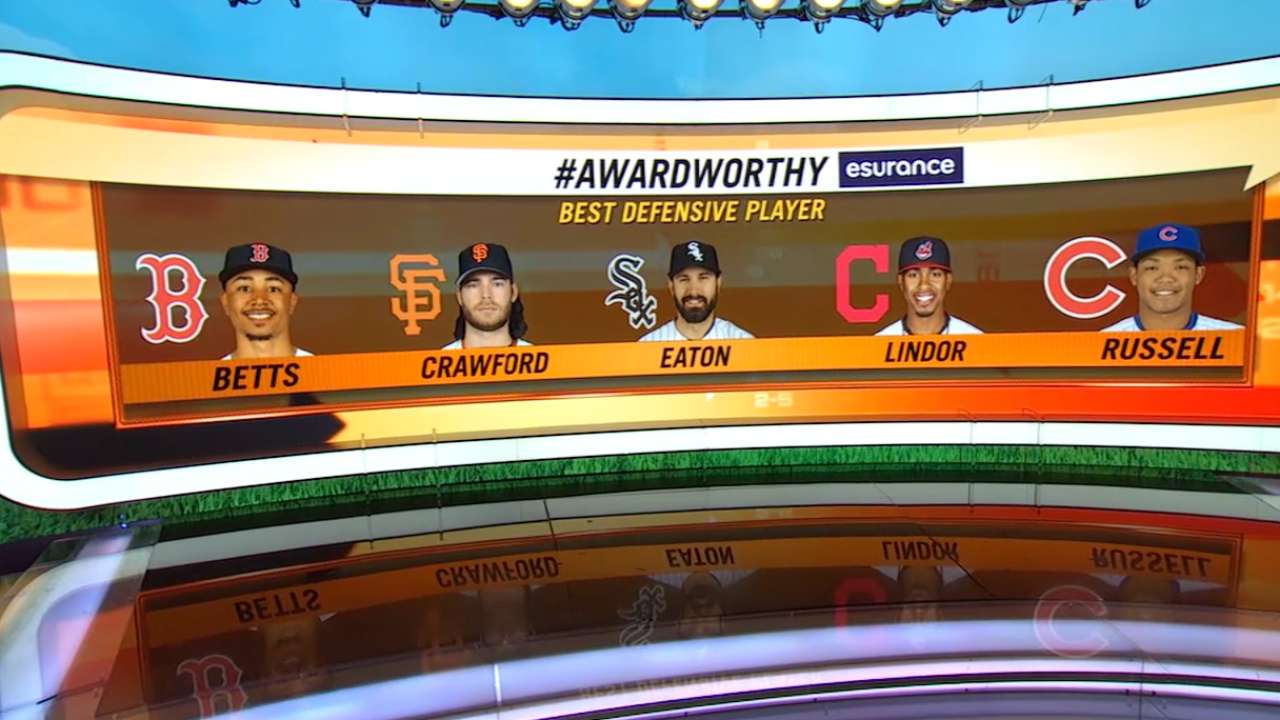 There will also be awards for Best Fan Catch, Best Broadcast Call (including Bartolo Colon's incredible home run and Vin Scully's final play-by-play call of the Dodgers at home), Best Player-Fan Interaction and Best Trending Topic.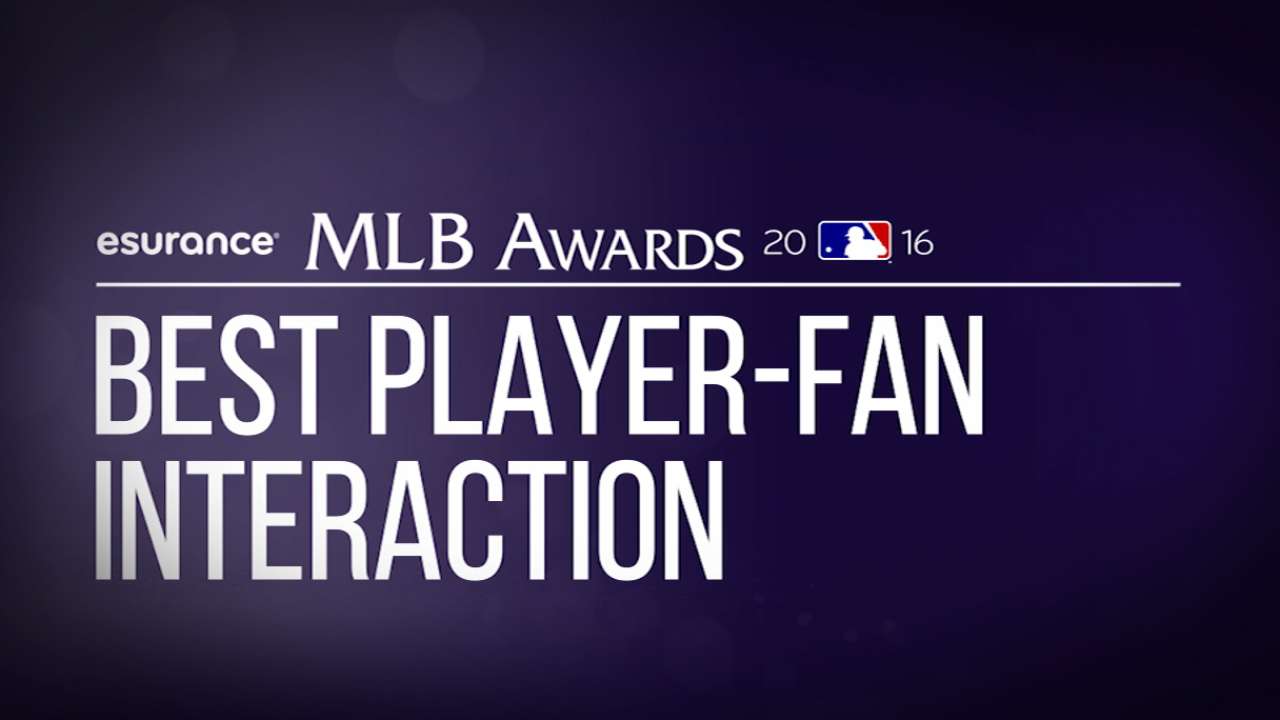 The Esurance MLB Awards annually honor Major League Baseball's greatest achievements as part of an industry-wide balloting process that includes five groups, each of which accounts for 20 percent of the overall vote: media, front-office personnel, retired MLB players, fans at MLB.com and Society for American Baseball Research (SABR) voters.
The MLB Awards are an all-inclusive program, encompassing the top players and performances from both the AL and NL from Opening Day through the end of the postseason.
Voting began on Sept. 19 at 4 p.m. ET at MLB.com/awards, one hour after the inaugural Esurance MLB Fans of the Year winners were announced.
Winners of the 2016 Esurance MLB Awards will be unveiled tonight at 8 p.m. ET at a reception in Manhattan's Chelsea Market, on MLB social channels and during a live broadcast on MLB Network and MLB.com.
Winners in five categories will be revealed on MLB social media prior to the show airing on MLB Network: Social Media Personality, Trending Topic, Broadcast Call, Player-Fan Interaction and Social Media Post.
Doug Miller is a reporter for MLB.com. Follow him on Twitter @DougMillerMLB. This story was not subject to the approval of Major League Baseball or its clubs.