Phillies receive top honor for philanthropic efforts
Club recognized with Selig Award for commitment in fight against ALS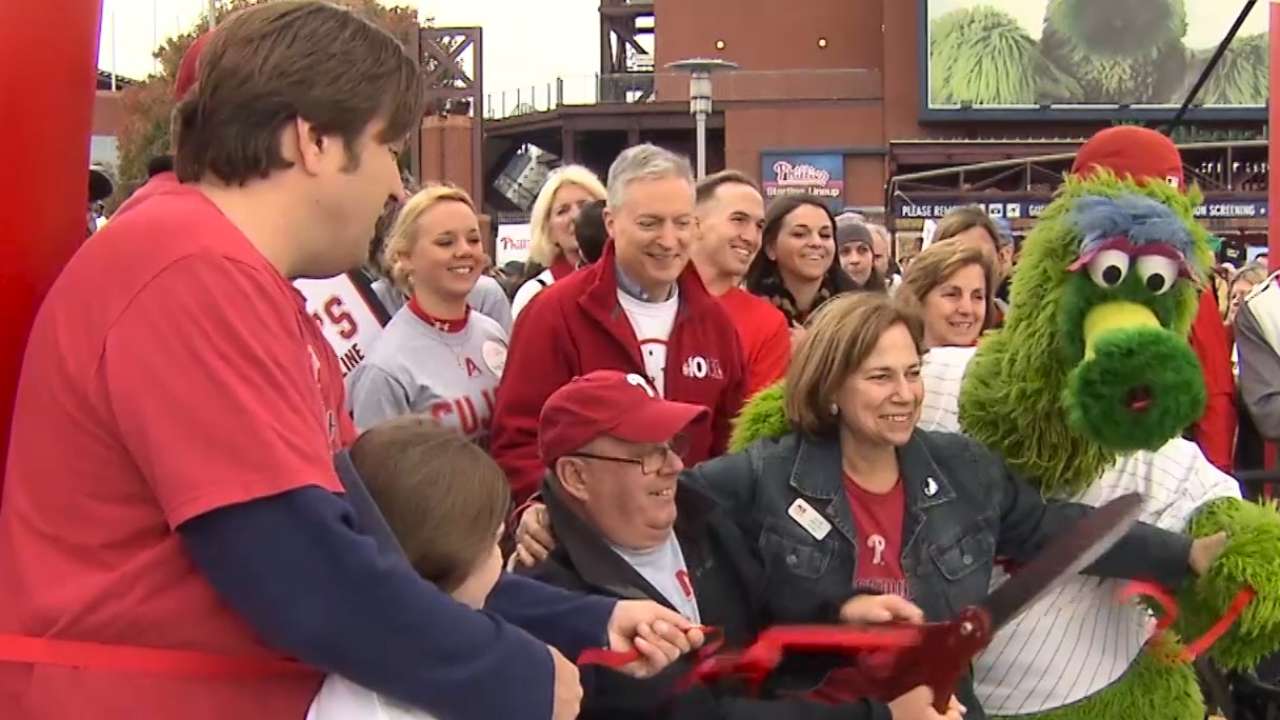 Philanthropy starts with a Phil. Major League Baseball and Commissioner Rob Manfred have named the Phillies as the 2016 recipient of the Allan H. Selig Award for Philanthropic Excellence, which was announced on Thursday at the MLB Owners Meetings in Chicago.
The Phillies are being recognized for their organization-wide commitment to supporting the fight against ALS (amyotrophic lateral sclerosis) through the Phillies Phestival, an annual autograph and auction party which this year raised more than $700,000 to provide much-needed patient care and services for ALS patients in the Philadelphia area. Since 1984, when the ALS Association Greater Philadelphia Chapter became the team's primary charity, the Phils have raised more than $17 million in the fight against ALS, the devastating progressive neuromuscular disorder.
As part of their recognition, the Phillies will receive a $10,000 grant from MLB Charities to continue their philanthropic efforts.
"I congratulate ownership, David Montgomery and the entire Phillies organization for their decades-long commitment to fighting ALS," Manfred said. "As the sport of Lou Gehrig, baseball is proud to support efforts against this terrible disease, particularly in recent years alongside courageous patients and advocates like Pete Frates and Pat Quinn in the 'ALS Ice Bucket Challenge.' The Phillies' commitment to their local ALS Association is a great example of how our game can make a difference."
"To receive this prestigious award is indeed an honor, and one that we dedicate to the patients and families who live with or have succumbed to this awful disease," said Phillies chairman David Montgomery. "The Phillies family is committed to putting an end to ALS. I would like to thank our players, Phillies wives, coaching and front-office staff, day-of-game employees, ownership, sponsors -- and especially our fans -- who have joined us, and continue to join us, in the fight to end Lou Gehrig's Disease."
Thousands of fans attended the Phillies Phestival this year at Citizens Bank Park, where there were 20 autograph stations (players, coaching staff, broadcasters and alumni), a photo booth with the Phillie Phanatic, a silent auction, grab bags featuring autographed items and other entertainment. The event also featured a private player meet and greet for ALS patients and their families.
The entire Phillies organization was on hand to volunteer at the annual fundraising event, including the 25-man roster and the Phillies Wives, coaching staff, alumni, broadcasters, owners and ballpark partners (Aramark and Spectra), as well as 750 employees (150 front office and 600 day of game).
"The ALS Association, Greater Philadelphia Chapter, is proud and honored that the Philadelphia Phillies are the recipient of the 2016 Allan H. Selig Award for Philanthropic Excellence," said Ellyn Phillips, president of the ALS Association Greater Philadelphia Chapter. "The Chapter has greatly benefited from the Phillies dedication, compassion, generosity and year-round efforts in the fight against ALS."
The Allan H. Selig Award for Philanthropic Excellence, formerly known as the Commissioner's Award for Philanthropic Excellence, was created in 2010 to recognize the charitable and philanthropic efforts of MLB clubs. The award was presented in previous years to the Giants in 2015 (for Junior Giants), Mariners in '14 (domestic violence prevention), Tigers in '13 (anti-bullying), Blue Jays in '12 (Toronto Blue Jays Baseball Academy), White Sox in '11 (White Sox Volunteer Corps) and Red Sox in '10 (Red Sox Scholars).
Please visit Phillies.com/community to see everything the Phillies are doing in the community.
Mark Newman is enterprise editor of MLB.com. Read and join other baseball fans on his MLB.com community blog. This story was not subject to the approval of Major League Baseball or its clubs.