Robertsons touching lives with High Socks for Hope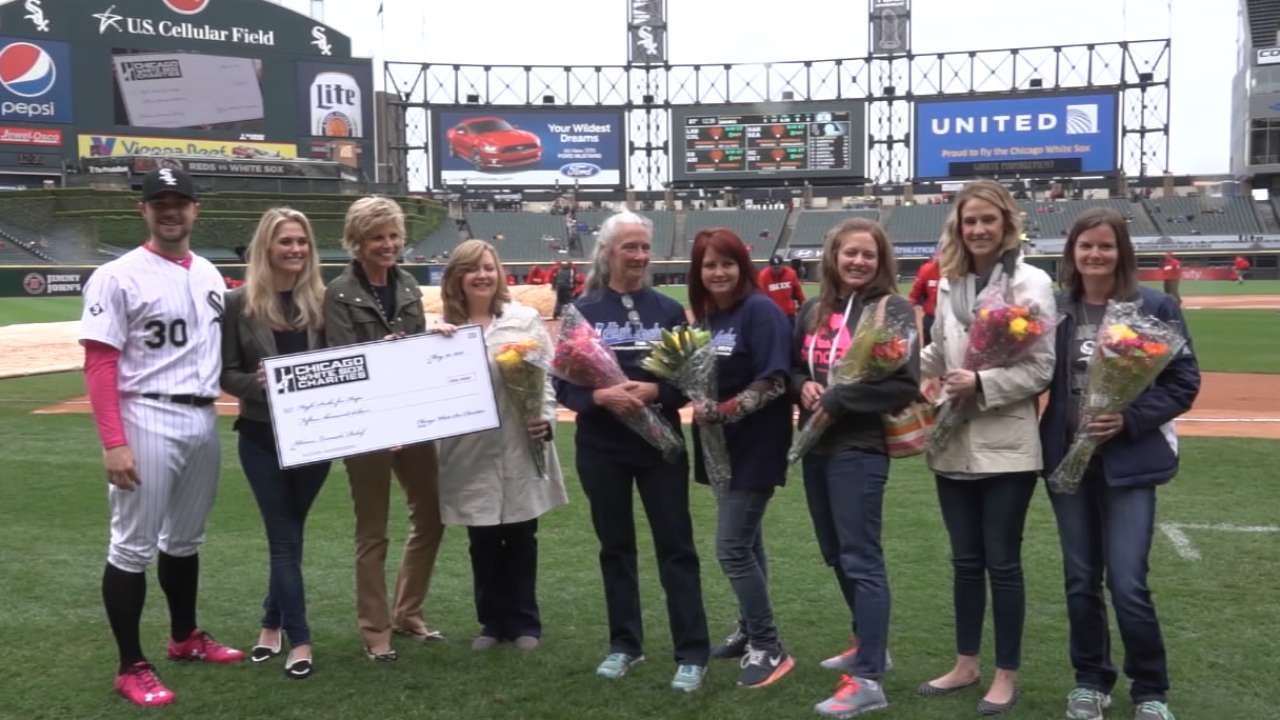 CHICAGO -- Take a look at the High Socks for Hope website representing David and Erin Robertson's foundation and it becomes readily apparent that their excellent work in connection to baseball goes deeper than David recording saves on the mound.
The Robertsons, who are parents to a young son, started this important form of assistance in April 2011 after a tornado ripped through Tuscaloosa, Ala., David's hometown and where he played at the University of Alabama. A little more than five years later, they have provided assistance to more people than they could have imagined and the charity is growing larger than they ever thought.
"I didn't think we would go as far as we have gone while also continuing to grow," said David during a recent phone interview. "We've worked really hard, but I never expected it to get this far.
"We got started because we wanted to help out and I wanted to figure out some way to help out the community, the place where I grew up. We kind of got started raising money and grew into a full blown 501C-3 [charity]."
Per the High Socks for Hope website, over 200 homes were partially or completely furnished in Tuscaloosa by the charity. The Robertsons are able to focus on the macro, big-picture assistance, down to helping with the smaller things that might get overlooked in such broad-scale devastation.
"Right after a tornado or a hurricane or a flood, it's things people don't think about and other organizations don't provide," Erin said. "They lose their glasses, or they lose their dentures. Things that are sort of essential but it's not like they have an organization just doing these things.
"We'll go out and listen to what the specific needs are per person or per family. We'll try to fulfill those needs best we can."
ROAD TO RECOVERY: BATON ROUGE FAMILY SURVIVES FLOOD YEARS AFTER LIVING THROUGH KATRINA https://t.co/8n4MOT87xz

— High Socks For Hope (@HighSocks4Hope) November 17, 2016
Judy Holland serves as the organization's managing director after first starting as a volunteer following the 2011 Tuscaloosa tornadoes. It's a three-person staff, with David pitching in as much as possible even when he was pitching for the Yankees and then the White Sox over the past two seasons.
In relying on volunteer help and by working in conjunction with other organizations, the Robertsons have provided valuable help beyond Alabama. They have been working in Louisiana since the tragic flooding of this past August, using in part a generous $62,000 grant awarded by the MLB Players Trust.
"One of the bigger needs we found is a lot of people even if they have insurance, it's not enough to rebuild and furnish their entire home," Erin said. "It takes a long time.
"So we were able, we have a wholesale license that we can buy furniture in bulk at a really discounted rate and help that many more people by giving them furniture. We have warehouses in a lot of different areas. We help people so they have a place to stay. We do everything. We are such a small organization that David and myself and one other woman [Holland], we are able to really listen to what the needs are for people."
Bringing Art to Life is another program High Socks for Hope has undertaken during their extensive programs with veterans, where people with dementia and/or Alzheimer's work with an art therapist to communicate where they might not be able to verbally. The Robertsons credit the White Sox for helping in every way possible since they changed teams, and they will continue their cause already providing assistance in Alabama, Oklahoma, Illinois, New York, New Jersey and Texas.
"Seeing how people are severely affected by this so quickly and their lives have been flipped upside down, we had to do something once I got to the big leagues," David said. "It's tough when a community takes a fall like that.
"There's not always enough help to go around. We are baseball players, given a microphone to speak to the masses and a chance to get people involved. And for us, for me, that was the best part about it."
Scott Merkin has covered the White Sox for MLB.com since 2003. Read his blog, Merk's Works, follow him on Twitter @scottmerkin, on Facebook and listen to his podcast. This story was not subject to the approval of Major League Baseball or its clubs.