Gonzalez, Utley inducted into Fall League Hall of Fame
Major League veterans honored in Scottsdale with plaques, retired numbers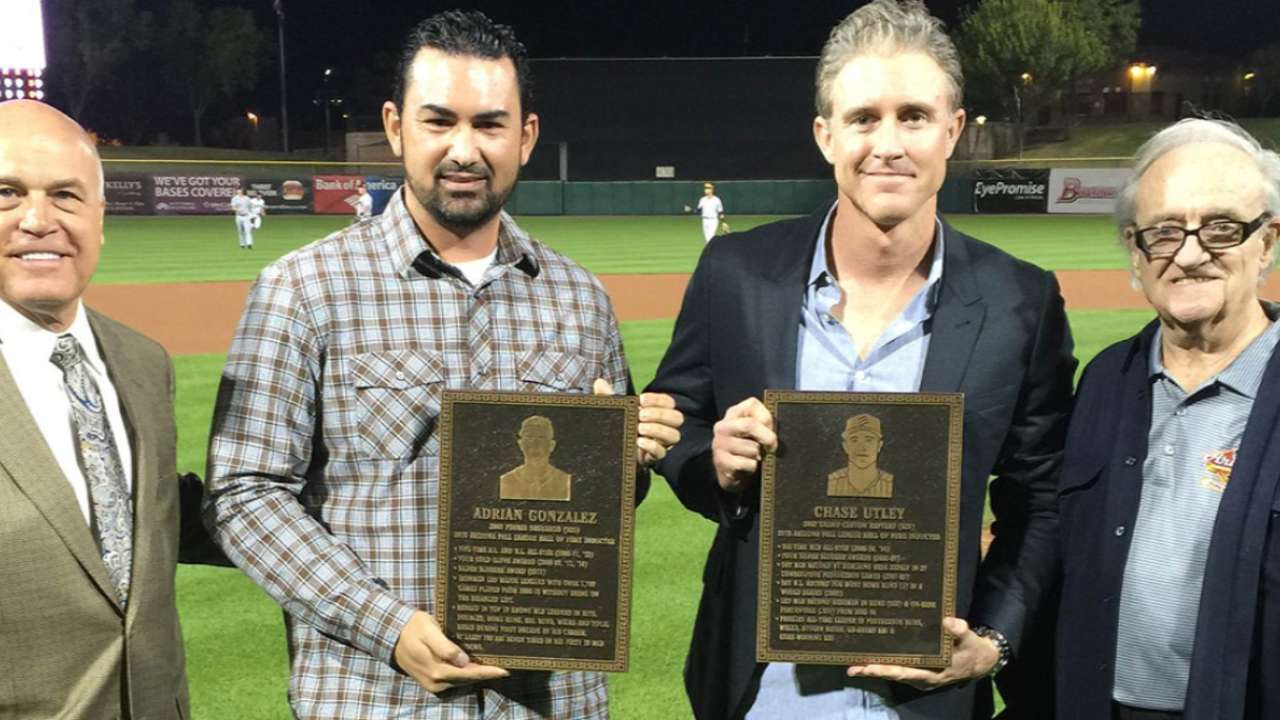 SCOTTSDALE, Ariz. -- Chase Utley and Adrian Gonzalez are officially Hall of Famers.
The two players were inducted into the Arizona Fall League Hall of Fame and had their numbers retired on Wednesday night at Scottsdale Stadium.
"Obviously it's a great honor," Utley said. "So many great players come through this league. I remember playing here, it was a lot of fun, not just the baseball side of it, but meeting the players, other teams' best players, and building relationships that you have your entire career."
As part of their Hall of Fame induction, both Utley and Gonzalez were presented with a trophy and will have a plaque in their honor placed in the Arizona Fall League Hall of Fame at Scottsdale Stadium. Banners with Utley's No. 29 (Grand Canyon Rafters) and Gonzalez's No. 25 (Peoria Saguaros) were also unveiled just above the right field wall.
"It's awesome," Gonzalez said. "It was great to hear the news and I'm just excited. I really enjoyed my time here, it's pretty special. Any time you get recognized for something, you feel good about what you've been able to do throughout your career."
The pair of former first round picks have combined for 11 All-Star Games, six Silver Slugger awards and four Gold Gloves over 27 seasons. They were also teammates for each of the past two seasons, helping the Dodgers win a pair of National League West titles.
The Fall League is often referred to as a "finishing school" for top prospects, and both Utley and Gonzalez agreed with that sentiment, acknowledging that their AFL stints were vital to their development as players.
"My time here was fun," Gonzalez said. "I remember it was the first time ever in Phoenix for my wife and I, and we didn't know what to expect. Being around guys from other organizations, it was a good time, I got to meet some really good players and the competition was great. It definitely helped develop for the next year when I got to the big leagues."
William Boor is a reporter for MLB.com. Follow him on Twitter at @wboor. This story was not subject to the approval of Major League Baseball or its clubs.