Dominant Gomber keeps Glendale in playoff race
Cardinals' No. 19 prospect fires six shutout innings to cap off dazzling Fall League campaign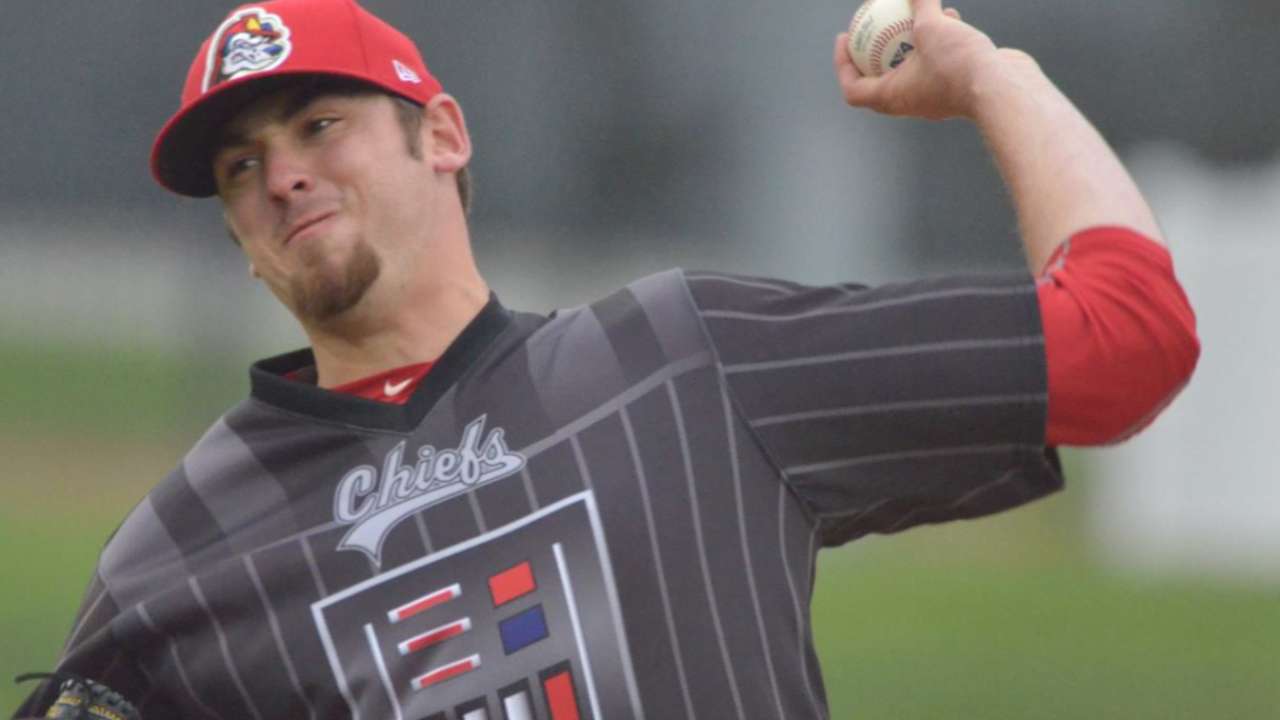 MESA, Ariz. -- With Glendale's playoff chances hanging in the balance, Austin Gomber came through with his best Arizona Fall League start as the Desert Dogs recorded their second straight shutout with a 10-0 rout of Mesa at Sloan Park on Wednesday.
After recording their second shutout in as many days, Glendale (16-15) now trails Surprise (16-14-1) by a half game in the AFL West division heading into the final day of season. The AFL's two division winners will meet in a one-game playoff for the league title on Nov. 19.
Gomber, the Cardinals' No. 19 prospect, allowed just two hits over six scoreless innings in what was his longest start in the Fall League. He struck out seven, also a Fall League-high, without issuing a walk while throwing 54 of his 74 pitches for strikes.
• Gameday
"It felt great, honestly," Gomber said after the game. "I knew going in that it was going to be my last outing of the year, and it was a good way to end it."
Gomber retired 13 of the final 14 hitters he faced in the outing, including 12 straight after he allowed a two-out infield single to Victor Caratini (Cubs' No. 15) in the bottom of the second. The 22-year-old left-hander exhibited superb command of his fastball, especially when pitching to the inside portion of the plate against right-handed hitters, while his curveball and changeup helped him to keep the Solar Sox off balance.
"I kinda had a rough one last time and I've been walking a lot of guys the last two times out, so, for me, I was really focused on attacking the zone," Gomber said. "I don't have that 95-97 mph fastball, so I feel like I have to attack the zone early.
"You have to be able to dominate that inside corner, and that's something I take pride in -- being able to throw to that side of the plate," he continued. "With some teams that we've seen you tend to go in a little bit more, and today was one of those days where we kind of lived in there. We were going to make them hit it and they didn't make adjustments, and I was able to have some success."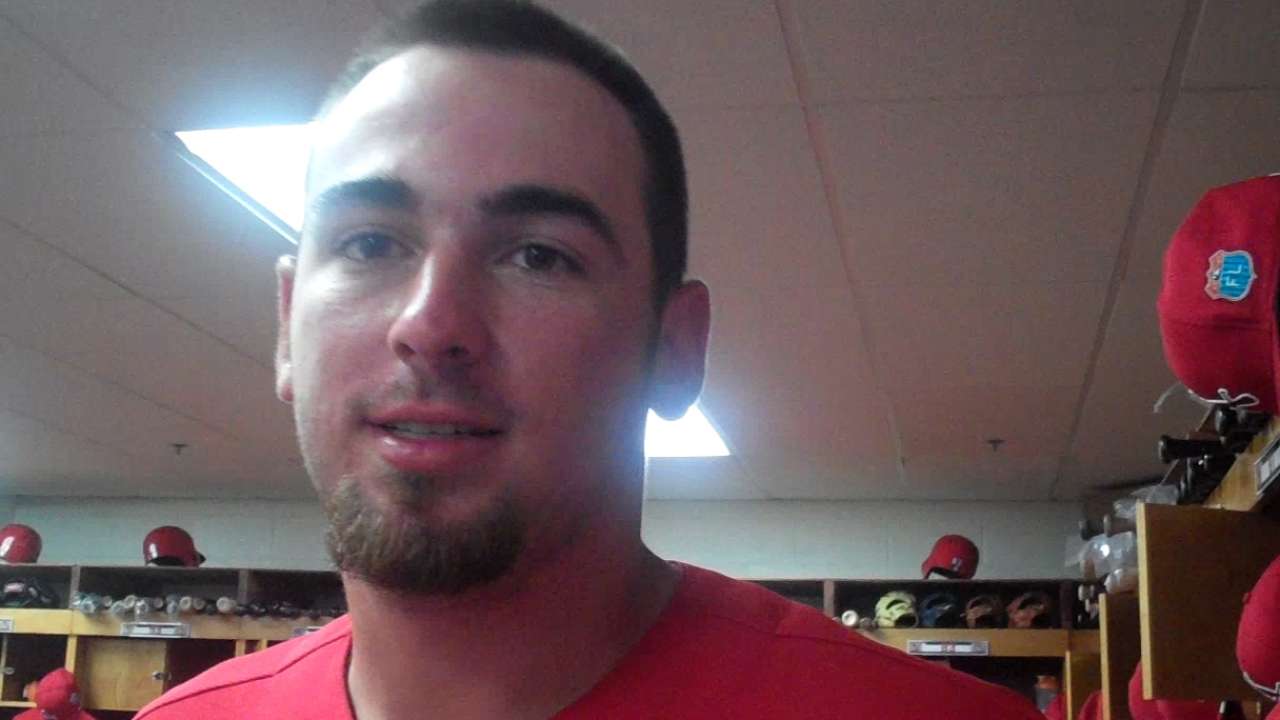 A fourth-round Draft pick out of Florida Atlantic in 2014, Gomber had his name all over the organizational leaderboard this season, as he paced the system in batting average against (.220), finished second in WHIP (1.06) and fourth in ERA (2.69) while logging 127 innings (21 starts) between Class A Advanced Palm Beach and Double-A Springfield.
Gomber has only built on that success in the Fall League, where he's pitched to a 2.14 ERA in seven starts while pacing the circuit in wins (five), innings pitched (33 2/3) and strikeouts (33).
The Desert Dogs scored early and often in the contest, pushing across at least one run in each of the first four innings to take a 6-0 lead.
Leadoff man Andrew Stevenson (Nationals' No. 8) opened the game with walk before stealing second base and then scoring on a sacrifice fly by cleanup hitter Cody Bellinger (Dodgers' No. 1). Drew Ward (Nationals' No. 10) delivered a two-out, two-run single in the following frame, and Nick Tanielu (Astros) made it a 4-0 game with his solo home run in the third.
Carson Kelly (Cardinals' No. 11) plated Stevenson with a double down the line in right field ahead of Bellinger, whose line drive to second base was misplayed by A's top prospect Franklin Barreto -- and then Blue Jays No. 3 Anthony Alford in right field -- to allow two more runs to cross the plate.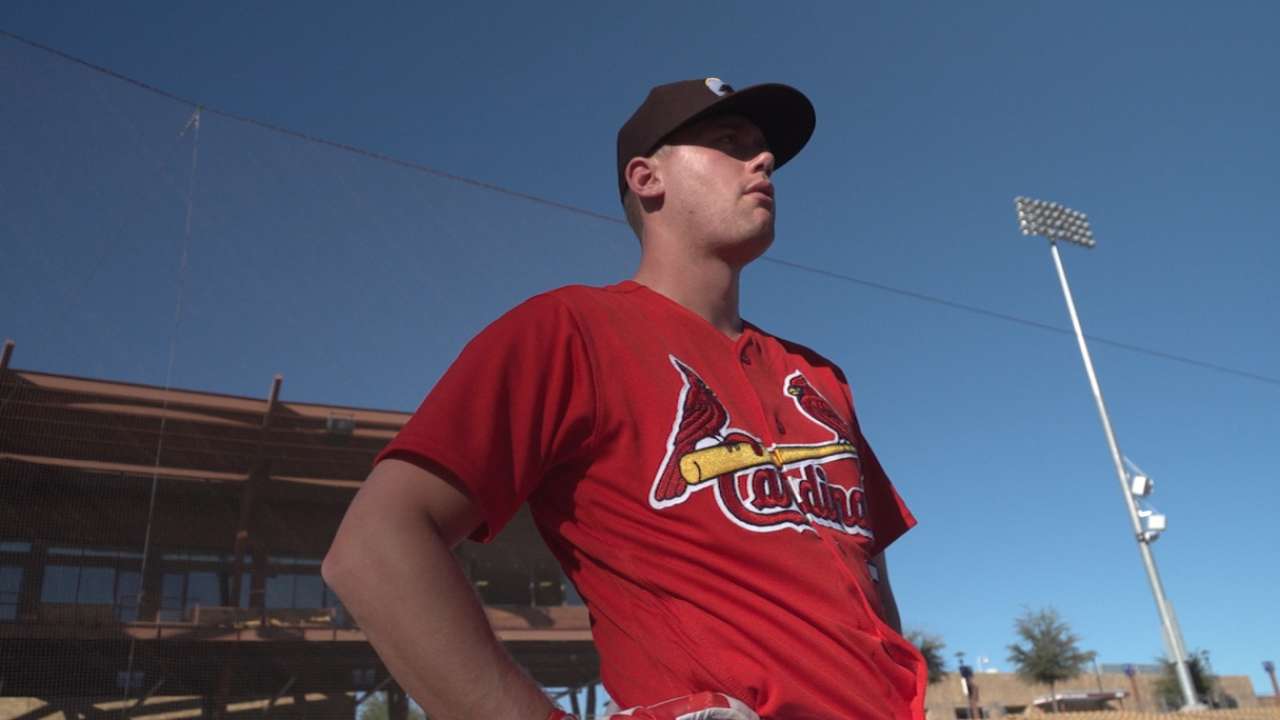 After a scoreless fifth inning, the Desert Dogs continued their assault on Mesa's pitching with four more runs in the sixth as they sent nine hitters to the plate.
No. 82 overall prospect Harrison Bader (Cardinals' No. 3) pushed across a run with his first hit of the game, a hard-hit ground ball through the left side, and Trey Michalczewski (White Sox No. 7) followed with an RBI double to right field. The next hitter for the Desert Dogs, Cardinals No. 15 Paul DeJong, increased their lead to 10-0 with a two-run single to right field.
All but one Glendale starter collected a hit in the contest. Stevenson paced the Desert Dogs' offense out of the leadoff spot, going 1-for-3 with three runs scored, two stolen bases and two walks. He leads the team in several offensive categories including average (.354), hits (29), runs scored (18), total bases (43) and stolen bases (9).
DeJong was the only Desert Dog not to score a run in the contest, though he still made his mark at the plate by going 1-for-4 with a walk and a pair of RBIs. Ward also had a strong game, finishing 1-for-4 with two RBIs and a steal, while Tanielu recorded a pair of extra-base hits in a 2-for-5 performance that lifted his Fall League average to .340.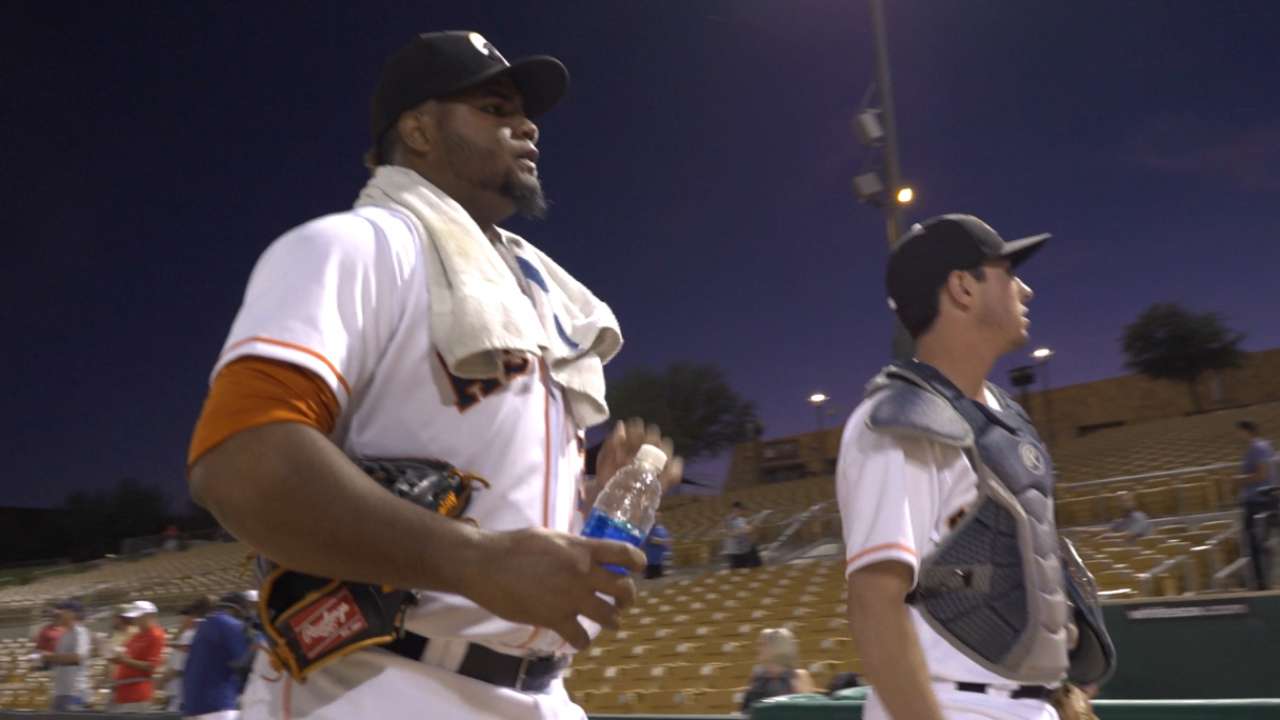 "We've come the last two days and shown up and done our job," Gomber said. "And when you have a guy like [Astros No. 1 prospect Francis] Martes on the mound tomorrow, we're feeling pretty confident -- he's one of the best pitchers in the league. I'm confident he'll do the same thing we've done the last two days."
Mike Rosenbaum is a reporter for MLB.com. Follow him on Twitter at @GoldenSombrero. This story was not subject to the approval of Major League Baseball or its clubs.