MLB.com Columnist
Richard Justice
Reinsdorf's legacy about more than winning
130 Chicago area high schoolers have received scholarships in 9 years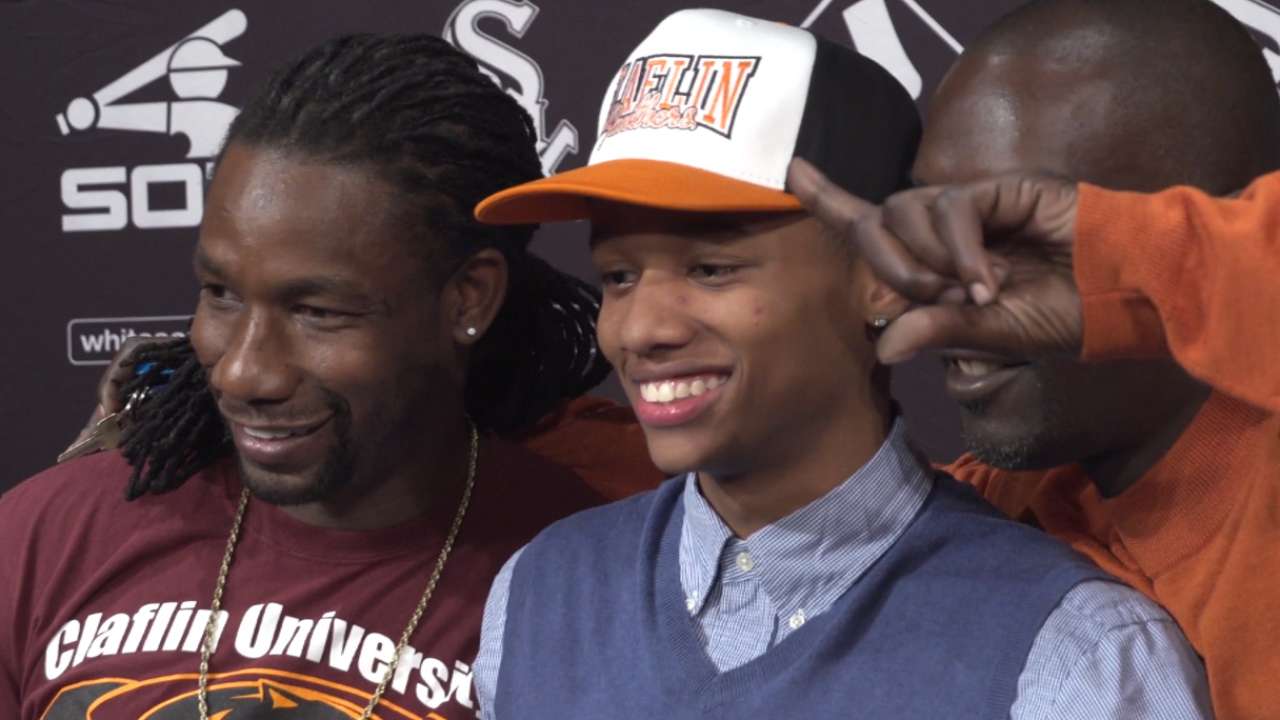 This is about one man's vision of what a sports franchise can and should be. On an evening filled with celebration and emotion, White Sox owner Jerry Reinsdorf's spirit and heart were on display.
Twelve Chicago-area high school seniors signed national letters of intent to play college baseball during an event hosted by the White Sox on Tuesday night at Guaranteed Rate Field.
For the White Sox, these youngsters signified a moment of triumph since all were part of a program the team calls Amateur City Elite (ACE). Since 2007, it has offered kids from some of Chicago's toughest neighborhoods the opportunity to play baseball and to have a safe haven from the streets.
Inside something as simple as a baseball game are some of the tenets of a successful life: teamwork, accountability, commitment and goal-setting. ACE provides both baseball instruction and academic counseling.
At its heart, it's about showing kids a pathway to the next chapter of their lives. If that next chapter doesn't include baseball, so be it. Because of ACE, they should be better prepared for whatever they choose to do.
ACE participants from previous years have spoken of the program being a shelter from the storm of city life and helping them change the path their lives appeared to be on.
On Tuesday, Tavion Towers, one of the high school seniors who will play and study at Claflin College in South Carolina, put it bluntly when he said the program probably saved his life.
"I thought it would just be baseball, but you have a lot of coaches that are mentors to us," Towers said. "They teach us life lessons and also about being a student first."
Towers has lost friends to violence, and he said the ACE program helped steer him in another direction rather than being in the "wrong place." He spoke of having a degree of self-confidence he hadn't had before and of looking forward to college life.
Tonight 12 of our ACE players signed their college letters of intent. Congrats, guys — we are so proud! pic.twitter.com/T4K5vEiVO6

— Chicago White Sox (@whitesox) November 16, 2016
This year's 12 scholarships ran the nine-year total to 130. Seventy ACE alumni have played Division I baseball, and 18 have been taken in the MLB Draft.
When Louisville and Vanderbilt played for the national championship in 2014, there were ACE players on both teams: Ronell Coleman for Vanderbilt and Corey Ray for Louisville.
This is what progress looks like. This is making a difference in the most real sense. It's right there on the faces of those smiling young men who have seen doors open that might not have opened otherwise.
Reinsdorf has always wanted his teams to be about more than winning games, and he has an unshakable belief that the White Sox and NBA's Bulls have a moral obligation to use their prominence to make communities better.
"At a time when there's a lot going on in the city that we want to try to change, this is something of a positive nature," White Sox executive vice president Kenny Williams said. "We've got to start highlighting to a greater degree the things that are going on in the city that are positive so they become the greater influence."
When President Barack Obama issued a call to service during his first inaugural address in 2009, Reinsdorf created White Sox Volunteer Corps.
Seven years later, White Sox players, staff and volunteers have done more than 37,000 hours of community service -- from renovating Chicagoland public schools to remodeling Boys & Girls Clubs.
White Sox Charities has donated more than $12.5 million to various organizations in the last seven years and around $25 million since its inception in 1990.
Over the years, Reinsdorf has been showered with honors for his franchise's commitment to community service. He's appreciative and gracious. He hopes that the attention sends a message about the way he views his life.
None of those awards is likely to mean as much as those 12 kids on Tuesday getting a chance to attend college and play baseball. These kids will be part of Reinsdorf's enduring legacy and perhaps his proudest moment.
Richard Justice is a columnist for MLB.com. You can follow him on Twitter @richardjustice. This story was not subject to the approval of Major League Baseball or its clubs.