Granderson continues to give during Thanksgiving season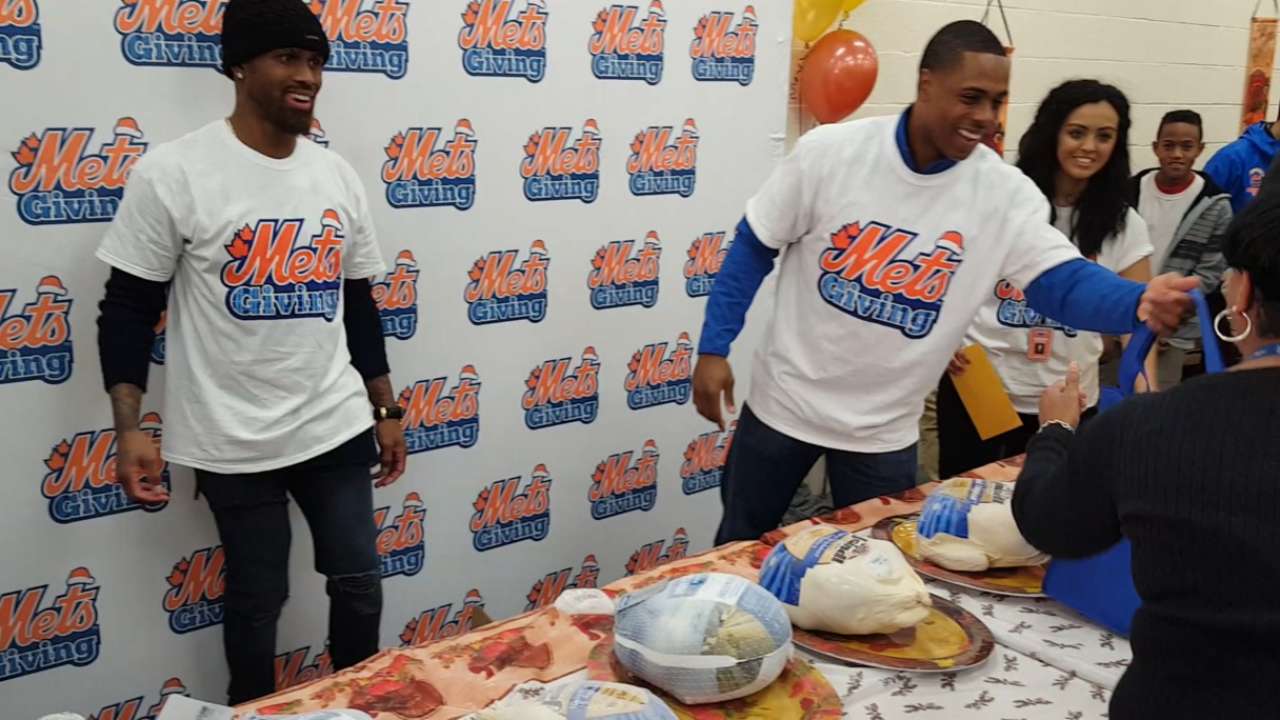 NEW YORK -- Curtis Granderson shot up the Van Wyck Expressway, heading north to another destination. Granderson and Jose Reyes just finished distributing Thanksgiving turkeys to needy families in Jamaica, Queens. Next up was a stop in Harlem as part of the same initiative. Later that night, Granderson headed to Midtown for a Grand Kids Foundation fundraiser.
Granderson's traffic-defying schedule last Tuesday was hardly unique. Since the Mets bowed out of postseason play seven weeks ago, the Mets outfielder has crisscrossed the eastern United States, running charity events in both New York City and his native Chicago. In late October, he paused at Wrigley Field to collect the Roberto Clemente Award, Major League Baseball's highest off-field honor. Then, he continued the process of demonstrating why he earned that recognition, using Thanksgiving as a springboard for his charitable giving.
"What Roberto Clemente stood for, his family is living proof of what it was to not only be a professional athlete, but a professional human being," Granderson said at his award acceptance ceremony. "The importance of knowing that his community is what made him who he was, and the reason why he was able to be where he was … those are the things I strive to do."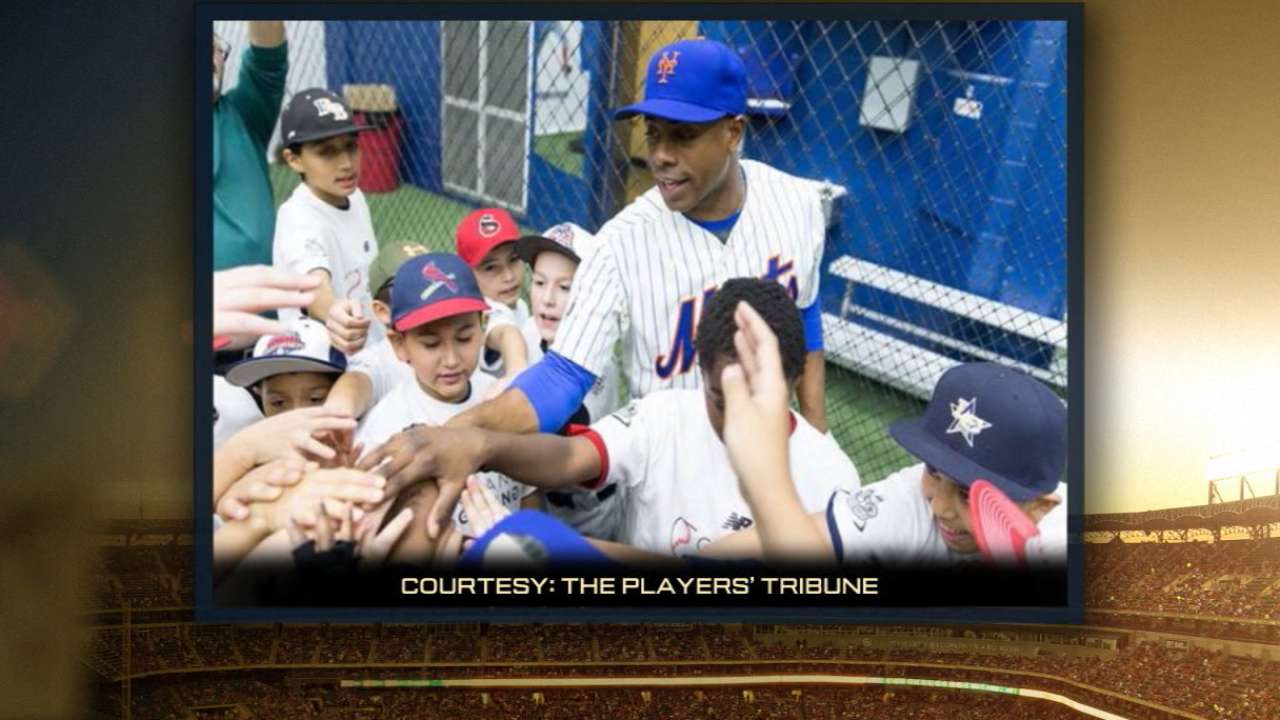 For most of his career, Granderson has done those things regularly in Chicago, most notably donating $5 million to his alma mater, the University of Illinois at Chicago, for the construction of a baseball stadium in his name. Each year, the Grand Kids Foundation hosts events in his hometown.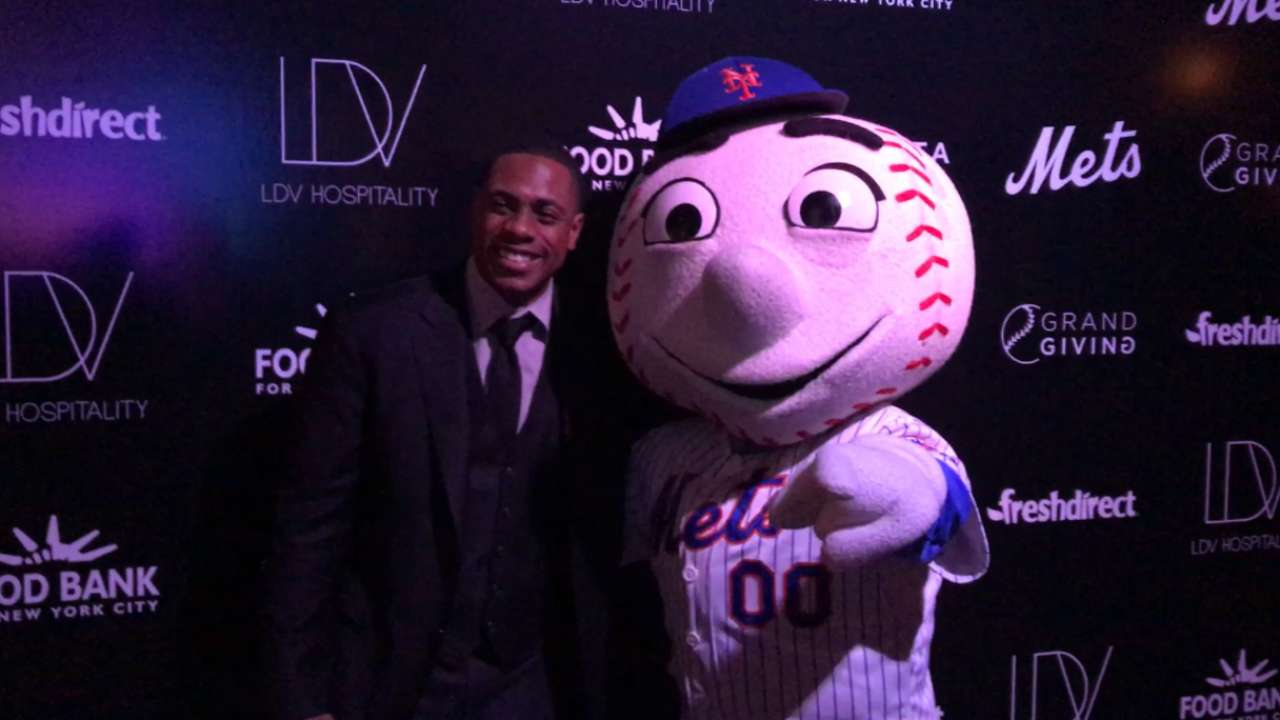 But more and more since signing with the Yankees in 2010, New York has become a focus of his giving. At Citi Field, Granderson annually hosts the Grand Kids Summer Series, bringing groups of children to the ballpark to watch Mets games throughout the season. He has served as ambassador for the "Citi Home Runs for Communities" program, which raised more than $328,000 over two seasons for a quartet of New York City non-profits. And he has actively aided the Mets' support of the military, in particular attending the club's Military Softball Classic.
Granderson is far from the only Mets player to give back to his community. For example, David Wright also has his own foundation, working both in New York City and his native Virginia. Steven Matz quietly honored large groups of FDNY, NYPD and military members once per homestand this year at Citi Field. Others in the clubhouse give back on a regular basis.
• Granderson named Marvin Miller Man of Year
But few have engrained themselves in community life as much as Granderson, who is no stranger to the type of atmosphere Thanksgiving brings.
"I've always felt like being involved in the community has been something I've enjoyed doing," Granderson said. "That's the type of way I like to stay busy … just trying to find different ways to help out because the fan base helps to get us to be where we are, and to be able to play this great game. So to give back -- whether it be 30 minutes here, two hours there, a couple of camps or events there -- I'm always going to try my best to do so, even when I'm finished playing."
Anthony DiComo has covered the Mets for MLB.com since 2008. Follow him on Twitter @AnthonyDiComo and Facebook, and listen to his podcast. This story was not subject to the approval of Major League Baseball or its clubs.