Dozier a hit representing MLB in Taiwan
Twins second baseman interacts with fans for a week on Ambassador Tour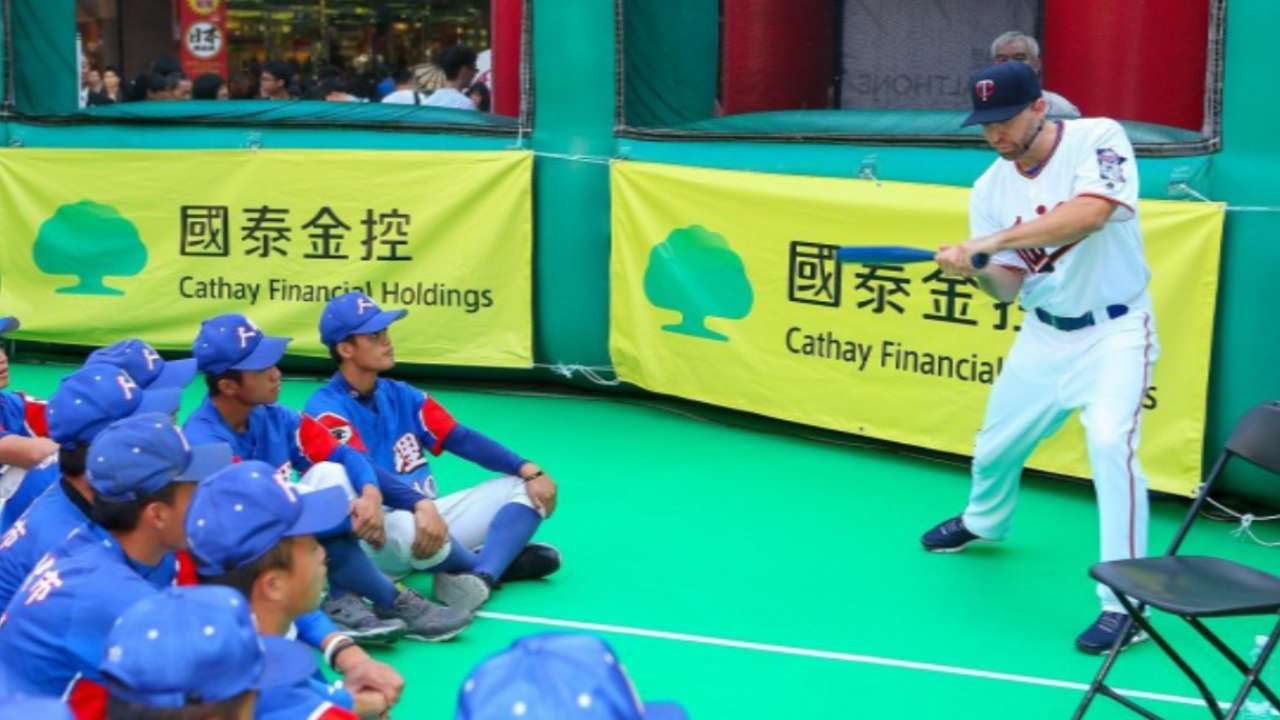 MINNEAPOLIS -- With two weeks left in the regular season, Major League Baseball approached Twins second baseman Brian Dozier and asked him if he'd be interested in being the league's representative as part of the MLB Ambassador Tour in Taiwan.
Dozier didn't hesitate, as he was excited about the opportunity to promote baseball abroad and always wanted to travel to Asia. Dozier and his wife, Renee, spent last week in Taiwan as part of the Ambassador Tour, and he said it went better than he even expected, especially because of the immense fan turnout.
"It's amazing how popular MLB is over there," Dozier said. "When Renee and I got off the flight, flying 15 hours or whatever it was, there were probably 100 people waiting for me at the terminal when I landed. Everywhere we went all over the city, it was so involved. I don't want to use the term loosely, but they seemed obsessed that a Major League Baseball player was over there. They love their baseball."
Each day in Taiwan was structured for Dozier, and he spent much of his time interacting with the fans at "MLB Baseball Park," an event space in the heart of Taipei City created specifically for the Ambassador Tour. Dozier, who wore his Twins jersey while in public, said it was exciting to be a part of the buzz with multiple media interviews, autograph sessions and baseball instructing. It was the second straight year the event was held in Taipei City, and Dozier said he heard the turnout was nearly double.
"Basically, you're doing speaking engagements, autograph signings, one day we spent time with disabled kids," Dozier said. "I also answered lots of questions from Taipei baseball players from high school and Little League. So it was just neat to be an MLB ambassador to do that kind of stuff."
Dozier added the tour was such a success that he'd consider representing MLB again in the future. The league runs similar tours in places such as Japan, South Africa and Europe. Dozier told MLB he'd be especially interested in South Africa next year, but that nothing will be finalized until late next season.
"We can't commit to anything now, but it would be cool if we did," Dozier said. "We'll talk about it again next summer."
For now, Dozier is waiting to hear if he'll be selected to play for Team USA in the World Baseball Classic. Dozier, coming off a 42-homer season, has indicated he'd love to be considered, and he is expected to hear soon if he'll make the provisional roster.
"We're just waiting to hear and I think it could be any day," Dozier said. "I hope I get the chance to. I've make it clear I'd love to. I know some guys have been hesitant, but I think it would be pretty cool."
Rhett Bollinger has covered the Twins for MLB.com since 2011. Read his blog, Bollinger Beat, follow him on Twitter @RhettBollinger and listen to his podcast. This story was not subject to the approval of Major League Baseball or its clubs.