Braves face Rule 5 Draft decisions with Fried, Sims
Prospects are most likely members of organization to be selected if left unprotected
ATLANTA -- Max Fried and Lucas Sims are not yet ready to become candidates for Atlanta's starting rotation, but to protect against the possibility of losing either pitching prospect, the Braves might place them on their 40-man roster this week.
All Major League clubs have until Friday to fill their 40-man rosters with any player they want to protect from being selected in December's Rule 5 Draft. Those eligible for selection include any player not on the 40-man roster who signed in 2012 at 18 years old or younger, or in '13 at 19 years or older.
Atlanta will have four vacant spots on its 40-man roster once it adds veteran pitchers Bartolo Colon and R.A. Dickey after they complete their physical exams. Two of those spots could be filled by Fried and Sims, who would stand as the most likely members of the organization to be selected if left unprotected for the Rule 5 Draft.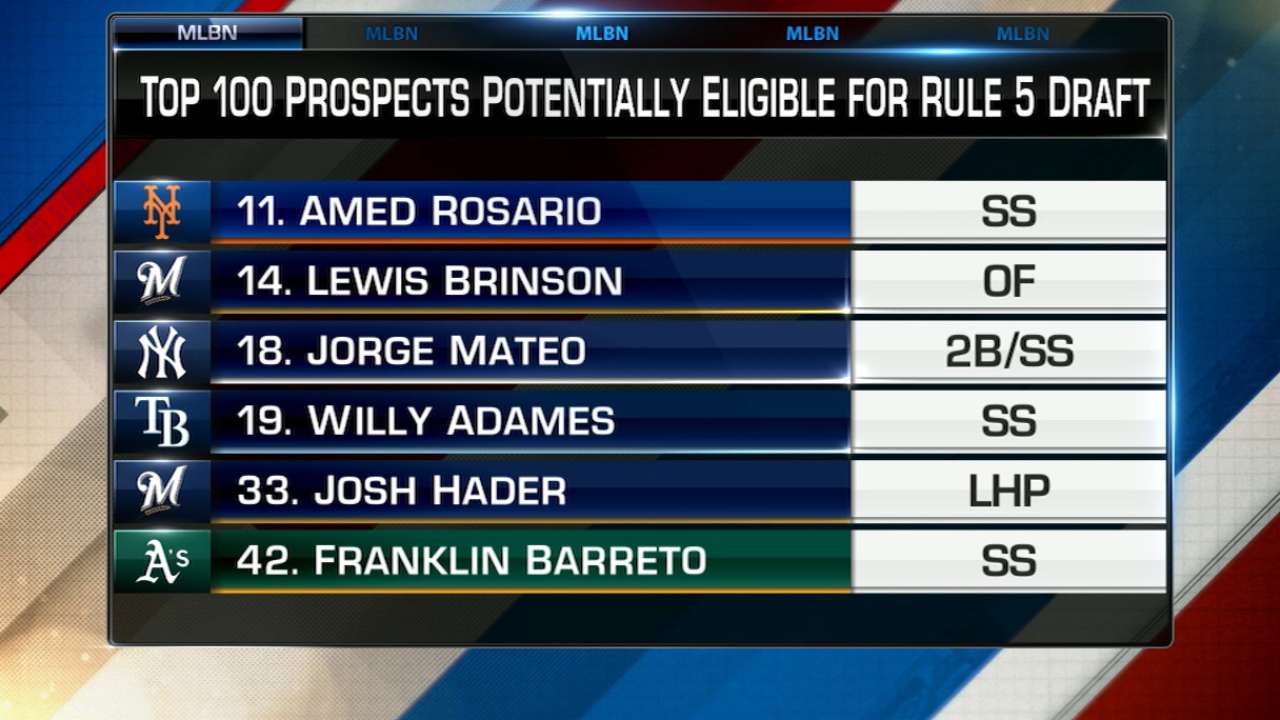 A team that makes a selection during the Major League phase of the Rule 5 Draft must pay $50,000 and commit to carrying the selected player on its active roster through the entirety of the following season. A selected player can be offered back to the original club for $25,000.
Although Fried, the Braves' No. 11 prospect per MLBPipeline.com, has never pitched above the Class A level, there's certainly reason to protect against an organization (most likely from the American League) selecting him with the intent to essentially stash him in the bullpen for the 2017 season with the hope of eventually benefiting from his great potential as a starting pitcher.
When Fried was taken by the Padres with the seventh overall selection in the 2012 MLB Draft, some scouts rated him higher than his high school teammate Lucas Giolito, the Nationals' right-hander who ranks as MLBPipeline.com's third-best overall prospect.
Fried's rise toward the Majors was halted when he underwent Tommy John surgery in 2014. The 22-year-old lefty was traded to the Braves (the deal that sent Justin Upton to San Diego) that same offseason, and he rehabbed throughout '15. After missing nearly two full seasons, Fried rejuvenated his prospect status this past summer as he posted a 3.93 ERA and recorded 112 strikeouts over 103 innings for Class A Rome. He notched 10 strikeouts in both of his final two regular-season starts and then totaled 24 strikeouts while allowing two runs over 14 2/3 innings during the South Atlantic League playoffs.
There may be some reason to debate whether a team would use a Rule 5 selection on No. 14 prospect Sims, who this year produced a 2.67 ERA in 17 starts for Double-A Mississippi and a 7.56 ERA in 11 appearances (10 starts) for Triple-A Gwinnett. He recorded 159 strikeouts in 141 innings, but he also enhanced lingering concerns about his command as he issued 92 walks.
Still, even though Sims' ascent has not necessarily been as smooth as the Braves might have hoped when they selected him with the 21st overall pick in the 2012 Draft, his stuff is impressive enough for another organization to potentially take him in the Rule 5 Draft with the hope of helping him gain the consistent command he has lacked.
Mark Bowman has covered the Braves for MLB.com since 2001. This story was not subject to the approval of Major League Baseball or its clubs.