Bryant looking to join elite company as NL MVP
Cubs 3B could become 4th player overall to win ROY, MVP in back-to-back seasons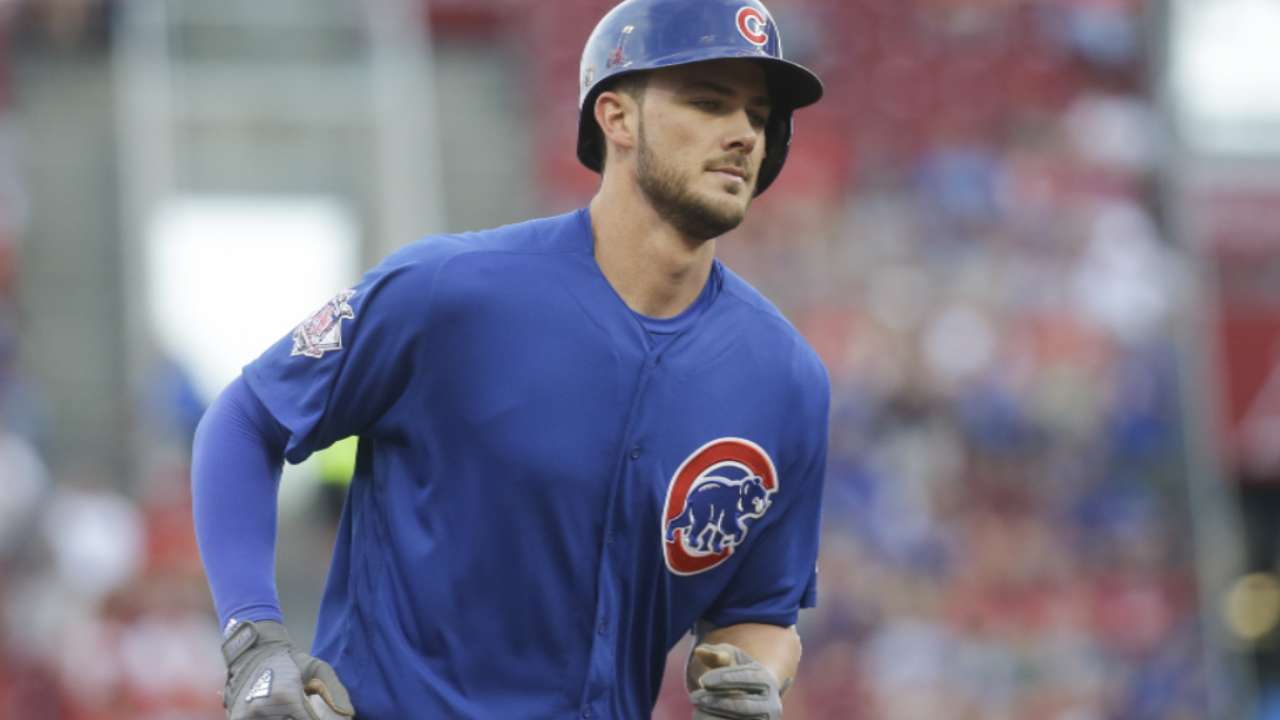 CHICAGO -- He began hitting under his dad's tutelage at the age of 5 and hasn't stopped. This year, the Cubs' Kris Bryant continued his meteoric rise, and he will find out on Thursday (5 p.m. CT on MLB Network) whether he won the National League Most Valuable Player Award, presented by the Baseball Writers' Association of America.
Hopefully, Bryant has room on his mantle. He was named the top college player in 2013 and the top Minor League player in '14, before being honored as the top rookie last season. This year, Bryant, 24, ranked among the NL leaders in home runs (39), RBIs (102) and slugging percentage (.554), and was first in runs scored (121). His 39 homers were the most by a Cubs player since Derrek Lee belted 46 in '05.
There were plenty of highlight games. On April 21 in Cincinnati, Bryant went 4-for-6 with two home runs, including a grand slam, and six RBIs. On June 27 at Great American Ball Park, he went 5-for-5 with three home runs, two doubles and six RBIs, becoming the first player in Major League history to record three homers and two doubles in a game. And he did so despite moving from third base to left field to right field during the game.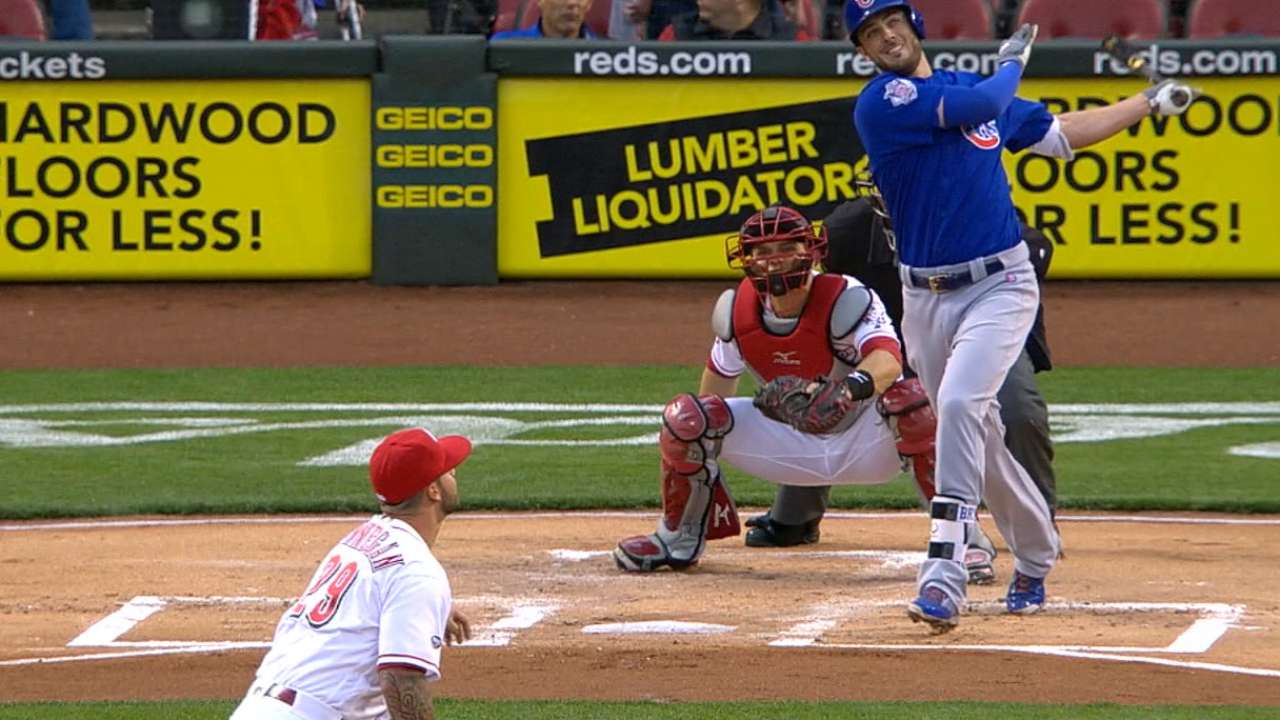 Cubs manager Joe Maddon took advantage of Bryant's versatility.
"When you think back to when you started playing baseball, it was always so much more fun in Little League," Bryant said. "Now, it's like Little Leagues in the big leagues. I think that's one of the things that makes Joe such an unbelievable manager. You never know what you're going to do, what to expect in the clubhouse. I think more guys should be like that."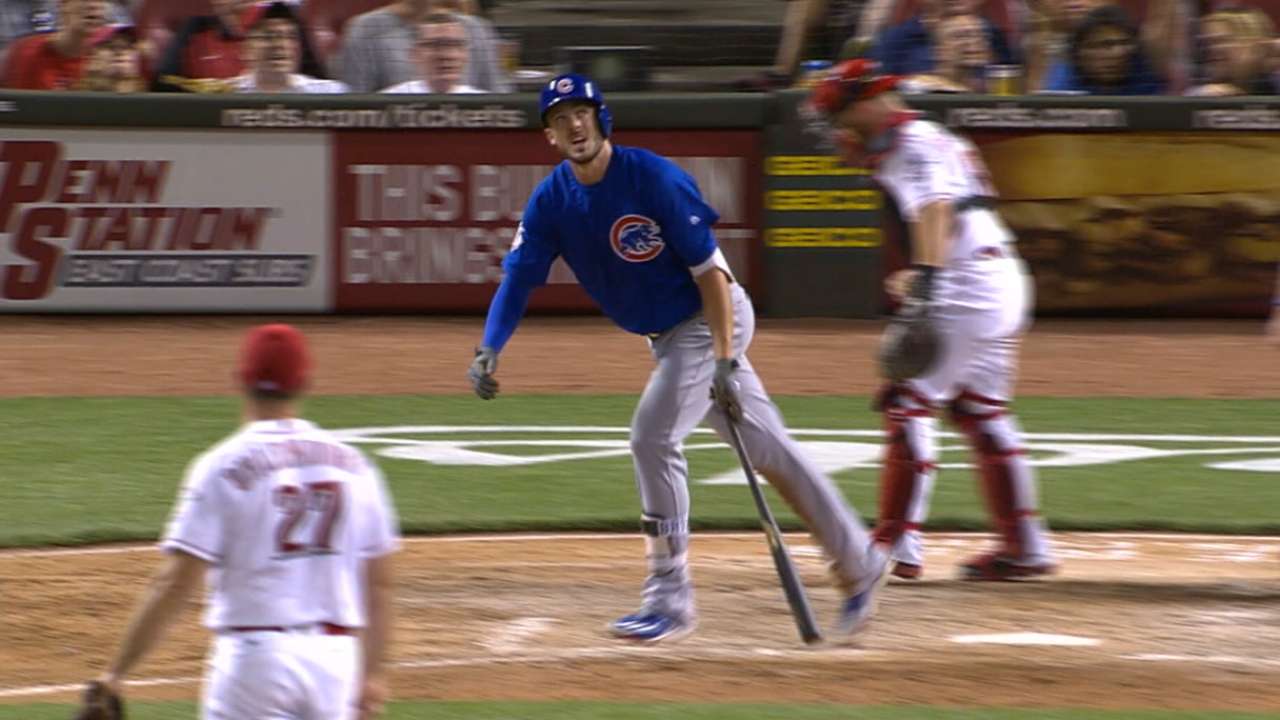 During the first half of the season, Bryant hit 25 home runs. At his second All-Star Game, Bryant homered, but it wasn't enough to help the NL win.
While all home runs are key, not many were as perfectly timed as Bryant's 33rd, which he hit in the third inning of the Cubs' 5-3 win over the Padres. Bryant's University of San Diego baseball coach Rich Hill was in attendance at Petco Park on Aug. 23.
"I always thought once he got into pro ball, he'd actually do better than he did in college," Hill said. "In the Minor Leagues, the pitchers get a little arrogant. They think, 'I'll just throw this by this guy.' I thought when he got some pitches to hit, he'd do some damage. They're pitching him like an All-Star, and they've been doing it since Day 1."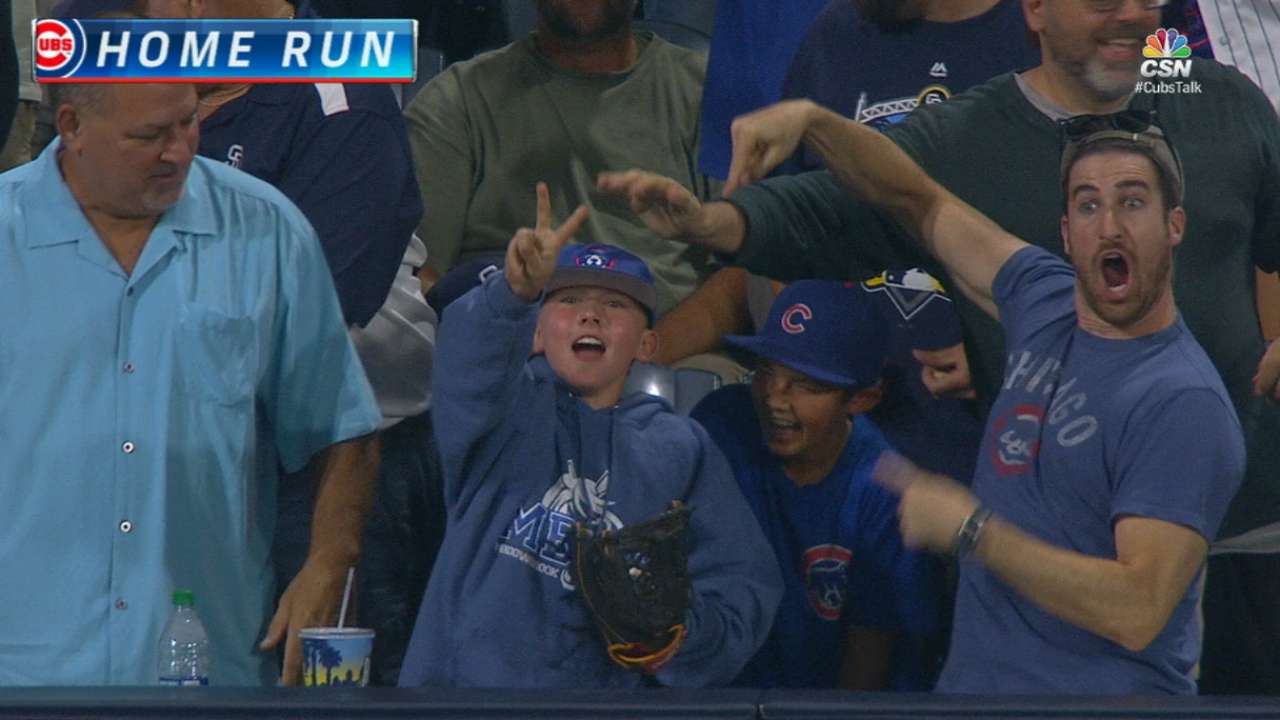 Hill also isn't surprised that Bryant has made the adjustments. There was no sophomore slump.
"He was a 4.7 GPA out of high school," Hill said. "He's very bright, and at the same time, he's very competitive. You have that combination, and that's a good recipe for success."
Twenty players have won top rookie honors and have been named MVP, but Bryant could join Dustin Pedroia (2007-08), Ryan Howard (2005-06) and Cal Ripken Jr. (1982-83) as the only players to win the awards in back-to-back seasons.
The other NL MVP finalists this year include Nationals second baseman Daniel Murphy and Dodgers rookie shortstop Corey Seager.
Sammy Sosa was the last Cubs player to win MVP honors, doing so in 1998.
Bryant led NL position players with a 7.7 WAR. Between 1931 and 2015, there were 32 instances of a position player age 24 or younger leading his league in WAR. In 10 of those 32, the player was named MVP. That group includes Jimmie Foxx ('32), Joe DiMaggio ('39), Stan Musial ('43), Willie Mays ('54), Mickey Mantle ('56), Johnny Bench ('70), Ripken ('83), Ryne Sandberg ('84), Mike Trout ('14) and Bryce Harper ('15).
The MLB Awards -- following league-specific recognition by BBWAA voters, whose ballots are based on regular-season play -- include candidates from both leagues (with postseason performance taken into consideration). MLB Awards are based on votes by retired players, broadcasters/reporters, team executives, Society of American Baseball Research members and fans, with each group accounting for 20 percent of the process. Esurance MLB Awards week concludes Friday on MLB Network and MLB.com at 8 p.m. ET. MLB Awards categories include Best Major Leaguer, Hitter, Pitcher, Rookie, Executive and Manager.
Carrie Muskat has covered the Cubs since 1987, and for MLB.com since 2001. She writes a blog, Muskat Ramblings. You can follow her on Twitter @CarrieMuskat and listen to her podcast. This story was not subject to the approval of Major League Baseball or its clubs.