Up for NL MVP, Murphy vital to Nats' success
Consistently productive second baseman set career highs in several categories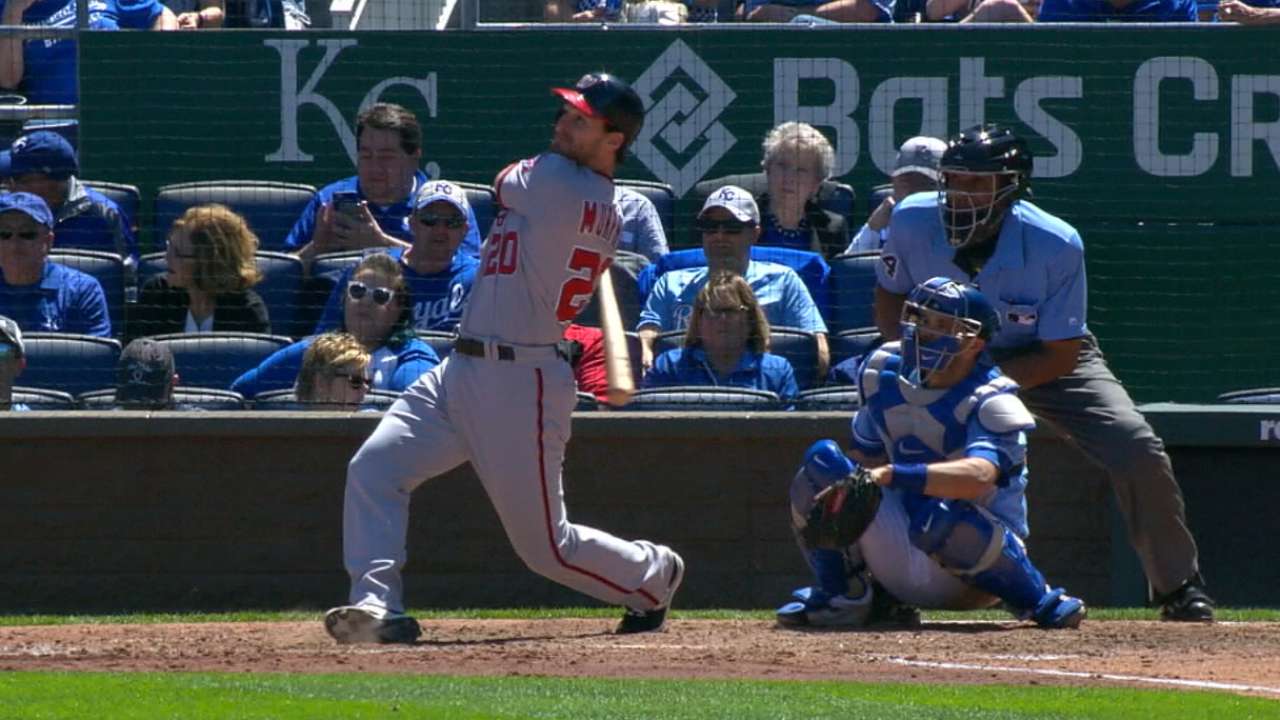 WASHINGTON -- Even the strongest optimist would have struggled to predict what Daniel Murphy would provide for the Nationals when they signed him last offseason.
Always a consistent hitter who produced a high average, Murphy built on the adjustments made to his batting stance and swing to transcend into of the premier hitters in the National League. He silenced critics who dismissed his historic 2015 postseason as a hot streak and pummeled opposing pitching staffs through the '16 season. Even while the rest of the Nats' lineup battled through inconsistencies or injuries, Murphy was consistently dominant.
• MLB.com's complete awards coverage
After a breakout season, Murphy is a finalist for the Baseball Writers' Association of America NL Most Valuable Player Award that will be presented Thursday at 6 p.m. ET on MLB Network. Kris Bryant of the Cubs and Corey Seager of the Dodgers are the other finalists.
The MLB Awards -- following league-specific recognition by BBWAA voters, whose ballots are based on regular-season play -- include candidates from both leagues (with postseason performance taken into consideration). MLB Awards are based on votes by retired players, broadcasters/reporters, team executives, Society of American Baseball Research members and fans, with each group accounting for 20 percent of the process. Esurance MLB Awards week concludes Friday on MLB Network and MLB.com at 8 p.m. ET. MLB Awards categories include Best Major Leaguer, Hitter, Pitcher, Rookie, Executive and Manager.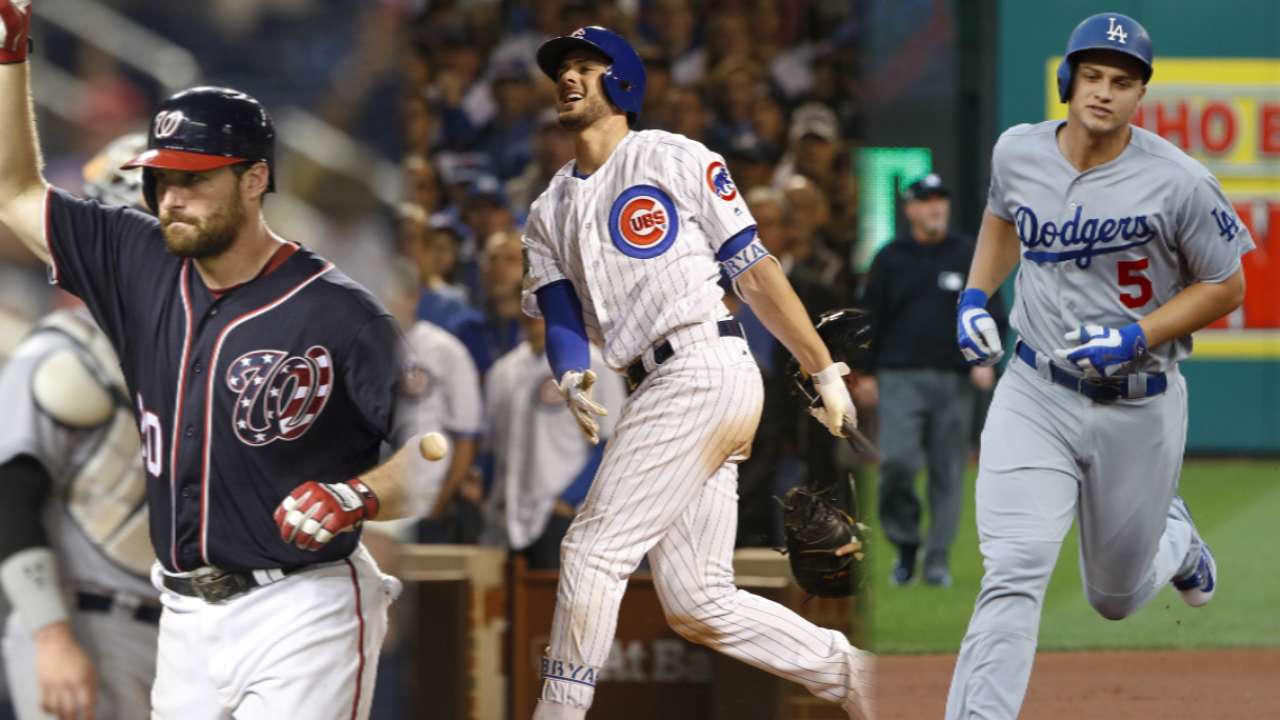 The Nationals considered other options at the start of last offseason before ultimately signing Murphy to a three-year, $37.5 million deal that quickly became one of the biggest steals. From the moment Murphy arrived in Spring Training, his teammates began marveling at his work ethic and approach at the plate, noting his ability to wait for the pitch he wants and not miss it when he gets it.
And there were more than a few times this season when the Nats wondered where they would be without Murphy.
Murphy hit .347/.390/.595 with a NL-leading .985 OPS, 156wRC+ (weight runs created plus), 25 home runs and 104 RBIs, all of which were career highs. He led the NL in slugging percentage and OPS, and he finished just one point behind the Rockies' DJ LeMahieu for the NL batting title.
Murphy's ability to increase his power while maintain his elite contact ability also put him in some special company. The past five players to lead their league in OPS while maintaining a strikeout rate of less than 10 percent were Albert Pujols in 2006, '08 and '09, Barry Bonds in '02 and Todd Helton in '00.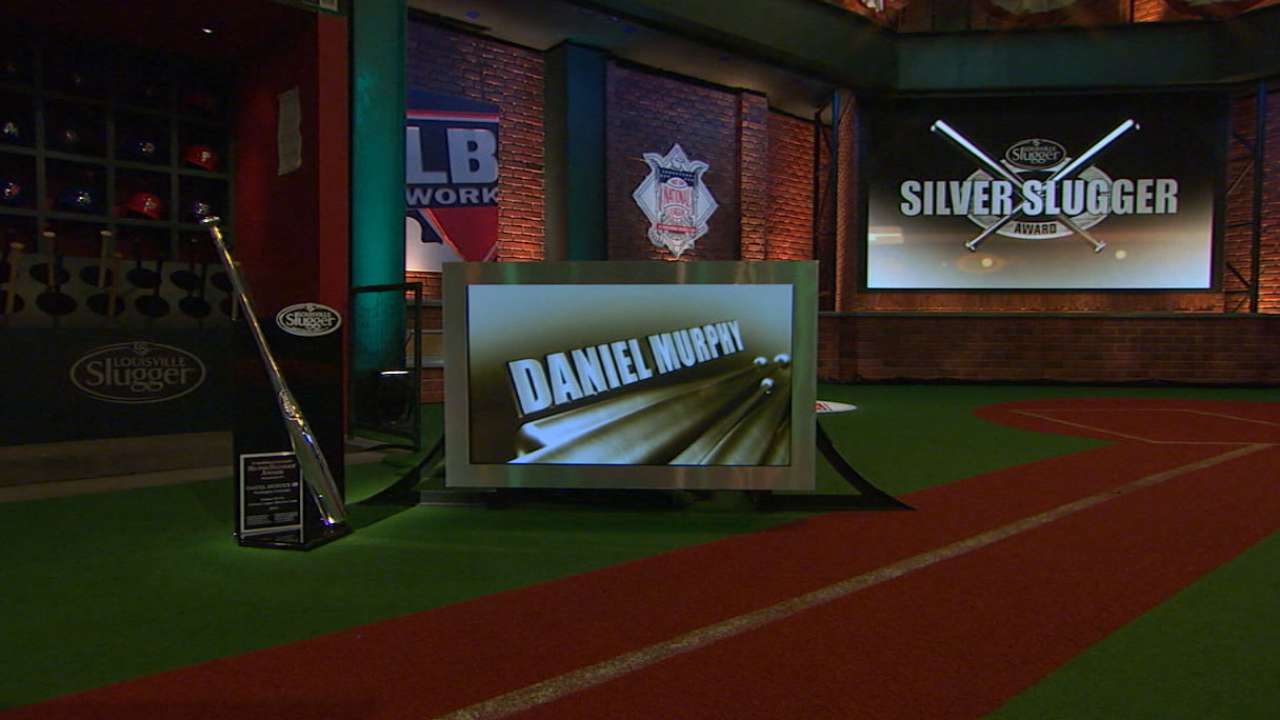 In the past week, Murphy has accumulated the NL Silver Slugger Award at second base and the NL Outstanding Player as voted on by opposing players. Bryant is the NL MVP Award favorite considering his significant advantage in wins above replacement (7.7 compared to 4.6), a product of Bryant's versatility at multiple defensive positions compared to Murphy, who has his struggles in the field.
However, Murphy carried the Nationals' offense as their most consistent hitter, and without him, they likely would not have run away with the NL East.
Jamal Collier covers the Nationals for MLB.com. Follow him on Twitter at @jamalcollier. This story was not subject to the approval of Major League Baseball or its clubs.