Great season makes Kinsler appealing trade target
Detroit second baseman's 5.8 WAR was 11th-best in AL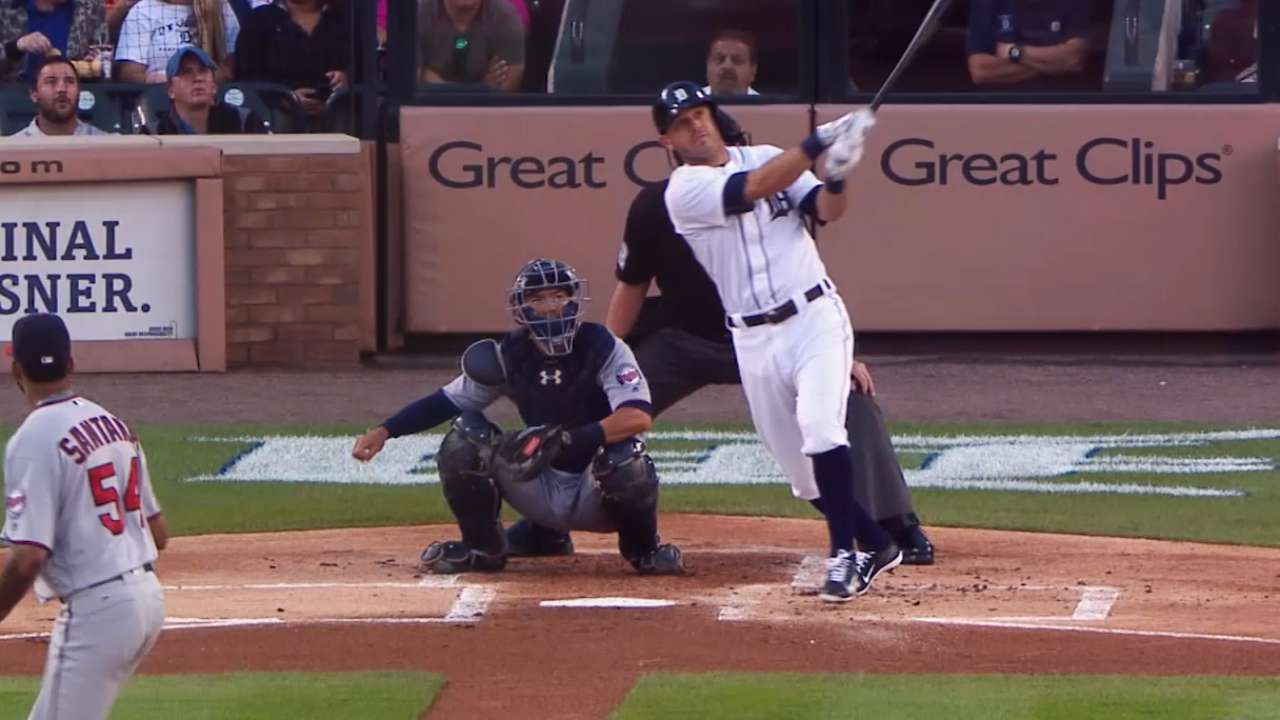 In baseball, when you're a great player at a deep position -- as second base was in 2016 -- it can be easy to be overlooked. After all, if you look at the American League Wins Above Replacement leaderboards, you'll find four second basemen in the top 11. We know AL Most Valuable Player Award finalist Jose Altuve was outstanding. We know Robinson Cano had an absolutely tremendous season with Seattle. Slightly less heralded was the overall performance of the Twins' Brian Dozier, although his 28 homers in the season's second half still garnered him plenty of attention.
But what about the fourth second baseman on the list? Did we pay enough attention to Ian Kinsler this year?
• FanGraphs' Craig Edwards investigates risk of a long-term deal for Justin Turner
Perhaps we didn't. Kinsler isn't just one of the four second basemen on that list of top AL performances this season, he's the oldest -- and "old" second basemen aren't supposed to be this good. Kinsler turned 34 in June, and the list of second basemen ever to record season WAR totals so high at age 34 or later is remarkably small:
Those are the top "old" second-base performances since 1945. Expand the list farther back in time and you'll find that the only other second basemen to record higher WAR totals than Kinsler in their age-34 season or later are Hall of Famers Eddie Collins, Charlie Gehringer and Nap Lajoie (who did it twice).
(Full disclosure: Kinsler is just four months older than Cano. Although this was technically Kinsler's age-34 season and Cano's age-33 season, it's a rather trivial distinction. But we already know Cano is not only fantastic, but a potential future Hall of Famer -- a likely one, even. We can and will rave about him another day.)
When the Tigers traded Prince Fielder to the Rangers for Kinsler after the 2013 season, it looked at the time like a swap of two declining players on long-term contracts. Unfortunately, that was very much the reality for Fielder, whose playing career ended this summer due to injuries. But Kinsler? He has thrived in Detroit. Although Kinsler has been an above-average contributor with the bat ever since the trade, much of his value has come from his glove. This year, however, he broke out offensively with a .288/.348/.484 slash line and 28 home runs. Overall, Kinsler posted a 123 wRC+ -- a comprehensive offensive stat indicating that he produced runs at a rate 23 percent above league average -- which is tied with 2011 for the second-highest mark of his career.
What's changed for Kinsler? How is he putting together some of his finest offensive performances in his mid-30s? One significant trend over the past two seasons has been the decline of his ground-ball rate, because after years of hovering in the 35 to 37 percent range, Kinsler's grounder rate dropped to 33.9 percent in 2015 and 31.6 percent in '16.
Another way to visualize this improvement is by looking at Kinsler's performance charted on a strike zone. Naturally, ground balls are more common on pitches down in the zone, but Kinsler is doing a better job of not rolling over those pitches. The chart on the left shows his rate of grounders/pitch from 2012-14, and the chart on the right documents the same thing from this past summer:
But the most significant change for Kinsler this season was his power. Home-run rates soared across baseball in 2016, so he isn't particularly unique in this distinction. However, the league's rate of homers per fly ball (HR/FB) made a 12-point increase from 11.4 percent a year ago to 12.8 percent. Kinsler, on the other hand, saw a 150-percent (!) increase in his HR/FB rate from 5.0 percent in 2015 to a nearly league-average 12.5 percent. Clearly, his personal improvements in this department far exceeded the league's collective improvement. The result was that he hit as many homers in 2016 (28) as he hit in his first two seasons with the Tigers combined (17 in 2014 and 11 in 2015).
There is an important caveat that accompanies the improvement in power: Of the 60 players with 25 or more homers recorded by Statcast™ this season, Ian Kinsler's average home-run distance doesn't just rank near the bottom; it comes in dead last, at 381 feet. Kinsler's average home-run distance in 2015? Also 381 feet. Overall, he did see an uptick in exit velocity from last year to this year (86.2 mph to 87.5 mph), but his 87.5-mph exit velocity was still tied for the 125th lowest among the 150 batters this season with a minimum of 300 batted-ball events.
This makes it easy to imagine Kinsler will struggle to replicate his power surge next season. Additionally, he posted the highest strikeout rate of his career and lowest contact rate since his rookie season. Swapping contact for power is great when it works, but the increased lack of contact may become conspicuous if it's not accompanied by a similarly extreme power surge.
Despite that note of caution, nothing can take away from Kinsler's tremendous performance this season. After missing the playoffs for the second straight year, Detroit will look to find a way to put themselves in position to win again, and soon. The fact that Kinsler is only under contract for one more season -- with a team option for 2018 -- could make him an intriguing trade chip this offseason. Given the unlikelihood that Kinsler will improve further during his age-35 season, his trade value may never be higher than it is right now and the Tigers might find a trade return that can help them beyond 2018.
Under contract for just $11 million next year, Kinsler could be an excellent fit for a team in win-now mode with a current weakness at second base, such as the Dodgers, Cardinals or, depending on the direction they take this offseason, the White Sox.
A version of this article first appeared at FanGraphs.com. This story was not subject to the approval of Major League Baseball or its clubs.