Bartee wants Bucs to be aggressive on bases
Pirates ranked 29th in MLB in percentage of extra bases taken in 2016
PITTSBURGH -- Kimera Bartee knows his career numbers. Everyone else can see them, too. They paint a clear picture.
"My bat was not the best bat in the game," Bartee said, laughing. "My niche was making sure I played lights-out defense, and that every time I got on base, I was a threat to score."
That mentality led Bartee to a 10-year professional career and, ultimately, to his new job as the Pirates' first-base coach in charge of baserunning and outfield defense. Bartee, 44, spent the past nine seasons as Pittsburgh's Minor League outfield and baserunning coordinator, and now he'll bring that expertise to the big leagues.
"This is definitely in my wheelhouse," Bartee said by phone earlier this month, amid a busy day of coaching-staff meetings. "This is something I have a passion for. It's something I take very seriously.
"Obviously it's exciting to have an opportunity. It's humbling to know that the organization believes in me to offer me and trust me with this new assignment. I'm looking forward to it."
In the outfield, Bartee will oversee one of the game's most talented trios -- Andrew McCutchen, Starling Marte and Gregory Polanco -- and familiarity won't be an issue.
"Everyone that's up here that's passed through the Minor League system, I've worked very closely with them," Bartee said. "The relationships are there."
But he'll also be tasked with improving the Pirates' work on the basepaths, a weakness that often undermined their keep-the-line-moving offensive approach last season.
The Pirates made 62 outs on the bases, the sixth-most in the Majors, and got picked off 17 times (tied for second-most). They ranked slightly above average in total bases taken, but they were second-to-last in the percentage of extra bases taken.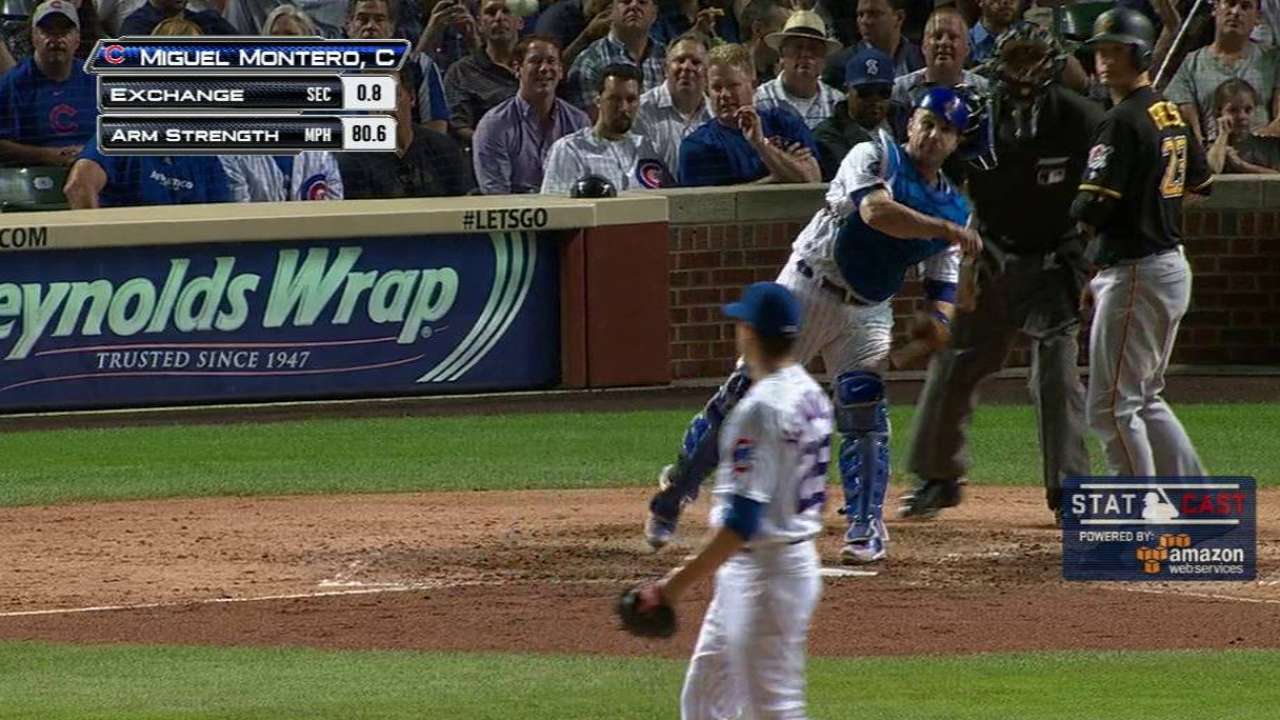 The Bucs were seven runs below average on the bases, according to FanGraphs, ranking 23rd in the Majors after finishing above the league average for four straight years. Marte stole 47 bases, nobody else topped 20 and only two others -- Josh Harrison with 19, Polanco with 17 -- swiped more than six bags.
Asked to summarize the philosophy he preached throughout the organization, Bartee said it matched the mindset he had as a player.
"It's an aggressive, disciplined approach where we pressure the defense, we look for opportunities to take advantage of defensive mistakes," Bartee said. "Obviously if they execute a play, they hold us to the base they want. We're always looking to get the base we earned and the next one whenever they present us an opportunity.
"That philosophy will be carried over, and it has been carried over at the Major League level. I'm looking for ways to be more creative and make it even better than it was last season."
Bartee spent the past nine years instilling that attitude in players who have since made their way to Pittsburgh. Now, Bartee will share that philosophy in his first year as a Major League coach, fulfilling a goal he set after his playing career ended.
"It's just my job to make sure everyone in the organization is reminded of it -- the ones that did it before are reminded of it, and the ones that didn't do it before are introduced to it," Bartee said. "I take it very seriously, but at the same time, it will be fun. There is fun in winning."
Adam Berry has covered the Pirates for MLB.com since 2015. Follow him on Twitter and Facebook, read his blog and listen to his podcast. This story was not subject to the approval of Major League Baseball or its clubs.