Trout's numbers should add up to 2nd AL MVP Award
Star's advanced stats superior to other finalists, but Angels' record could hurt him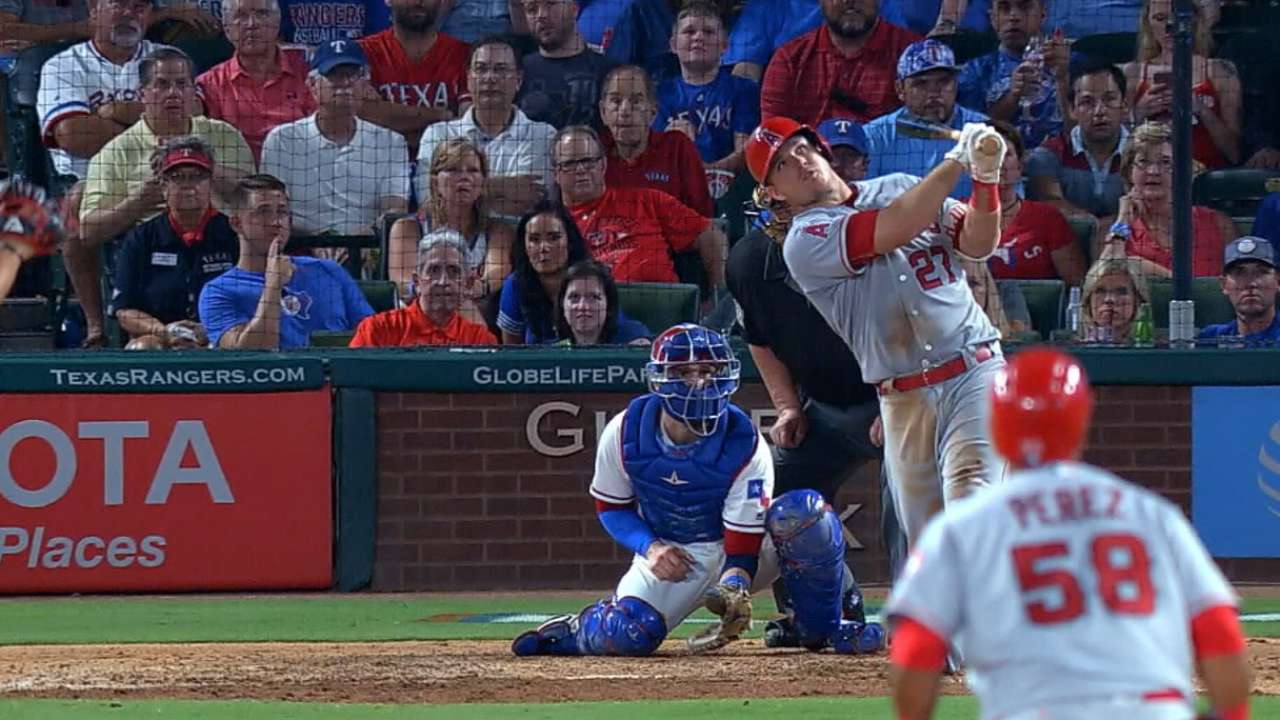 ANAHEIM -- Angels general manager Billy Eppler sat in his team's dugout one summer afternoon and offered a fun example why Mike Trout deserves his second American League Most Valuable Player Award: If every Major League player was made available for a sandlot game, Trout would be the first pick.
It's one way of saying Trout is the best player in baseball. Of course, that will be settled when the MVP results are announced Thursday at 6 p.m. ET on MLB Network. Trout is one of three finalists, along with Red Sox outfielder Mookie Betts and Astros second baseman Jose Altuve.
• Complete 2016 Awards coverage
The MLB Awards -- following league-specific recognition by BBWAA voters, whose ballots are based on regular-season play -- include candidates from both leagues (with postseason performance taken into consideration). MLB Awards are based on votes by retired players, broadcasters/reporters, team executives, Society of American Baseball Research members and fans, with each group accounting for 20 percent of the process. Esurance MLB Awards week concludes Friday on MLB Network and MLB.com at 8 p.m. ET. MLB Awards categories include Best Major Leaguer, Hitter, Pitcher, Rookie, Executive and Manager.
Trout has a strong case to win his second AL MVP Award in the past three seasons. He won in 2014, and he finished second in voting in '12, '13 and '15.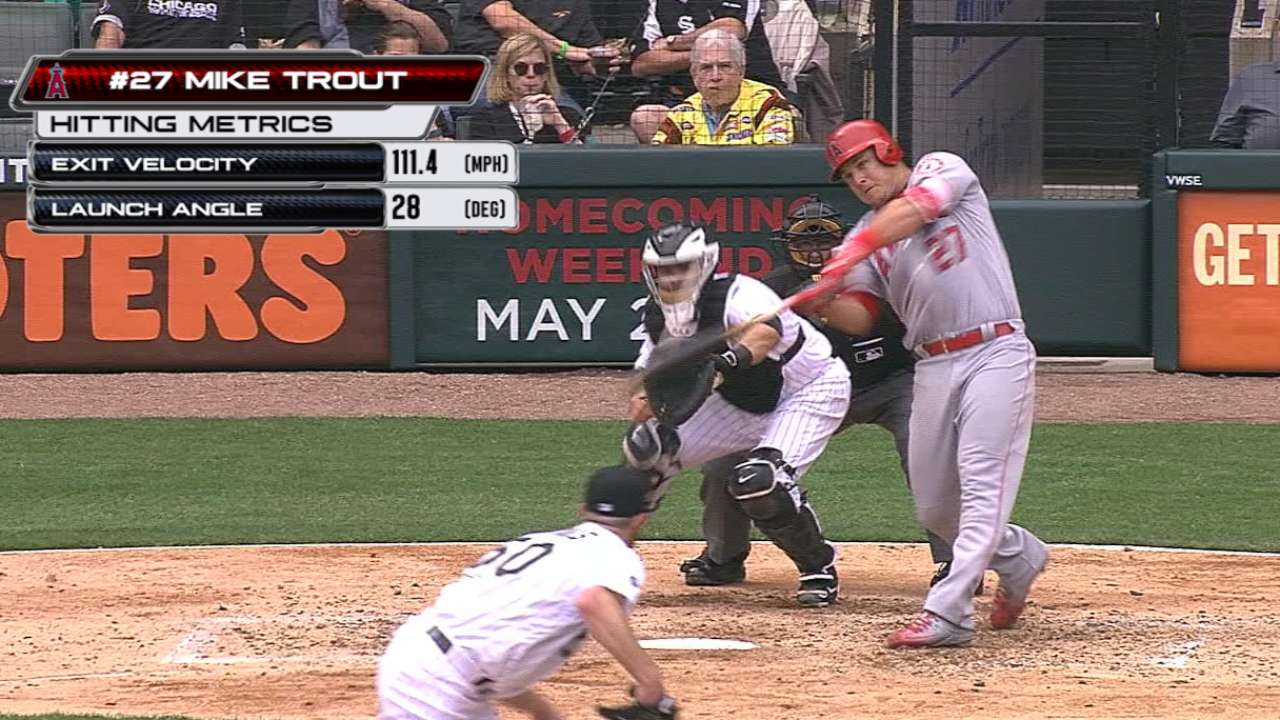 Offensively, Trout had a season unlike any other baseball has seen for a century.
Trout hit .315 with 32 doubles, five triples, 29 home runs, 100 RBIs and 30 stolen bases. He led the Majors in runs (123), walks (116) and on-base percentage (.441), while his .991 OPS ranked second in the AL. Trout was fourth in the AL with a .550 slugging percentage, and he tied for second in steals (Altuve also had 30).
Add it all up and Trout is only the second player to hit .315, walk 115 times, score 120 runs and steal 30 bases in a single season, joining Ty Cobb in 1915.
Trout's Wins Above Replacement led the Majors by the baseball-reference.com formula (10.6) and by FanGraphs' calculations (9.4). Trout led MLB in OPS+ (173) and Win Probability Added -- the positive impact on his team's chances of winning a game. Trout's WPA was 6.5 (according to baseball-reference.com), more than double that of Betts (3.1) and Altuve, who was not in the Top 10 in the AL.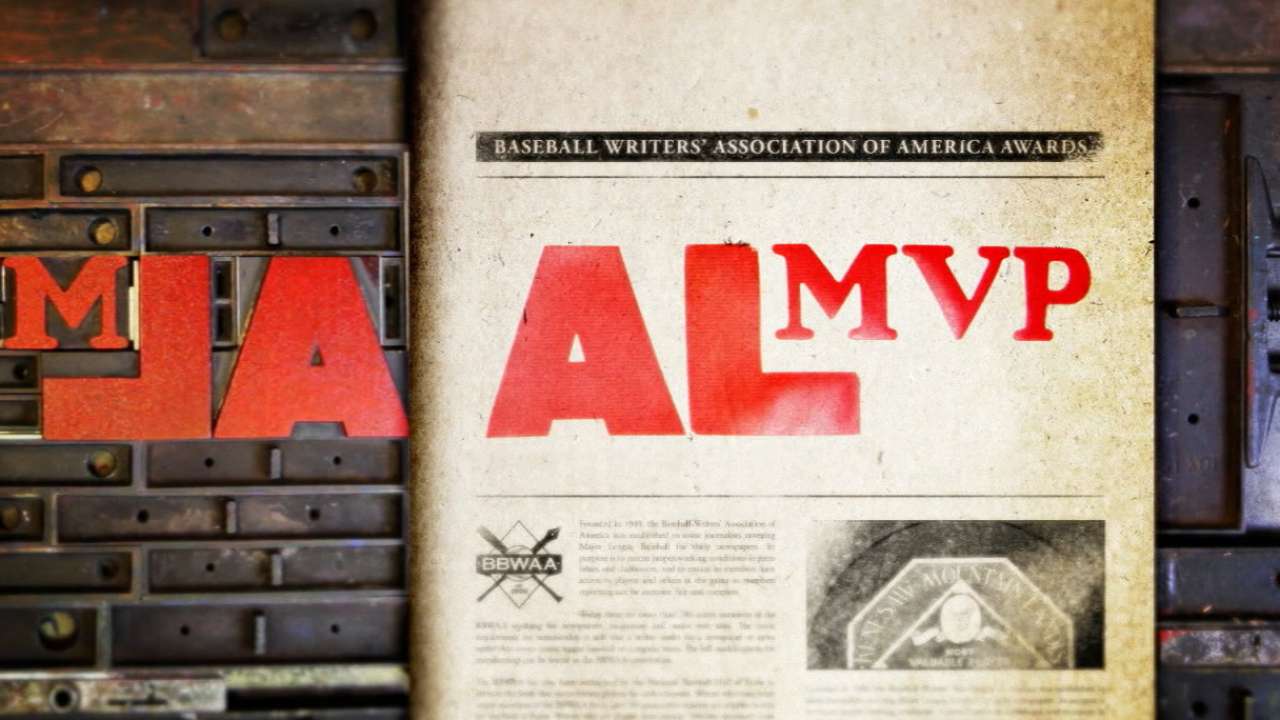 "I mean, look at the numbers," said teammate Albert Pujols, a three-time National League MVP Award winner. "I think the numbers speak for themselves, right?"
Trout was also durable, starting 146 games in center field and 11 at designated hitter.
The one thing the Baseball Writers' Association of America's voting members might hold against Trout is his team's performance. The Halos were 74-88 and finished fourth in the AL West. Betts helped the Red Sox win the AL East, while Altuve and the Astros were in postseason contention until the final week of the regular season.
Naturally, Angels manager Mike Scioscia doesn't feel Trout should be deemed less valuable because of the team's record.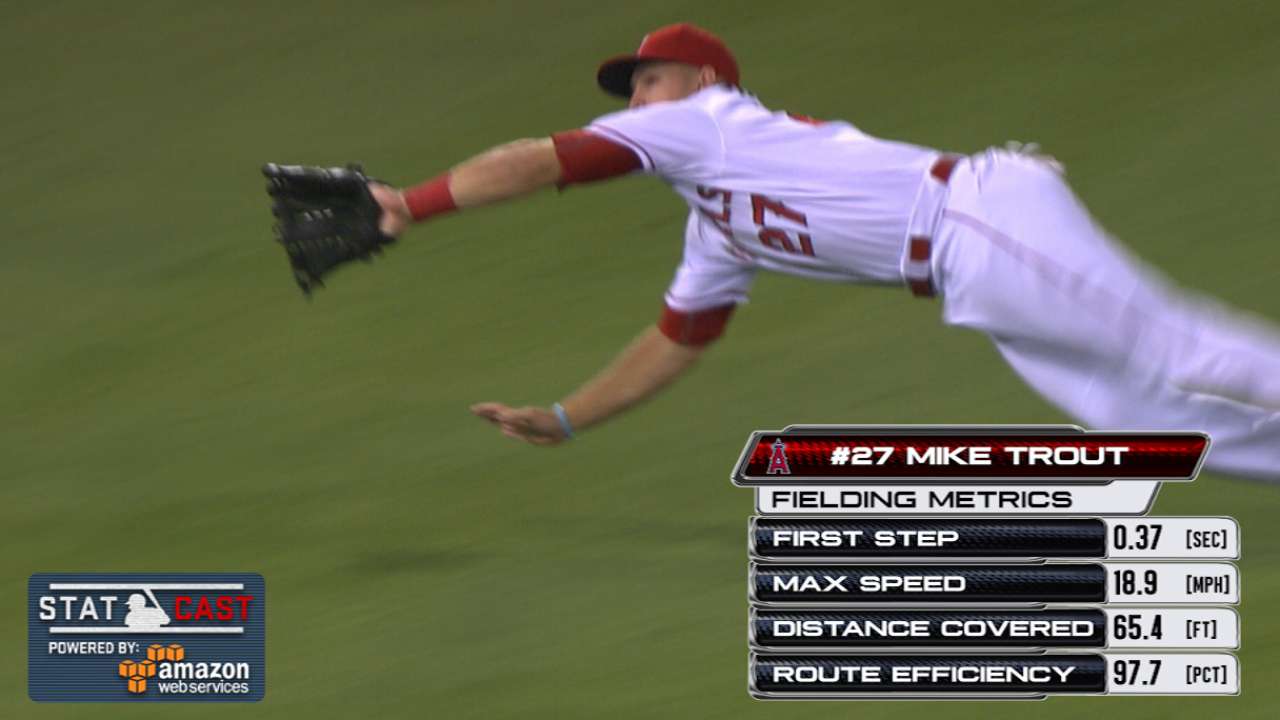 "I don't think you can discount what this guy did," Scioscia said. "This guy is the MVP. I don't think there's any question. I don't know of anybody that has done as much as he's done on the field."
Trout also has a track record of being a consistent performer. He's finished in the top three in MVP Award voting for the fifth consecutive season, joining Pujols and Barry Bonds as the only players in baseball history to earn that distinction. Trout, 25, has thus spent one-fifth of his life in serious contention for the AL MVP Award.
Austin Laymance is a reporter for MLB.com based in Los Angeles. This story was not subject to the approval of Major League Baseball or its clubs.