MLB.com Columnist
Anthony Castrovince
Francona, Roberts showed steady leadership
Managers of the Year overcame myriad of challenges in '16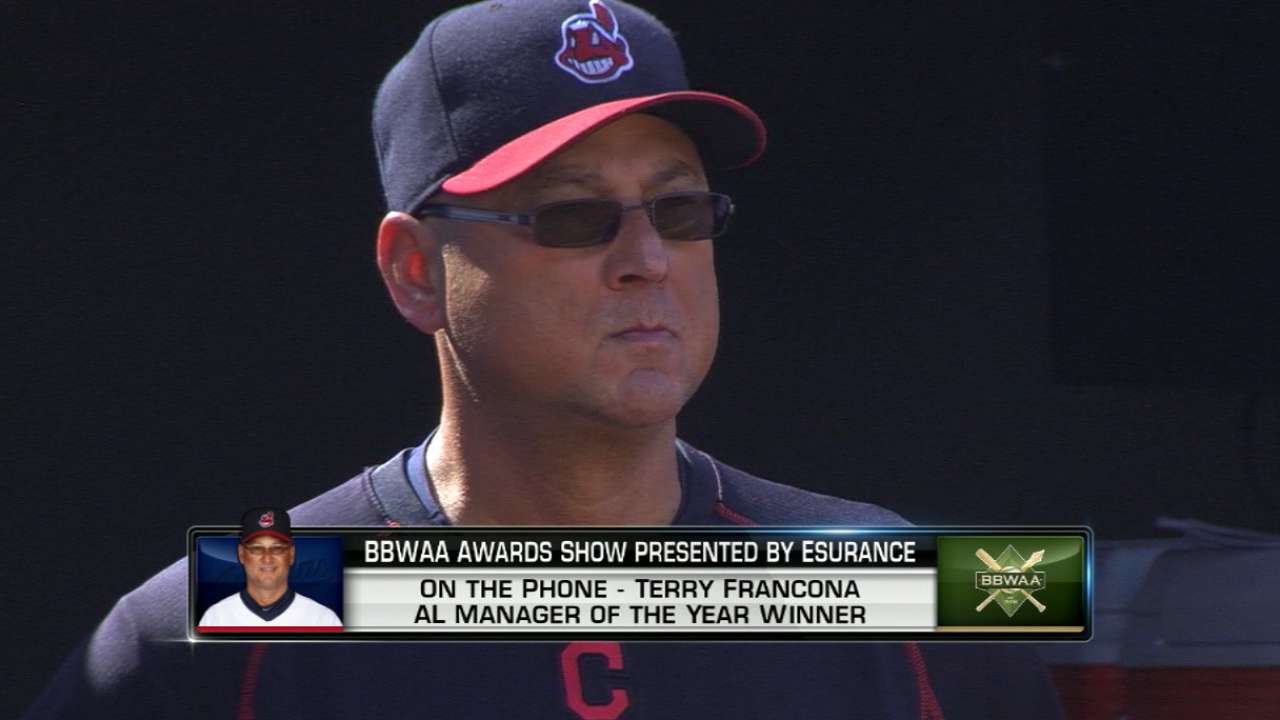 Managing a Major League team is hard enough when things go right.
So when they go wrong, when you lose an All-Star outfielder or an otherworldly starting arm and you still succeed, well, that's something to be celebrated.
• All-time Manager of the Yeat Award winners
Terry Francona and Dave Roberts both had seasons worthy of celebration, and the Baseball Writers' Association of America got it right in recognizing them Tuesday night with the American League and National League Manager of the Year Awards.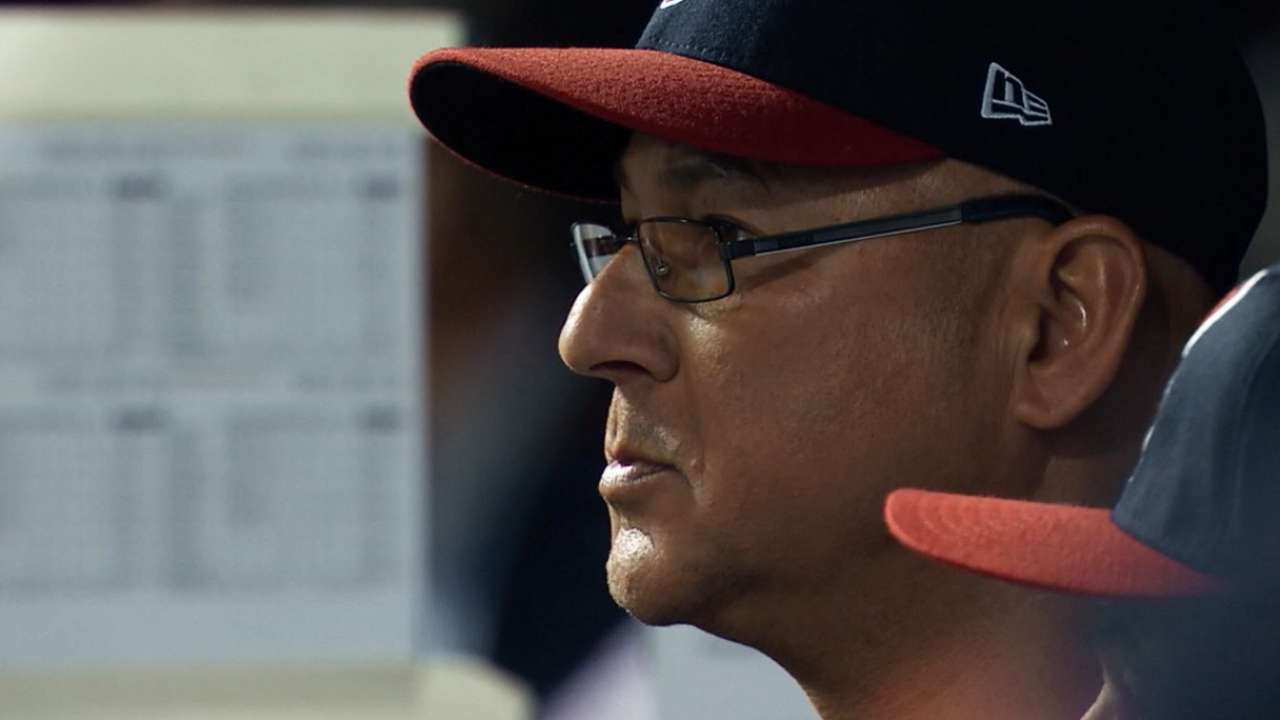 Could the AL honor have gone to the Rangers' Jeff Banister or the Orioles' Buck Showalter? Absolutely.
AL Manager of the Year voting
| Manager, Team | 1st | 2nd | 3rd | Points |
| --- | --- | --- | --- | --- |
| Terry Francona, Indians | 22 | 5 | 3 | 128 |
| Jeff Banister, Rangers | 4 | 12 | 8 | 64 |
| Buck Showalter, Orioles | 2 | 9 | 7 | 44 |
| John Farrell, Red Sox | 2 | 3 | 9 | 28 |
| Joe Girardi, Yankees | | 1 | 2 | 5 |
| Scott Servais, Mariners | | | 1 | 1 |
Banister's Rangers won 95 games in a year in which Prince Fielder retired, Yu Darvish, Colby Lewis, Derek Holland and A.J. Griffin missed a ton of time, changes had to be made in center field and at closer and Shin-Soo Choo was placed on the disabled list so many times that he had to be wondering if there was some kind of rewards status associated with such trips. The Rangers won 95 games anyway, and they had the greatest one-run record in history. That's a credit to a manager who had a strong case to win this honor for a second straight year.
Showalter's Orioles had a roughshod rotation that had the third-highest ERA in the American League. Didn't matter. The O's won 89 games in a typically tough division and claimed an AL Wild Card spot. Yeah, he should have put Zach Britton in the Wild Card Game, but the votes were cast before that clash, and suffice to say that was a rare misstep for a man who has proven himself a master strategist.
But look, Francona's Indians had basically half the Opening Day payroll of both of those clubs. You would think that would give them little room for error.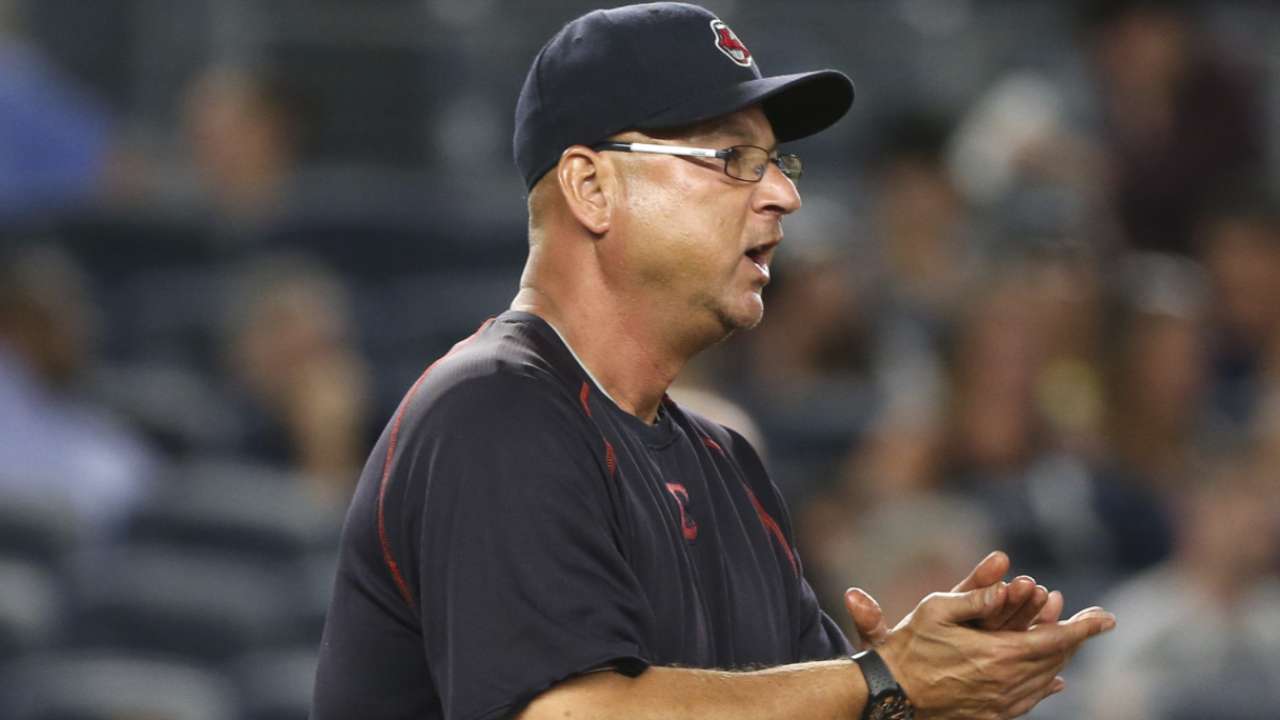 Yet the Indians lost Michael Brantley, who played just 11 games. Carlos Carrasco and Danny Salazar, two linchpins in a rotation that was supposed to be such a separator, missed 14 starts combined. Two outfielders (Abraham Almonte and Marlon Byrd) were suspended for PEDs. The catching spot, which provided a .558 OPS, was one of the biggest offensive wastelands in baseball, and Juan Uribe, signed to be the third baseman, had a .591 OPS in 73 games.
None of the above stopped the Indians from winning 94 games and running away with the AL Central and the AL pennant. Francona has had some great managerial moments, including winning this very award in 2013 with the Indians. But the '16 Indians saw Francona at his bubblegum-chewing, platoon-using, Andrew Miller-maximizing, bat-kissing best.
OK, payroll. I was the one who brought it up, and now you're going to label me a hypocrite for simultaneously celebrating Francona's boom-on-a-budget and Roberts' division title with a Dodgers team that, you might have noticed, had the highest payroll total in the game.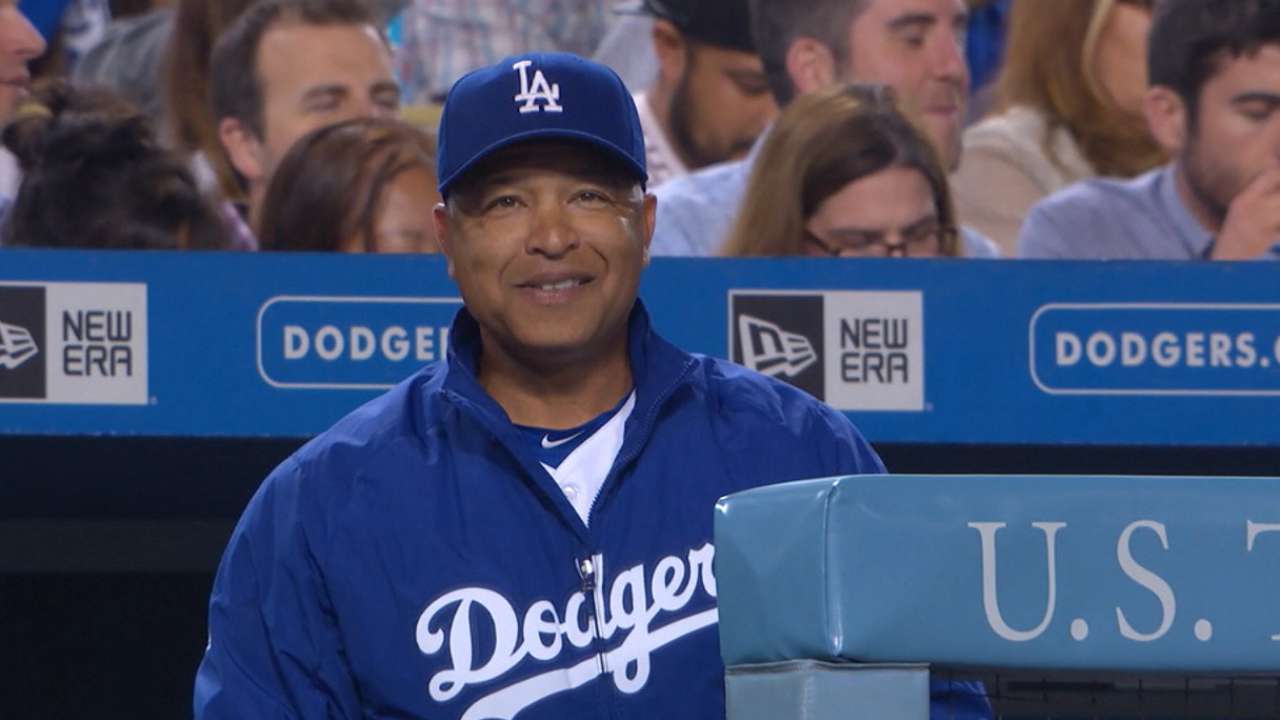 Fair enough.
NL Manager of the Year Award voting
| Manager, Team | 1st | 2nd | 3rd | Points |
| --- | --- | --- | --- | --- |
| Dave Roberts, Dodgers | 16 | 7 | 7 | 108 |
| Joe Maddon, Cubs | 8 | 8 | 6 | 70 |
| Dusty Baker, Nationals | 4 | 12 | 10 | 66 |
| Terry Collins, Mets | 2 | 3 | 5 | 24 |
| Don Mattingly, Marlins | | | 2 | 2 |
But it's not as if the other NL finalists -- the Cubs' Joe Maddon and the Nationals' Dusty Baker -- were guiding financially frugal squads themselves. And while there's a lot to love about Maddon managing the Cubs to 103 wins without Kyle Schwarber and Baker changing the tone of the Nats' clubhouse and winning the NL East in a year in which Bryce Harper's production took a downturn, there are numbers associated with Roberts' club that are actually more eye-catching than the lofty payroll number.
The Dodgers used 15 starting pitchers. They put 28 players on the DL. They made 305 transactions, the most STATS LLC has on record. Roberts made 606 pitching changes, an all-time high. He used 324 pinch-hitters.
For a manager to have so much traffic coming and going in his clubhouse and to make such an imprint on the nightly outcomes and, oh by the way, to overcome what was an eight-game deficit on the day Kershaw went on the DL and still win the NL West by a handful of games is awesome.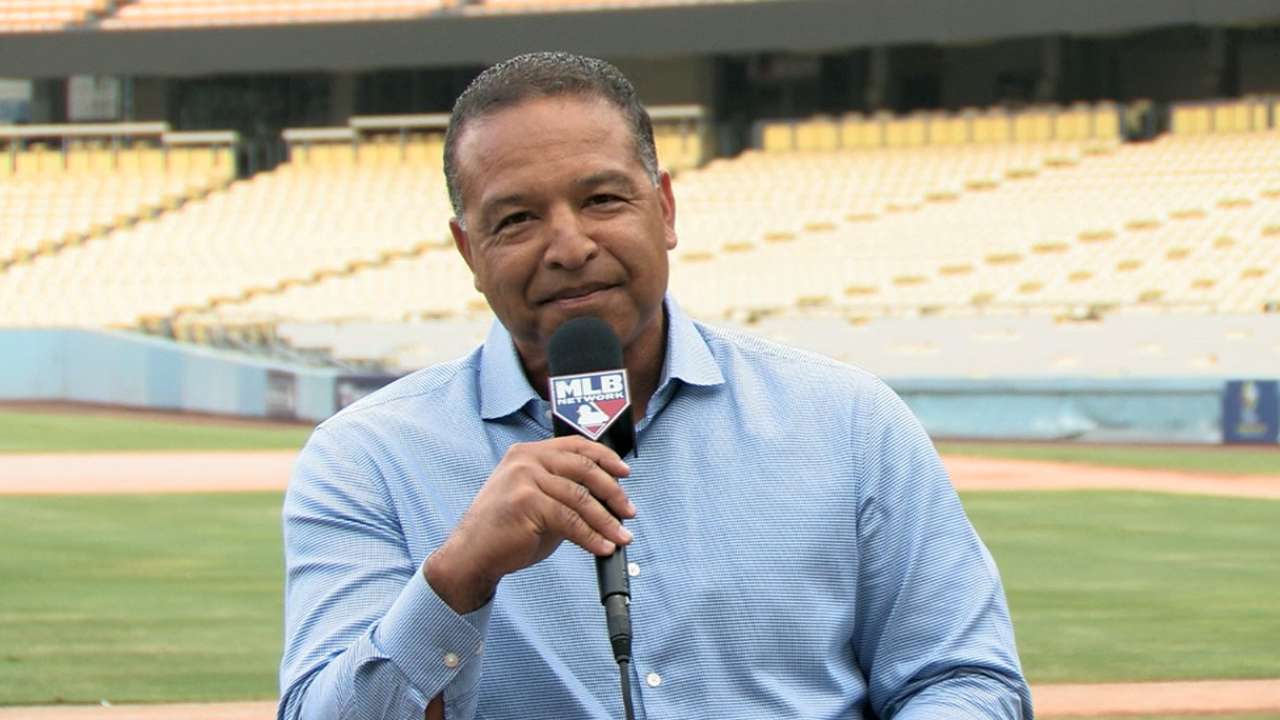 To do all that in your rookie year as a skipper is on another level, entirely.
Roberts wasn't expected to get the Dodgers' gig initially. The industry suspicion was that Gabe Kapler would be hired from within. But Roberts wowed the LA brass in his interview, and then he wowed the rest of us with his easy adaptability to a tough gig made tougher by all the injury adversity the Dodgers endured.
Manager of the Year is by far the most subjective of the BBWAA awards, and so it's admittedly silly to get too hung up on what was right and what was wrong. But these results felt right, only because, for the clubs managed by Francona and Roberts, so much stuff went wrong.
In the end, none of that stuff mattered nearly as much as the managers themselves did.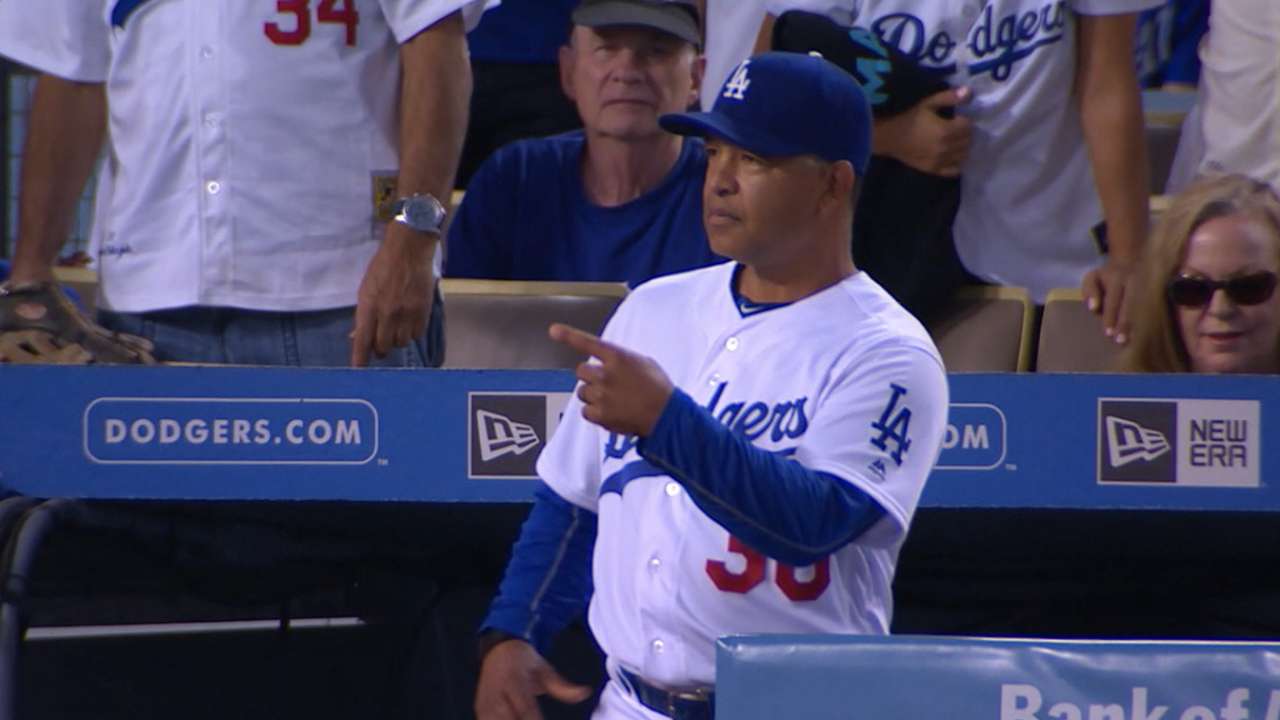 Anthony Castrovince has been a reporter for MLB.com since 2004. Read his columns and follow him on Twitter at @Castrovince. This story was not subject to the approval of Major League Baseball or its clubs.