MLB.com Columnist
Jim Callis
Zimmer's walk-off hit helps Solar Sox remain in title chase
Indians' No. 1 prospect homers in second consecutive contest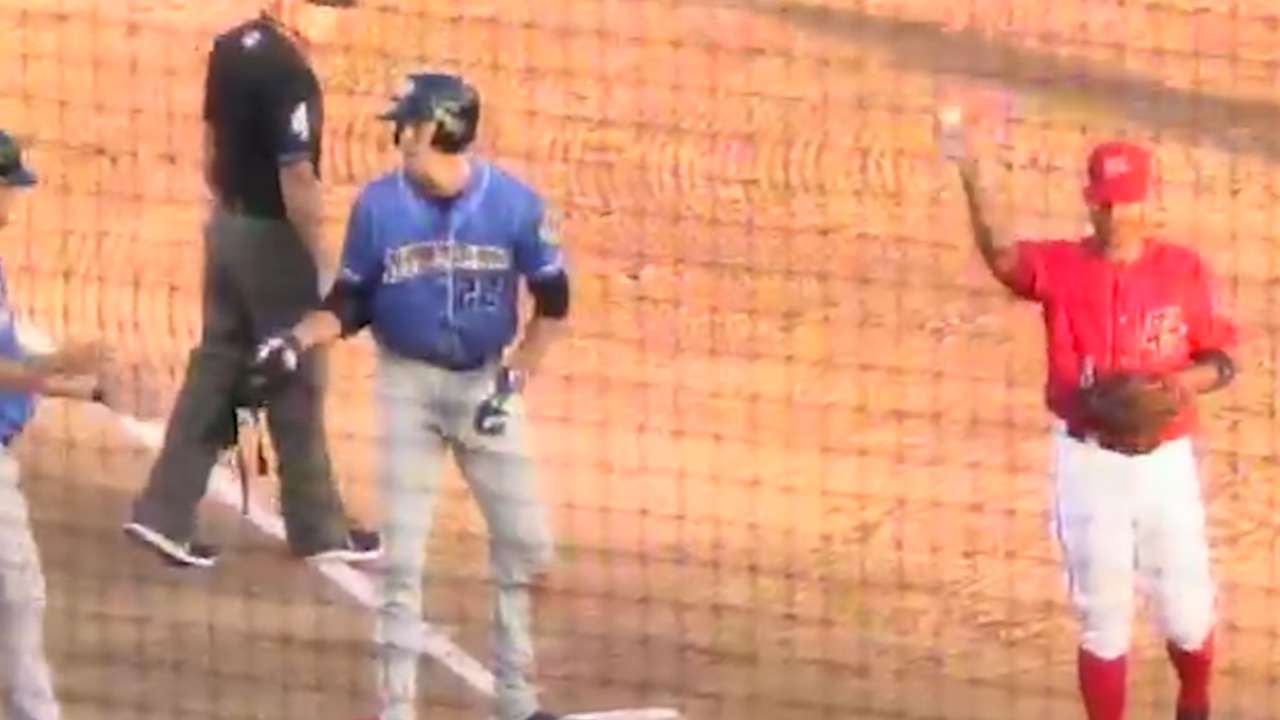 MESA, Ariz. -- After scoring two runs in the top of the 10th inning, the Salt River Rafters needed just three outs in the bottom half to clinch the Arizona Fall League's East Division title. But the Mesa Solar Sox refused to cooperate, rallying for three runs and a 6-5 victory Tuesday afternoon that virtually tied the race with two games remaining.
Five of six Mesa batters reached against Salt River closer Adam Ravenelle, who leads the AFL with five saves but has given up seven runs in his last three outings. Yefri Perez (Marlins) and Yu-Cheng Chang (Indians No. 9 prospect) sandwiched singles around a popout by Greg Allen (Indians) before a passed ball scored Perez and walks to Ian Happ (Cubs No. 1 prospect) and Brian Anderson (Marlins No. 4 prospect) loaded the bases. Ravenelle fell behind Bradley Zimmer (Indians No. 1 prospect) before offering a 2-1 fastball that Zimmer smoked into the gap in right-center for a walk-off win.
Zimmer said that the Solar Sox knew they were facing elimination but didn't let that bother them in the bottom of the 10th.
• Gameday
"We weren't really down at all," Zimmer said. "We knew we were still in it. I know Rav pretty well. He throws pretty hard. I got ahead in the count, he threw a fastball and I put a pretty good swing on it."
Zimmer also opened the scoring, drilling a second-inning homer off right-hander Javier Salas (Brewers) for a 1-0 lead. The blast, Zimmer's second in two games, traveled 371 feet with an exit velocity of 105 mph, according to Trackman.
Though he's batting just .239 in the Fall League and ranks second with 26 strikeouts, Zimmer still is displaying the array of talents that made him the 21st overall pick in the 2014 Draft. His power, speed, arm and center-field defense all grade as above average or better. He tops the AFL in runs (23) and places second in homers (four) and walks (18), and third in extra-base hits (nine) and steals (eight).
Ryan McMahon (Rockies No. 6 prospect) gave the Rafters their first lead with a three-run homer off Michael Peoples (Indians) in the fourth inning, a 391-foot shot with 103-mph exit velocity, per Trackman. It was McMahon's first homer of the regular season, though he also went deep in the Fall Stars Game. Chang tied it up in the bottom of the fifth with a two-run single, after which the game remained scoreless until the 10th.
Left-hander Jared Miller (Diamondbacks) pitched 2 1/3 innings of scoreless middle relief for the Rafters, striking out three while reaching 97 mph with his fastball and 87 mph with his slider. He hasn't allowed a run in 18 1/3 AFL innings, allowing just six hits and four walks while striking out 30.
McMahon appeared to give Salt River a 4-3 lead in the ninth when he hit a drive down the left-field line, which umpires initially ruled a home run before correctly calling it a ground-rule double. Eloy Jimenez (Cubs No. 2 prospect) nearly won the game in the bottom of the ninth with a deep drive to left-center that was hauled in on the warning track. Isan Diaz (Brewers No. 8) drove in the go-ahead run and scored an insurance tally in the top of the 10th, setting the stage for Zimmer's heroics.
Salt River (15-13-1, .536) currently holds a .003 edge over Mesa (16-14, .533). The East and West division champions will meet for the AFL title Saturday at 3 p.m. ET, with the game broadcast live by MLB Network and MLB.com.
Though the primary purpose of the Fall League is player development and many of the players are dragging as they're playing their ninth straight month of baseball, Zimmer said he and his teammates are focused on winning.
"We made it this far and we've all come together, so it would be a lot of fun to finish the fall off with a W," Zimmer said. "We're all definitely in it to win it at this point."
Jim Callis is a reporter for MLB.com. Follow @jimcallisMLB on Twitter. This story was not subject to the approval of Major League Baseball or its clubs.