Hendricks, Lester could lead Cubs to 2nd straight Cy
Both have solid case to follow in Arrieta's footsteps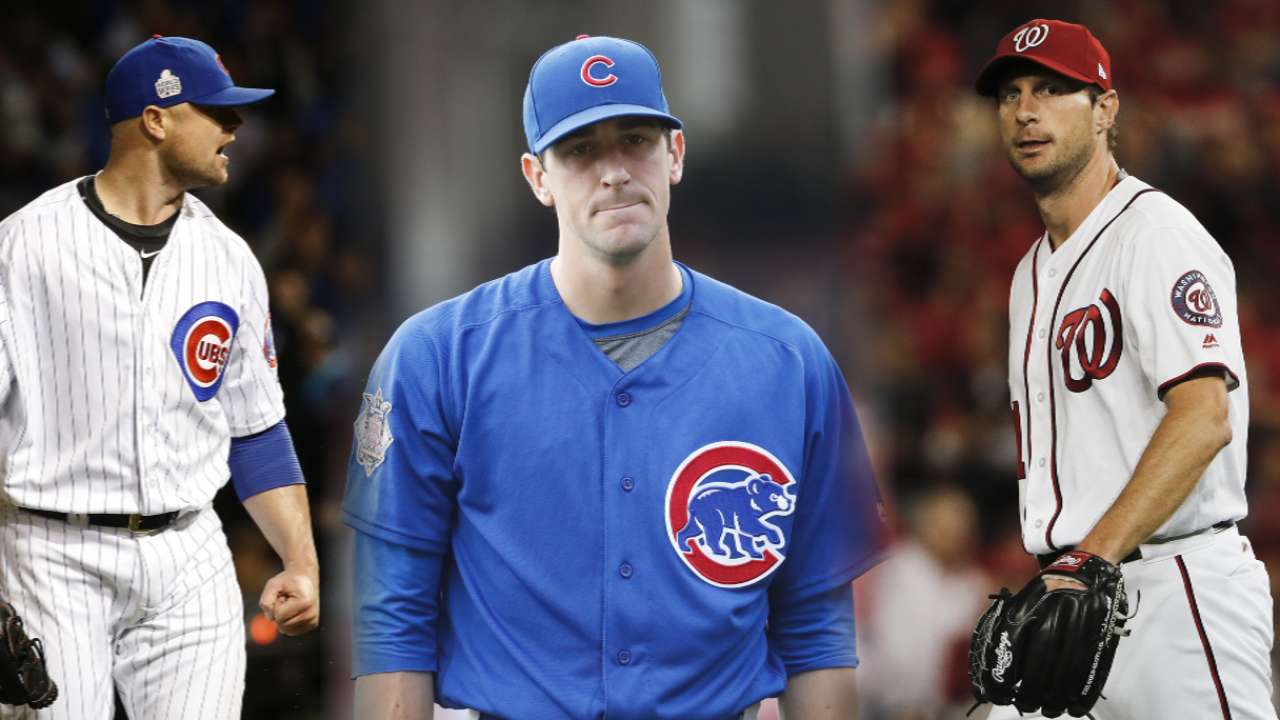 CHICAGO -- Jon Lester's 2016 season was stellar. Kyle Hendricks' year was a surprise. Both Cubs pitchers are finalists for the National League Cy Young Award, which will be presented Wednesday by the Baseball Writers' Association of America (5 p.m. CT on MLB Network).
Hendricks (2.13) and Lester (2.44) finished 1-2 in the Majors in ERA, and they are vying for the top prize along with the Nationals' Max Scherzer, who won 20 games and struck out 284 over 228 1/3 innings. Jake Arrieta won the NL Cy Young Award in 2015, but no Cubs pitcher had won before that since Greg Maddux (1992).
Hendricks, who turns 27 on Dec. 7, set career bests in ERA, wins (16), innings pitched (190) and strikeouts (170). The right-hander is the first Cubs pitcher to lead the Majors in ERA since Bill Lee did so in 1938 (2.66). Wrigley Field fit Hendricks perfectly, and he posted a 9-2 record and a 1.32 ERA in 15 games (14 starts) at home.
• Complete 2016 Awards coverage
What was the difference this year?
"There's one really obvious factor to me, and it's the word 'confidence,'" Cubs manager Joe Maddon said. "[Hendricks is] much more confident. I thought at the end of last season, he started pitching at a higher level, more consistent command. He's a guy that has to have his command. The first part of last season, he wasn't as sharp as he can be. He became sharper as the season progressed. By the end of the year, he got -- he started to pitch really well. And that just carried over to this season."
In 2015, Hendricks threw at least 100 pitches in four starts; this year, he did so in 10 games. Maddon felt Hendricks' ability to go deeper into games helped his confidence, too.
"He works at his craft; his work is impeccable," Maddon said. "It's just a matter of his confidence catching up with his abilities."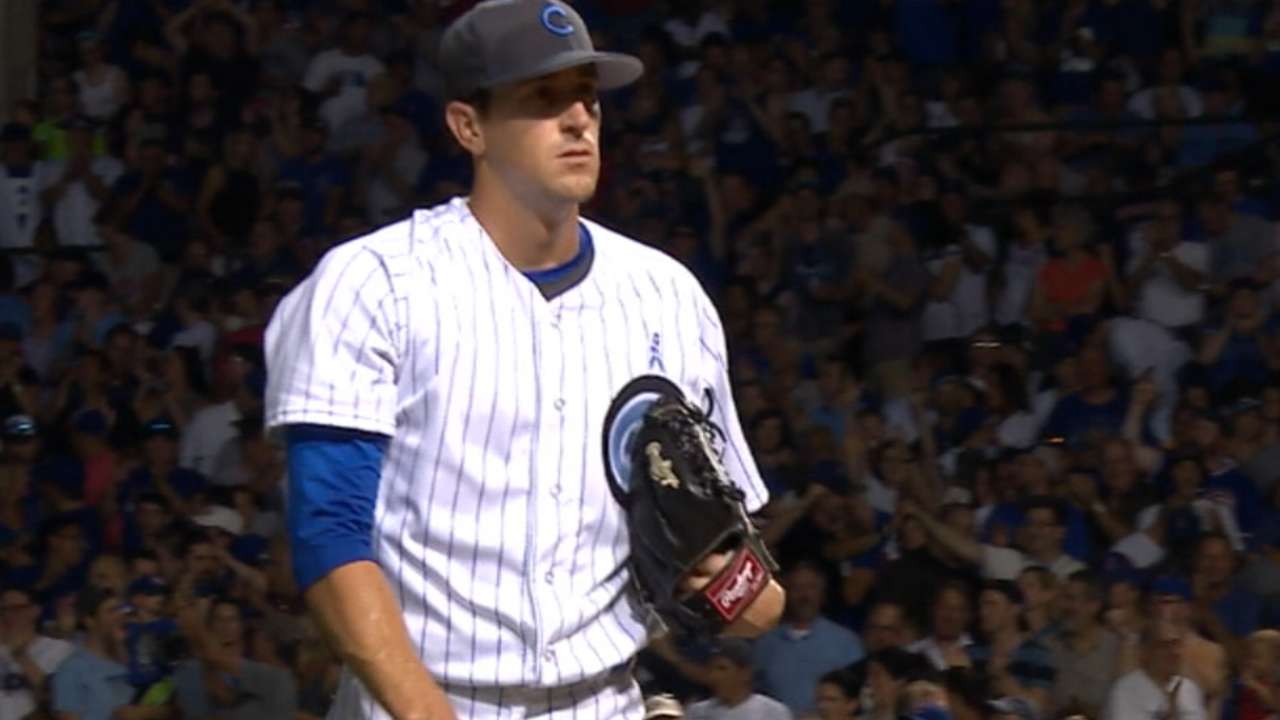 Hendricks incorporated a four-seam fastball and a breaking ball into his repertoire during a May 17 start against the Brewers, and made a conscious effort to do so in his next outing against the Giants on May 22. Something clicked.
"That was kind of a tipping point for me, where I knew I had to implement these pitches and I had to use them more," Hendricks said.
This year, Hendricks posted a 0.979 WHIP while striking out fewer than 23 percent of the batters he faced. The last NL pitcher to post a WHIP that low and come in under 23 percent was Maddux (1997).
• Cy Young Award competitions too close to call
Lester, 32, has finished fourth twice in the American League Cy Young Award voting (2010 and '14), and this year, he won his third World Series championship, having also done so with the Red Sox in '07 and '13. He tied a career high and ranked second in the NL with 19 wins, and his 2.44 ERA was a career best. The lefty posted a quality start in all 15 of his home outings, and he finished the season strong, going 5-0 with a 0.48 ERA in September.
When Maddon was with the Rays, he had to deal with opposing Lester in the AL East. The Cubs manager is very happy to have the left-hander on his side.
"I believe what I'm seeing now is much better command of everything that [Lester is] doing," Maddon said. "He was always a command kind of guy. I think he's got a better understanding of what he's got and how to work with it now. I believe he can throw a strike whenever he wants to, and when he throws outside of the zone, it's because he wants to throw outside of the zone."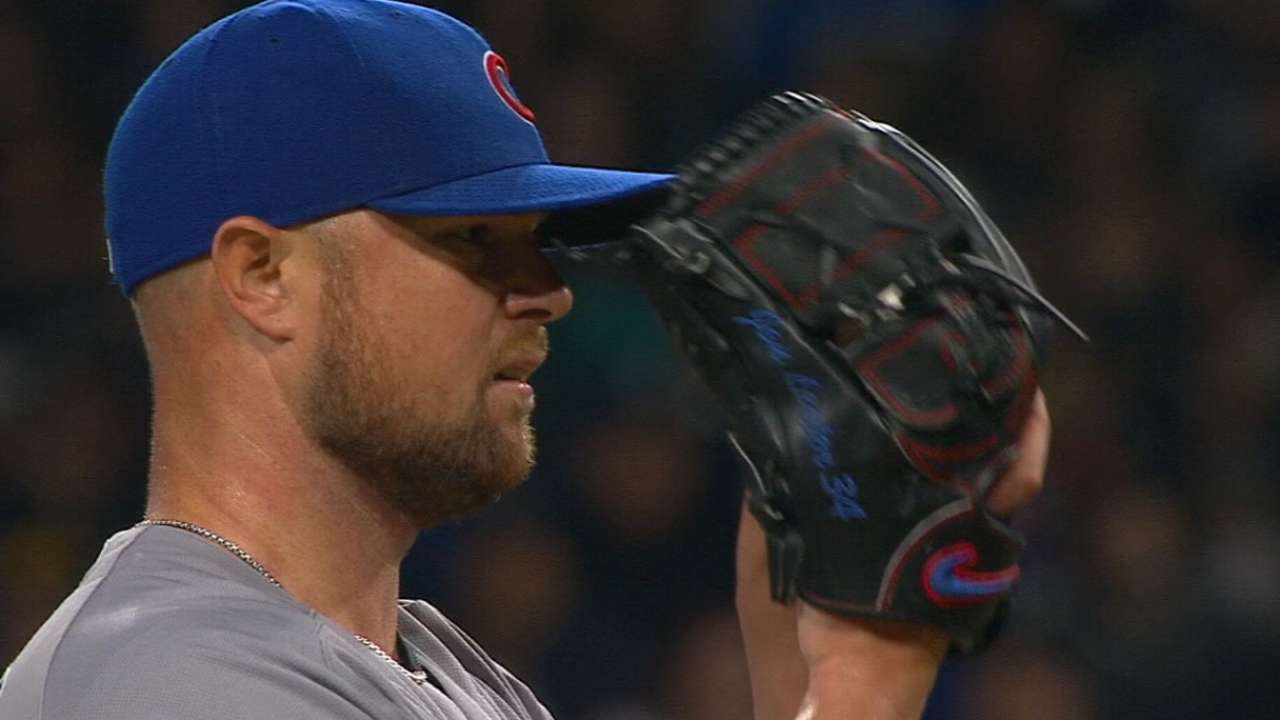 Lester's .792 winning percentage has been exceeded by a NL left-hander with 32 starts only eight times.
If either Hendricks or Lester wins the NL Cy Young Award, the Cubs would join a select list of teams that have claimed the top pitching honor with two different pitchers in back-to-back seasons. That includes the Dodgers (Don Drysdale in 1962, Sandy Koufax in '63), the Yankees (Sparky Lyle in '77, Ron Guidry in '78), the Orioles (Mike Flanagan in '79, Steve Stone in '80), the Brewers (Rollie Fingers in '81, Pete Vuckovich in '82), the Phillies (Steve Carlton in '82, John Denny in '83), the Braves (Maddux in '95, John Smoltz in '96), the Blue Jays (Pat Hentgen in '96, Roger Clemens in '97) and the Indians (CC Sabathia in 2007, Cliff Lee in '08).
Esurance MLB Awards week concludes Friday on MLB Network and MLB.com at 8 p.m. ET with the MLB Awards. Categories include Best Major Leaguer, Hitter, Pitcher, Rookie, Executive and Manager.
Carrie Muskat has covered the Cubs since 1987, and for MLB.com since 2001. She writes a blog, Muskat Ramblings. You can follow her on Twitter @CarrieMuskat and listen to her podcast. This story was not subject to the approval of Major League Baseball or its clubs.