Rejuvenated Verlander has strong case for Cy
Tigers ace led AL in WHIP and strikeouts, close second in ERA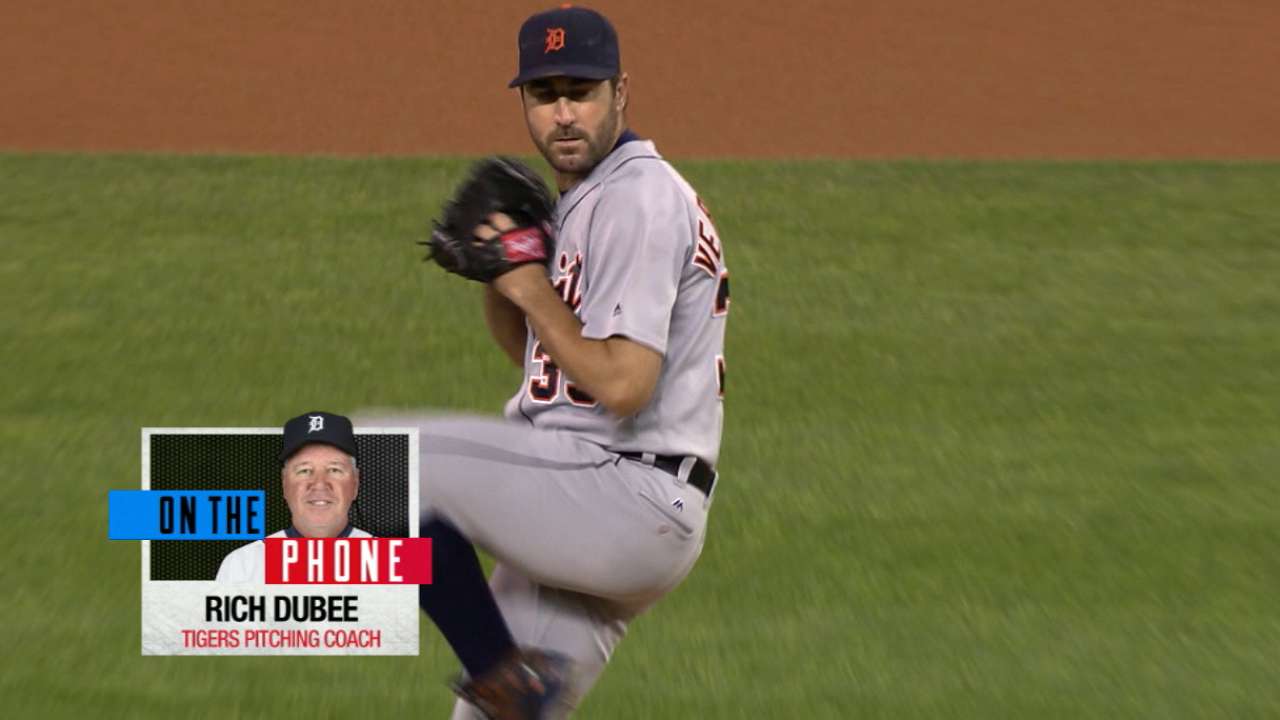 DETROIT -- Justin Verlander already has an American League Cy Young Award in his possession, and he came within a couple votes of being a back-to-back winner. His resume in 2011 and '12 was flat-out dominance, including a pitching Triple Crown the first year.
Verlander is an older pitcher now; if he wins, he'll have the longest gap between Cy Young Awards since Roy Halladay won the National League award in 2010 after winning AL honors in '03. Save for wins, Verlander's statistical case looks strikingly similar.
"I think [Verlander] should win the Cy Young," Tigers general manager Al Avila said at the season's end. "And he's back on track as a true No. 1 ace."
• Complete 2016 Awards coverage
Verlander's Wins Above Replacement led the Majors by the baseball-reference formula (6.6), and he tied for the AL lead by FanGraphs' calculations (5.2), matching fellow AL Cy Young Award finalist Rick Porcello of the Red Sox and just ahead of Corey Kluber of the Indians, the other finalist. The results will be announced Wednesday at 6 p.m. ET on MLB Network.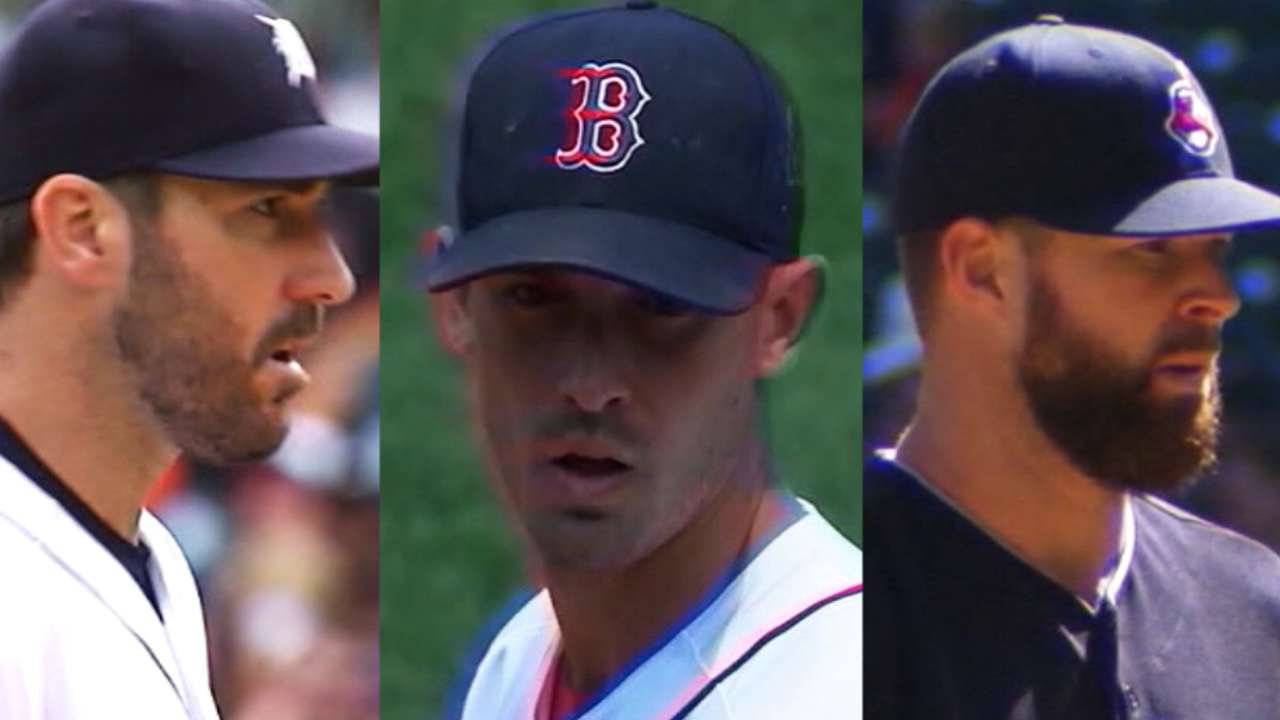 Verlander's 254 strikeouts led all AL pitchers. He's one of 15 pitchers in the past 20 years to lead a league in WHIP and strikeouts; 10 won the Cy Young Award, including Verlander in 2011 and Clayton Kershaw twice. Verlander came within two runs of the AL ERA title -- not two runs on average, two runs total all season.
Just as important, though, was what Verlander's work meant for a Tigers team that had nowhere near the pitching depth that Detroit put alongside Verlander in 2011. While Michael Fulmer became the AL Rookie of the Year Award winner with his surprisingly strong summer, the rotation beyond Verlander was a combination of developing youngsters and underperforming veterans.
"If you had said at the beginning of the year that coming down the stretch we'd have four rookies [or second-year players] in the rotation, and we'd have a chance to be in the playoffs, that would be pretty spectacular," Verlander said.
No AL starter had a higher Win Probability Added -- a bigger positive impact on his team's chances of winning a game -- than Verlander (3.8 according to baseball-reference). Kluber's WPA was 2.6, with Porcello at 2.4.
The Tigers were 20-14 in games Verlander started, but scored one or no runs in nine of the losses, including three 1-0 defeats and another 2-1 decision. Nine of his 16 wins were by two runs or fewer. Verlander went 9-3 with a 1.98 ERA over the final three months, and with a little help, he could have had four more wins that instead became a loss and three no-decisions.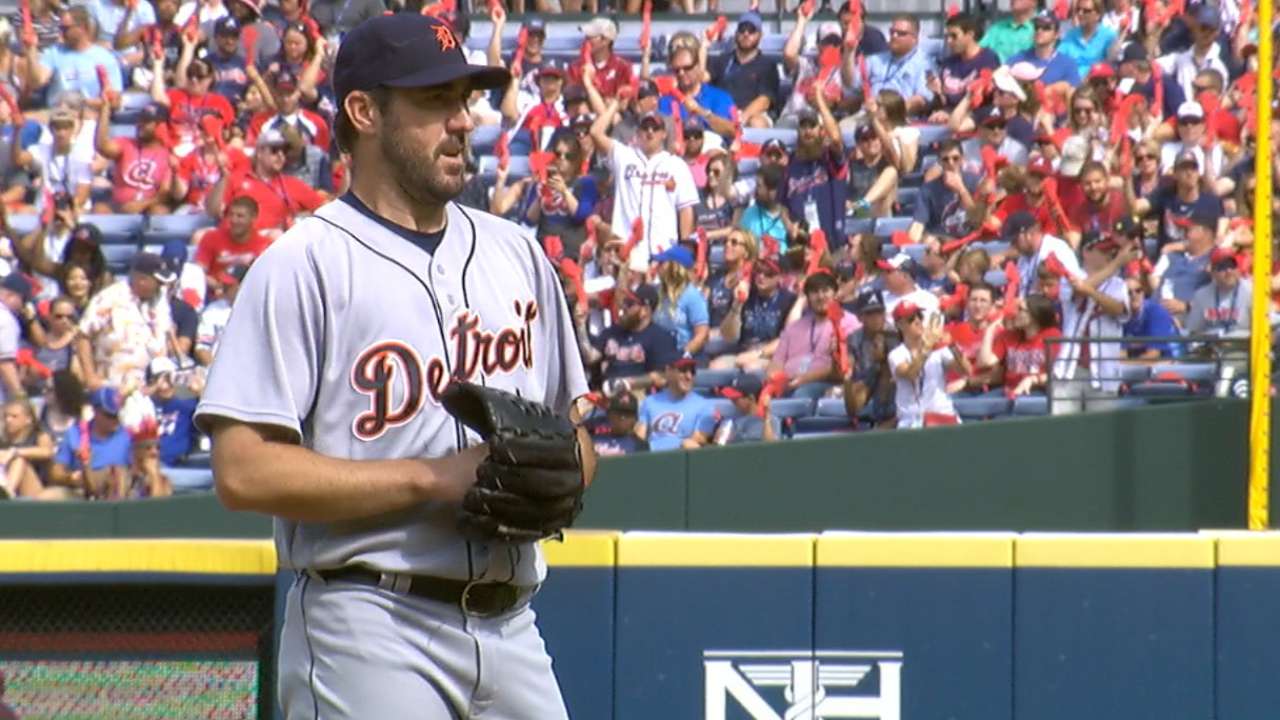 The best example of Verlander's impact came over the final month, as Detroit tried to rally into a postseason spot. He allowed two runs or fewer in five of his six starts, and he threw five innings of three-run ball in the other. Verlander silenced a formidable Indians offense for seven innings in Cleveland on Sept. 17, only to see the Tigers lose in extras. Two weeks later, on the final day of the regular season with Detroit needing a win and help, Verlander threw seven innings of one-run ball at Atlanta, only to take a 1-0 loss.
Verlander couldn't pitch the Tigers into the playoffs, but he came about as close as any starter could.
Esurance MLB Awards week concludes Friday on MLB Network and MLB.com at 8 p.m. ET with the MLB Awards. Categories include Best Major Leaguer, Hitter, Pitcher, Rookie, Executive and Manager.
Jason Beck has covered the Tigers for MLB.com since 2002. Read Beck's Blog, follow him on Twitter @beckjason and listen to his podcast. This story was not subject to the approval of Major League Baseball or its clubs.