Source: Puig decides against opting into arbitration
Dodgers outfielder has guaranteed contract for next 2 years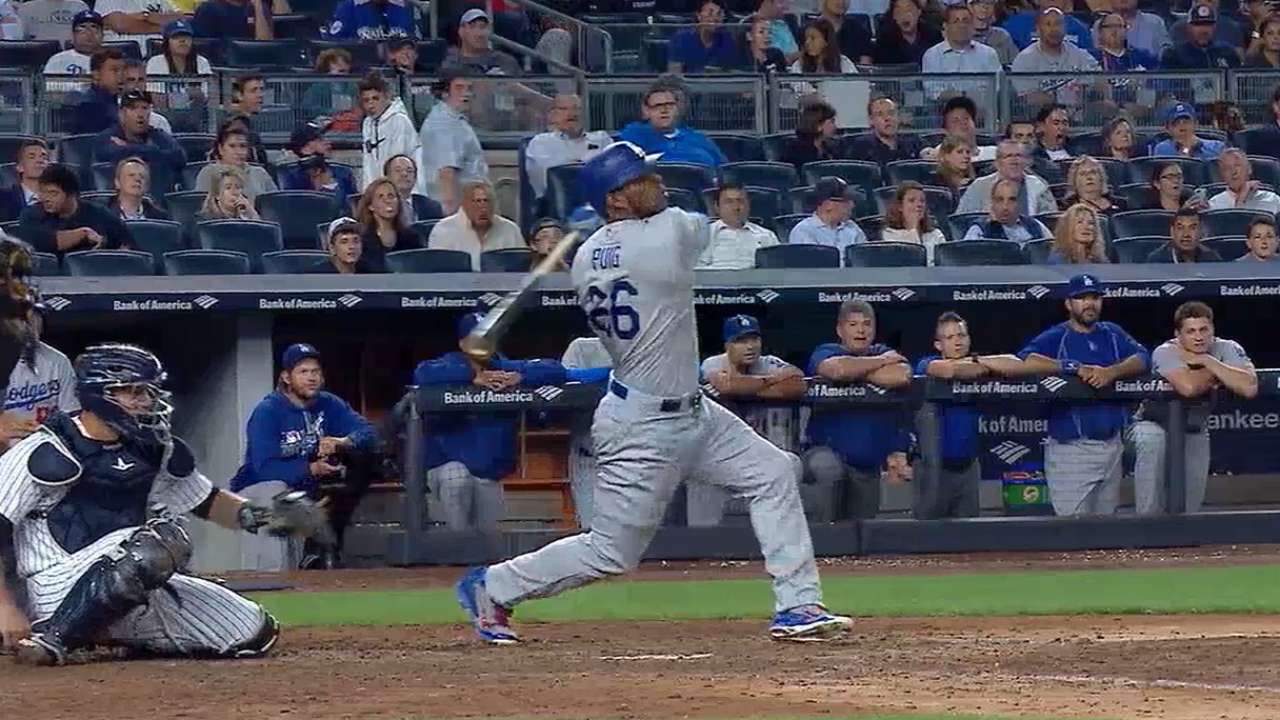 LOS ANGELES -- Dodgers outfielder Yasiel Puig will retain the final two guaranteed years of salary on his contract instead of opting into arbitration, according to a baseball source. The club has not confirmed Puig's decision.
Puig signed a seven-year, $42 million contract in 2012 that included a player option to void his 2017 and 2018 salaries of $6.5 million and $7.5 million, respectively, and instead enter the arbitration process. The structure would have rewarded Puig had he compiled superstar stats.
But after several difficult seasons that included a Minor League demotion this summer, it would have been virtually impossible for Puig to equal or surpass the $6.5 million guaranteed for next year. He is not eligible for free agency until 2020.
Puig, 25, was sent to the Minors on Aug. 2 after the acquisition of Josh Reddick from the A's, and was recalled on Sept. 2. He was primarily a platoon player after that, starting against left-handed pitching. He finished the regular season hitting .263 with 11 home runs and 45 RBIs. He was 4-for-19 with no RBIs or extra-base hits in 10 postseason games.
Although the Dodgers tried to trade Puig to the Brewers for Ryan Braun during the summer, general manager Farhan Zaidi last week said that Puig had "re-established himself as important to the Dodgers offense ... I would say he did everything we asked and we feel really good about where he is."
Zaidi stopped short of saying that Puig had regained everyday status in what shapes up to be a crowded outfield for 2017, even with Reddick likely leaving as a free agent. With Joc Pederson the everyday center fielder, the Dodgers have Andrew Toles, Andre Ethier, Trayce Thompson, Scott Van Slyke, Darin Ruf, Enrique Hernandez and Rob Segedin along with Puig for the corner outfield spots.
Puig's meteoric arrival in 2013 and his rare physical tools turned him into an All-Star in 2013, but he's been unable to replicate the .319/.391/.534 line that helped him finish second to the late Jose Fernandez in the 2013 National League Rookie of the Year Award voting. He was hitting just .260/.320/.386 before his demotion to the Minors this year.
Ken Gurnick is a reporter for MLB.com. This story was not subject to the approval of Major League Baseball or its clubs.