Digging deep into stats of Cy Young races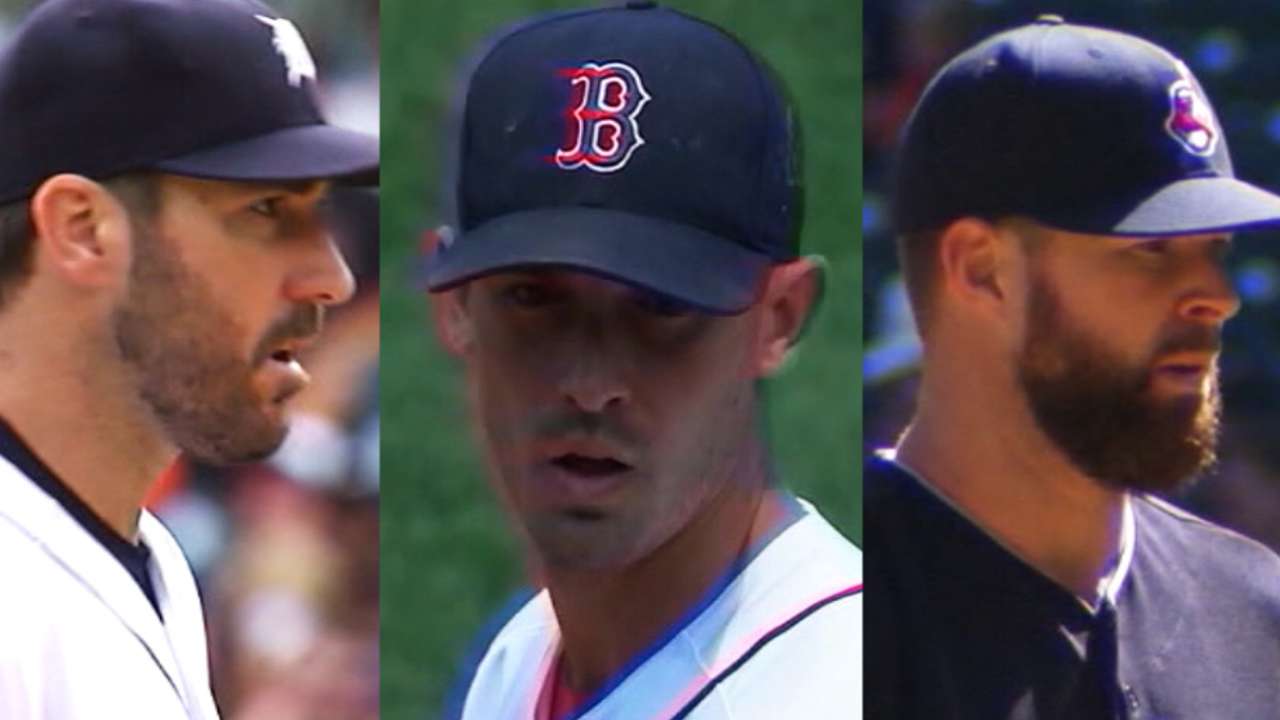 We know which six pitchers are in contention for the 2016 Baseball Writers' Association of America's Cy Young Awards. But for the first time in a handful of years, we may have little idea of who will actually win.
Every Cy Young Award race since 1973 has featured a winner in at least one of the two leagues who received at least an 80 percent share of the BBWAA vote. But with truly no clear-cut choice among the American League (Corey Kluber of the Indians, Rick Porcello of the Red Sox and Justin Verlander of the Tigers) and the National League (Kyle Hendricks and Jon Lester of the Cubs, Max Scherzer of the Nationals) contenders, 2016 may have an outside chance to host a pair of historically competitive contests.
• Complete 2016 Awards coverage
The BBWAA voters filled out their ballots before the start of the postseason, but before their winners are announced Wednesday (6 p.m. ET, MLB Network), we took a closer look at each candidate based on four qualities that make for an ace, including: How he ranked in traditional statistics (e.g., wins, ERA and strikeouts), the value he brought to his club (particularly in the biggest moments), how well he dominated hitters by keeping them off the bases and how well he was able to avoid damage via big hits and hard contact.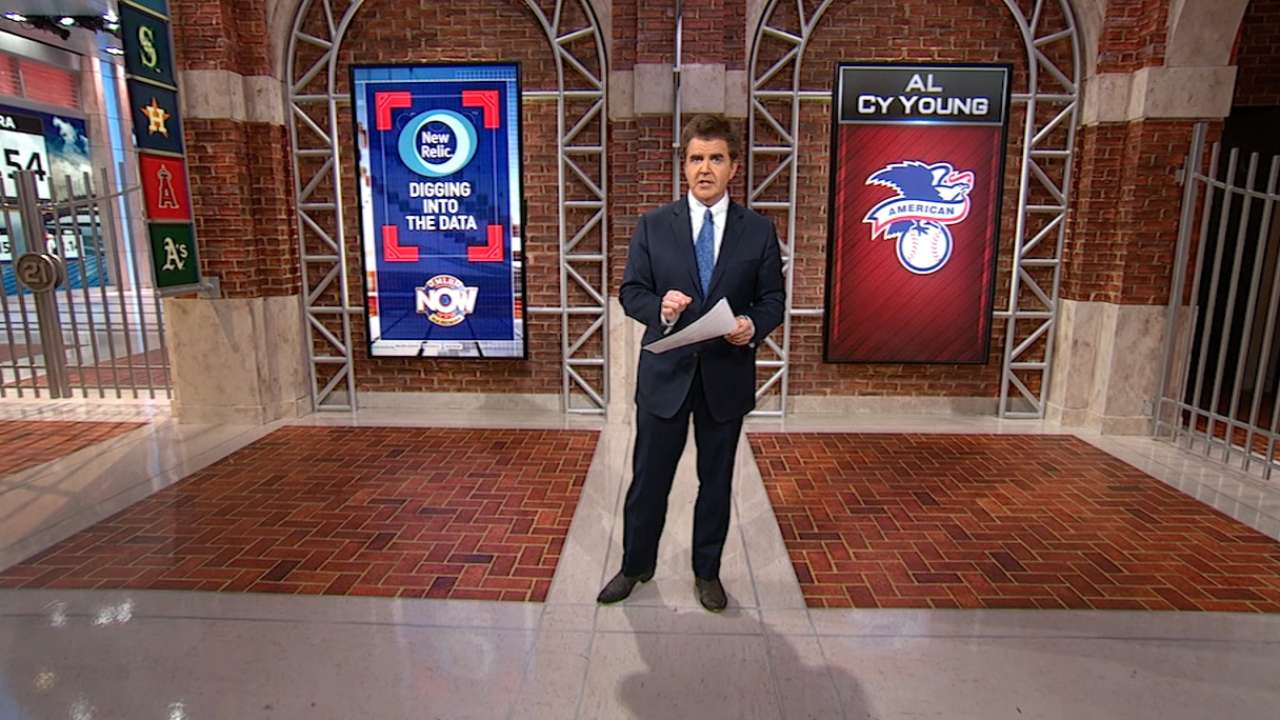 After crunching all the numbers, our verdict is likely the same as the voters': This year's Cy Young Award races are extremely close.
Esurance MLB Awards week concludes Friday on MLB Network and MLB.com at 8 p.m. ET with the MLB Awards. Categories include Best Major Leaguer, Hitter, Pitcher, Rookie, Executive and Manager.
American League
Traditional statistics
Advantage: Porcello
All three pitchers placed in the top five in wins, ERA and strikeouts, so we'll give the slight edge to Porcello based on historic precedence. Porcello led the Major Leagues with 22 wins in 2016; the five other AL pitchers who tallied at least 22 victories in a season in the Wild Card Era (1995-present) have all gone on to win the Cy Young Award that year. It is worth noting, however, that Porcello led Major League starters with an average of 7.6 runs of support per nine innings, according to FanGraphs. Kluber finished 10th in that category, while Verlander finished with the 51st-highest total, with an average of 4.35 runs of support.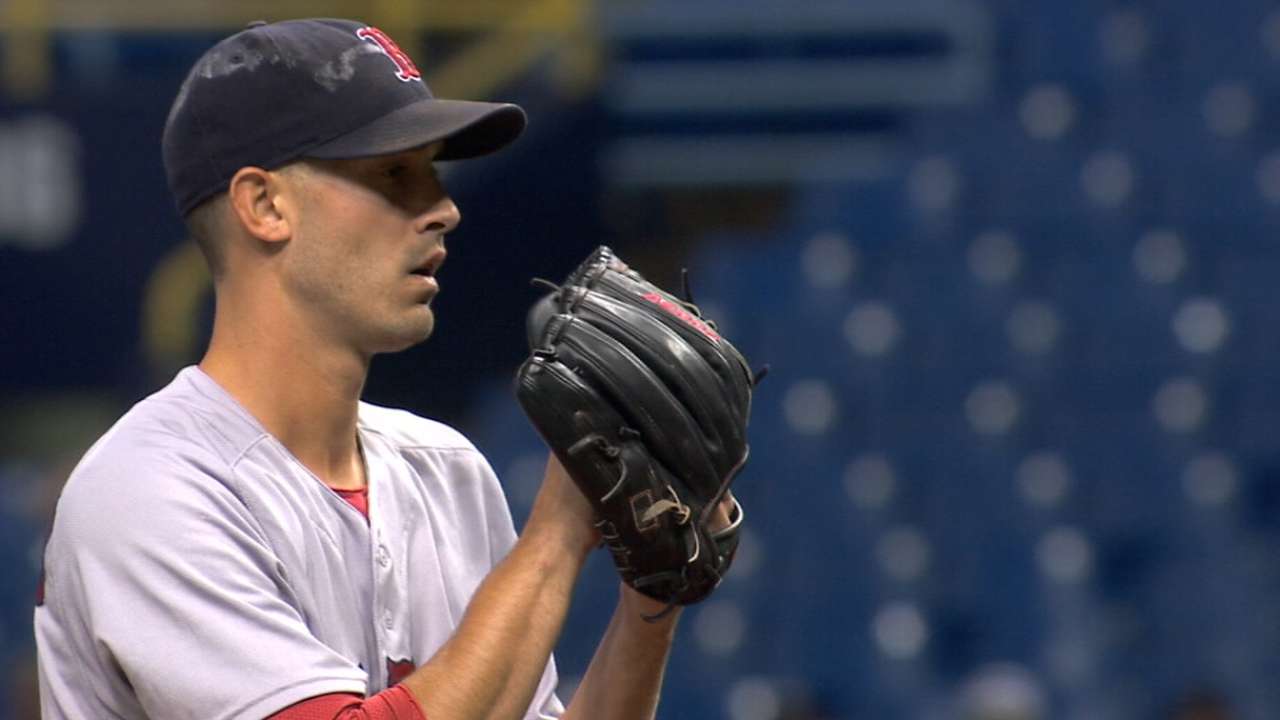 Value added to his team
Advantage: Verlander
The Tigers missed the postseason despite owning the fourth-largest payroll in the Major Leagues, but little of the blame goes to Verlander. The veteran led the Majors with 6.6 wins above replacement (WAR), per Baseball-Reference, topping second-place Kluber's total of 6.4 (though it should be noted that Kluber missed his final start of the regular season while nursing a quad injury) and sixth-place Porcello's total of 5.0. Verlander also led the trio with a 3.79 win probability added rating (WPA), which is a cumulative total of how much a player impacts his team's chances of winning from start to start. Verlander even takes the cake when narrowing down to the biggest moments; his .512 opponent OPS in high-leverage situations was the second lowest behind Lester.
Limiting baserunners
Advantage: Verlander
Verlander and Kluber tied with 57 walks apiece and were virtually deadlocked in hits allowed too (Kluber, with two fewer starts than Verlander, edged him out by just a single base knock). But Detroit's ace claims this category by a small margin when we dig deeper. His 28.1 strikeout percentage led the Junior Circuit (ahead of fourth-place Kluber and 16th-place Porcello), as did his 1.00 WHIP (just one one-hundredth better than second-place Porcello's 1.01). Porcello was the best of the three at limiting walks, issuing free passes to only 3.6 percent of the batters he faced in 2016.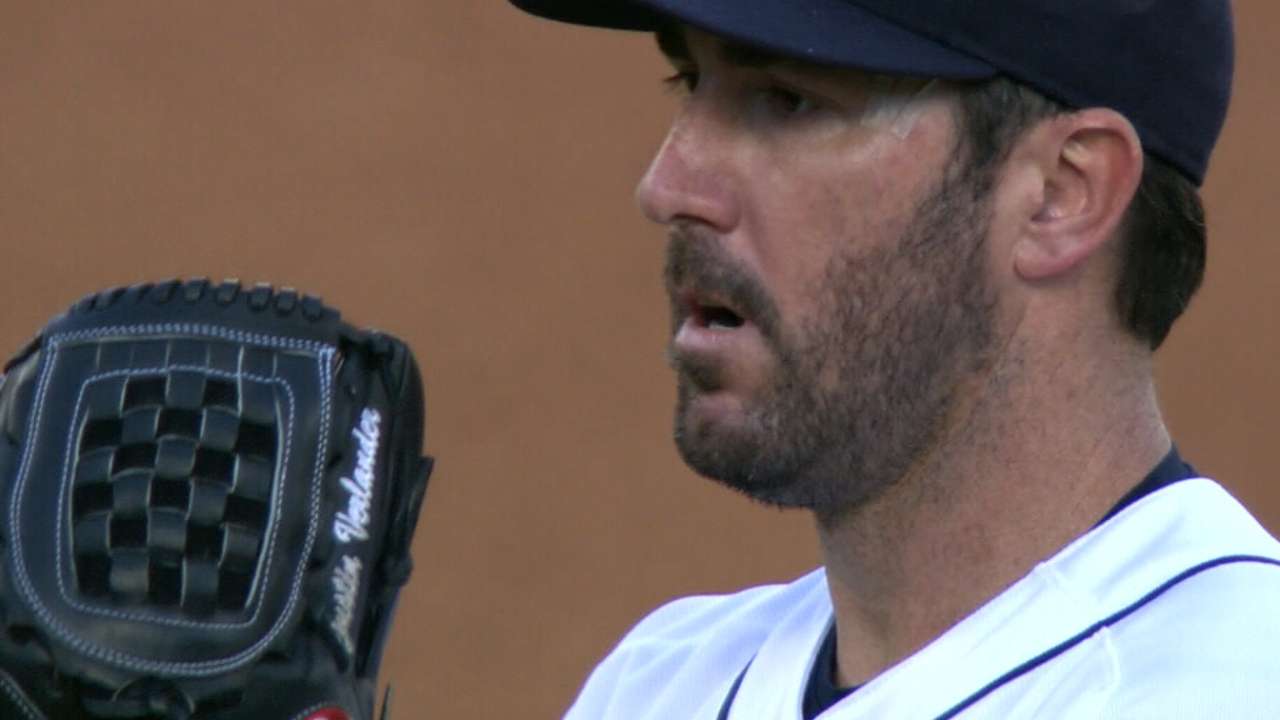 Limiting hard contact
Advantage: Kluber
These three pitchers were about as close as can be in all three categories. Kluber allowed one fewer home run (22) than Porcello (23). Kluber and Porcello also tied with 64 extra-base hits allowed in 2016, barely topping Verlander's 69. Porcello enjoyed the narrowest of advantages from a Statcast™ perspective, allowing just 27 hits that qualified as barrels as compared to Kluber's 28 and Verlander's 30. So in a virtual dead heat, we'll award the edge to Kluber, since home runs would be the stat most likely to be considered by traditional voters.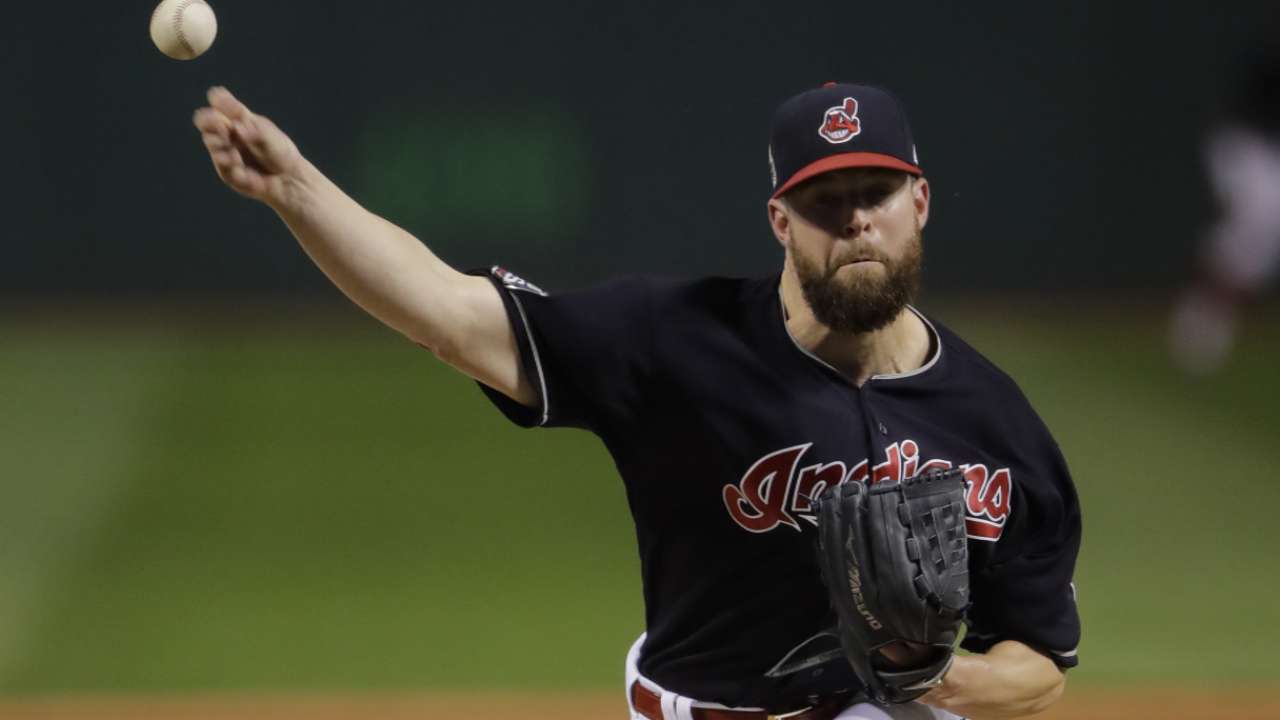 National League
Traditional statistics
Advantage: Scherzer
The race between these three pitchers in wins, ERA and strikeouts is nearly as close as the one in the AL, but Scherzer gets the edge for leading the league with 20 wins and 284 strikeouts, edging out Hendricks, the Majors' leader in ERA. Extra credit also goes to Scherzer here for leading the Senior Circuit with 228 1/3 innings.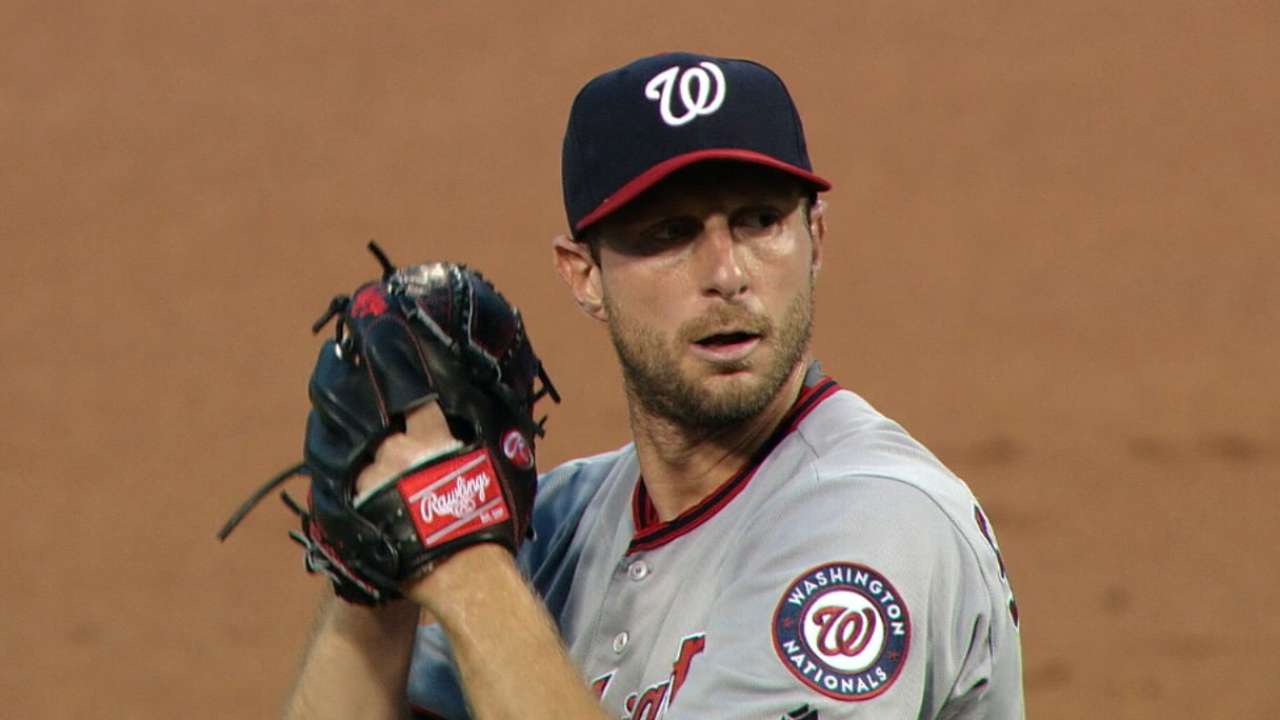 Value added to his team
Advantage: Lester
Scherzer's league-leading 6.2 WAR (Wins Abover Replacement) might have the highest chance of swaying voters, but a deeper look suggests Lester performed better in the biggest moments for his club. Lester's 4.94 WPA ranked second behind the Giants' Johnny Cueto in the NL, and ahead of Hendricks (4.15) and Scherzer (4.09). But the southpaw was most impressive in high-leverage situations, as his .309 opponent OPS in those spots led all Major League starters by a wide margin (minimum 50 at-bats), and was nearly twice as low as his teammate Hendricks (.615). In fact, according to Baseball-Reference, that .309 mark was the lowest by a starting pitcher since Oakland's Steve McCatty held opposing batters to a .305 OPS in high-leverage spots back in 1981.
Limiting baserunners
Advantage: Scherzer
Out of our four categories in the NL race, this may be the toughest to call. The NL's WHIP leaderboard tells you how close this race is, as the top-three starting pitchers were Scherzer (0.97), Hendricks (0.98) and Lester (1.02). Considering that Scherzer topped the trio on both that list and in strikeout percentage -- while Hendricks was best in walk percentage and fewest hits allowed -- we'll give the slightest of edges to Scherzer, since WHIP does the best job of the four statistics in quantifying how well these pitchers sent opposing batters back to the dugout empty-handed.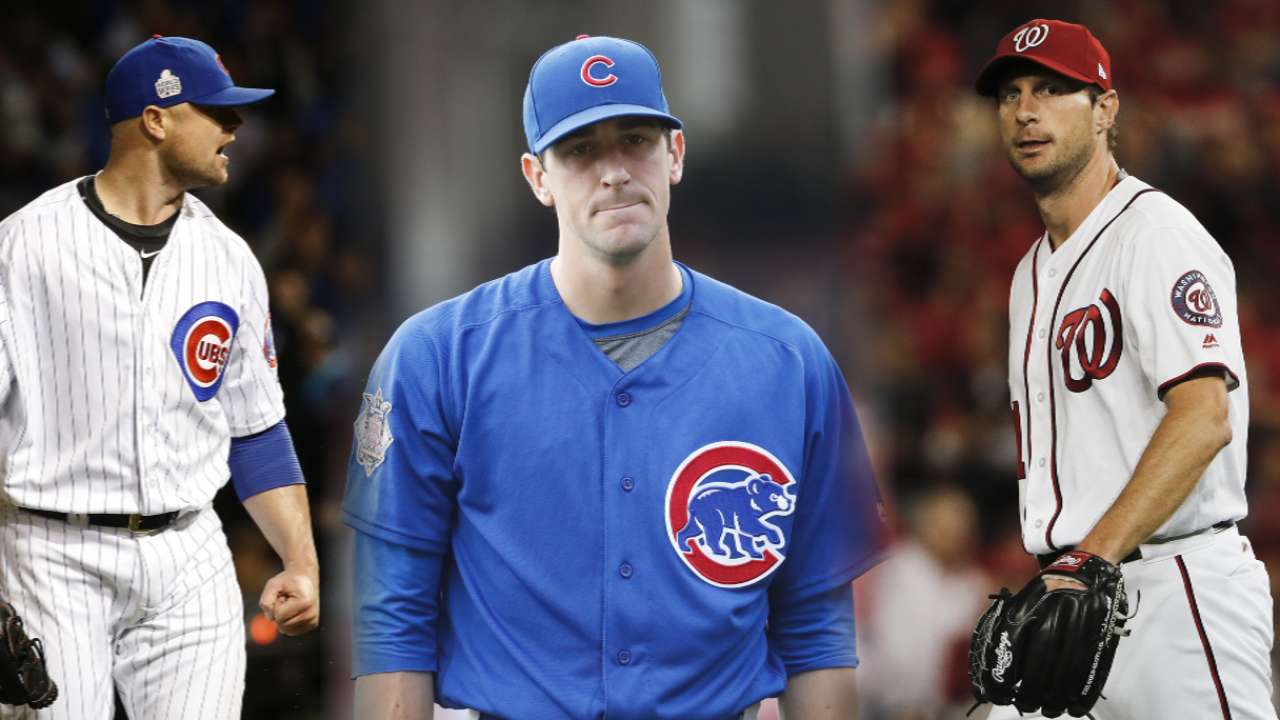 Limiting hard contact
Advantage: Hendricks
Hendricks' ability to induce soft contact was well documented in 2016, though his edge over Lester in our statistical measures was smaller than one might expect. Hendricks gave up only 15 home runs, tied for the third fewest in the NL and fewer than Lester's 21 homers allowed. But the two are virtually tied in our other two statistics; Hendricks' 45 extra-base hits allowed just barely edges Lester's 47, and the two actually allowed the same number of barrel hits (16), per Statcast™. Just like in the AL, we'll give the slight edge to Hendricks because of voters' propensities to look at home runs first. Scherzer particularly struggled in that category, leading the league with 31 homers allowed.
Matt Kelly is a reporter for MLB.com based in New York. Follow him on Twitter at @mattkellyMLB. This story was not subject to the approval of Major League Baseball or its clubs.