Celebrity golf event aids Compton academy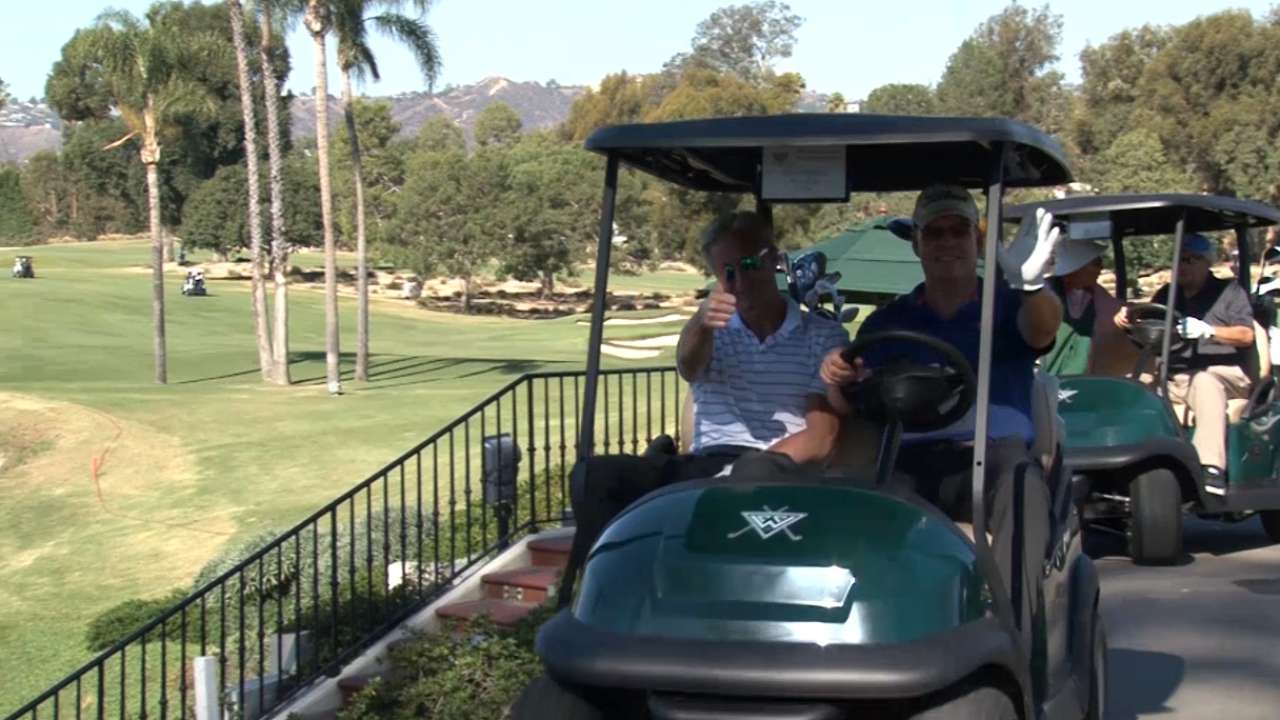 LOS ANGELES -- Several sports stars and celebrities came together in Los Angeles on Monday in support of Major League Baseball's Youth Academy in Compton.
Baseball Hall of Famers Frank Robinson, Reggie Jackson, Eddie Murray and Ozzie Smith, along with many other former All-Stars, were among those in attendance at the sixth annual celebrity golf invitational, hosted this year by Torii Hunter at Wilshire Country Club as part of the Compton academy's 10th anniversary celebration.
"This is something that's near and dear to my heart," said Hunter, a five-time All-Star with the Twins, Angels and Tigers who retired after the 2015 season. "I was one of the inner city kids and kind of under privileged, and whenever you can get together and raise money for such a great cause like this, you've just gotta be here."
Proceeds from the event raised via registration and a silent auction benefited the Compton MLB Youth Academy through the non-profit Major League Baseball Urban Youth Foundation. The academy aims to provide opportunities to youth baseball and softball players who may not otherwise have access to the type of facilities, instruction or equipment available.
"The last few months, there's been a lot of things that have been stirred up in our society that it's extremely important either youth or people who are less fortunate have that voice," former Major Leaguer and current Dodgers broadcaster Jerry Hairston said. "Any little bit helps, and we're trying to do our small part."
The facility in Compton spans 20 acres of the El Camino College campus and features four playing fields as well as other training areas, including batting cages and pitching mounds. Since it opened in 2006, more than 100,000 youth players have passed through its doors with more than 500 going on to play collegiately and around 100 being drafted by Major League organizations.
The Compton academy has led to new facilities opening in Cincinnati, Houston, New Orleans, Philadelphia and Washington, D.C., and more are being developed for Chicago, the Bronx, San Francisco, Kansas City and Dallas, which is being partly funded by Dodgers pitcher Clayton Kershaw.
"We've done some very special things over the years, and events like this allow us to build upon that and do more," said Tony Reagins, MLB's senior vice president for youth programs. "So we're excited about today and the years to come."
The Urban Youth Academy also allows young players exposure to big leaguers, who provide an example to aspire to in their athletic careers. Several Compton alumni have even gone on to play in the Majors, including Trayce Thompson, Khris Davis, Jon Singleton, Vince Velasquez, Anthony Gose, Trayvon Robinson, Aaron Hicks and Efren Navarro. Many of those players -- as well as those from both of the Los Angeles-area clubs -- remain an active presence at the academy.
"I know I was inspired any time I was around people that had some success or went down the path you want to go," Angels manager Mike Scioscia said. "When you can talk to a Mike Trout, talk to an Adrian Gonzalez or [Corey] Seager, the guys that are now carrying the banner for Major League Baseball in Southern California, it's inspiring for kids, and I think that's important."
Hunter took over hosting duties for the event from Robinson, one of baseball's most decorated players as a 14-time All-Star, two-time Most Valuable Player, two-time World Series champion and MLB's first black manager. Like Robinson in previous years, Hunter's presence helped draw other stars from the sports and entertainment out to the event.
"One of the beautiful ancillary things about being able to have people want to know what you are about is you get to shine light on things that sometimes don't get to the largesse that they deserve," said Academy Award-nominated actor Don Cheadle.
"I have a good friend who says, 'We can't get out of the light, and often things like this can't get in the light.' So whenever you have the opportunity to use your voice and people's attention on you to throw it on something else that's worthy, then it always feels great."
Chad Thornburg is a reporter for MLB.com. This story was not subject to the approval of Major League Baseball or its clubs.