Matthews set to return as Royals' radio voice
Hall of Fame broadcaster to call his 49th straight season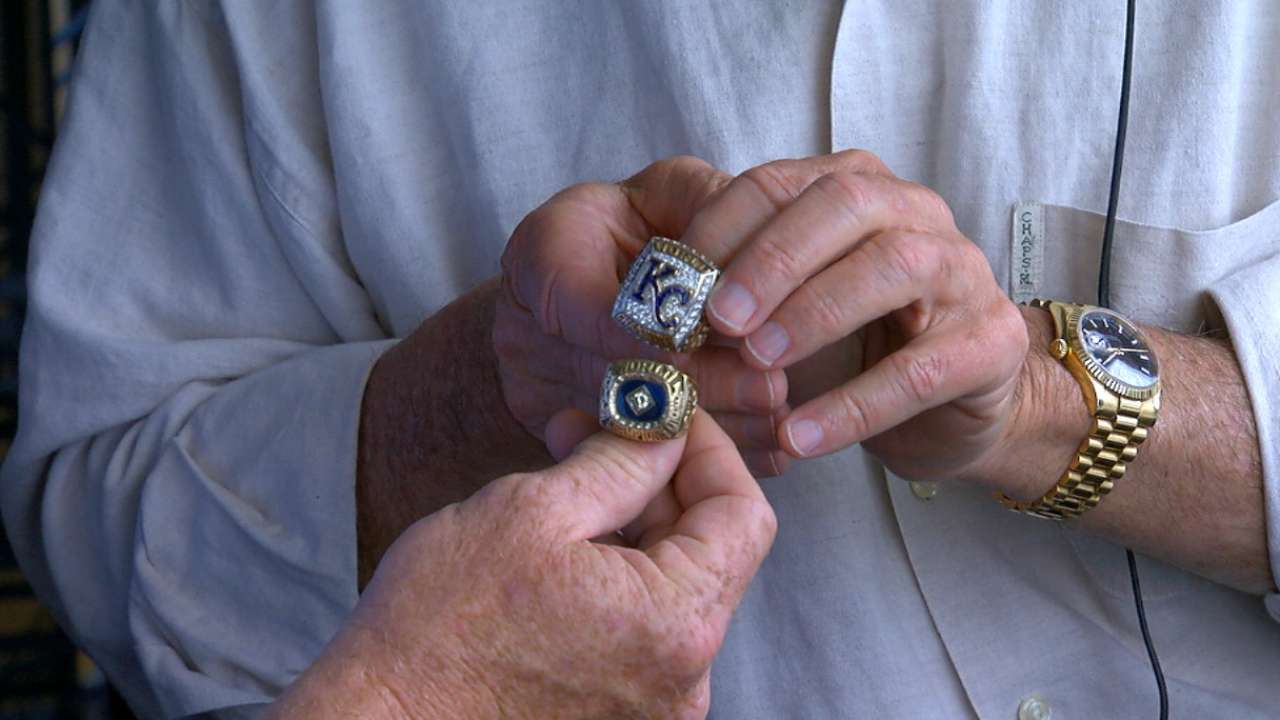 KANSAS CITY -- Royals Hall of Fame announcer Denny Matthews turned 74 on Monday.
Matthews celebrated with a round of golf during the day, a trip to Fiorella's Jack Stack Barbecue, and a quiet night with family.
But come next spring, Matthews expects to be right back behind the radio microphone for his 49th straight year, which coincides with the inception of the Royals in 1969.
"I'm good to go," Matthews told MLB.com. "I feel good, feel healthy. I still enjoy it."
But make no mistake: Matthews isn't setting his sights on breaking Vin Scully's record of consecutive seasons announcing for one team. Scully announced his 67th straight with the Dodgers this season, his last.
"Oh, heavens no," Matthews said with a laugh. "What would be the point? Do you know how old I was when Vin started? I was 6.
"I don't have any ambitions to go for that record."
As of now, Matthews' main goal is to make it to 50 straight. Two years ago, he signed a four-year deal with the Royals and plans to honor that commitment.
"I like the idea of hitting 50 straight," he said.
Matthews noted that, like Scully, he has been able to continue his consecutive streak by cutting down on road trips in recent years. Matthews still does all 81 home games and filters in about 25-30 hand-picked road games.
"It's not so much the road games you want to do," he said, laughing, "but the road games you don't want to do."
For many years, Matthews kept in shape in the offseason by playing weekly hockey matches with friends. But as indoor skating rinks faded from the Kansas City landscape, he gave up that hobby a few years back.
Now, Matthews mostly plays golf and works out in his basement during the offseason.
Beyond his four-year deal with the Royals, Matthews isn't sure what he'll do.
"I've often said that there are two times you never think about retirement," Matthews said. "The first is before the season, and the second is after the season. Before the season, you look at the schedule and you never think you'll make it. After the season, you have this false sense of relief that you have a whole offseason to recover.
"It'll happen when it happens."
Jeffrey Flanagan has covered the Royals since 1991, and for MLB.com since 2015. Follow him on Twitter @FlannyMLB. This story was not subject to the approval of Major League Baseball or its clubs.