Royals' Staumont bounces back in stellar AFL start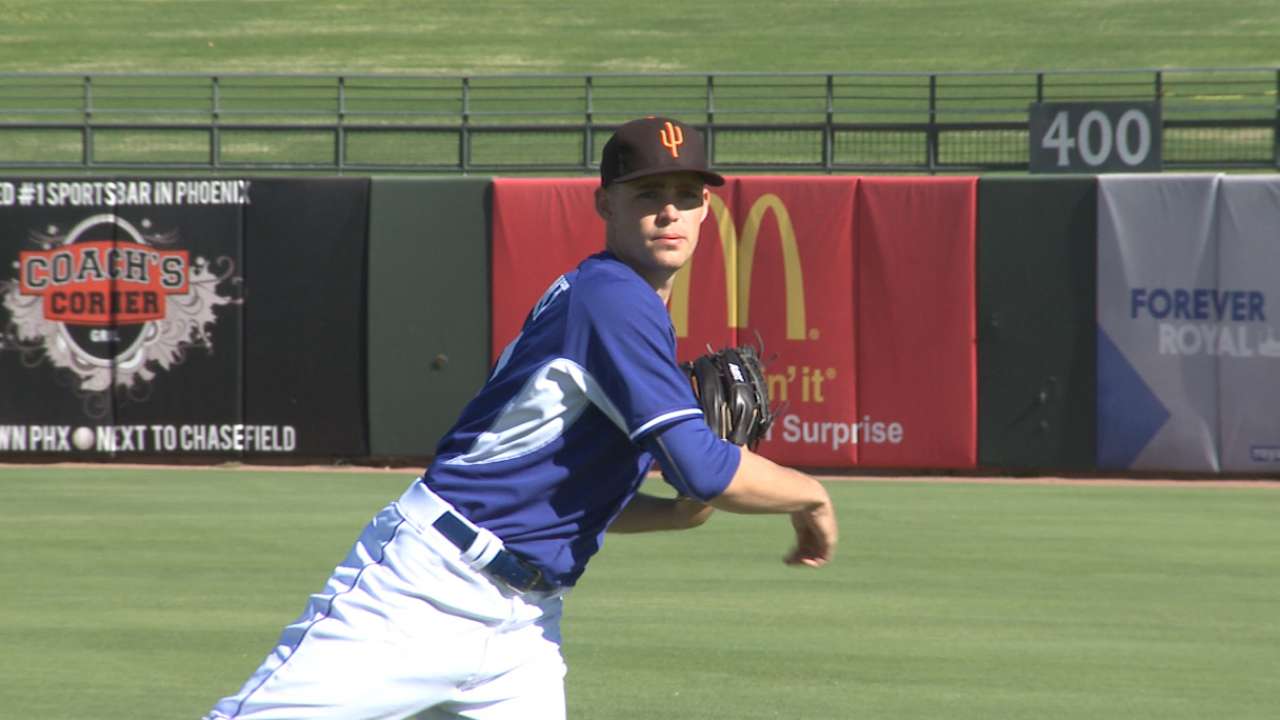 SURPRISE, Ariz. -- With the Arizona Fall League in its final week, Josh Staumont is making sure that both he and the Surprise Saguaros go out on a high note.
The Royals' No. 10 prospect dominated on Monday, allowing one hit over four scoreless innings as Surprise rolled through Peoria, 9-3, at Surprise Stadium to increase its lead over the Javelinas in the AFL West division. The performance was in stark contrast to his previous start on Nov. 8, when he allowed eight runs (seven earned) on five hits and four walks in just 1 2/3 innings.
"Last time we focused a lot on the changeup, and it was tough having to work on something in this competitive of an environment," Staumont said. "Today it was more of pitching to my strengths."
• Gameday
Staumont retired the first seven hitters he faced in the contest, including five in a row via strikeouts, before issuing a walk to Peoria shortstop Zach Vincej (Reds) with one out in the third inning. He finished with seven strikeouts against four walks, throwing 39 of his 62 pitches for strikes. He recorded four strikeouts with his heater, which sat in the mid-90s and topped out at 99 mph, and the other three with his sharp curveball in the low 80s.
Staumont lowered his Fall League ERA to 4.50 through seven starts with the performance, and he's now allowed 15 hits in 24 innings, with 30 strikeouts -- the most in the Fall League -- and 16 walks.
Staumont's fourth and final inning of work was his shakiest, as he loaded the bases on a Brandon Dixon (Reds) double -- the lone hit he allowed -- and a pair of walks before notching a strikeout and then inducing a ground-ball double play to escape the jam.
"Sometimes you'll fall into a rhythm where you're dragging and it's a little bit of a correction you have to make," the 22-year-old right-hander said. "I'll get a little stiff here and there and it'll lead to some walks, but I'm not overly concerned. At the same time, any walk is a bad walk.
"It's huge to get out of any situation in which there are runners in scoring position with less than two outs, but, particularly today, it was huge," he continued. "You have to throw pitches that if they make contact, they're not going to put them in the air with a guy on third base. So we threw everything down and made sure they hit it into the ground."
• Complete Arizona Fall League coverage
Surprise jumped out to an early lead in support of Staumont, collecting four straight hits with two outs in the bottom of the first inning to push across two runs. Eric Wood started the scoring with an RBI double down the left field line, and Mitch Garver (Twins' No. 24 prospect ) followed with a run-scoring double of his own to nearly the same spot.
The Saguaros continued to add to their lead in the subsequent frame, as Andy Ibanez delivered a run-scoring single to right field before Wood tallied two more RBIs with his second double in two at-bats. In the bottom of the fifth, Surprise scored a pair of runs on an infield throwing error to increase its lead to 7-0.
Peoria responded in the top of the sixth with its first runs of the game, as Chad Wallach (Reds) connected on a booming two-run homer, his third of the Fall League, to left-center field, only to see the Saguaros get both runs back in the bottom of the frame on a Ryan O'Hearn (Royals' No. 7) single and a run-scoring groundout from Wood.
Dixon cut Peoria's deficit to 9-3 in the top of the eighth inning with his second Fall League homer, a long solo shot to left field that cleared the bullpen, but that would be the extent of the Javelinas' comeback.
Wood (Pirates) went 2-for-5 with a pair of doubles and four RBIs out of the cleanup spot for Surprise. The 23-year-old third baseman is hitting .351 this fall and pacing the circuit in both hits (27) and RBIs (20). No. 47 overall prospect Nick Gordon (Twins' No. 2) improved his average to .366 by going 3-for-5 with a run scored out of the leadoff spot for the Saguaros, while two-hole hitter Andy Ibanez (Rangers' No. 2) finished 2-for-4 with a run scored and an RBI.
Dixon, 24, paced Peoria's offense by going 3-for-4 with the home run as well as a pair of ringing doubles to left field, while Vincej went 2-for-3 with a double to raise his Fall League average to .379.
With three games remaining in the Fall League's regular season, Surprise (16-12-1) owns a two-game lead over Peoria (13-13-2) in the AFL East. The AFL's two division winners will meet in a one-game playoff for the league title on Nov. 19.
"I appreciate any win, but wins that have substance behind them are huge," Staumont said. "We came out with the bats today, so regardless of how we pitched today we stood a good chance to win. I have to give a lot of credit to our offense for what they did today."
Mike Rosenbaum is a reporter for MLB.com. Follow him on Twitter at @GoldenSombrero. This story was not subject to the approval of Major League Baseball or its clubs.