Rangers to upgrade Youth Academy facility
Oates Field and two-story training center will be ready by next summer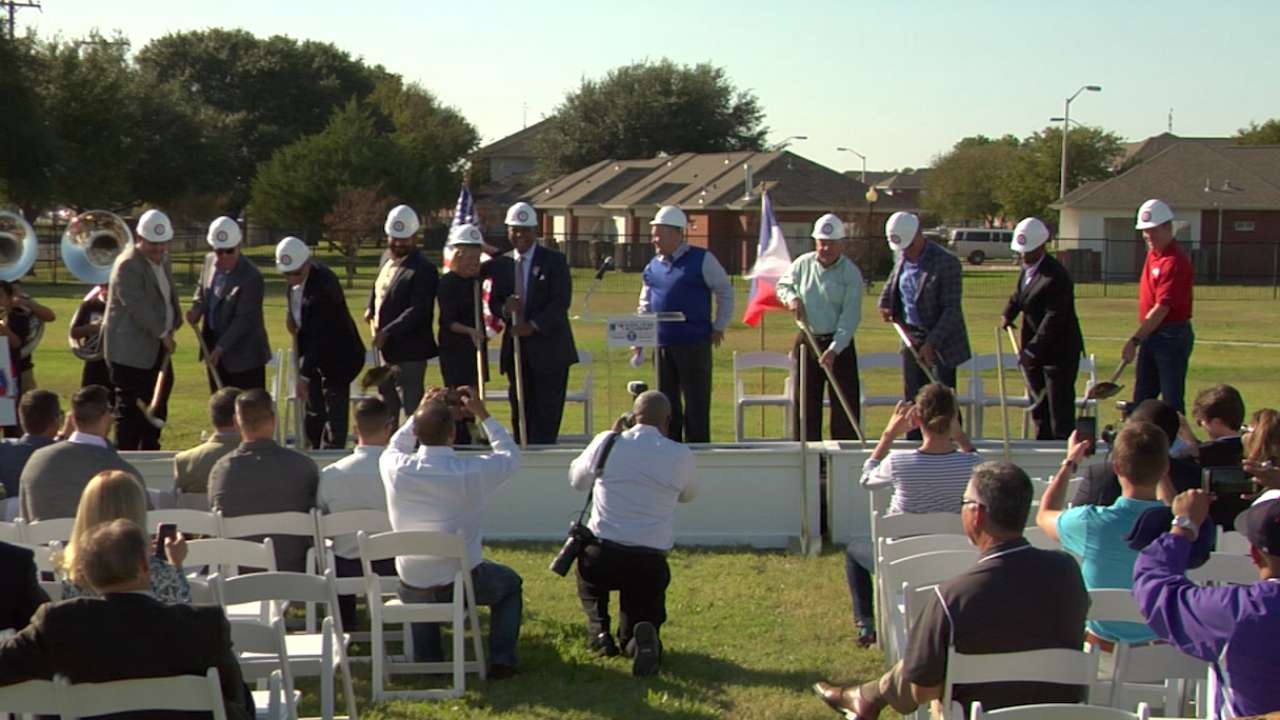 DALLAS -- As the band from L.G. Pinkston High School played, representatives from the Texas Rangers, Globe Life and Accident Insurance Company, the Dallas Housing Authority and others put shovels to dirt as they announced the latest developments in their MLB Youth Academy at Mercy Street. They began work on the latest additions, which include a fourth outdoor field and a two-story indoor training facility, both to be used for local youth baseball.
Homer Bush played seven years in the Majors, and he has spent the last year as director of youth baseball programs at Mercy Street.
"It's going to be a two-story building," Bush said about the new Globe Life Training Center. "It will have a Major League-sized infield indoors, five to six drop-down batting cages, a weight room, classrooms. ... It's going to be state-of-the-art."
The indoor infield inside the training center will be named Adrian Beltre Field. Also included in the plans: the Ian Desmond Training Room, the Origin Bank Conference Room, four classrooms supported by the Hamels Foundation and other amenities, including a concession stand.
Asked who would have access to the facilities, Bush smiled broadly.
"You know what? Anybody that wants to play baseball from 6 through 17, 18 years of age that just doesn't have the funds to do all the 'select ball' and showcase-type stuff," Bush said. "It's to get young players engaged in the game of baseball again, and try to build stronger people, stronger families through baseball and give them an opportunity to do it 12 months out of the year."
The new outdoor field, which will be the fourth field in the complex, will be named for former Rangers manager Johnny Oates, who guided the team from 1995-2001, including its first postseason appearance in '96. Known as Oates Field, presented by Papa Johns, it joins the Kershaw's Challenge Field, the Josh "Hambone" Hamilton Field, and the Field of Dreams.
"We are so honored and excited to be a part of West Dallas," said Neil Leibman, chairman of the Rangers' ownership committee. "Giving children a safe place to play baseball and softball with elite instruction and educational programs is a mission of the Rangers' foundation and the Texas Rangers baseball club, as well as Major League Baseball."
Rangers manager Jeff Banister spoke about the opportunity the new facility will give young softball players.
"Don't think softball doesn't run deep in my family. I married into a softball family," Banister said. "My father-in-law had ... three girls that all played softball. What a great opportunity for the Texas Rangers, and for Globe Life."
In addition to the facilities, these grants will also create jobs, employing staff to oversee the academy. Additionally, the facility will be used not only for baseball-related activities such as tournaments, coaching clinics and skill camps, but also for non-baseball activities that will help the community, such as tutoring programs, college prep classes, financial literacy programs, and drug resistance and gang prevention programs.
Contributions for the Youth Academy at Mercy Street came not only from the naming rights holders, but also from Rangers players themselves: Beltre, Desmond, Hamilton, Prince Fielder, Cole Hamels and Martin Perez have all contributed, as has Rangers Hall of Famer Michael Young.
With today's gold-shovel ceremony, construction on both Oates Field and the Globe Life Training Center has officially begun, and both are expected to open next summer.
Levi Weaver is a contributor to MLB.com. This story was not subject to the approval of Major League Baseball or its clubs.