Twins expanding analytics under new regime
Club looks to impact other areas like strength and conditioning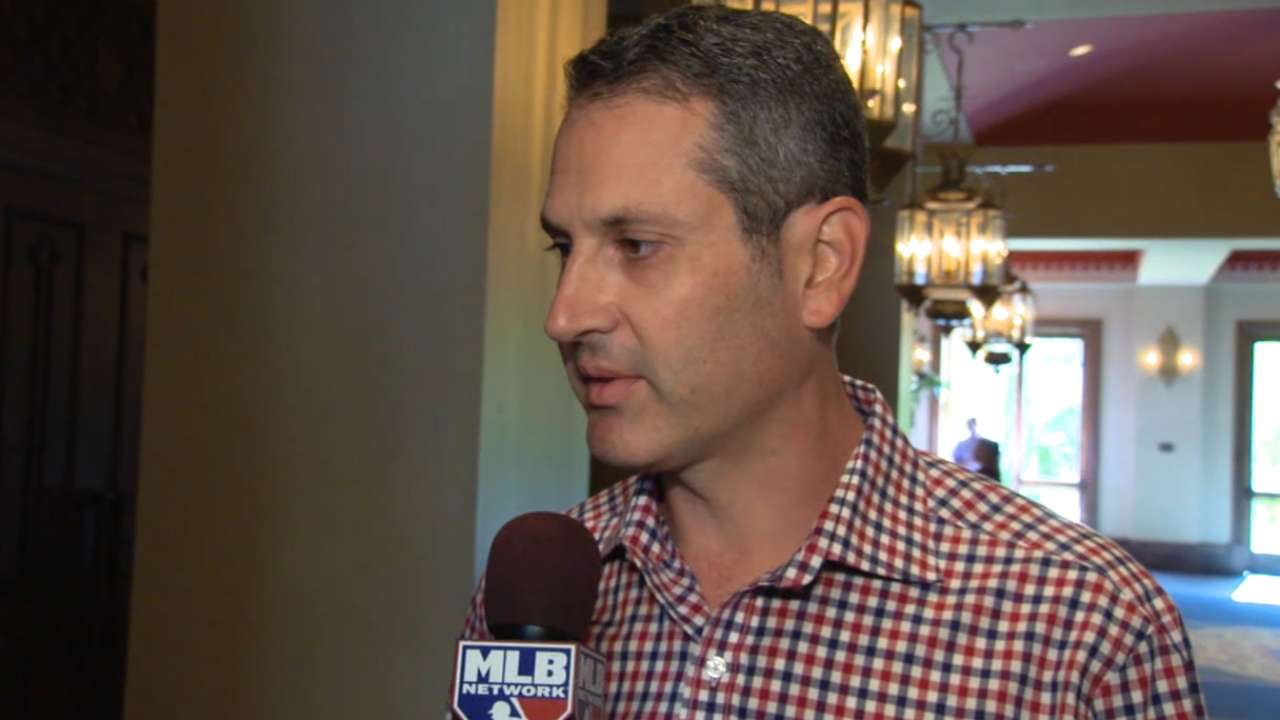 MINNEAPOLIS -- Fair or unfair, the Twins' reputation under longtime general manager Terry Ryan was one of an old-school organization that valued scouting and the human element over analytics.
But the Twins did have an analytics department under Ryan led by director of baseball research Jack Goin, and used advanced statistics to help with personnel decisions both externally and internally. That department, however, will be expanded under the new regime of chief baseball officer Derek Falvey and general manager Thad Levine.
"I think teams over the course of the last 10 to 15 years have been building out departments," Falvey said. "We've talked about analytics and other areas such as medical and strength and conditioning as areas where we can have an impact."
Falvey, coming from the Indians, and Levine from the Rangers, were part of forward-thinking organizations that have had plenty of recent success. Falvey said one early key will be revamping the club's internal database so front office members can have access to proprietary data on Twins players and players from other clubs.
"I think our expectation is to build out our analytics department and add capabilities that don't exist in the organization currently," Falvey said. "I'm hopeful that whatever we have, we'll be able to augment it over the next six months."
Beefing up the analytics department with new hires and new programs/systems, is one of the main priorities early this offseason, even ahead of player acquisitions, according to Levine. He believes that investing in the front office is an underrated way to gain an advantage in baseball, similar to what the Cubs did under Theo Epstein.
"There are opportunities to make significant investments in the infrastructure which can bear some significant competitive advantages," Levine said. "The overall investment in your organization, your operations, may be a better indicator of the teams that are winning today."
Levine said analytics will be used in every baseball decision going forward, but he cautioned that it's just one piece of the puzzle. The Twins are not expected to cut from their scouting department, but Falvey said it's helpful for scouts to have at least a basic understanding of sabermetrics.
"The marriage of that information is when you make the best decisions," Falvey said. "When you're using all of that information and challenging your assumptions and challenging that evidence to make sure you're not biased."
That use of analytics is expected to trickle down to the clubhouse, and manager Paul Molitor said he's fully on board. It's nothing too new for Molitor, as the Twins had an analytics staffer on every road trip last year, and the skipper said he's open to whatever the new front office suggests.
"Our analytics department probably needs to be expanded," Molitor said. "Jack Goin, I trust a lot. We have conversations throughout the year and I always joke, 'What does the computer have today?' But I think you have to be open to looking at information outside of maybe what your gut tells you. Like they talk about, it's a combination."
Rhett Bollinger has covered the Twins for MLB.com since 2011. Read his blog, Bollinger Beat, follow him on Twitter @RhettBollinger and listen to his podcast. This story was not subject to the approval of Major League Baseball or its clubs.