Padres hope Buchter sustains success in 2017
Rookie lefty was productive despite Majors' lowest ground ball rate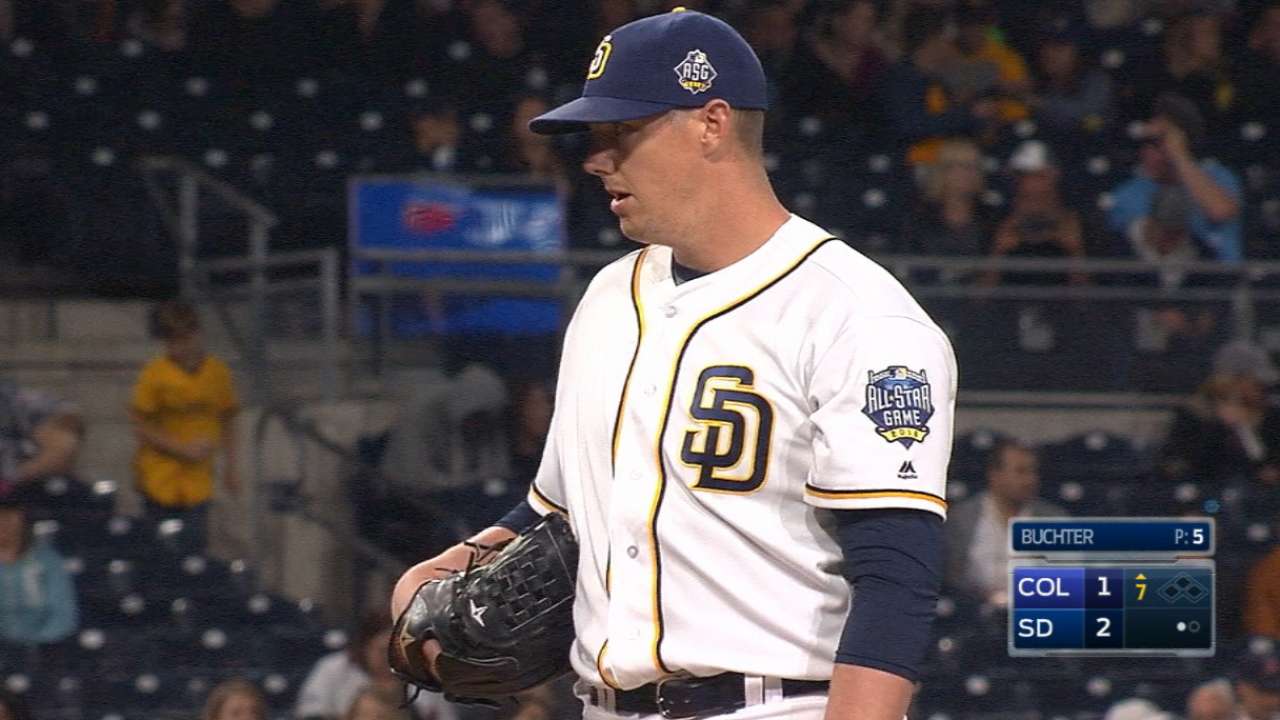 SAN DIEGO -- Ryan Buchter's 2016 season was one of the great success stories of the Padres' pro scouting department.
San Diego signed the unheralded left-hander to a Major League contract last offseason, despite the fact that he'd only pitched one inning above Triple-A. After Spring Training, Buchter was handed a spot on the Major League roster, and he never looked back.
In 67 appearances, Buchter posted a 2.86 ERA, while striking out 78 and allowing just 34 hits in 63 innings. Despite possessing a league-average four-seam fastball in terms of velocity (92.6 average mph), Buchter threw the pitch 85 percent of the time (the second-highest percentage in baseball, behind only Cincinnati's Tony Cingrani). Opponents batted just .158 against it.
Is Buchter's success sustainable? In that regard, there's one number worth breaking down: 20.6, his ground ball rate last season.
Since Fangraphs started tracking ground ball rates in 2002, only one pitcher with as many innings has posted a lower number -- Tyler Clippard in '11.
On the surface, that isn't a good thing. High ground ball rates are generally encouraged, and they almost always translate to fewer home runs and extra-base hits.
The Padres view Buchter as a different case entirely.
"You like extremes in baseball," Padres manager Andy Green said. "You like guys that do things extraordinarily well. His ground ball rate, it falls so far in the extreme that it's lazy popup contact all the time. ... Even the guys that are on it, it gets popped up usually. It's about location -- he works in the upper third of the zone more than any pitcher we have on staff. But even when he gets down, people find their way underneath it.
"As long as his stuff maintains, I expect [his home run rate to stay low]. It's consistent with his contact -- it's just not high-quality contact."
Buchter's 58.1 percent fly ball rate led the Majors this season. A general rule of thumb is that approximately one in 10 fly balls becomes a homer. For Buchter, that number was less than one in 20.
Juxtaposing HR/9 with ground-ball rate. Ryan Buchter managed to keep both down in 2016. pic.twitter.com/AcNvpbrDIT

— AJ Cassavell (@AJCassavell) November 14, 2016
In Buchter's eyes, there's a reason for that. His high-spin-rate four-seamer produces swings and misses and weak contact.
"I can't tell you how many times I've come in a game with second and third, one out, throw the first-pitch fastball that everybody knows I'm going to throw, and it's up in the zone," Buchter said last month. "The guy swings at it and misses or pops it up. That plays into what I do."
Time will tell whether Buchter's extremes level out, or if his home-run rate will normalize. But Clippard may be a worthwhile comparison -- even though he's a right-hander who uses both a sinker and a changeup.
Since Fangraphs started tracking ground ball rate, Clippard owns the lowest mark (28.3 percent) for any reliever with at least 300 innings. He's fashioned himself a nice 10-year career in which he owns a 2.95 ERA and a 1.11 WHIP.
They're very different pitchers, but it's just one example of a success story with a low ground ball rate.
"I know I pitch up in the zone, and I pitch aggressively," Buchter said. "But I don't throw too many pitches out over the heart of the plate. Pitching up in the zone and pitching aggressively, guys know that I'm going to come in, and I'm going to pitch aggressively. That plays to my advantage when I don't throw strikes."
There are a number of things Buchter needs to address in order to build of his solid rookie campaign. He'll need to strengthen himself to better handle the grind of a full big league season. He'll need to cut down on the big innings (13 of his 20 runs allowed came in just three appearances).
But as for his extraordinarily low ground ball rate, Buchter doesn't want that to change -- and neither do the Padres.
AJ Cassavell covers the Padres for MLB.com. Follow him on Twitter @ajcassavell. This story was not subject to the approval of Major League Baseball or its clubs.