Inbox: Will Marlins move Ozuna or Stanton?
Beat reporter Joe Frisaro answers fans' questions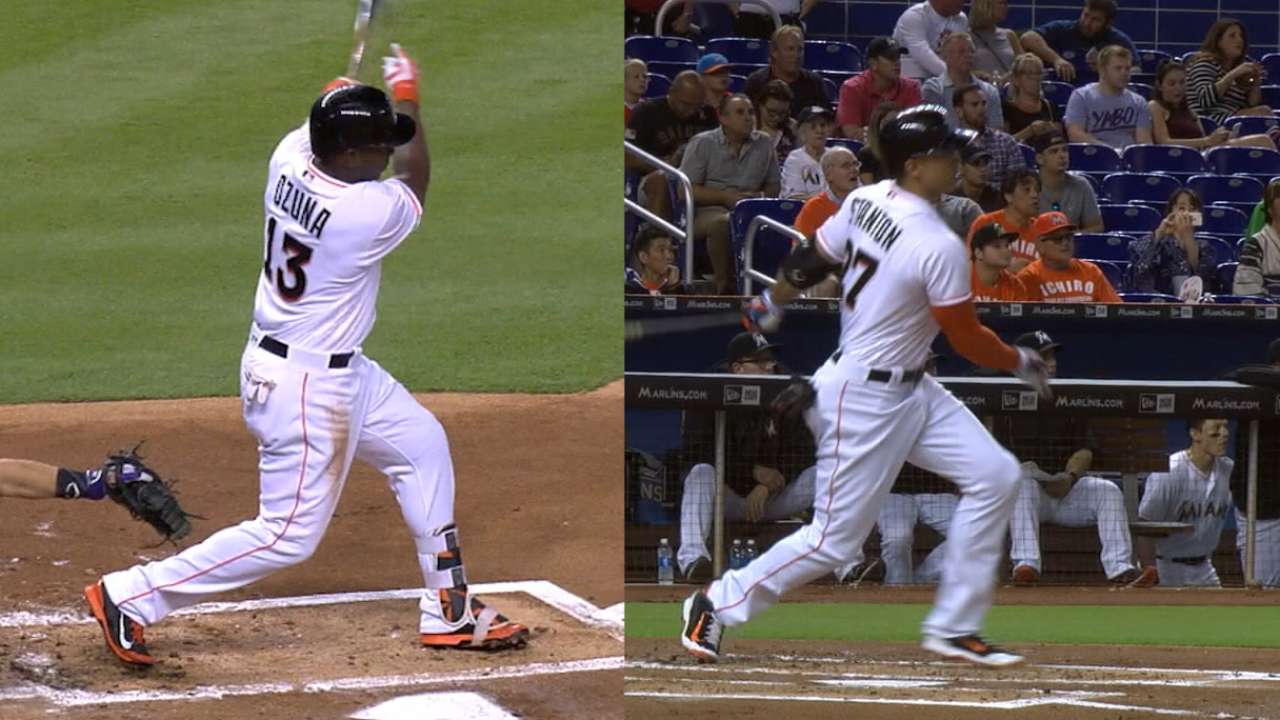 What are the chances that Marcell Ozuna or Giancarlo Stanton are traded for young starting pitching?
-- @thepacman321
The General Managers Meetings are now over, and there weren't any serious Stanton rumors to come out of them. Things can certainly change at the Winter Meetings in December, but I don't anticipate him being moved. Stanton's injuries, of course, are a concern. But he's so impactful when he's on the field that you can't ignore the fact that even in a season in which he was injured and underperformed (by his standards), he still belted 27 homers.
Ozuna, however, could draw trade interest. He's arbitration-eligible for the first time, and there isn't much thought to signing him long term. Christian Yelich already has been moved to center field, with Ozuna playing left. If an opportunity presents itself, I could see the Marlins trading Ozuna. But at the GM Meetings, president of baseball operations Michael Hill made it clear that the club isn't going to just give Ozuna away. The asking price will be high. So maybe he will be part of a deal to help beef up the rotation.
• Submit a question to the Marlins Inbox
Who is the favorite to back up J.T. Realmuto? Jeff Mathis is a wizard with the glove, but I like the way Tomas Telis swings the stick.
-- @TheMarfins
The answer may be both. I could see a scenario in which Mathis and Telis make the team, especially since Telis played some first base at Triple-A New Orleans this past season -- 25 games total. There are questions as to whether Telis has the defensive skills to catch regularly, but he offers production at the plate, posting a slash line of .310/.362/.429 at New Orleans. Mathis is a free agent, and there's no guarantee he will return. Eventually, I believe he will return. Depending how the bench shapes up, Telis could be on the big league roster, offering an option to also play some first base, while Mathis is purely the backup catcher.
What are the chances that the Marlins sign Yoenis Cespedes or Dexter Fowler if Ozuna is traded for pitching?
-- @cnhs_jv
I don't expect the Marlins to go after a big-ticket free-agent position player. Cespedes may wind up back with the Mets, and remember, Fowler was available last year as a free agent, and Miami didn't make a push for him. The cost for both will be very high, and it appears that the Marlins will place their financial resource into pitching -- starters and relievers.
Who are the Marlins' top three prospects?
-- Nico, Los Angeles
If you look at MLBPipeline.com, the Marlins' top three prospects are left-hander Braxton Garrett, right-hander Tyler Kolek and lefty Jarlin Garcia. That's for the entire system. I'll give you three prospects who may be ready to contribute in 2017. Right-hander Luis Castillo, lefty Dillon Peters and utility player Yefri Perez, who gained big league experience late in the year. Castillo and Peters are ranked by MLBPipeline.com as Miami's No.5 and 14 prospect, respectively. Both project as middle-of-the-rotation-caliber starters. Castillo even could emerge as a staff No. 2, but he has to show more consistency. Most likely these two will start off '17 either at Double-A Jacksonville or New Orleans. They both could be in the big leagues at some point.
Perez, meanwhile, is a speed threat who can play center field as well as shortstop, second base and third base. He's a switch-hitter with a skill set like former Marlin Alfredo Amezaga, but with more speed. Perez gained more experience in the Arizona Fall League, batting .268 with a .342 on-base percentage and seven stolen bases. He could battle for an Opening Day roster spot.
Is there a real chance at Aroldis Chapman, or is that a fantasy?
-- @JVelardi12
The Marlins have long had interest in Chapman, and last offseason they considered acquiring him from the Reds, perhaps even turning the closer into a starter. The buzz is that Chapman will get at least $12 million a season, and if that is for four years, you're looking at $48 million total. Even if the Marlins are right there in the bidding, there is no guarantee Chapman will sign with Miami. Speculation is strong that he may want to go back to the Yankees. While I wouldn't totally rule out the Marlins pursuing Chapman, the early signs point to the hard-throwing lefty going elsewhere. We'll see if that changes.
Joe Frisaro has covered the Marlins for MLB.com since 2002. He writes a blog, called The Fish Pond. Follow him on Twitter @JoeFrisaro and listen to his podcast. This story was not subject to the approval of Major League Baseball or its clubs.