Maddon aims to equal managerial luminaries
Cubs skipper would tie Cox, La Russa if he wins fourth MOY Award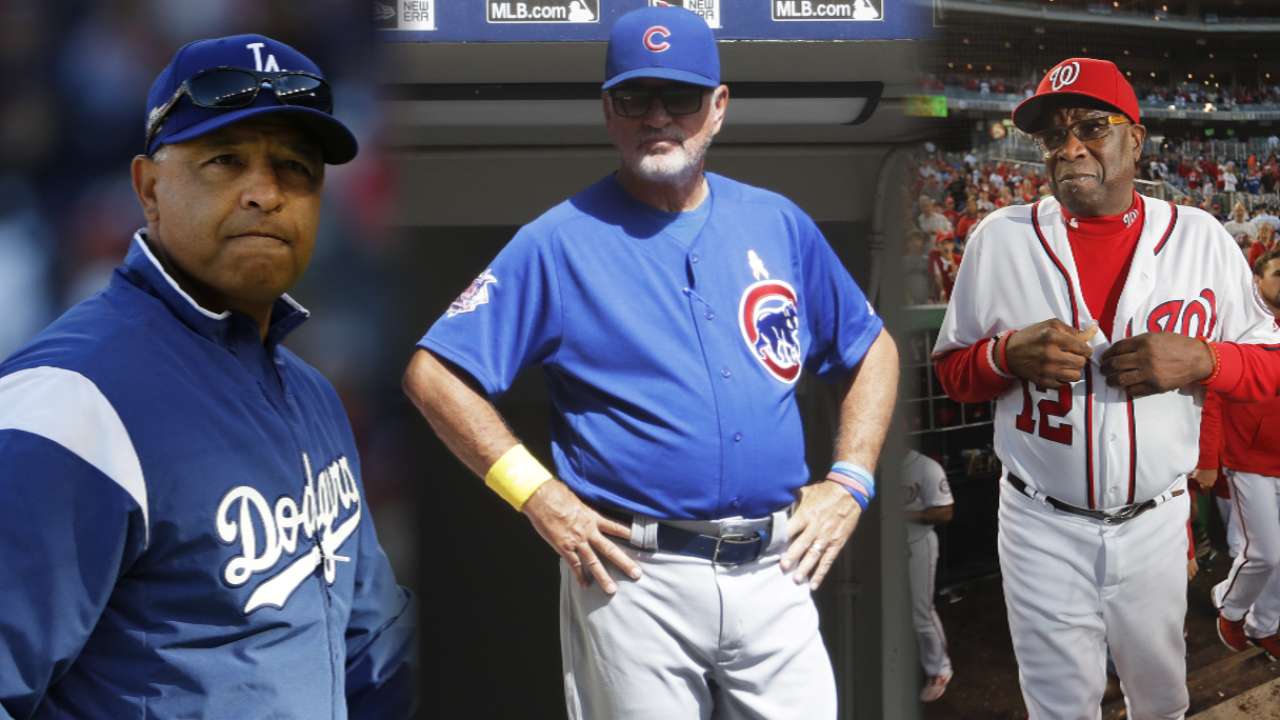 CHICAGO -- He embraced the target, did simple better and believed that the process was fearless. Joe Maddon knew in Spring Training that the Cubs would face pressure -- they were the preseason favorites to win the World Series -- and he welcomed it. The approach paid off with 103 wins, and for the second straight year, Maddon is a nominee for the Baseball Writers' Association of America's National League Manager of the Year Award.
Maddon will find out on Tuesday if he will repeat as winner of the coveted award. The other candidates are the Dodgers' Dave Roberts and the Nationals' Dusty Baker. Voting is done by BBWAA members before the postseason begins, so the Cubs' World Series championship was not a factor.
• MLB.com's complete awards coverage
The Manager of the Year Awards for both leagues will be unveiled on Tuesday during a 5 p.m. CT special on MLB Network.
Esurance MLB Awards week concludes Friday on MLB Network and MLB.com at 7 p.m. CT with the MLB Awards. Categories include Best Major Leaguer, Hitter, Pitcher, Rookie, Executive and Manager.
Maddon has been recognized as the top manager on three occasions -- twice with the Rays in 2008 and '11, and last year with the Cubs. If he were to capture the honor again this year, he would be the first to do so in consecutive seasons since the Braves' Bobby Cox won in '04 and '05. Cox and fellow Hall of Famer Tony La Russa are the only managers to win the award four times.
In two seasons in Chicago, Maddon has guided the team to 200 wins, the most by a Cubs manager in consecutive seasons since Frank Chance won 208 in 1909-10. Maddon is the second manager in franchise history to reach the playoffs in his first two campaigns, joining Lou Piniella, who did so in 2007 and '08.
"In Spring Training, there was an inordinate amount of expectations and pressure that was heaped upon us, and I tried to convince our guys that's a good thing," Maddon said. "Why would you ever want to do anything or be part of a situation or moment that did not have great expectations? And I think they're synonymous terms. Expectations and pressure probably become synonymous. Why would you ever want to run away from that?"
The trick this season was that Maddon was guiding very young players. The Cubs had six position players age 26 or younger play at least 100 games. Since the era of divisional play began in 1969, three other teams have won at least 100 games with such a young group: the '69 Mets, '77 Royals and '97 Braves.
Maddon, 62, kept things lively again. In Spring Training, he dressed up in 1970s garb with a tie-dyed T-shirt, encouraged a visit by live bear cubs and shaved his head as part of a fundraiser. During the season, his creativity was on display as he tested the versatility of some of his players -- including moving pitchers to the outfield. Kris Bryant was a perfect example, switching from third base to the outfield with ease.
He is also sentimental. During the rain delay in Game 7 of the World Series, Maddon grabbed his late father's Angels cap, which he keeps in his backpack, and tucked it into the back of his pants. Maddon wanted his father to see the Cubs win the championship.
Maddon's roots are in traditional, fundamental baseball, having learned from Gene Mauch, Bob Clear and all the scouts he has met along the way. But he's also very in tune with what's available now.
"You take from the people you think are good, but I think, more importantly, you take away from the people that aren't so good," Maddon said.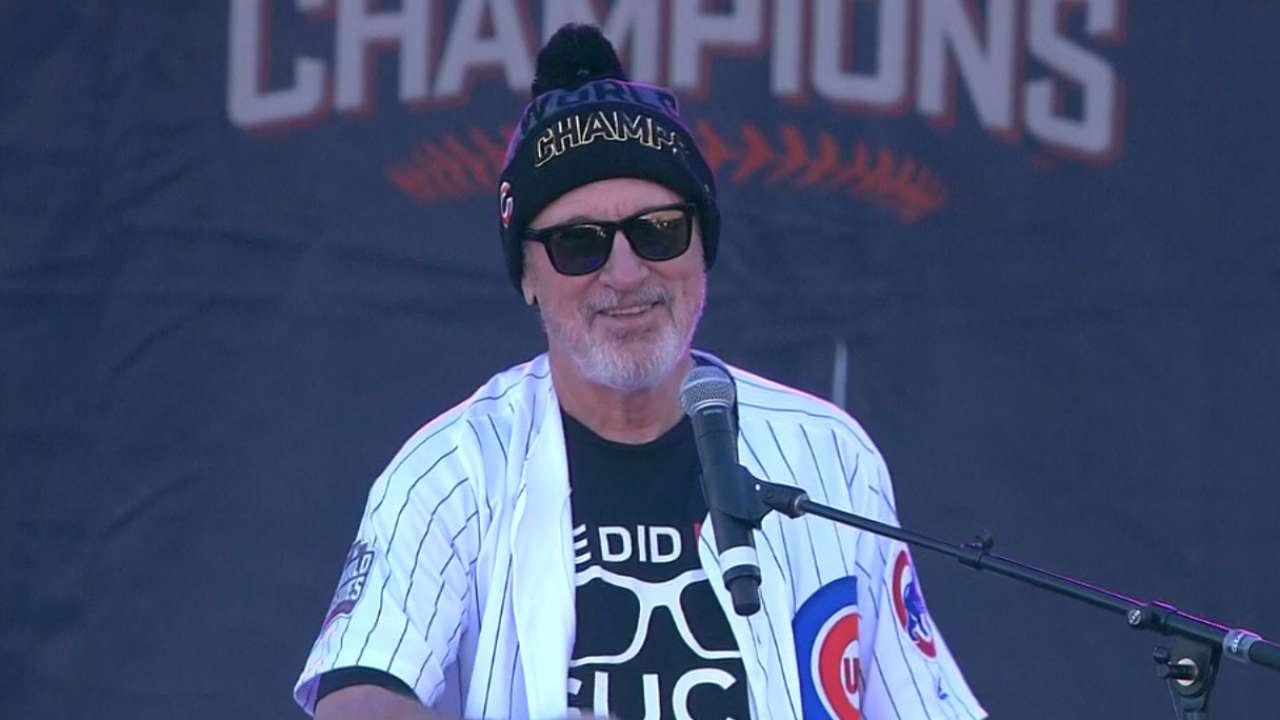 To get to the World Series, Maddon relied on experiences from his Minor League days in Idaho Falls, Idaho; Salem, Ore.; and Midland, Texas.
"Instructional league, being on the back fields, trying things out where nobody can see it -- and if you screw up, who cares?" Maddon said. "All that kind of stuff, I think, matters. I'm really grateful for the fact it took me so long to become a manager, because I think all the experiences I've had have permitted me to think the way I do now."
And he knows his place in the game.
"At the end of the day, it's not about me, it's about the players," Maddon said. "This game is always about the players. And if your guys play better than their guys, you win. That's what it comes down to."
His favorite T-shirt? It's the one that says, "The Process Is Fearless."
"I want us to stay in the process," Maddon said. "And if you do that, you don't get inundated with all these thoughts that take away from the task at hand -- and that's what I believe."
Carrie Muskat has covered the Cubs since 1987, and for MLB.com since 2001. She writes a blog, Muskat Ramblings. You can follow her on Twitter @CarrieMuskat and listen to her podcast. This story was not subject to the approval of Major League Baseball or its clubs.