Tito deserves place among AL MOY finalists
Tribe's skipper navigated club through adversity to within one win of WS title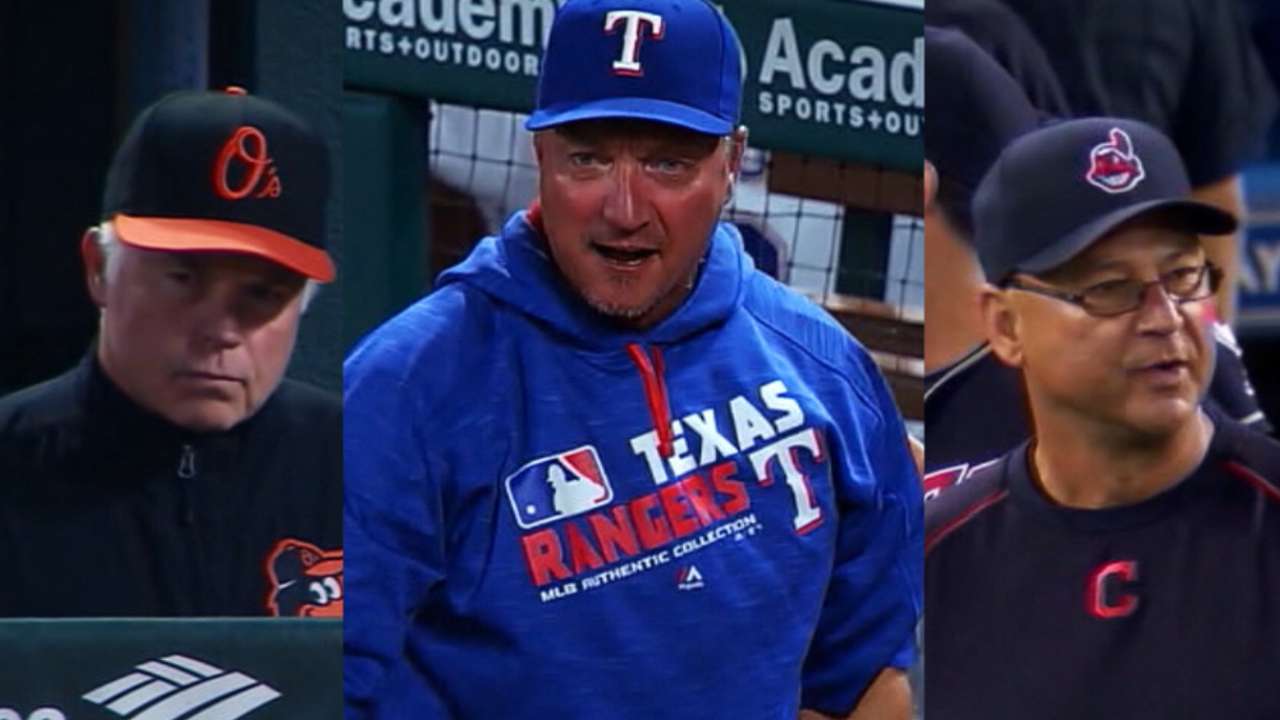 CLEVELAND -- Rare is the day that Indians manager Terry Francona does not make a self-deprecating quip. He makes fun of his bald head. He jokes about his playing career. He laughs at his lack of an expansive vocabulary. He'll weave tales of late-night food binges or going unrecognized in his own city.
Do not let Francona fool you, though. He is as shrewd and sharp as it gets when it comes to managing a Major League ballclub. This year, the man affectionately called Tito pulled off one of his greatest feats yet, guiding a depleted Indians team to the postseason and within one win of a World Series title. For his work, Francona is once again up for the Baseball Writers' Association of America's American League Manager of the Year Award.
• MLB.com's complete awards coverage
Don't expect Francona to take much credit for what Cleveland achieved, though.
"Sometimes," Francona said during the playoffs, "good players make you look smarter than you probably are."
That was a classic Tito quote, downplaying the impact he has made on an Indians team that has led the AL in victories (352) since he took the helm in 2013. That season, Francona led Cleveland to its greatest one-year turnaround in terms of wins, for which won the AL Manager of the Year Award. This time, Francona is up against Texas manager Jeff Banister and Baltimore skipper Buck Showalter for the annual accolade.
The Manager of the Year Awards for both leagues will be unveiled Tuesday during a 6 p.m. ET special on MLB Network.
Esurance MLB Awards week concludes Friday on MLB Network and MLB.com at 8 p.m. ET with the MLB Awards. Categories include Best Major Leaguer, Hitter, Pitcher, Rookie, Executive and Manager.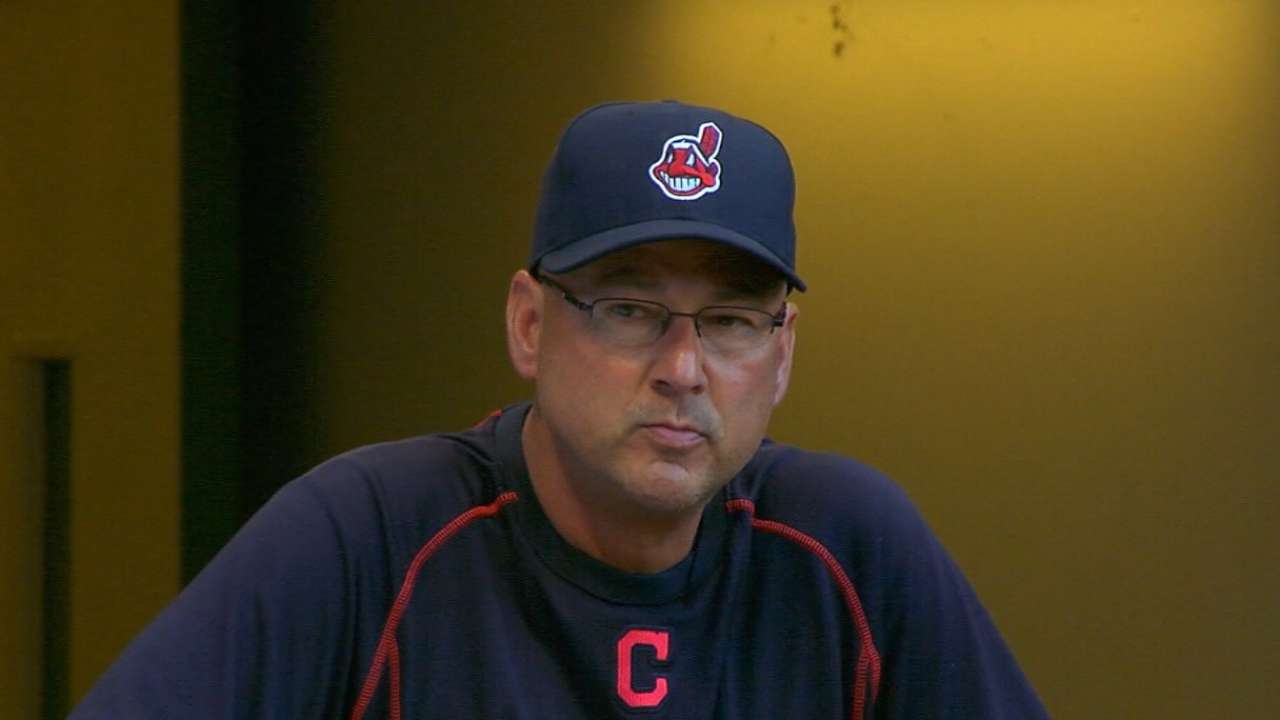 Francona's case for winning the award is especially compelling this year.
Cleveland played without starting outfielder Michael Brantley for most of the season, endured suspensions for Marlon Byrd and Abraham Almonte, and dealt with offensive slumps and injuries to catchers Yan Gomes and Roberto Perez. The Indians still ended with the second-most runs in the AL. The rotation also faced a number of setbacks, most notably the losses of Carlos Carrasco and Danny Salazar to injury in September. The patchwork pitching staff still got the job done.
"[Terry is] amazing," Indians gereral manager Mike Chernoff said recently. "He's incredible at in-game strategy. It's exceptional to just watch it. He's five steps ahead of all of us -- probably everybody out there -- and we get to see the full picture. That's just a small part of it, of who he is and what he does. He's broken down barriers organizationally for us."
One of Francona's first orders of business when he was hired by the Indians was to tear a hole through the cinder-block wall that separated his office from the main clubhouse hallway. He had a large window installed, making his space more inviting to anyone walking by. Both in a literal sense and a metaphorical one, Francona tore down the wall between the manager and the rest of the team.
Since Francona's arrival, front-office members have been a part of the everyday scene in the clubhouse. It is not uncommon to see members of the analytical staff around the coaches or players -- or in the manager's office. Francona also engages in daily card games with his players and makes a point to take "road trips" to the locker room for those cribbage sessions.
Over the past four years, Francona's ability to command respect, while also being one of the guys, has earned an incredible amount of trust from his players. While dealing with the front office, the manager has kept an open mind, taking in as much information as he can and finding ways to filter it to his coaching staff and players. Behind the scenes, Francona runs ideas by the analytics group and challenges them to bring concepts to him, too.
"If the information he gets doesn't support an idea," said Brad Mills, Francona's longtime bench coach and close friend, "he'll look at it a little bit and not give in totally to that side yet. It might take him a little bit longer, and that's OK. He uses all his experiences, along with some of the experiences that some of the analytical people have, and kind of puts it all together."
Under the circumstances, Francona had to think outside the box a lot this year.
The Indians led the Majors in platoon advantage both offensively and with the pitching staff, becoming the first team to be first in both areas since the 1985 Cardinals. Francona used switch-hitting slugger Carlos Santana as a leadoff man and No. 5 hitter, depending on the handedness of the pitcher. The manager threw convention out the window with his bullpen, viewing his pitchers as leverage weapons rather than assigning set roles.
When the rotation was in shambles in September, Francona had designated bullpen games to get by. The manager had platoons at virtually every outfield position, used Jose Ramirez as a third baseman and left fielder in the first half, and was aggressive with defensive shifting.
"I feel like I owe it to the team and to the organization not to guess," Francona said in October. "I just don't feel like it's fair to throw something against the wall and hope it sticks. Things don't always work, but I feel like if I'm prepared, I can relax and enjoy the game."
It all added up to 94 wins, a division title and an AL pennant.
"He did a masterful job," said Chris Antonetti, the Indians' president of baseball operations. "The way in which Tito is constantly thinking about how to place individual players in a position to be successful, to most impact the team, is always extraordinary. He does that first and foremost by building really deep relationships with guys."
Jordan Bastian has covered the Indians for MLB.com since 2011, and previously covered the Blue Jays from 2006-10. Read his blog, Major League Bastian, follow him on Twitter @MLBastian and listen to his podcast. This story was not subject to the approval of Major League Baseball or its clubs.