Alums help celebrate UYA's 10th anniversary
Walk of Fame and Wall of Fame honoring former students unveiled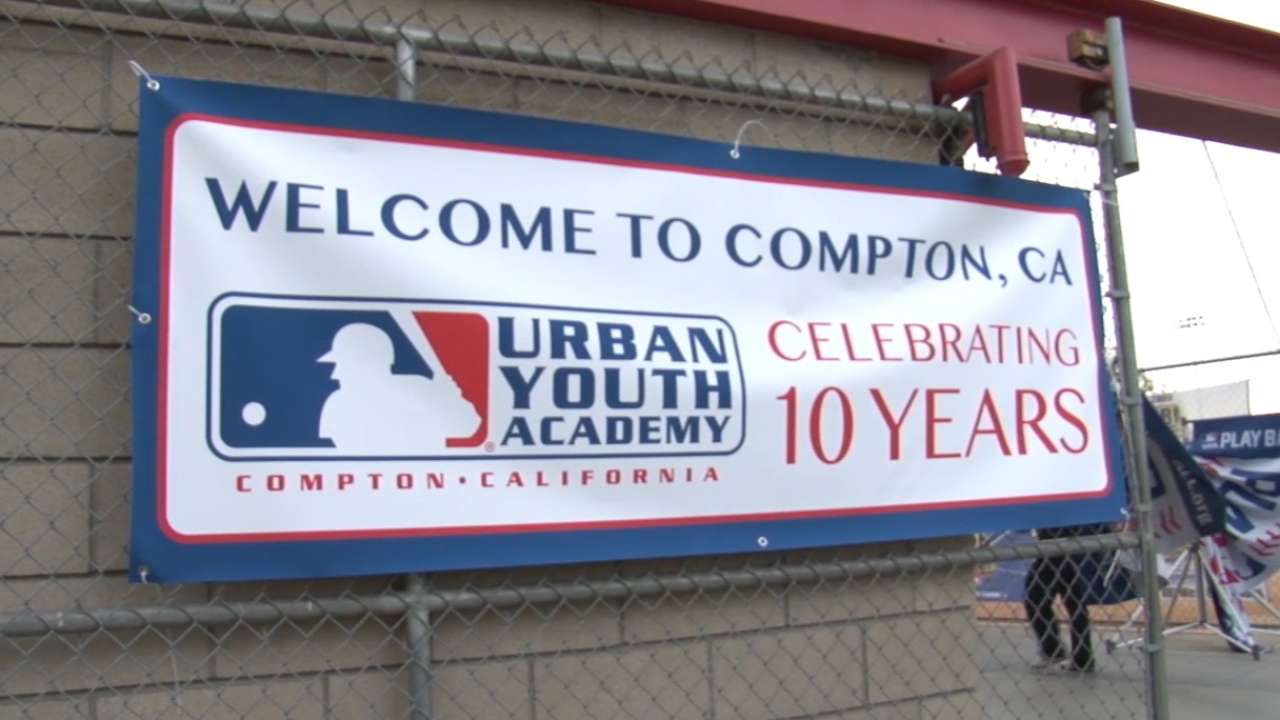 COMPTON, Calif. -- For the last decade, the Major League Baseball Youth Academy in Compton has hosted nearly 10,000 youth softball and baseball players. More than 500 of those players have gone on to play collegiately, while more than 100 alumni have been drafted by big league clubs.
The academy commemorated that rich history Saturday with a special 10th-anniversary celebration featuring Hall of Famers Ozzie Smith and Eddie Murray, former All-Stars Eric Davis and Ken Landreaux, Dodgers outfielder Trayce Thompson and Minor Leaguers knocking at the door to the big leagues -- Dillon Tate (Yankees), Dominic Smith (Mets) and J.P. Crawford (Phillies).
"It's important for these guys to show their faces and their support for the next generations that are coming after them," said Del Matthews, MLB's senior director for baseball development. "For them to come home, if you will, and have the opportunity to celebrate what we're doing, recognize the past with the future, I think is a great thing."
The ceremony, which was followed by a community Play Ball event, introduced the Walk of Fame and Wall of Fame, honoring academy alumni. The names of players who have reached the big leagues -- Thompson, Khris Davis, Jon Singleton, Vince Velasquez, Anthony Gose, Trayvon Robinson, Aaron Hicks and Efren Navarro -- are now displayed on a banner in the outfield of the facility's main field.
"I wouldn't miss this for the world," Thompson said. "It means a lot to come back. It's obviously an honor to have my name up on the wall, but it's more of an honor for me to come back and help everyone, like they helped me.
"All these kids are just happy to be out here, have fun and play baseball. That's something a lot of us take for granted. It's always fun to be back here."
The state-of-the-art facility, which encompasses more than 20 acres of the El Camino College campus, opened in 2006. It features four fields and additional training spaces, including batting cages, a weight room and pitching mounds.
"It didn't look like anything we played on back in the day; it's a beautiful facility," Ozzie Smith said of his first impressions of the Compton academy. "It's something that's desperately needed here in this community, and it's nice to see they're starting to get some of the guys that grew up in this area to come back and be a part of it."
The academy allows young players opportunities through baseball that they might not have otherwise. It also provides education beyond the baseball field with SAT/ACT preparation, tutoring and vocational training, among other available programs.
The Compton academy is the blueprint for five subsequent facilities constructed in Cincinnati, Houston, New Orleans, Philadelphia and Washington, D.C. More are in development for Chicago, the Bronx, San Francisco, Kansas City and Dallas.
"There's so many different avenues that can be opened through sports," Davis said. "Everybody is not going to be a Major League player, but there's so many different aspects of life that you can learn."
The academy also provides unique exposure to professional athletes, as alumni frequently make return visits and the local Major League clubs -- the Dodgers and Angels -- are often involved.
"As a kid, I loved seeing everybody come back," said Dominic Smith, a Los Angeles native who started coming to the academy at age 12 and is now the Mets' No. 2 prospect. "I remember Clayton Kershaw came up here as a rookie and nobody knew at the time who Clayton Kershaw was, and to see him go out and dominate the next few years, it kind of motivated a lot of us.
"The same thing with Matt Kemp. The Dodgers and Angels, they do a great job of giving back to the academy and having big leaguers come and inspire young kids. I think that's what it's all about."
Chad Thornburg is a reporter for MLB.com. This story was not subject to the approval of Major League Baseball or its clubs.