Source: Phillips more open to being dealt
Reds second baseman may be willing to waive no-trade clause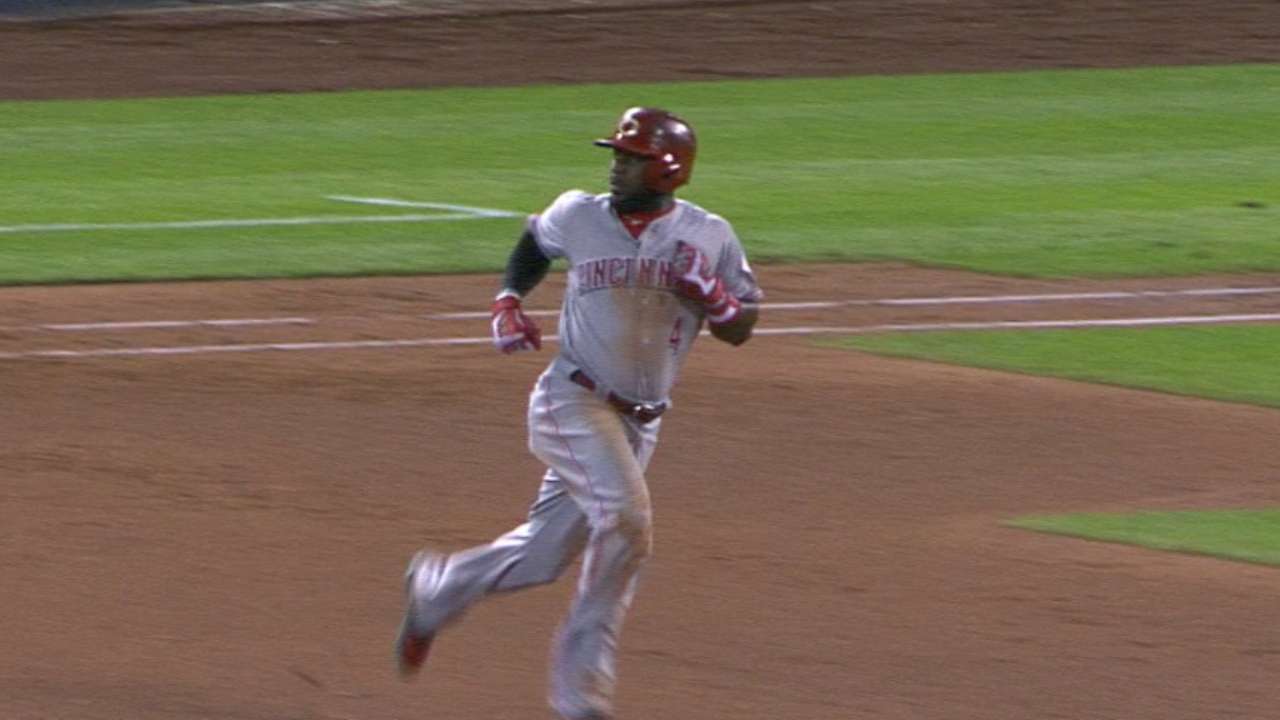 CINCINNATI -- The Reds have seemed open to trading Brandon Phillips, and now it appears that the longtime second baseman could also be open to a deal.
MLB Network's Jon Morosi tweeted, via a source, on Saturday that Phillips is more willing to consider waiving his no-trade clause this offseason than he was last winter.
While a second source confirmed to MLB.com that circumstances are far different from last year, the source downplayed the possibility of a trade coming to fruition.
Sources: Brandon Phillips is more willing to consider waiving no-trade clause this offseason than last, with only 1 year left on deal. @MLB

— Jon Morosi (@jonmorosi) November 12, 2016
Phillips, 35, is entering the final year of a six-year contract that will pay him $14 million in 2017. He has full no-trade protection because of his status as a 10-and-5 player -- 10 years in the Majors, the last five with the same club.
In December 2015, the Reds appeared set to trade Phillips to the Nationals before he declined to accept the deal. He was looking for financial incentives or an extension before granting approval.
Phillips batted .291/.320/.416 in 2016 with 11 home runs and 64 RBIs while playing 141 games. Although banged up with numerous nagging injuries at times, he never went on the disabled list last season.
According to Baseball-Reference.com, Phillips had an offensive Wins Above Replacement figure of 1.5, but a negative 0.5 defensive WAR. A three-time National League Gold Glove winner, his overall skills in the field have diminished, but he is still capable of some dazzling plays.
The Reds' middle infield has veterans like Phillips and shortstop Zack Cozart, but the club also wants to find regular playing time for young middle infielders Jose Peraza and Dilson Herrera. Earlier this week at the General Managers Meetings in Arizona, Reds GM Dick Williams said his club would be "opportunistic" in looking for trades.
"If there is a deal to be had that works in terms of getting value back in a trade and opening a spot for a guy we think is ready, we'll do it," Williams said. "If those deals are not there, then we'll just have to make playing time work for everybody and make the transition work and act accordingly."
Possibly curtailing a Phillips trade is the market itself, with fewer teams looking for a second baseman this offseason compared to a year ago. Teams like the Dodgers and Angels are known to be in need of a second baseman. It could get even more difficult if the Tigers are able to move Ian Kinsler or if the Twins find a match for Brian Dozier.
Mark Sheldon has covered the Reds for MLB.com since 2006, and previously covered the Twins from 2001-05. Follow him on Twitter @m_sheldon and Facebook and listen to his podcast. This story was not subject to the approval of Major League Baseball or its clubs.