Holliday considering return to Rockies
Veteran would likely play first base in Colorado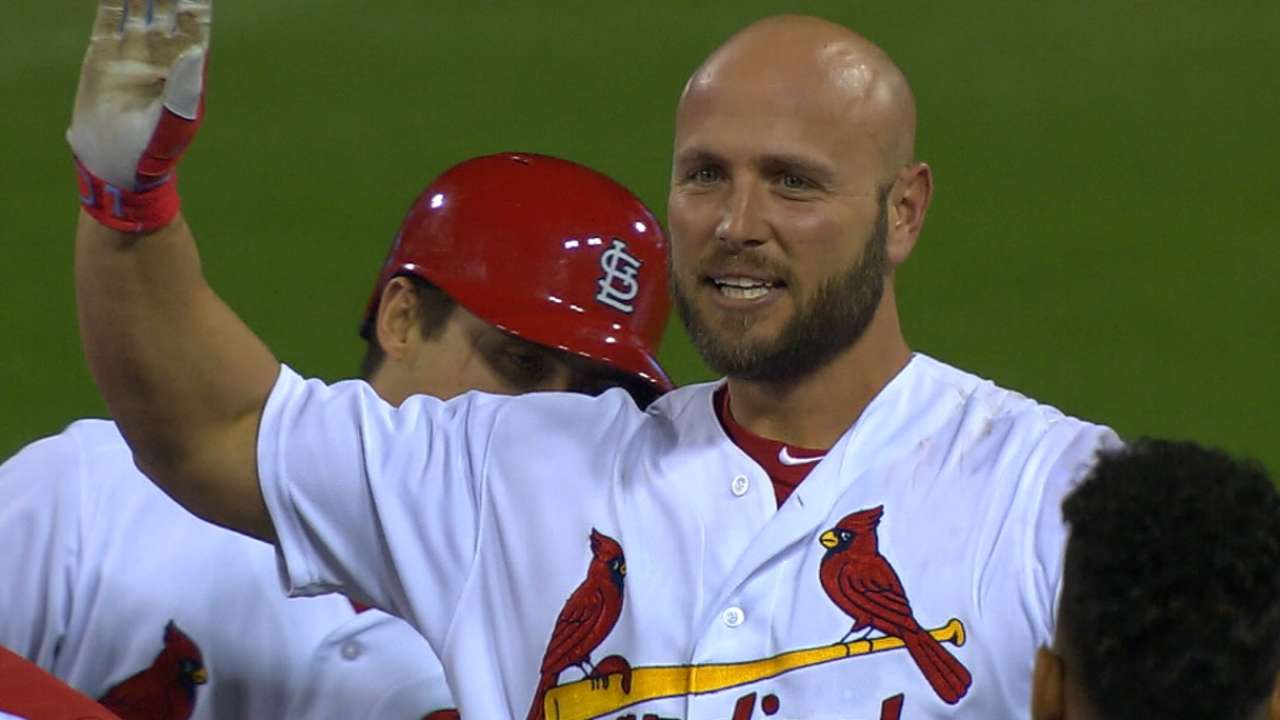 DENVER -- Speculation surrounding Matt Holliday and a potential return to the Rockies has gained momentum over the past week, and the 13-year veteran indicated Friday that he would give great regard to a potential offer from the club that drafted him.
With a dense array of outfield talent in Colorado, Holliday would figure to play first base, where there is a void after Mark Reynolds' contract expired. The Rockies could also benefit from having Holliday's right-handed bat, one that blasted 20 homers and drove in 62 RBIs this past season, in an otherwise lefty-heavy lineup.
"It's certainly something that's part of the consideration process, but there's so much more to it," general manager Jeff Bridich said earlier this week. "It's supply and demand and what's out there through trade, potentially. I don't want to limit ourselves by saying we must have a right-handed first baseman or we must have a left-handed one. We'll keep an open mind, and the goal is to add the best player we possibly can to the lineup."
But the hurdle could be his cost. Holliday is expected to earn a deal of around $10 million per year, which is nearly quadruple what the Rockies paid Reynolds last year, and the two had similar offensive numbers. Holliday battled injury the past two years -- playing a combined 183 games -- and finished with a career-low .246 average and .322 on-base percentage.
"I don't have any idea of what my market will be, but if [the Rockies] were competitive with their offer, I'd definitely consider it," Holliday said, according to KMGH-TV 7.
The Rockies currently have Stephen Cardullo and Jordan Patterson listed at first, but they don't figure to be everyday players just yet. And left-handed prospect Ryan McMahon has developed nicely in Double-A. It points to a possibility of avoiding a long-term deal for a first baseman.
"Thinking about free agents at first base, the length of the contract, if we were to get a free-agent first baseman, there's a lot more to that with that specific person than there is as it relates to Ryan McMahon," Bridich said.
"There is a balance -- we want to push players to develop, but we don't want to rush players to develop," Bridich said. "There's a fine line."
Owner Dick Monfort said on Monday that the club will increase payroll from its record $112 million last year, but by how much remains an intrigue. The hiring of manager Bud Black this week has brought renewed optimism to Colorado after six straight losing seasons.
"There's a difference between talented and good, and we have talent," Bridich said at Black's introductory news conference on Monday. "The next step is to become a good team -- a good and consistent team. There's kind of a fundamental difference there."
In addition to first base -- where Holliday has played just 10 games, all in 2016 -- the Rockies plan to address their bullpen, which blew 28 saves and had an MLB-worst 5.13 ERA last year. However, Bridich has indicated they likely won't be among the suitors for one of the blue-chip relievers on the market.
Holliday was selected by Colorado in the seventh round of the 1998 Draft, and he played his first five seasons there, helping the Rockies win the 2007 National League pennant. He was dealt to Oakland in the '08 offseason as part of the Carlos Gonzalez deal, then again to St. Louis before the non-waiver Trade Deadline the following year.
Daniel Kramer is a reporter for MLB.com based in Denver. Follow him on Twitter at @DKramer_. This story was not subject to the approval of Major League Baseball or its clubs.