MLB.com Columnist
Tracy Ringolsby
Q&A: Grieve discusses early uses of analytics
Rangers began exploring benefits of advanced stats in 1980s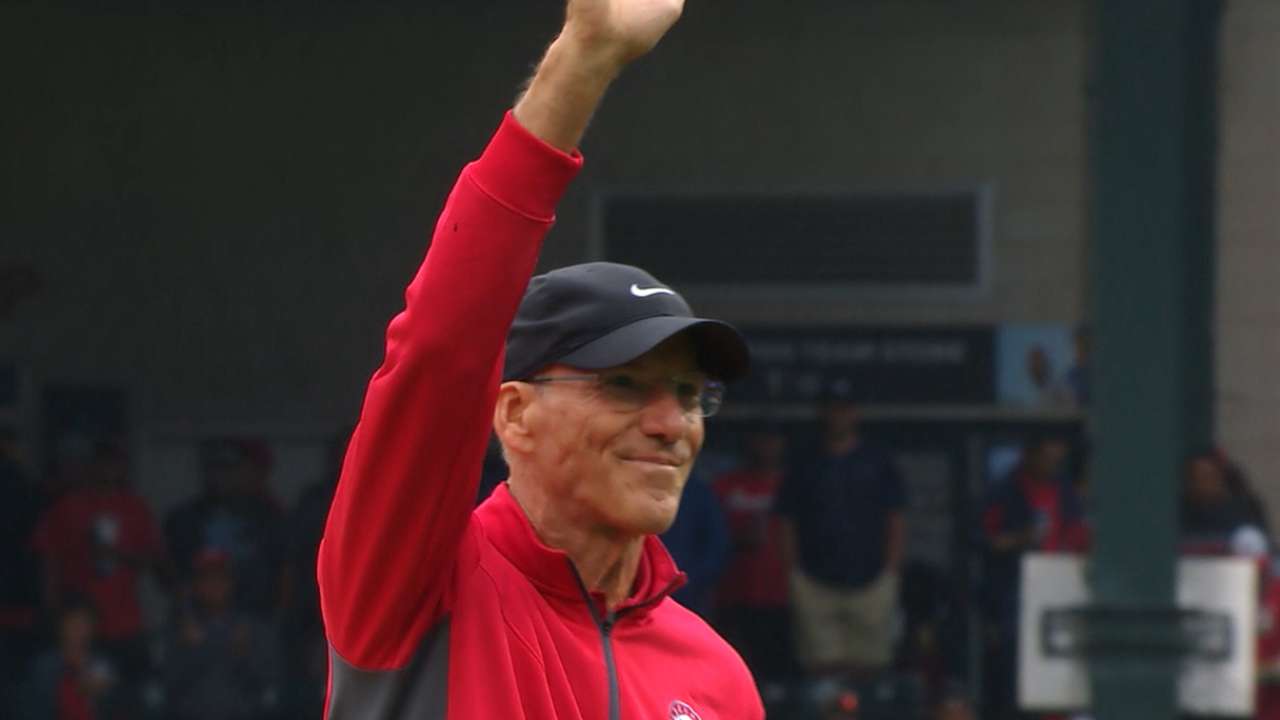 Tom Grieve has experienced professional baseball at every level.
The first-round Draft choice (sixth overall) of the expansion Washington Senators in 1966, he spent nine seasons in the big leagues, seven with the Rangers. He was then Texas' farm director and general manager before becoming the primary analyst on the team's telecasts.
Grieve and his son Ben, who was a first-round Draft choice of the A's in 1994, are the only father-son combination to be first-round picks.
In 51 years in pro ball, Grieve has seen plenty of innovations. However, he has to chuckle a bit at the sudden focus on analytics.
In the 1980s, when he was running the Rangers, they used many of the modern-day tools in putting their franchise together.
Grieve discussed that, among other things, in this week's Q&A:
MLB.com: You had an analytics guy in your front office in the 1980s.
Grieve: Yes, Craig Wright. He really was the trailblazer. Actually, he was hired in 1981, when Eddie Robinson was the general manager, Joe Klein was the farm director, and I was the assistant farm director. It was before anyone knew what sabermetrics [were]. Craig was well accepted by our manager, Bobby Valentine, and the pitching coach, Tom House.
MLB.com: House, wasn't he known as the Mad Professor?
Grieve: Tom House was 25 years ahead of his time. You hear people talking about biomechanics with pitchers. Tom House was into that in 1986. He had studied it when he received an advance degree in college. People ridiculed him for being so advanced in his thinking. He had pitchers throwing footballs because of medical studies that showed you could not throw a spiral without proper mechanics. Fifteen years later, I'm in Yankee Stadium and (Andy) Pettitte and Roger Clemens are throwing footballs.
MLB.com: What's Tom doing now?
Grieve: He is the quarterback guru in the NFL. He has 25 guys working with him, including (Tom) Brady. (House) was so far ahead of his time. What he did back then, people talk about now like it's a new idea. He preached there were three reasons pitchers got hurt: bad mechanics, workload and lack of strength. He encouraged weight training with moderation. He was using the Jobe's Exercises with five-pound weights and people thought he was nuts. We had pitch counts in the Minor Leagues.
MLB.com: He did, however, gain some credibility, didn't he?
Grieve: Nolan (Ryan) became a disciple of Tom House and all of a sudden (House) was legitimate. I believe he even spent some time with Randy Johnson. They were both USC left-handers.
MLB.com: But the Rangers had more than just Tom House?
Grieve: Oh yeah. We had a video guy, Carl Hamilton. It wasn't necessarily that we were trying to break new ground. We had no money and had to be creative, I remember telling Marty Scott, who was our Minor League director, we only had a $25,000 budget for bats in Spring Training and then we had to cut $12,500 from that. He and Omar (Minaya, then a scout with the Rangers) had some people they knew and we used Bomb Bats. They were basically unbreakable. We had one big league scout, John Young. We had to have information on the teams we were going to play, so we scouted them by satellite.
MLB.com: You bought the big dishes and set them up in the clubhouse?
Grieve: Well, Bobby (Valentine) did. He had two satellites, and then two monitors in his office, and would advance (scout) teams himself. We were ridiculed by the scouting community for scouting off TV, but it was what we had. Now, every team is using video scouting.
MLB.com: So you were pioneers?
Grieve: We weren't doing it for the same reasons as today. And it was so new there were imperfections. We had to sell it to the players. Some bought into the idea and some didn't. I can't blame them. I understand it seemed so out of place, but not anymore.
MLB.com: You had guys willing to take chances in the front office?
Grieve: We had really smart people. Think about guys like -- not just Tom and Bobby -- but Sandy Johnson was in charge of the development and scouting departments. And with our finances, scouting and development were what we had to have to compete. We didn't win divisions, but we had success and produced some impact players, guys like Juan Gonzalez, Ivan Rodriguez, Robb Nen, Sammy Sosa and Kevin Brown. And Sandy was really the guy who deserves that credit.
MLB.com: Wasn't he the driving force in landing Pete Incaviglia?
Grieve: Yeah, they had to change the rules of the Draft. Inky was the No. 1 pick of the Expos, but wouldn't sign because they wouldn't give him a big league contract. Sandy pushed us to make a deal for him. The Expos couldn't demand much, because they were just going to lose their Draft pick and he'd go back to school. So we did it, and he came right to the big leagues, hitting cleanup on Opening Day. That was the way Sandy thought. Baseball then came up with the rule (since changed) that you couldn't trade a Draft choice until one year after he signed. It was the Incaviglia Rule, but really it should have been the Sandy Johnson Rule. But that's how we had to survive back then. If I didn't have Sandy, I would have been a GM for three, maybe four years.
Tracy Ringolsby is a columnist for MLB.com. This story was not subject to the approval of Major League Baseball or its clubs.