Rangers sign Middlebrooks, re-sign Bernier
Texas gives both invitations to big league Spring Training in 2017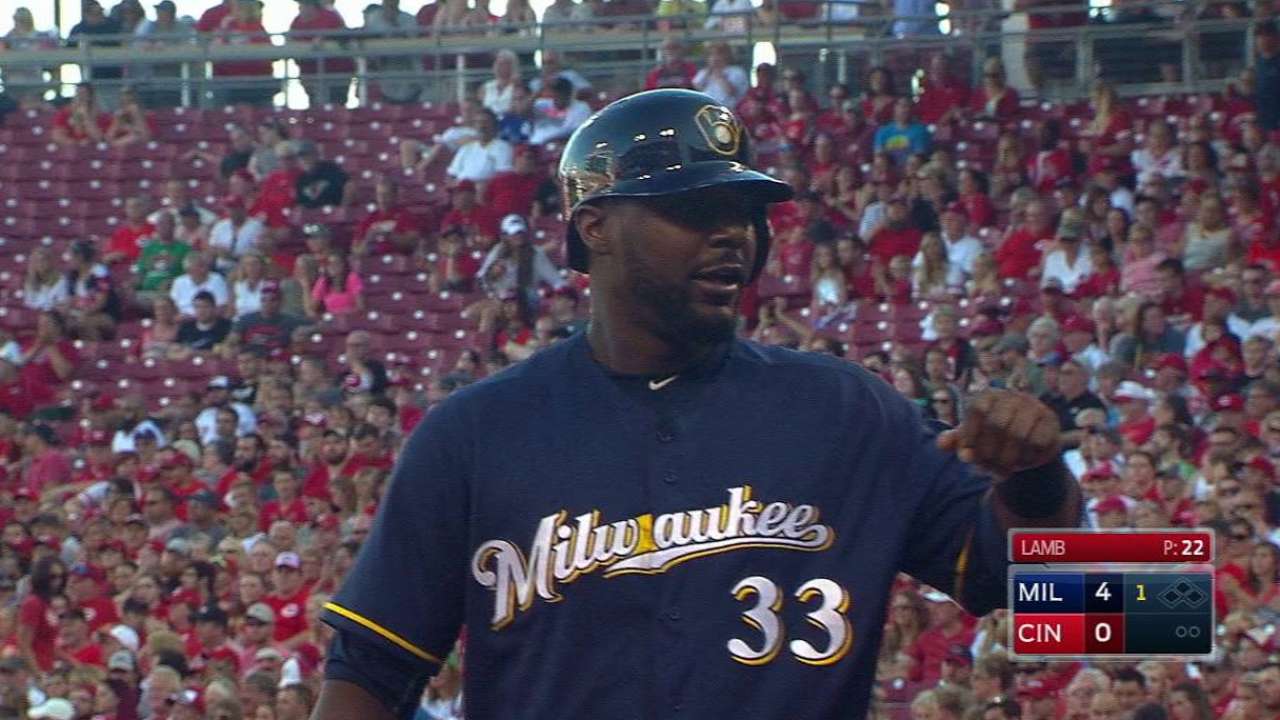 ARLINGTON -- Will Middlebrooks, who once was a top third-base prospect for the Red Sox, has been signed by the Rangers to a Minor League contract with an invitation to Spring Training.
The Rangers also re-signed utility infielder Doug Bernier to a Minor League contract with an invitation to big league camp after he had an excellent season at Triple-A Round Rock. The addition of the duo adds depth to the Rangers' infield at a time when they are considering the possibility of trading infielder Jurickson Profar for pitching.
Middlebrooks, 28, spent most of last season at Triple-A Colorado Springs in the Brewers organization, playing in 68 games and hitting .282 with 10 home runs, 47 RBIs and a .508 slugging percentage. The right-handed hitter played in ten games for Milwaukee in July and was 3-for-27 before going on the disabled list on July 25 with a strained right calf muscle. He did not play the rest of the season.
Middlebrooks, who is from Texarkana, broke into the Major Leagues with the Red Sox in 2012 and played in 75 games, hitting .288 with 15 home runs, 54 RBIs and a .509 slugging percentage. But his season was cut short by a broken right wrist in August and injuries were a constant problem the next two years.
"We are excited to bring him back home to Texas and we look forward to getting our player development crew with him to tap into his offensive potential," Rangers pro scouting director Josh Boyd said. "His raw power has always been intriguing to us."
Middlebrooks played in a combined 157 games for the Red Sox in 2013-14 and hit .213 with 19 home runs, 68 RBI and a .364 slugging percentage. He was on the disabled list three times.
The Red Sox traded him to the Padres after the 2014 season. He played in 83 games for the Padres in '15 and hit .212 with nine home runs, 29 RBIs and a .361 slugging percentage. He was non-tendered after the season and signed a Minor League contract with the Brewers.
Bernier, 36, enters his 16th season of professional baseball after being signed by the Rockies as an undrafted free agent in 2002. He has played in 46 Major League games over parts of four seasons with the Rockies and the Twins but spent all of last season with Round Rock.
"Doug came in with a reputation as being a great teammate and true professional -- he was exactly as advertised and more," Rangers farm director Mike Daly said. "Doug provided [manager] Jason Wood with a consistent presence in the lineup and flexibility on the infield. We are excited to have Doug back for 2017 and coming into camp competing for a [Major League] spot."
He played in 120 games at second base, shortstop and third base, and hit .275 with 10 home runs and 47 RBIs. He became the first Round Rock player to hit for the cycle on July 27 against Omaha.
T.R. Sullivan has covered the Rangers since 1989, and for MLB.com since 2006. Follow him on Twitter @Sullivan_Ranger and listen to his podcast. This story was not subject to the approval of Major League Baseball or its clubs.